Click here if you are having trouble viewing this message.

Your Weekly AAHOA Wrap-Up for Friday, August 20, 2021
Message from the Interim President & CEO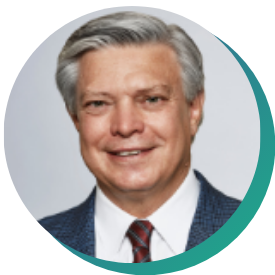 "We are preparing for the remainder of the year ... and are so excited for all we have planned."
This week, AAHOA Officers met at the Atlanta AAHOA headquarters for the first time since taking over new Board positions.
We are preparing for the remainder of the year – for regionals, strategic initiatives, and charity golf tournaments – and are so excited for all we have planned.
While in the office, our new Chair, Vinay Patel, and I were featured on the Long Live Lodging podcast, which will air soon, discussing AAHOA's future and how AAHOA plans to help owners through recovery.
Over the next few weeks, I'll be traveling across the U.S., attending AAHOA's Regional Conferences & Trade Shows and some of our remaining charity golf tournaments.
This year, coming off a successful AAHOACON21, we're excited to unveil a brand-new format for our Regional Conferences & Trade Shows that includes a region-specific education session from distinguished speakers, a reveal of national and a deep-dive into state-specific data from the recently announced AAHOA-Oxford study, and an open forum where members can ask their questions and share feedback.
We are looking forward to seeing everyone at each event.
We are Team AAHOA, and we have so much more to accomplish together.
See you soon,
Ken Greene
AAHOA Interim President & CEO
10 

U.S. Hotel Industry Reports All-time Monthly Highs in ADR and RevPAR

 

The U.S. hotel industry reported all-time monthly highs in average daily rate and revenue per available room on a nominal basis, according to July 2021 data from STR. July 2021 (percentage change from July 2019):

 
Occupancy: 69.6% (-5.5%)

Average daily rate (ADR): US$143.30 (+6.0%)

Revenue per available room (RevPAR): US$99.71 (+0.2%)
When adjusted for inflation, the ADR and RevPAR levels were lower than the all-time highs recorded in 2019. On an absolute basis, occupancy was the highest for any month since August 2019.
9 

Wall Street Journal: Hotels Try Out Fees for Using the Pool and Checking In Early

 

One of the largest U.S. hotel owners is experimenting this year with a new business strategy: Charge guests for most services and amenities, just like in the airline industry. At roughly a dozen of his company's independent hotels, Tyler Morse said, any guest can get an early check-in, but it costs about $20. A similar fee applies to a late checkout. Use of the pool might be free on a Tuesday morning but cost guests $25 on a scorching Saturday afternoon. Gym use and breakfast also come with an additional charge. In exchange, these properties are lowering their nightly room rates by varying degrees. 
8 

NY Times: Workers, in Demand, Have a New Demand of Their Own – A Career Path

 

People returning to the workforce after the pandemic are expecting more from their employers, pushing companies to raise pay, give bonuses, and improve health care and tuition plans. For workers in leisure and hospitality, pay increased nearly 10 percent, but nearly 40 percent of former workers in the nation's hospitality industry say they do not plan to go back to jobs in hotels, restaurants, or bars, according to a survey by Joblist, an employment search engine.
7

 U.S. Hotel Occupancy and Average Daily Rate Dip from Previous Weeks

 

U.S. hotel occupancy and average daily rate (ADR) dipped from previous weeks, according to STR's latest data through August 14. August, 8-14, 2021 (percentage change from comparable week in 2019*):

 
Occupancy: 65.7% (-8.4%)

Average daily rate (ADR): US$139.18 (+5.9%)

Revenue per available room (RevPAR): US$91.45 (-3.0%)
While the metrics were down week over week, comparisons with 2019 remained consistent, which is further evidence of seasonality in the data as more schools return to class and leisure demand wanes. Concern around COVID-19 cases also persists.
6 

HB Exclusive: Industry Leaders Tackle Uncertainty, Brands and the Recovery of the Bottom Line

 

Leaders from the hotel franchise and technology communities, including AAHOA Chair Vinay Patel, met on the eve of AAHOACON21 to discuss the state of their markets, keys to a sustained recovery, and the role of innovation in pushing forward the franchise business model. Patel noted that "the common theme is the unknown," with some hotels, especially those driven by revenues from leisure travel, beating 2019 numbers, while others remain off by 20% or 30% or more.
5 

Take Our Technology Survey and Win a $100 Visa Gift Card from DISH Business!

 

Post-pandemic, technology solutions are more important than ever to the success of your hotels and bottom line. To better understand your current usage of technology, plans for the future, the impact of COVID-19, and your use of technology and in-room entertainment solutions, we're asking for your feedback in this brief survey. Hoteliers who complete the survey will be entered to win a $100 Visa gift card courtesy of DISH Business. Don't miss your chance to win!
4 

CoStar: Noble's Mit Shah – Best Investments Yet to Come

 

AAHOA Member and Noble Investment Group Founder & CEO Mit Shah is excited for what's to come. As both a buyer and a developer of hotels, Shah said he sees a "generational investment opportunity in hospitality" ahead for his company. But with serious competition for assets at the moment and "significant growth of multiples of valuation," the best deals might still be a couple years out, he said.
3 

Mask Mandates for Travelers Extended into 2022

 

The Transportation Security Administration extended the federal mask mandate that requires travelers to wear masks on commercial flights, trains, and buses through Jan. 18, 2022. The previous mask mandate extended in the spring was set to expire on September 13. 


The most critical action hoteliers can take now is to encourage your employees to get vaccinated if they have not already done so. Vaccinations are a great means to ensure the safety of your employees and the confidence of your guests. Sign the Pledge to Protect today and visit our landing page for more information.
2 

ICYMI: AAHOA Ownership and Economic Impact Study Released, AAHOA Calls to Reform North American Industry Classification System Codes

 

During the 2021 AAHOA Convention & Trade Show, AAHOA announced the results of a new study conducted in partnership with Oxford Economics, a global leader in forecasting and quantitative analysis, on the economic impact and industry influence of the association's nearly 20,000 members. The study shows that AAHOA supports a total economic impact of:

 
$680.6 billion of business sales (representing revenue plus sales and lodging taxes)

4.2 million jobs with $214.6 billion of wages, salaries, and other compensation

$368.4 billion contributed to U.S. GDP

$96.8 billion of federal, state, and local taxes
In light of this groundbreaking report, Ken Greene, AAHOA Interim President & CEO, called on the U.S. Census Bureau to consider comments for proposed changes to the North American Industry Classification System codes. In his letter, Greene requested that hotels should be segmented by the types of services they deliver as this reflects the occupations in those hotels. Hotel team members perform a variety of tasks and demonstrate a toolkit of skills in their positions, and it is the ideal time for the NAICS codes to catch up to the industry to better prepare educational programs for the future members of the hospitality industry. 
1 

AAHOA's 2021 Regional Conference & Trade Show Schedule Kicks Off Tuesday

 

Our 2021 Regional Conference & Trade Show schedule begins this month! It gets underway with the 2021 AAHOA Northwest Regional Conference & Trade Show in Vancouver, WA, on August 24, followed by the 2021 AAHOA Arkansas Regional Conference & Trade Show in Little Rock on August 26. Our regionals give attendees access to top vendors, incredible networking opportunities, and region-specific industry updates. These events are open to all hotel owners, even if you're not yet an AAHOA Member. Check the events calendar to find the one in your region.
Was this email forwarded to you? You can opt in, or opt back in, to receive these directly by signing up at myaahoa.com.

Asian American Hotel Owners Association, Inc.
Atlanta Headquarters
1100 Abernathy Road, Suite 725
Atlanta, GA 30328
Washington D.C. Office
601 New Jersey Avenue NW, Suite 610
Washington DC 20001
To update your subscription preferences, please email info@aahoa.com..