Click here if you are having trouble viewing this message.

Dear Fellow Hoteliers,
AAHOA has been hard at work, and we are continuing to make significant progress on franchisee advocacy. As your AAHOA Chairman, it's one of my top priorities: To ensure we're using the power and strength of AAHOA to advance the business interests of our members – whether at the local, state, or national level. 
As always, this monthly update serves as a summary of our efforts, where we're making progress, and what we're focused on next. This issue, in particular, is focused around our advocacy efforts at all levels of government.
Franchisee Advocacy on Capitol Hill
The Federal Trade Commission and Increased Transparency for FDDs
Recently, AAHOA President & CEO Laura Lee Blake and Keith Miller, Principal at Franchisee Advocacy Consulting, testified on key franchise issues before the Federal Trade Commission May 19 Open Meeting. They brought up concerns related to undisclosed kickbacks, "preferred" vendor mandates, and the Franchise Disclosure Document. These are concerns that members have brought to our attention, and I thank Laura Lee and Keith for representing AAHOA franchisees in D.C. You can watch the entire FTC meeting here. 
Learn More
Read more about AAHOA's comments during FTC's Open Commission Meeting here. 
Recognizing Champions for Franchisee Advocacy
Rep. Jan Schakowsky (D-IL-09) recently introduced H.R. 6551, also referred to as the Franchisee Freedom Act. This legislation ensures that a small business owner who enters into a franchise agreement with a franchisor will be afforded a private right of action to pursue claims against the franchisor if the franchisee was harmed by the franchisor's violation of the Federal Trade Commission's Franchise Rule.
Last year, Sen. Catherine Cortez Masto (D-NV), a champion for small business owners, introduced the Small Business Administration (SBA) Franchise Loan Default Disclosure Act (S. 2162). This bill would require the SBA to publish on its website, and to regularly update, the loan default rates by franchise brands during the preceding 10-year period. This information would be made public on the SBA Franchise Directory, providing much-needed transparency and historical data to prospective franchisees before they put pen to paper on a franchising contract.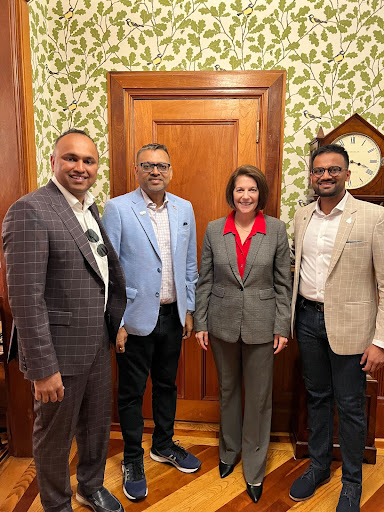 Left to Right: Maulesh (MP) Patel, AAHOA Lifetime Member; Bharat Patel, AAHOA Vice Chairman; U.S. Senator Cortez Masto; and Nishant (Neal) Patel, AAHOA Chairman
The importance of this bill to AAHOA Members is that we tend to have the largest SBA loans with the lowest default rates. This transparency is meant to lower SBA loan defaults in many franchise brands. The reality is AAHOA Members, with our large loans and low default rates, are subsidizing poor-performing franchise loans.
Recently, I had the honor of joining AAHOA Vice Chairman Bharat Patel and Lifetime Member Maulesh (MP) Patel to meet with Sen. Cortez Masto. In her Congressional Report, she highlights the problematic and unfair franchise practices hurting franchise owners across the country. During our meeting, Sen. Cortez Masto gave us an update on the different legislative actions she is pushing Congress to support that will bring more transparency and oversight to the franchise business model. 
Learn More
Access Sen. Cortez Masto's Franchise Report, "Strategies to Improve the Franchise Model: Preventing Unfair and Deceptive Franchise Practices" here.
At AAHOA, we applaud the efforts of Sen. Cortez Masto and Rep. Schakowsky to strengthen the franchise-franchisor relationship for current and future franchise owners. We're grateful for the ways in which they're shining a light on these issues that affect us all. 
Franchisee Advocacy at the State and Local Levels
New Jersey Assembly Bill 1958
As many of you know, last month, right before AAHOA President & CEO Laura Lee Blake joined the AAHOA Team, more than 30 hotel owners and leaders from AAHOA gathered in New Jersey State Assembly for a hearing and testimony on Assembly Bill 1958 (A1958). Several AAHOA Members from the Mid Atlantic region shared their personal experiences related to provisions of the bill during the hearing. 
By way of background, A1958 makes changes to the New Jersey Franchise Practices Act specifically for the hospitality industry. If passed, the key components of the legislation requires a franchisor that receives "any rebate, commission, kickback, services, other consideration or anything of value" from any vendor selling products or services to its franchisees to fully disclose them and promptly turn over such monies to their franchisees, puts various restrictions on the exclusive and mandatory sourcing of goods or resources, prohibits the imposition of any fees not previously disclosed in the Franchise Disclosure Document, and more. 
Thank you to everyone who rallied to the hearing to give their testimony and show their support, recognizing that engaging with lawmakers and sharing their personal stories would help to pass this game-changing legislation out of the committee. We continue to closely monitor this legislation and will provide more updates in the near future.
Strong and widespread support for this important NJ legislation was demonstrated at a local Town Hall meeting held earlier this month on June 7. Numerous New Jersey members gathered together with AAHOA Officers to discuss the legislation and potential implications for franchisees. Widespread applause broke out in response to a discussion about the bill's disclosure requirements for franchisors concerning the rebates and kickbacks they receive from the mandated vendors for the franchisees' purchases of products and services. AAHOA leaders and members were also treated to a rousing performance by the local police officers' bagpipe band. Thanks to everyone in the area who joined us.
Learn More
Read AAHOA's full story, "A New Start: AAHOA Members and Leadership Come Together to Testify During New Jersey Hearing on Franchising Bill," here.
California Senate Bill 1247 and Assembly Bill 676 
In late May, AAHOA penned a letter to Senator Ben Hueso, thanking him for authoring Senate Bill 1247, offering our support, and asking to be listed as a sponsor of the bill. Senate Bill 1247 will specifically require franchise companies to annually report the rebates and other benefits vendors provide to the franchisors based on franchisee purchases. Having these rebates reported annually will give transparency to what franchisees are really paying for, which squeezes our margins, contributes to lower pay for our employees, and ultimately costs the consumer. SB-1427 has passed the Senate and is awaiting committee assignment in the Assembly.
In addition, AAHOA reached out to the California State Senate and Assembly to showcase our support of Assembly Bill 676 and thanked Assemblymember Chris Holden for authoring this bill, which would provide technical updates and improvements to his previously authored and passed AB-525 (2015). AB-676 includes important updates to the California Franchise Relations Act (CFRA) and the California Franchise Investment Law (CFIL). Most notably, the bill would prohibit franchise companies from disclaiming or denying representations made to the prospective franchisee during the purchasing process, among other beneficial provisions. After passing the Assembly 63-1 in January, this week AB-676 passed its first Senate committee, Judiciary, with a 9-0 vote. One more committee, then the bill is on to the Senate floor for a vote.
Learn More: Why Franchise Advocacy at the State Level Is So Important
Whether you own properties in California, New Jersey, or elsewhere, it's important to note that the passage of legislation in such states creates a ripple effect related to the work we're doing to advocate on behalf of AAHOA Member franchisees, drawing attention to these issues on a national level. The passage of such legislation could create a new blueprint for franchisee protection and rights across the U.S.
Gaining Momentum
As you can see, we're only getting started and we've created great momentum related to our efforts to advance and protect the business interests of America's hotel owners. Thank you to all of our members who have helped play an active role in our success and the policymakers who are making a real difference for current and future hospitality industry franchisees. 
Together, we are stronger. Together, we stand united. Together, we can – and will – make a difference. 
Thank you, 
Neal Patel
AAHOA Chairman
An Update on the 12 Points of Fair Franchising
With Laura Lee Blake, AAHOA President & CEO
Meeting with franchisor and brand executives and engaging in open discussions regarding AAHOA's revised 12 Points, AAHOA's request that the franchisors perform a self-assessment of their compliance therewith, possible proposed revisions to the franchise agreements and related practices for the benefit of the franchisees and the franchise systems overall, and the pending franchise legislation, is a priority for AAHOA this year, and we are making it happen. 
"The NYU Hospitality Investment Conference on June 6 and 7 presented a perfect opportunity to meet in person with the top leaders of the key franchisors since they also were attending the Conference," said Laura Lee Blake, AAHOA President & CEO. "During these meetings, we expressed our concerns about several of the unfair practices that are plaguing the industry, including the undisclosed kickbacks from the mandated vendors, some of which are charging exorbitant rates for their products and services," Laura Lee explained.  "The responses of the franchisors to these points varied widely, but the discussions are continuing.  This is a first step toward seeking substantive changes, and we look forward to gaining further understanding and cooperation as we serve our members and strive for fairness across the board."   
AAHOA will send further communications with updates concerning our discussions with the franchisors and brands. In the meantime, ensure you're familiar with the 12 Points Educational Primer, and stay tuned for an educational "FAIRTalkX on Franchising" webinar series launching soon. 

Asian American Hotel Owners Association, Inc.
Atlanta Headquarters
1100 Abernathy Road, Suite 725
Atlanta, GA 30328
Washington D.C. Office
601 New Jersey Avenue NW, Suite 610
Washington DC 20001
To update your subscription preferences, please email info@aahoa.com..