Click here if you are having trouble viewing this message.

Your Daily AAHOA Update for Thursday, April 7, 2022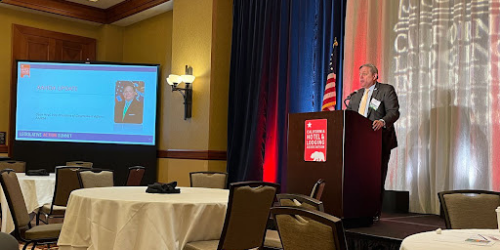 News from Coast to Coast
AAHOA at the CHLA 2022 Legislative Action Summit
Yesterday's California Lodging Industry Legislative Action Summit, produced by the California Hotel & Lodging Association in Sacramento, brought together hoteliers and industry leaders for a day of informative updates on legislative and regulatory issues and to meet with local lawmakers to discuss key policy measures.
AAHOA Vice President of Government Affairs Dean Heyl gave an AAHOA update discussing several topics impacting California hoteliers and others nationwide. Heyl discussed the anticipated proposed overtime rule that's soon expected from the Department of Labor, updates to the current landscape of 1031 Like-Kind Exchanges and what's on the horizon for this year, the employee retention tax credit, short-term rental legislation in Michigan, Virginia, Florida, and Tennessee, and the American Rescue Plan appropriations and timelines set forth for the next several years. 
AAHOA also appreciates the participation of its Regional Directors who reside in California who were all on hand at the event to engage with policymakers and other industry attendees. 
From NewsChannel 5 Nashville: REVEALED – Does Truth Matter on Tennessee's Capitol Hill? Airbnb Legislation Tests That Question
Phil Williams of NewsChannel 5 Investigates is on the ground in Tennessee's capital reporting on the origins of a bill pushed by short-term rental lobbyists and the negative impact STRs have had on members of the Nashville community. 

AAHOA Members in Tennessee have been actively engaged on the matter, sending nearly 400 letters to their Tennessee legislators. AAHOA applauds the hoteliers actively engaging on issues critical to their communities and their businesses. AAHOA will keep members apprised of the latest updates. Tennessee AAHOA Members can send a letter to their legislators here.
1 DAY Left! Complete the Credentialing Process to be Eligible to Vote in 2022 Elections!
The deadline to complete the credentialing process to be eligible to vote in the 2022 Elections is TOMORROW. Everybody should have already completed the first three steps in the nine-step voting process: Ensure you're eligible, make sure you have a unique email address and mobile phone number in MyAAHOA (no sharing with family or businesses), and download the Voatz app. Once those three steps are complete: Go to the AAHOA-Voatz website and click on "Voter Guide" in the top menu. This guide will walk you through the process to set up the Voatz app, confirm your identity, and prepare you to vote.
STR: U.S. Hotel Performance Falls Slightly from the Previous Week   
Reflecting continued seasonal slowing in spring break travel, U.S. hotel performance fell slightly from the previous week, according to STR's latest data. March 27 through April 2, 2022 (percentage change from comparable week in 2019*):
Occupancy: 64.1% (-6.4%)

Average daily rate (ADR): $145.74 (+11.7%)

Revenue per available room (RevPAR): $93.48 (+4.5%)  
All times are local.

2022 National Restaurant Association Show Comes to Chicago in May
After being forestalled by the unprecedented challenges the industry has faced over the past two years, the 2022 National Restaurant Association Show is back and set for May 21-24 at McCormick Place in Chicago. From expert-led sessions unpacking new industry challenges and opportunities to industry-leading products and solutions for growth, the Show will help you find what you need to navigate today's new business realities. The Show is the must-attend event for the foodservice industry. It's the only place to find everything you need to grow in today's new reality.
May 21-24
Save the Date: ALIS Summer Update to Feature Four Stops Across the Nation
The Americas Lodging Investment Summer Update 2022 will consist of four unique networking receptions taking place across the U.S.: New York on July 12, Nashville on July 14, Dallas on July 19, and Los Angeles on July 21. (AAHOA will be co-hosting the Nashville and Dallas events.) More than 3,050 top industry leaders attended ALIS in January 2020. As the world's largest hotel investment event, ALIS is the most important gathering of hotel investors, financiers, and leading industry professionals. The ALIS Summer Update is a mid-year forum that allows delegates to connect in their regional markets. 
July 12, 14, 19, 21, 2022

"First, I want to say that, on the main front, AAHOA is doing an outstanding job. All the hard work may seem like it goes unnoticed, but rest assured, we see. You have helped the Valley in many ways."
–  AAHOA Member, TX
Was this email forwarded to you? You can opt in, or opt back in, to receive these directly by signing up at myaahoa.com.

Asian American Hotel Owners Association, Inc.
Atlanta Headquarters
1100 Abernathy Road, Suite 725
Atlanta, GA 30328
Washington D.C. Office
601 New Jersey Avenue NW, Suite 610
Washington DC 20001
To update your subscription preferences, please email info@aahoa.com..