Click here if you are having trouble viewing this message.

Your Daily AAHOA Update for Tuesday, April 5, 2022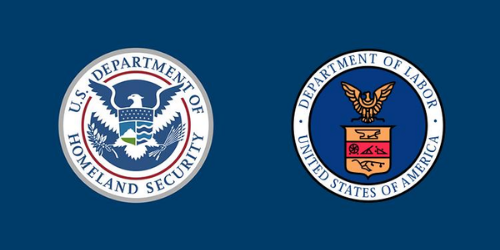 ICYMI: DHS and DOL to Supplement the H-2B Cap with Additional Visas for Second Half of Fiscal Year 2022
In a joint release published last week, the Department of Homeland Security and the Department of Labor announced the availability of an additional 35,000 H-2B visas on or after April 1, 2022, through Sept. 30, 2022. As noted in the official press release, "the supplemental H-2B visa allocation consists of 23,500 visas available to returning workers, who received an H-2B visa or were otherwise granted H-2B status, during one of the last three fiscal years. The remaining 11,500 visas, which are exempt from the returning worker requirement, are reserved for nationals of Haiti, Honduras, Guatemala, and El Salvador."
AAHOA welcomes the additional visas and will continue to keep our members apprised of the latest labor developments.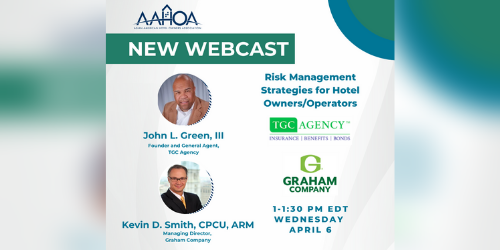 TOMORROW | AAHOA Webcast: Risk Management Strategies for Hotel Owners/Operators
Hotel risk management entails identifying, evaluating, prioritizing, and controlling risks to enterprises in the hotel industry. Join us as John L. Green, III, Founder and General Agent, TGC Agency, and Kevin D. Smith, Managing Director, Graham Company, review the core coverages that most franchises require and answer two basic questions: Why do franchises require these coverages (e.g., commercial property, general liability, excess/umbrella, workers comp, business auto, and cyber liability)? What do these coverages do for you, the owner/operator?
1-1:30 p.m. EDT Wednesday, April 6
Only 3 Days Left to Complete the Credentialing Process to Vote in the 2022 Elections
Time is running out! The credentialing process to be eligible to vote in the 2022 Elections ends Friday, April 8. Everybody should have already completed the first three steps in the nine-step voting process: Ensure you're eligible, make sure a unique email address and mobile phone number in MyAAHOA is on file (no sharing with family or businesses), download the Voatz app to your smart device. Then, go to the AAHOA-Voatz website and click on "Voter Guide" in the top menu. This step-by-step guide will walk you through the process to set up the Voatz app and confirm your identity. 
U.S. Hotel Profitability on the Rise After Omicron-Induced Dip   
After falling to roughly $20.00 in January, gross operating profit for U.S. hotels reached nearly $59.00 – the highest level in the metric since October 2021, according to STR's February 2022 P&L data release. All of the key performance metrics increased from January, after concerns around Omicron pushed levels lower. 
All times are local.

TOMORROW | AAHOA Members Invited to Attend the NAMA Show 2022 in Chicago for FREE
AAHOA Vice Chairman Nishant (Neal) Patel will be a featured panelist at The NAMA Show 2022, scheduled for April 6-8 in Chicago, which will explore best practices for navigating the new terms and challenges of the convenience service and unattended retail industries. Neal will share his insights on the "The Birdseye View of Changing Consumer Environments" panel, set for 9 a.m. Wednesday, April 6. AAHOA Members, enter promo code 'AAHOA' at checkout to receive complimentary registration to this unique, hands-on event, a $500 value.
April 6-8
2022 National Restaurant Association Show Comes to Chicago in May
After being forestalled by the unprecedented challenges the industry has faced over the past two years, the 2022 National Restaurant Association Show is back and set for May 21-24 at McCormick Place in Chicago. From expert-led sessions unpacking new industry challenges and opportunities to industry-leading products and solutions for growth, the Show will help you find what you need to navigate today's new business realities. The Show is the must-attend event for the foodservice industry. It's the only place to find everything ynou need to grow in today's new reality.
May 21-24

"Sometimes, I don't have the right words for the kindness of people like you."
–  AAHOA Member, MD
Was this email forwarded to you? You can opt in, or opt back in, to receive these directly by signing up at myaahoa.com.

Asian American Hotel Owners Association, Inc.
Atlanta Headquarters
1100 Abernathy Road, Suite 725
Atlanta, GA 30328
Washington D.C. Office
601 New Jersey Avenue NW, Suite 610
Washington DC 20001
To update your subscription preferences, please email info@aahoa.com..