Click here if you are having trouble viewing this message.

Your Daily AAHOA Update for Monday, April 4, 2022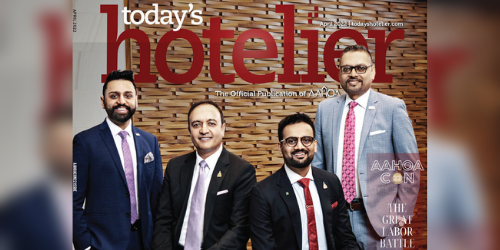 April Issue of Today's Hotelier, AAHOACON22 Show Guide Both Now Available! Get Yours Today!
The April issue of Today's Hotelier magazine is now available. In our cover story, the AAHOA Officers give their perspectives on the power of unity and the key challenges hoteliers face today. Also in this issue, we explore the road to recovery, including five keys for implementing a common-sense COVID-19 policy. We also discuss how benefits improve culture and win the war for talent, how the sky is the limit when AAHOA Members support each other, how members find unshakeable success in the face of an unsteady economy, and much more!

In addition, be sure to access the AAHOACON22 show guide today to start planning for an unforgettable AAHOACON22 next week. Some of the highlight features include a full, detailed schedule, AAHOA Interactive, what you need to know about the 2022 Elections, a complete list of all exhibitors, and more! We'd like to send a heartfelt thank you to this year's convention sponsors for their support of AAHOACON22!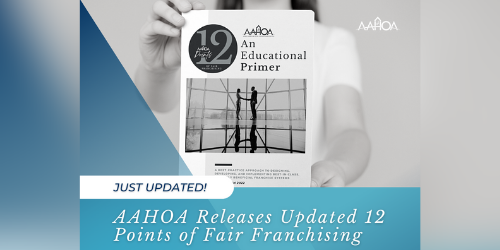 AAHOA Releases Updated 12 Points of Fair Franchising Resource Guide
On Friday, AAHOA released our updated 12 Points of Fair Franchising in the form of a new resource guide, "An Educational Primer: A Best-Practice Approach to Designing, Developing, and Implementing Best-in-class, Mutually Beneficial Franchise Systems." The purpose of the 12 Points is to help facilitate improved relationships and more equitable and fair franchise agreements between AAHOA Member-Franchisees and Franchisors. 
"Because of the changing business environment post-COVID-19 and the ever-evolving need to educate our members, it was time for AAHOA to revisit the 12 Points to ensure they're relevant and reflective of industry changes and evolution," AAHOA Chair Vinay Patel said.
Released via a new landing page on AAHOA.com and a new Resource Guide created specifically for AAHOA Member-Franchisees, AAHOA's updated 12 Points serve as an educational primer for hospitality Franchisors and AAHOA Members (current and future hospitality Franchisees) to discuss and use to continue designing, developing, and implementing best-in-class, mutually beneficial franchise systems.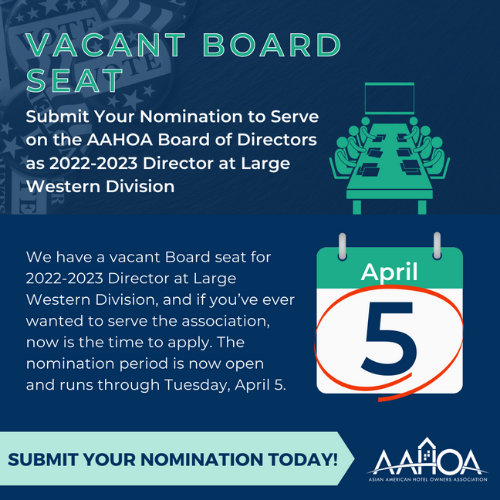 Deadline Tomorrow! Apply to Serve As 2022-2023 Director at Large Western Division
We have a vacant board seat for 2022-2023 Director at Large Western Division, and if you've ever wanted to serve the association, now is the time to apply. The nomination period is now open and runs through tomorrow, April 5. Candidates for the 2022-2023 Director at Large Western Division Board seat shall be governed by policy provisions set forth here, and only eligible AAHOA Members who reside in the AAHOA Western Division of the United States may apply.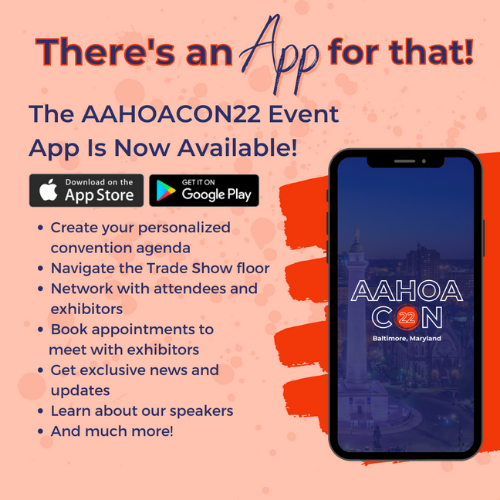 The AAHOACON22 Event App Is Available for Download, So Get It Today!   
The AAHOACON22 event app is now available for download from your app store! The event app contains all the info you need to navigate the convention as smoothly as possible, including registration, agendas, speakers, Trade Show exhibitors, info for electronic voting, and more! With it, you can set up a peronalized convention agenda, better navigate the Trade Show floor, set up meetings with exhibitors, and more! Optimize your event experience and download the app today! Available for iOS and Android users.
All times are local.

AAHOA Webcast: Risk Management Strategies for Hotel Owners/Operators
Hotel risk management entails identifying, evaluating, prioritizing, and controlling risks to enterprises in the hotel industry. Join us as John L. Green, III, Founder and General Agent, TGC Agency, and Kevin D. Smith, Managing Director, Graham Company, review the core coverages that most franchises require and answers two basic questions: Why do franchises require these coverages (e.g., commercial property, general liability, excess/umbrella, workers comp, business auto and cyber liability)? What do these coverages do for you, the owner/operator?
1-1:30 p.m. EDT Wednesday, April 6
AAHOA Members Invited to Attend the NAMA Show 2022 in Chicago for FREE
AAHOA Vice Chairman Nishant (Neal) Patel will be a featured panelist at The NAMA Show 2022, April 6-8 in Chicago, which will explore best practices for navigating the new terms and challenges of the convenience service and unattended retail industries. Neal will share his insights on the "The Birdseye View of Changing Consumer Environments" panel, set for 9 a.m. Wednesday, April 6. AAHOA Members, enter promo code 'AAHOA' at checkout to receive complimentary registration to this unique, hands-on event, a $500 value.
April 6-8

"Thanks to AAHOA, the hotel community came together as one, and AAHOA helped us get the PPP loans. You all are speaking on behalf of us in D.C. and that really made a difference."
–  AAHOA Member, GA
Was this email forwarded to you? You can opt in, or opt back in, to receive these directly by signing up at myaahoa.com.

Asian American Hotel Owners Association, Inc.
Atlanta Headquarters
1100 Abernathy Road, Suite 725
Atlanta, GA 30328
Washington D.C. Office
601 New Jersey Avenue NW, Suite 610
Washington DC 20001
To update your subscription preferences, please email info@aahoa.com..