Click here if you are having trouble viewing this message.

Your Daily AAHOA Update for Monday, March 28, 2022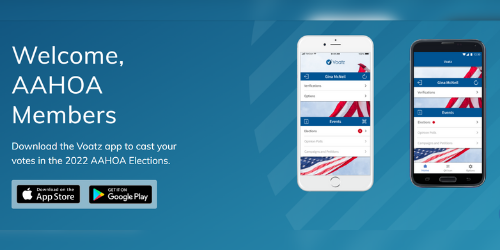 Credentialing Process to Vote in the 2022 Elections Opened Today!
The credentialing process to be eligible to vote in the 2022 Elections opened today, March 28 and runs through Friday, April 8. Everybody should have already completed the first three steps in the nine-step voting process:
Ensure you're eligible to vote;

Make sure a unique email address and mobile phone number in MyAAHOA is on file (no sharing with family or businesses);

Download the Voatz app to your smart device.
Once those three steps are complete, you're ready to complete the credentialing process: Go to the AAHOA-Voatz website and click on "Voter Guide" in the top menu. This document is a step-by-step guide that will walk you through the process to set up the Voatz app, confirm your identity, and prepare you to cast your ballot. Remember, the credentialing process is NOT complete until you have received confirmation in the Voatz app that you're verified. Reminder: Eligible voters must complete the credentialing process by April 8 or you WILL NOT be able to vote in the 2022 AAHOA Elections.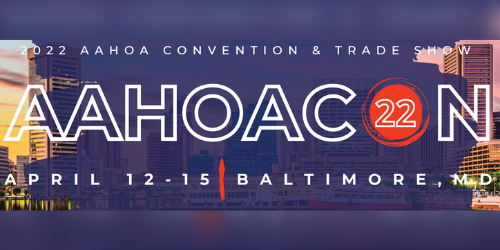 Independent Hoteliers Session Topic and Speakers Set for AAHOACON22!
We are excited to announce our Independent Hoteliers session topic and speakers for AAHOACON22! Guest behaviors and preferences have changed since the onset of the pandemic. Are you sure you're up to speed on the latest tactics and strategies to leverage post-pandemic revenue growth? Join us for "Realizing Revenue: An Independent Hoteliers Guide to Revenue Growth and Maximization" (2:15 p.m. Thursday, April 14) as Nilesh Patel, Co-founder & Chief Revenue Officer, Elevat3; Sean Patel, Founder & CEO, NextGen Hospitality Consultants; Dipali Goswami, Chief of Staff, OYO; and Ira Vouk, Author of Hospitality 2.0, help you understand customer acquisition costs, maximize revenue streams at your property, save time while increasing occupancy, and encourage more direct bookings. Don't miss it! Register today!
AAHOA Webcast: Tourism Improvement Districts  
The final webcast in the AAHOA Women's History Month series will focus on the latest creative ways Tourism Improvement Districts are being used to benefit destination marketing organizations, convention and visitor bureaus, hotels, and other tourism-related businesses. Join us as Tiffany Gallagher, Civitas' Vice President of Operations, gives an introduction to TIDs, shares the history behind them, examines some case studies, and provides an overview of the formation process.
1-1:30 p.m. EDT Wednesday, March 30
USA Today: Travel Groups Want White House to Lift Travel Restrictions, Say They 'No Longer Make Sense'
Now that the U.S. has made it through its latest surge of COVID-19 cases, travel groups are renewing calls for the White House to ease the country's remaining travel restrictions. A Tuesday letter from the U.S. Travel Association urges incoming White House COVID response coordinator Dr. Ashish Jha to "quickly focus" on replacing COVID-related travel measures with endemic-focused policies. This includes repealing the federal mask mandate by April 18, removing the pre-departure testing requirement for inbound vaccinated international travelers, and ending international COVID travel advisories.
All times are local.

HITEC® 50th-Anniversary Celebration to Take Place in Orlando
The 2022 Hospitality Industry Technology Exposition and Conference (HITEC®) will celebrate its 50th anniversary June 27-30 in Orlando, FL. HITEC®, the world's largest and oldest hospitality technology event, offers a unique combination of top-notch education and brings together the brightest minds and hottest technologies from across the globe to one place. The unparalleled event offers attendees essential education, access to top hospitality technology industry experts, and the resources to find cost-effective ways to improve company bottom lines.
June 27-30
Save the Date: ALIS Summer Update to Feature Four Stops Across the Nation
The Americas Lodging Investment Summer Update 2022 will consist of four unique events taking place across the U.S.: New York on July 12, Nashville on July 14, Dallas on July 19, and Los Angeles on July 21. (AAHOA will be co-hosting the Nashville and Dallas events.) More than 3,050 top industry leaders attended ALIS in January 2020. As the world's largest hotel investment event, ALIS is the most important gathering of hotel investors, financiers, and leading industry professionals. The ALIS Summer Update is a mid-year forum that allows delegates to connect in their regional markets. 
July 12, 14, 19, 21, 2022

"My GM just informed me to say that we just received our replacement bulbs. Thanks for all of your help."
– AAHOA Member, TX
Was this email forwarded to you? You can opt in, or opt back in, to receive these directly by signing up at myaahoa.com.

Asian American Hotel Owners Association, Inc.
Atlanta Headquarters
1100 Abernathy Road, Suite 725
Atlanta, GA 30328
Washington D.C. Office
601 New Jersey Avenue NW, Suite 610
Washington DC 20001
To update your subscription preferences, please email info@aahoa.com..