Click here if you are having trouble viewing this message.

Your Daily AAHOA Update for Thursday, November 11,

 2021
Today's Top Stories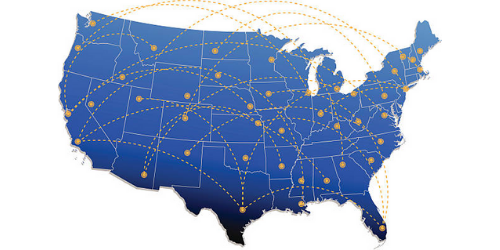 News from Coast to Coast
Pennsylvania: Bucks County Opens American Rescue Plan Act Grant Program
The County of Bucks has been appropriated funds from the American Rescue Plan Act of 2021 to assist small businesses through COVID-19 recovery. Applications for the Bucks Business Recovery Grant will close on November 19 at 5 p.m. To learn more about eligibility, application process, and grant amounts, please visit the COVID-19 Economic Resources Panel or email bucksrecoverygrant@buckscounty.org.
Virginia: VRLTA Announces Prince Williams County Hospitality Grants 
Our partners at the Virginia Restaurant Lodging and Travel Association recently announced the Prince William Board of County Supervisors approved the Lift Up Lodging and Restore Retail grant programs. Funded from the County's allotted $91.4 million in federal American Rescue Plan Act relief, the program opens $4 million in grants specifically for the Lift Up Lodging program and $6 million for the Restore Retail program. 
Federal Trade Commission Announces Preliminary Agenda for Open Commission Meeting
Yesterday, FTC Chair Lina M. Khan outlined the Commission's upcoming open forum meeting agenda. The tentative agenda includes the following:
Presentation on Criminal Referrals and Partnerships and Motion to Issue Commission Statement

Study on Supply Chain Disruptions
Chair Khan will open with a set of remarks and then the floor will open to members of the public to share feedback on the Commission's work generally and bring relevant matters to the Commission's attention. Members of the public must sign up for an opportunity to address the Commission virtually at the November 18 event. Speaker registration and comment submission will be available through Monday, November 15, 2021, 8 p.m. ET.
Hotel Business: Knowland Releases U.S. Meetings Recovery Forecast
Knowland has released a U.S. Meetings Recovery Forecast (MRF) to provide the hospitality industry with predictive insights into event recovery over the next three years. Going forward, the forecasted recovery capture is indexed as follows:
By the end of 2022, Knowland is forecasting 58.3% recovery.

By the end of 2023, it is forecasting 86.9% recovery. However, by August 2023, Knowland forecasts that individual months will be back to normal levels.

By the end of 2024, Knowland forecasts 109.8% recovery.
STR: U.S. Hotel Results for Week Ending November 6
U.S. hotel performance increased slightly from the previous week, according to STR's latest data through November 6. While none of the Top 25 Markets recorded an occupancy increase over 2019, Norfolk/Virginia Beach came closest to its 2019 comparable (-5.2% to 59.9%). Miami reported the largest ADR increase when compared with 2019 (+13.6% to $205.56).
October 31 through November 6, 2021 (percentage change from comparable week in 2019*):
Occupancy: 59.8% (-13.0%)

Average daily rate (ADR): $128.14 (-3.2%)

Revenue per available room (RevPAR): $76.61 (-15.8%)
Town Hall: AAHOA Greater Los Angeles Town Hall Meeting, 5 p.m. PST Friday, November 12 - Bakersfield, CA

Trade Show: HX: The Hotel Experience Powered by AAHOA, 8 a.m. – 5 p.m. EST, November 14-15, New York, NY

Regional: 2021 AAHOA Florida Regional Conference & Trade Show, 2 p.m. EST Tuesday, November 30 - Orlando, FL
Upcoming Industry Events & Webcasts
AAHOA Webcast: Capital Market Updates
As a hotelier navigating an uncertain landscape going into 2022, it is important to have a foundational understanding of what financial and lending options are available to you. In this webcast, Jake Clopton, President of Clopton Capital, will discuss the current state of the capital markets as it relates to hotel financing. Join AAHOA on Tuesday, November 16, for this timely discussion on perm, bridge, and construction loans, including SBA and CMBS loans, and how you can make the most of the options available to you.
11 a.m. EST Tuesday, November 16
Now Available On Demand: Immigration Labor – Fact or Fiction
Access this on-demand webcast for for a timely and thorough discussion on the latest implications of immigration and labor shortage issues, including the limitations and guidelines of H-2B and J-1 visas for future labor. Jorge L. Lopez, a shareholder of Littler Mendelson P.C., a leading firm with a singular focus on labor and employment law, shares what the business community has done so far this year on promoting immigration reform in the hospitality industry, and what we can expect in the future.
1 p.m. EST Wednesday, November 10
What Members Are Saying...
"I just wanted to send a quick note to express my appreciation to all you're doing during this time. I have been following all the great work you have been doing to support the industry and admire your strength and leadership! Keep up the amazing work!"
– AAHOA Industry Partner
Was this email forwarded to you? You can opt in, or opt back in, to receive these directly by signing up at myaahoa.com.

Asian American Hotel Owners Association, Inc.
Atlanta Headquarters
1100 Abernathy Road, Suite 725
Atlanta, GA 30328
Washington D.C. Office
601 New Jersey Avenue NW, Suite 610
Washington DC 20001
To update your subscription preferences, please email info@aahoa.com..