Click here if you are having trouble viewing this message.

Your Daily AAHOA Update for Tuesday, November 2,

 2021
Today's Top Stories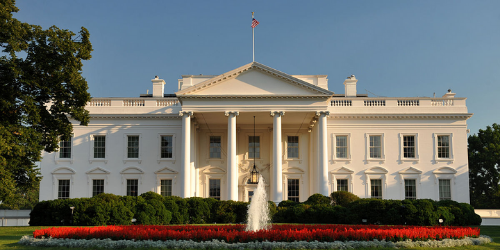 ICYMI: Past Chair Jagruti Panwala Joined the White House for National Women's Small Business Month
Last week, AAHOA Past Chair (2019-2020) Jagruti Panwala was invited by the White House to speak at the White House and WHIAANHPI National Women's Small Business Month Listening Session for the AA and NHPI women-owned small businesses and advocates for the small business community. AAHOA extends sincere gratitude to Jagruti for her continued service on behalf of America's hoteliers. 

"Small businesses in the travel and tourism sector – many owned and operated by women and members of the Asian American diaspora – are struggling as leisure travel lags and corporate travel is projected to remain at only 30% of 2019 levels through the end of 2021... As we pivoted our operations to adapt to the challenges we faced, our associates never lost the commitment to serve others. We rallied our fellow hoteliers together to support food and PPE drives, meal deliveries, and to provide rooms for first responders. Thanks to this community of hoteliers, I've been able to navigate this pandemic and help others do the same."  – Jagruti Panwala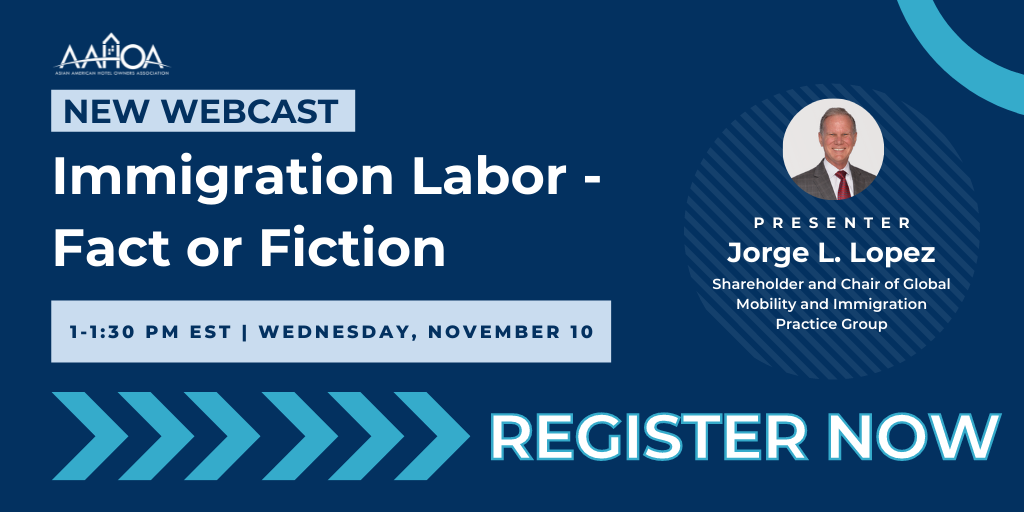 New AAHOA Webcast Scheduled:  Immigration Labor – Fact or Fiction
Join AAHOA at 1 p.m. EST next week on Wednesday, November 10, for a timely and thorough discussion on the latest implications of immigration and labor shortage issues, including the limitations and guidelines of H-2B and J-1 visas for future labor. Jorge L. Lopez, a shareholder of Littler Mendelson P.C., a leading firm with a singular focus on labor and employment law, will share what the business community has done so far this year on promoting immigration reform in the hospitality industry, and what we can expect in the future. 
PS: Don't forget to join us for tomorrow's webcast, Why Cultural Competency Matters, at 11 a.m. EDT!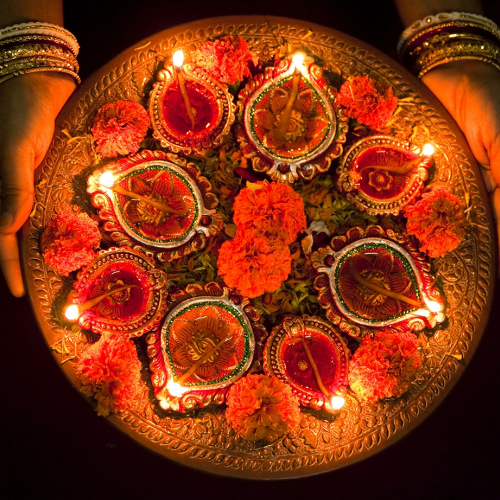 Happy Diwali – the Festival of Lights!
Diwali, also known as the Festival of Lights, is a widely celebrated Indian festival. Diwali signifies the victory of good over evil and is not only a Hindu festival as it is celebrated by many across the globe. This year, Today's Hotelier wanted to recognize this auspicious occasion and share more about this annual celebration with our readers who may want to know more about the occasion and its lovely traditions and history. Learn more about what Diwali means to AAHOA Chair Vinay Patel and other members of the AAHOA Board of Directors by checking out the feature in our November issue of Today's Hotelier. 
CoStar Insight: Hotel Industry's Employment Data Paints Bleak Picture
The industry employed around 2.1 million people in early 2019, but the number plummeted to just over 1 million mid-2020 and has now recovered to 1.8 million. But this is still a 14% drop in workers in an environment where national occupancy has reached almost 58% through September. The increases in demand in 2020 and 2021 were driven by sustained travel by American consumers and some limited business travelers. The expectation going forward is that group and transient demand will increase further in 2022, exacerbating the need for labor at all levels in hotels.
Upcoming Industry Events & Webcasts
43rd Annual NYU International Hospitality Industry Investment Conference
Join your industry peers for the 43rd Annual NYU International Hospitality Industry Investment Conference. Hosted by the NYU School of Professional Studies Jonathan M. Tisch Center of Hospitality, the conference features general sessions and networking events that provide data, analysis, perspectives, insights, and opportunities. Meet, mingle, and network with the professionals who drive this stimulating, evolving, and fascinating industry.
November 7–9
TOMORROW | AAHOA Webcast: Seva Global – Why Cultural Competency Matters
Understanding and respecting different cultures is vital in a business world that grows more diverse every day. For your company to be successful, you must be culturally sensitive and competent with your employees and your teams must be the same when serving customers of different backgrounds. Join us as Seema Jain, Founder of Seva Global, discusses proven strategies for achieving a more enlightened and impactful approach when engaging with a diverse clientele and staff. Register today!
11 a.m. EDT Wednesday, November 3
What Members Are Saying...
"You guys are doing a phenomenal job in communicating and updating members in this difficult climate. I want to thank everyone at AAHOA. Take care and stay safe.
–AAHOA Lifetime Member
Was this email forwarded to you? You can opt in, or opt back in, to receive these directly by signing up at myaahoa.com.

Asian American Hotel Owners Association, Inc.
Atlanta Headquarters
1100 Abernathy Road, Suite 725
Atlanta, GA 30328
Washington D.C. Office
601 New Jersey Avenue NW, Suite 610
Washington DC 20001
To update your subscription preferences, please email info@aahoa.com..