Click here if you are having trouble viewing this message.

Your Daily AAHOA Update for Monday, November 1,

 2021
Today's Top Stories
Bureau of Labor Statistics Releases Latest Employment Cost Index
On Friday, the Bureau of Labor Statistics released the Employment Cost Index, the broad measure of labor costs, for September 2021. The BLS reported a 1.3% increase after rising by 0.7% in the previous quarter. The index has increased by 3.7% over the past year. The pandemic upended labor market dynamics and for months many industries have grappled with a labor shortage as shown in the latest on the Employment Cost Index. AAHOA will continue to keep members apprised of the latest labor updates from Washington, D.C.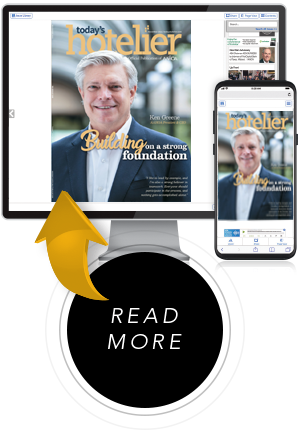 November Issue of Today's Hotelier – a 2021 Award-Winning Magazine – on Newsstands Everywhere! 
It's the beginning of a new month, and that means another issue of Today's Hotelier just hit newsstands! In this issue, we examine the involvement in state and local advocacy as a key part of a hotel ownership playbook, while also looking at marketing strategies and defensible terminations in an unpredictable post-pandemic world. And we get to learn more about the vision for AAHOA's future from new President & CEO Ken Greene.
In addition, Today's Hotelier magazine was recently recognized as a 2021 MarCom Platinum Award Winner for the print media, association magazine category. MarCom Awards honors excellence in marketing and communication and are administered by the Association of Marketing and Communication Professionals. Congratulations to everyone who has made the magazine a huge success since its launch in 2016. We appreciate our loyal readers and advertisers for their ongoing support! 
AAHOA Webcast this Wednesday: Cultural Competency Matters
The next AAHOA Webcast, brought to you by the Hotel Owners Academy™, features Seema Jain, Founder of Seva Global. Understanding and respecting different cultures is vital in a business world that grows more diverse every day. For your company to be successful, you must be culturally sensitive and competent with your employees and your teams must be the same when serving customers of different backgrounds. Join us at 11 a.m. EDT on Wednesday, November 3, for a discussion on proven strategies for achieving a more enlightened and impactful approach when engaging with a diverse clientele and staff.
STR: Labor Costs Brought U.S. Hotel Profitability Down Further in September
Increased spending on labor created lower gross operating profit for U.S. hotels, according to STR's September 2021 monthly P&L data release. Estimated labor costs came in at 96% of the comparable level from 2019, which was the highest index of the pandemic-era. All the key profitability metrics fell from August. Among the major markets, only San Francisco remains in negative GOPPAR territory through the first nine months of the year. "Higher labor margins meant less room for profits, and the GOP margin fell for the second consecutive month to 33%," said Raquel Ortiz, STR's assistant director of financial performance. 
Upcoming Industry Events & Webcasts
HX: The Hotel Experience, BDNY Both Take a Bite of the Big Apple in November
Held in conjunction, HX: The Hotel Experience Powered by AAHOA and Boutique Design New York are both returning to New York City's Javits Center on November 14-15. HX serves as a community for hospitality professionals, offering unparalleled access to education, solutions, and innovation to deliver extraordinary guest experiences and improved profitability. BDNY is the curated, creative event of the industry, bringing designers, architects, purchasing agents, hoteliers, owners, and developers together with inventive manufacturers of design elements for hospitality interiors for a highly curated experience. Register for one or both today!
November 14-15
Turning the Page to Prosperity at ALIS
A new year, a new frame of mind. January 2022 will be the time for the hotel investment community to turn the page as it moves on to the next chapter of recovery. There are "I"s to dot and "T"s to cross as industry leaders will convene at the 21st annual Americas Lodging Investment Summit. Long known as the place to do deals and set the investment agenda for the year ahead, ALIS in 2022 will feature CEOs, presidents, and other real estate leaders discussing the state of the industry while providing key networking opportunities to re-connect and get the deal pipeline flowing. Don't miss the chance to write your own success story by registering for the global hotel industry's premier event to get deals done.
January 24-26, 2022
What Members Are Saying...
"I want to let you know that I really appreciate the both of you taking out time, out of your busy schedules, to assist a fellow AAHOA Member. It really means a lot to myself and my family, and we greatly appreciate it… I may not have found the solution if it wasn't for you."
–AAHOA Member
Was this email forwarded to you? You can opt in, or opt back in, to receive these directly by signing up at myaahoa.com.

Asian American Hotel Owners Association, Inc.
Atlanta Headquarters
1100 Abernathy Road, Suite 725
Atlanta, GA 30328
Washington D.C. Office
601 New Jersey Avenue NW, Suite 610
Washington DC 20001
To update your subscription preferences, please email info@aahoa.com..