Click here if you are having trouble viewing this message.

Your Daily AAHOA Update for Wednesday, October 27,

 2021
Today's Top Stories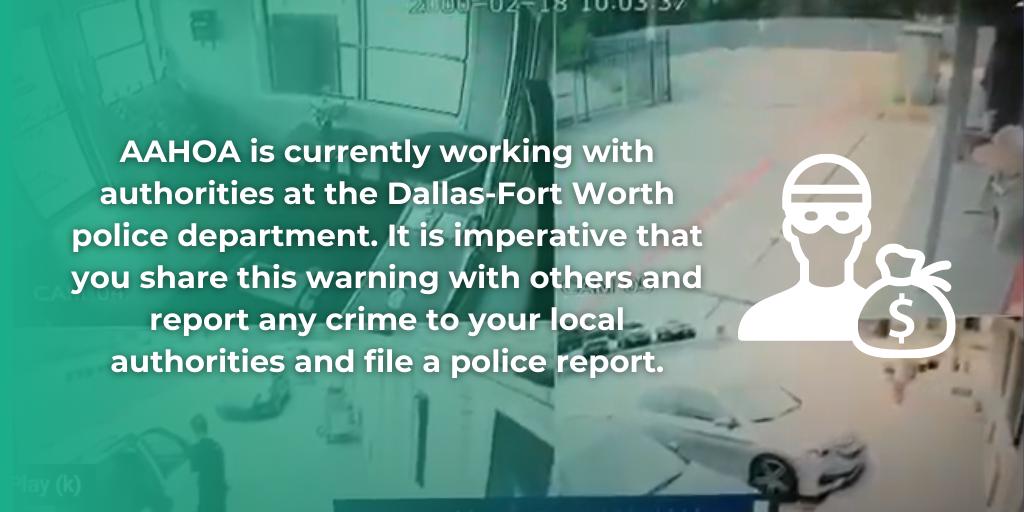 Hotel Owner and Operator Safety Alert: Criminals and Attempted Robberies Reported
AAHOA has been made aware that several attempted robberies have occurred in the Dallas-Fort Worth area, with the potential that the same suspects are targeting other states as well. Members in North Texas have alerted us that the robbers are targeting hotels in the DFW area and say the group may travel beyond DFW, and even the state of Texas, and is not staying anywhere overnight. 
The information that has been shared with AAHOA includes: 
A member of the group asks the front desk to show the room, while the others take the opportunity to rob the office and manager's apartment.

Best practice indicates to limit or stop the showing of rooms and lock all windows and doors while you are away from the front desk.

Precautionary media was shared with AAHOA. If you would like to see pictures and videos of possible suspects, you can access it here.
AAHOA is currently working with authorities at the Dallas-Fort Worth police department and will pass along more information as it becomes available. It is imperative that you share this warning with others and report any crime to your local authorities and file a police report.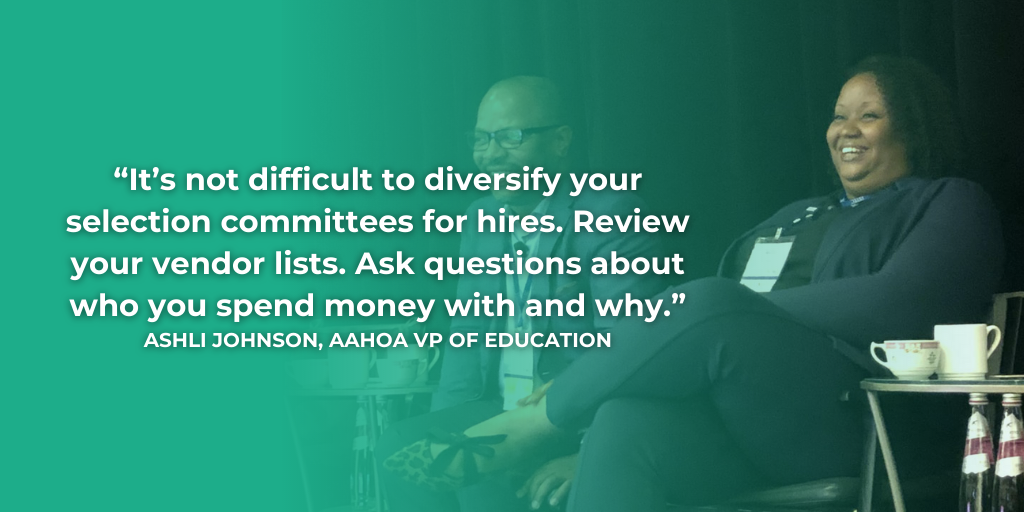 CoStar: Hoteliers Urged To Do More Than Talk About Diversity, Equity, Inclusion
The U.S. hotel industry is behind in many ways in addressing diversity, equity, and inclusion issues systemically, but as conversations happen more frequently and resources are devoted to solutions, subject-matter experts say the needle is poised to move. "We've been talking about racial equality issues for 30 or 40 years, and they were problems long before that. If it were a priority, it would have been handled by now," Ashli Johnson, AAHOA VP of Education, said during a panel discussion on diversity issues in the U.S. hotel industry at the International Society of Hospitality Consultants meeting. (Image above: Stephanie Ricca, CoStar)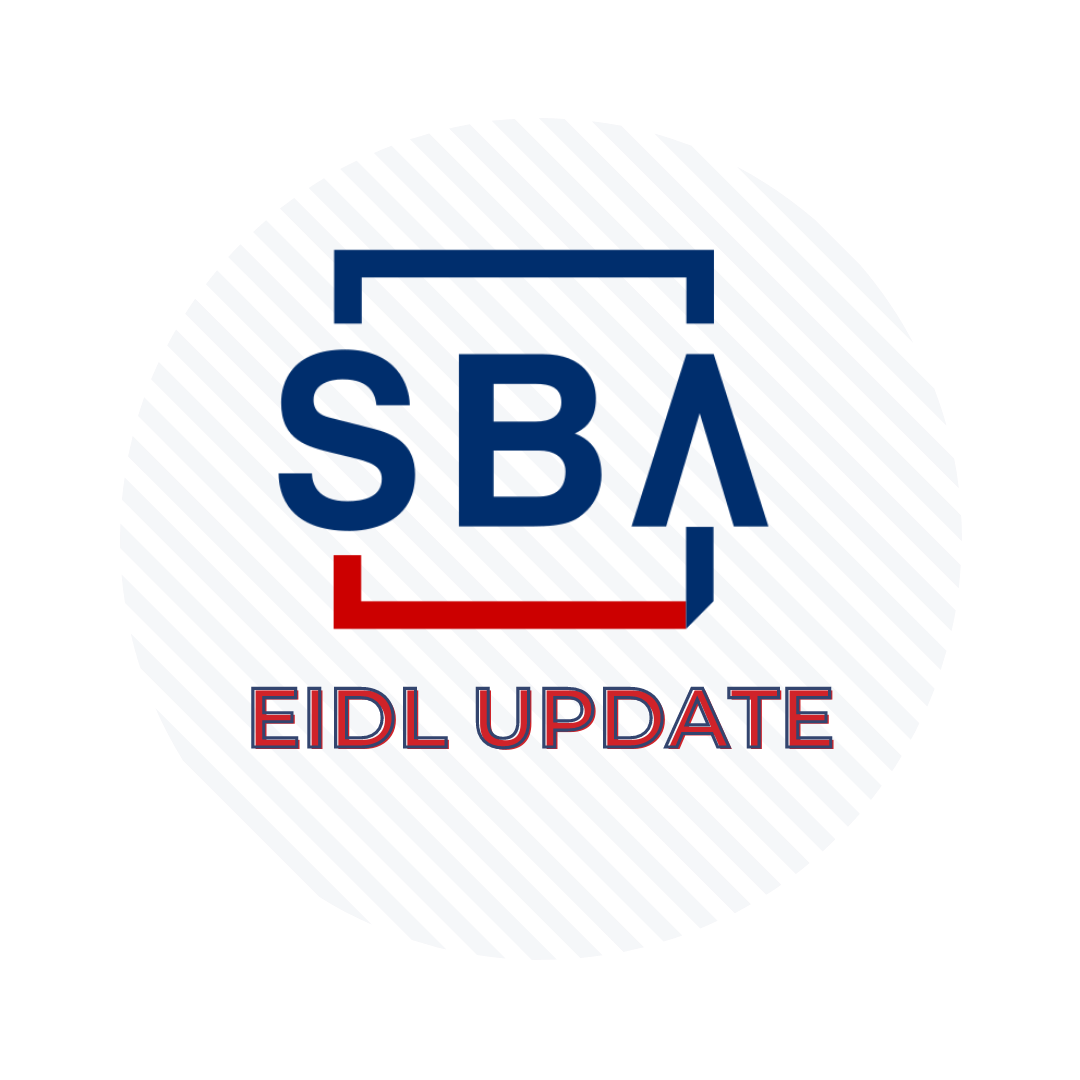 The SBA's Targeted EIDL Advance and Supplemental Targeted Advance Grant Programs Still Flush with Funds
The SBA's targeted EIDL advance grant program reportedly has sent out $3.8 billion of the $30 billion allocated to the program. The supplemental targeted advance has used $1.8 billion of its $5 billion in funding. While the EIDL program will continue to be available to prospective applicants into 2022, the aforementioned programs are set to expire at the end of the year. Visit the SBA's website for more information on the EIDL loan programs. 
Lodging Econometrics: U.S. Construction Pipeline Experiences Highs and Lows in the Third Quarter
Analysts at Lodging Econometrics report that in the third quarter of 2021 the total U.S. construction pipeline stands at 4,837 projects/592,259 rooms, down 8% by projects and 10% by rooms year-over-year. While project numbers have seen a slight increase over second-quarter totals, overall, the construction pipeline remains largely muted due to a reduced inflow of new projects in the pipeline as compared to "pre-COVID levels," and significant hotel openings during the first half of the year which exited the pipeline.
Regional: 2021 AAHOA South Central Texas Regional Conference & Trade Show, 2 p.m. CDT Thursday, October 28 - Austin, TX

Town Hall: AAHOA Southwest Town Hall Meeting, 5 p.m. MST Wednesday November 10  - Saint George, UT

Regional: 2021 AAHOA Georgia Regional Conference & Trade Show, 2 p.m. EST Thursday, November 11 - Atlanta, GA

Regional: 2021 AAHOA Florida Regional Conference & Trade Show, 2 p.m. EST Tuesday, November 30 - Orlando, FL
Upcoming Industry Events & Webcasts
TOMORROW | Marcus & Millichap | Kabani Group 5th Annual Hotel Investment Forum Set
The Marcus & Millichap | Kabani Hotel Group 5th Annual Hotel Investment Forum is scheduled for Thursday, October 28, in Miami, FL. Co-hosted by AAHOA Silver Partner Marcus & Millichap, the event brings together industry leaders, investors, hotel owners, developers, CEOs, and dealmakers to discuss top-of-mind topics, including a hospitality outlook going into 2022, how to create profitability, and the legal tension between borrowers and lenders. As an added bonus, AAHOA Members get a 25% discount on tickets by entering 'KabaniForum21' during the registration process. Don't miss out!
11 a.m. – 3 p.m. EDT, October 28
The State of the American Traveler: Fall 2021 Webinar
The State of the American Traveler is one of the nation's leading travel studies of American leisure travelers. The quarterly research is undertaken by Destination Analysts, a specialist research company 100% focused on travel and tourism. This year, The State of the American Traveler expanded the depth and range of its free research with the launch of a dynamic, interactive dashboard, allowing users to drill into the research results in more detail and customize the interface to the areas they are most interested in. Users can now access free, customizable insights for more than 60 destinations across the U.S.
3 p.m. EST Thursday, November 18
What Members Are Saying...
"I wanted to say AAHOA is doing an excellent job with all the content and help through all of this. Keep up the great work."
–AAHOA Industry Partner
Was this email forwarded to you? You can opt in, or opt back in, to receive these directly by signing up at myaahoa.com.

Asian American Hotel Owners Association, Inc.
Atlanta Headquarters
1100 Abernathy Road, Suite 725
Atlanta, GA 30328
Washington D.C. Office
601 New Jersey Avenue NW, Suite 610
Washington DC 20001
To update your subscription preferences, please email info@aahoa.com..