Click here if you are having trouble viewing this message.

Your Daily AAHOA Update for Monday, October 4

, 2021
Today's Top Stories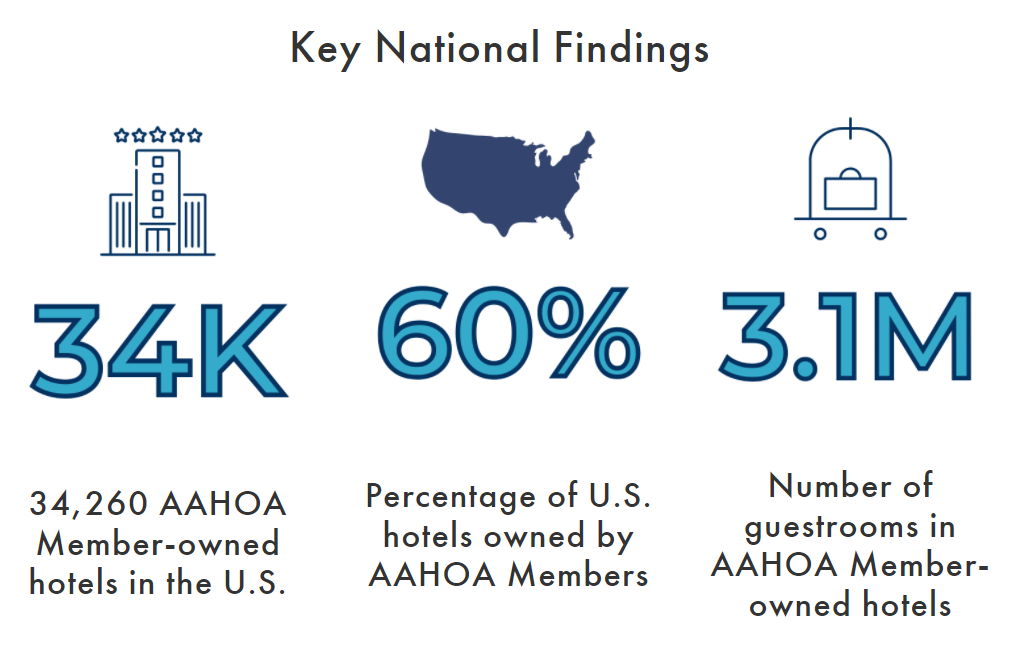 AAHOA Issues Reports Detailing Its Members' Economic Impact in the U.S.
AAHOA officially announced the economic impact results of the study conducted earlier this year in partnership with Oxford Economics, an international leader in global forecasting and quantitative analysis. The initial report, unveiled at the 2021 AAHOA Convention & Trade Show in Dallas, TX, revealed that the association's nearly 20,000 hoteliers own 34,260 hotel properties, which account for 60% of the hotels in the U.S. These properties have 3.1 million guestrooms, and account for 2.2 million direct-impact jobs. The state-level reports highlight key data points such as the annual economic impact that AAHOA Member-owned properties have in each state, labor and job impacts, guest spending, member purchases from other businesses, annual capital investments, and much more.
AAHOA President & CEO Ken Greene Drops by the 'No Vacancy Podcast' 
AAHOA President & CEO Ken Greene stopped by for a chat with "No Vacancy Podcast" host Glenn Haussman during The Lodging Conference last week. Greene discussed his goals for the organization, the powerful economics behind how many hotels it represents, AAHOA's advocacy efforts, and more. "Anytime you've walked in the shoes of the side you're advocating for your members with, I think that's important," Greene said of his previous experience as a brand executive. "I think that experience will bear well in representing the membership."
The October Issue of Today's Hotelier Is on Newsstands Everywhere
The October 2021 issue of Today's Hotelier magazine is now available! In our cover story, Keith Pierce, EVP, President of Franchise & Development with Sonesta + RLHC, weighs in on the increasing importance of brand standards in an age where everyone's a critic with an audience. We also examine the owner-brand relationship, we explore tactics to combat the current labor shortage, and we dig deeper into the AAHOA-commissioned Oxford Economics report.
AAHOA Florida Town Hall Meeting, in conjunction with NABHOOD, 5:30 p.m. EDT Thursday, October 7 - Miami, FL

2021 AAHOA Washington DC Area Regional Conference & Trade Show, 1 p.m. EDT Tuesday, October 12 - Alexandria, VA

AAHOA Northeast Regional Conference & Trade Show, 1 p.m. EDT Thursday, October 14 - Syracuse, NY

2021 AAHOA Mid South Regional Conference & Trade Show, 1 p.m. EDT Monday, October 18 - Louisville, KY

2021 AAHOA North Texas Regional Conference & Trade Show, 1 p.m. CDT Tuesday, October 19 - Irving, TX

2021 AAHOA Georgia Town Hall Meeting, 5 p.m. EDT Tuesday, October 19 - Cartersville, GA
Upcoming Industry Events & Webcasts
This Week: NABHOOD Hotel Ownership & Investment, International Multicultural & Heritage Tourism Summits Set
NABHOOD summits are both set for this week in Miami, FL. The African American Hotel Ownership & Investment Summit is designed to educate attendees on how to become a hotel owner or investor, share lodging and industry trends, learn how to market to minorities, and look at ongoing diversity issues affecting the industry. The International Multicultural & Heritage Tourism Summit is designed to educate tourism, travel, and hospitality professionals on the $100+ billion African American travel market. AAHOA is also hosting a Town Hall Meeting from 5:30 p.m. to 6:30 p.m. on Thursday, October 7, in conjunction with NABHOOD.
October 6-10
AAHOA to Host Brand Alliance Meeting Tomorrow at Best Western Convention in Las Vegas
The AAHOA Officers and will host a Brand Alliance Meeting 4-5 p.m. tomorrow during the 2021 Best Western North American Convention, slated for October 5-7 at the MGM Grand in Las Vegas. These meetings give AAHOA Members the chance to have face-to-face interactions with leadership to further dialogue about the important topics on the minds of owners and serve to further strengthen AAHOA's valuable relationships and encourage open lines of communication with brand partners. Don't miss this chance to voice your questions and concerns directly to leadership.
October 5-7
What Members Are Saying...
"[The presenters] offered really specific information and highlighted examples that I really appreciated hearing. I am going to have all my staff watch this video. Thanks for putting this together. COVID-19 is enough to deal with, don't need an ADA lawsuit, too!"
–Webcast Attendee
Was this email forwarded to you? You can opt in, or opt back in, to receive these directly by signing up at myaahoa.com.

Asian American Hotel Owners Association, Inc.
Atlanta Headquarters
1100 Abernathy Road, Suite 725
Atlanta, GA 30328
Washington D.C. Office
601 New Jersey Avenue NW, Suite 610
Washington DC 20001
To update your subscription preferences, please email info@aahoa.com..