Click here if you are having trouble viewing this message.

Your Daily AAHOA Update for Thursday

, September 23

, 2021
Today's Top Stories
AAHOA Board of Directors Names Ken Greene As President & CEO
Following a unanimous vote by the AAHOA Board of Directors, Ken Greene is the new President & CEO. Greene has been serving in that role on an interim basis since June.
"AAHOA has been a part of my life for years, so when the opportunity came up to become Interim President & CEO, it was an easy decision to make," Greene said. "These last few months have exceeded my expectations, and I'm looking forward to continuing to build relationships with our Officers, Board, Members, and Industry Partners." During his interim period, Greene oversaw the association's return to in-person events with the 2021 AAHOA Convention & Trade Show in Dallas, TX. The convention, which drew more than 6,000 attendees, was the first such event in the city since the start of the pandemic.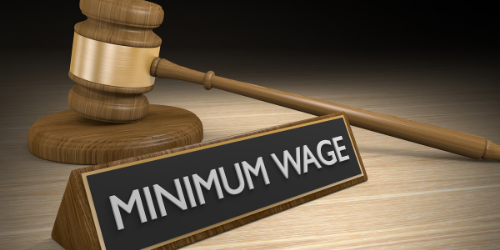 Florida: FRLA Reminds Florida Employers to Post Current Minimum Wage Signage
All Florida employers are required to post the current minimum wage in their place of business where an employee can see it. Starting September 30, the minimum wage in Florida will increase to $10 an hour, and the required cash wage for tipped employees will increase to $6.98. For more information, please visit the Department of Economic Opportunity webpage on Florida's minimum wage here.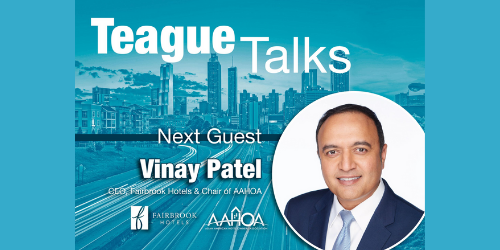 Teague Talks: Chair Vinay Patel Drops by for a Chat About the Industry, AAHOA's Future
AAHOA Chair Vinay Patel will be the featured guest at 10 a.m. EDT tomorrow on Teague Talks. Vinay will sit down with host Teague Hunter, President & CEO at Hunter Hotel Advisors, to share his thoughts and insights on the hospitality industry as a whole and how he plans to lead AAHOA into the future. Don't miss what is sure to be an informative and enlightening discussion!

10 a.m. EDT Friday, September 24
AAHOA Releases Official Statement on Proposed SBA Funding
AAHOA President & CEO Ken Greene issued the following statement in response to House Small Business Committee Chairwoman Nydia Velazquez's proposed $25 billion in funding for Small Business Administration initiatives, including $4.4
billion in direct lending:
"America's hoteliers are grateful to the Biden Administration for taking much-needed action to keep our country on the road to recovery. The $4.4-billion investment in direct lending is a lifeline for small businesses, their employees, and communities across the country."
STR: U.S. Hotel Occupancy Reaches a 4-week High
U.S. hotel occupancy reached a 4-week high, according to STR's latest data through September 18. September 18-21, 2021 (percentage change from comparable week in 2019*):
Occupancy: 63.0% (-11.6%)

Average daily rate (ADR): US$131.04 (-2.6%)

Revenue per available room (RevPAR): US$82.50 (-13.9%)
AAHOA Southeast Texas Town Hall Meeting, 5 p.m. CDT Wednesday, September 29 - College Station, TX

AAHOA Florida Town Hall Meeting, 5 p.m. EDT Wednesday, October 6 - Miami, FL

2021 AAHOA Washington D.C. Area Regional Conference & Trade Show, 1 p.m. EDT Tuesday, October 12 - Alexandria, VA

AAHOA Northeast Regional Conference & Trade Show, 1 p.m. EDT Thursday, October 14 - Syracuse, NY

2021 AAHOA Mid South Regional Conference & Trade Show, 1 p.m. EDT Monday, October 18 - Louisville, KY

2021 AAHOA North Texas Regional Conference & Trade Show, 1 p.m. CDT Tuesday, October 19 - Irving, TX

2021 AAHOA Georgia Town Hall Meeting, 5 p.m. EDT Tuesday, October 19 - Cartersville, GA
Upcoming Industry Events & Webcasts
NABHOOD Hotel Ownership & Investment, International Multicultural & Heritage Tourism Summits Set
NABHOOD's 25th Annual African American Hotel Ownership & Investment Summit and its 8th Annual International Multicultural & Heritage Tourism Summit are both set for October in Miami, FL. The African American Hotel Ownership & Investment Summit, set for October 6-8, is a three-day educational summit designed to educate attendees on how to become a hotel owner or investor, share lodging and industry trends, learn how to market to minorities, and look at ongoing diversity issues affecting the hospitality industry. The International Multicultural & Heritage Tourism Summit, slated for October 8-10, is a two-day educational summit designed to educate tourism, travel, and hospitality industry professionals on the $100+ billion African American travel market, while highlighting cultural heritage experiences, revenue opportunities, and amazing destinations across the U.S. and the Caribbean.
October 6-10
Join AAHOA and the Industry at The Lodging Conference Starting Monday
The Lodging Conference, which kicks off Monday in Phoenix, brings together the hotel industry's most influential owners, operators, presidents, CEOs, and dealmakers to strategize about every aspect of the industry's development, finance, franchising, management, construction, design, and operations. Hear from all five AAHOA Officers and the Past Chair and be sure to attend our AAHOA Reception at the Isle of Capri inside the JW Marriott Phoenix Desert Ridge during this unique conference that offers attendees the opportunity to actually participate in the discussions and help solve problems. You don't want to miss this rare opportunity!
September 27-30
What Members Are Saying...
"[Regional Director], thank you for your wonderful Town Hall meeting tonight. We all had fun and we learned a great deal. I will be happy to help you and AAHOA. You did a great job and I am proud to be a Lifetime Member of AAHOA."
–AAHOA Lifetime Member, VA
Was this email forwarded to you? You can opt in, or opt back in, to receive these directly by signing up at myaahoa.com.

Asian American Hotel Owners Association, Inc.
Atlanta Headquarters
1100 Abernathy Road, Suite 725
Atlanta, GA 30328
Washington D.C. Office
601 New Jersey Avenue NW, Suite 610
Washington DC 20001
To update your subscription preferences, please email info@aahoa.com..