Click here if you are having trouble viewing this message.

Your Daily AAHOA Update for Wednesday

, September 8

, 2021
Today's Top Stories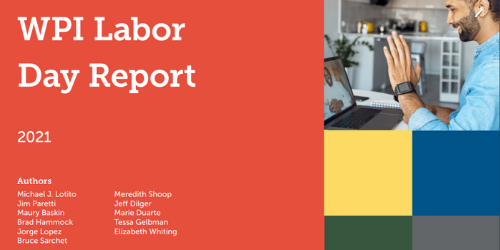 Littler Workplace Policy Institute® Releases Its 2021 Labor Day Report 
Littler's Workplace Policy Institute® (WPI™), which partners with the employer community to engage in legislative and regulatory advocacy efforts on issues that impact your workplace, has released its 2021 Labor Day Report. The four-part report examines the current jobs market and who has been especially impacted by the changing economic conditions since the pandemic began, discusses how legislative and regulatory measures at the federal, state, and local levels are addressing the current economic climate, focuses on the changing nature of work (how jobs have changed and how the increased use of AI and automation will accelerate these changes), and takes a look ahead at the challenges employers will face in the coming months.
AAHOA Lifetime Member Mayur Chheda Opens New Fairfield Inn in Pennsylvania
AAHOA Lifetime Member Mayur R. Chheda has opened a brand-new Fairfield Inns & Suites by Marriott in Pottstown, PA. Located just a few minutes from downtown Pottstown, the 118-room hotel offers a little bit of everything for discerning select-service business and leisure travelers, from top notch amenities to convenient access to local businesses and shopping. Congratulations, Mayur!
2021 AAHOA Southwest Regional Conference & Trade Show, 1 p.m. MDT Tuesday, September 14 - Albuquerque, NM

2021 AAHOA Upper Midwest Regional Conference & Trade Show, 1 p.m. CDT Thursday, September 16 - Elmhurst, IL 

2021 AAHOA North Central Regional Conference & Trade Show, 1 p.m. EDT Tuesday, September 21 - Toledo, OH

2021 AAHOA Alabama Regional Conference & Trade Show, 1 p.m. EDT Thursday, September 23 - Birmingham, AL

2021 AAHOA North Pacific Regional Conference & Trade Show, 8 a.m. PDT Thursday, September 23 - San Jose, CA
Upcoming Events & Webcasts
Treasurer Nishant (Neal) Patel to be Guest Speaker at The Innofac Show - Asia Pacific Virtual Conference
AAHOA Treasurer Nishant (Neal) Patel will share his expertise in the technology space at The Innofac Show - Asia Pacific Virtual Conference, being billed as "A Virtual Conference for Technologies in the New Normal." Attendees will meet distinguished business leaders from the region, innovators, owners, media personnel, and thought leaders, better understand the rapidly changing industry landscape, learn how to adopt technology as their growth vehicle, and more. Don't miss out!
September 23-24
HX: The Hotel Experience Powered by AAHOA Returns to the Big Apple
HX: The Hotel Experience Powered by AAHOA is returning to New York City's Javits Center on November 14-15. HX serves as a community for hospitality professionals, offering unparalleled access to market-leading operators who are committed to sharing education, solutions, creativity, and innovation. And don't miss the AAHOA Young Professional Hoteliers Reception, which gives the next generation of hospitality professionals the chance to connect with like-minded peers as they move the industry forward into the future.
November 14-15
What They're Saying...
"First, I wanted to say thank you for all the hard work and unselfish acts the AAHOA staff displays in helping hotel owners across the country. As for educational webinars and listening sessions with various governors, AAHOA has provided knowledge that has helped me tremendously to navigate hotel operations through the pandemic. From securing funding through available programs to sales & marketing and operations, I've lost count after being on 47+ webinars. I am proud to say that I am an AAHOA Member. Thank you very much and continue your course."
–AAHOA Ambassador, FL
Was this email forwarded to you? You can opt in, or opt back in, to receive these directly by signing up at myaahoa.com.

Asian American Hotel Owners Association, Inc.
Atlanta Headquarters
1100 Abernathy Road, Suite 725
Atlanta, GA 30328
Washington D.C. Office
601 New Jersey Avenue NW, Suite 610
Washington DC 20001
To update your subscription preferences, please email info@aahoa.com..