Click here if you are having trouble viewing this message.

Your Daily AAHOA Update for Wednesday

, August 11

, 2021
Today's Top Stories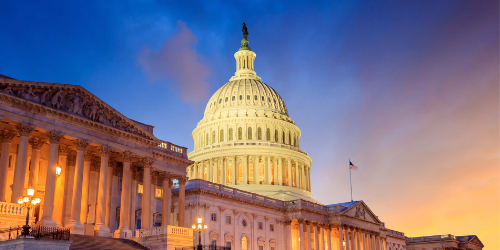 Senate Passes Infrastructure Bill After Months-long Debate
Yesterday, the Senate passed a $550-billion spending bill on infrastructure priorities. A bipartisan group of senators led the effort to draw Republican votes for one of the items on President Biden's Build Back Better agenda. The Senate voted 69-30 on the infrastructure deal, sending the legislation to the House of Representatives. AAHOA will keep members apprised of pertinent updates on the bill's progress in the House.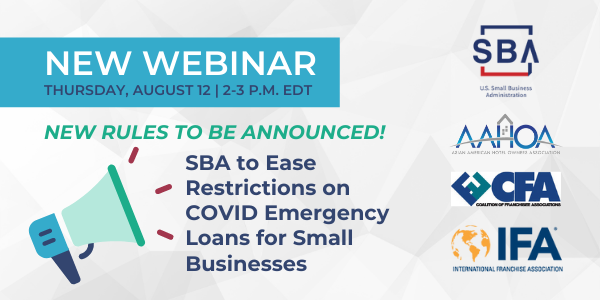 Tomorrow! AAHOA Webinar: Revisions and Updates to the EIDL Program
The Small Business Administration is revising the Economic Injury Disaster Loan program for small businesses in continuing need of COVID-19 relief this summer. SBA representatives will provide an important update on the new rules and answer questions about how your business can benefit from the changes. 
Please join AAHOA, the International Franchise Association, and the Coalition of Franchisee Associations 2-3 p.m. EDT Thursday, August 12 for this special update.
Regionals Season Gets Underway with Events in the Northwest, Arkansas Regions
Now that AAHOACON21 is behind us, it's time to kick off our 2021 Regionals schedule. The AAHOA Northwest Regional Conference & Trade Show is set for 1 p.m. PDT Tuesday, August 24 in Vancouver, WA, while the AAHOA Arkansas Regional Conference & Trade Show is 1 p.m. CDT Thursday, August 26 in Little Rock. Join us for access to top vendors, incredible networking opportunities, and region-specific industry updates you can't get anywhere else.
Baird/STR Hotel Stock Index Rises 1.9% in July 
The Baird/STR Hotel Stock Index rose 1.9% in July to a level of 5,086. Year to date through the first seven months of 2021, the stock index was up 11.2%. "Hotel stocks were positive, but performance was mixed in July with the hotel brands significantly outperforming the hotel REITs," Michael Bellisario, senior hotel research analyst and director at Baird, said.
2021 AAHOA Northwest Charity Golf Tournament, 11:30 a.m. PDT Monday, August 23 - Aurora, OR

2021 AAHOA Northwest Regional Conference & Trade Show, 1 p.m. PDT Tuesday, August 24 - Vancouver, WA

2021 AAHOA Arkansas Regional Conference & Trade Show, 1 p.m. CDT Thursday, August 26 - Little Rock, AR

2021 AAHOA North Carolina Charity Golf Tournament, 1 p.m. EDT Saturday-Sunday, August 28-29 - Concord, NC
Upcoming Events & Webcasts
AAHOA's Longest-running Charity Golf Tournament Tees Off on August 23
The AAHOA Northwest Charity Golf Tournament tees off August 23 at the Langdon Farms Golf Club in Aurora, OR. Join Northwest Regional Director Hiten Patel, Northwest Region Leaders Arvind Patel, Shirin Patel, and Alkesh Patel, and the regional Ambassadors at one of Oregon's premier golf courses as we come together to support local charities and network in person once again, all while enjoying a beautiful day of competitive golf. As AAHOA's longest-running charity golf event, slots sell out quickly, so secure your space before they're all gone! Questions? Contact NorthwestGolf@AAHOA.com today!
August 23
eCornell: Opportunities in the New Paradigm – Risk, Recovery, and Loyalty
In today's business paradigm, risk, recovery, and loyalty are front and center – from COVID-19 and extreme weather events driven by climate change to growing awareness of social inequities. Join the conversation, moderated by Cornell School of Hotel Administration Dean Kate Walsh, in which Karan Girotra, professor and author of "The Risk-Driven Business Model," and Air Canada SVP Mark Nasr discuss how risk and loyalty can provide business opportunity and recovery resilience for both suppliers and buyers.
12:30 p.m. EDT Thursday, August 19
What They're Saying...
"I would highly recommend the course to any operator that wishes to increase their utilization  of the reports. The course was beneficial in providing additional perspective on various markets and segments in the industry. The information learned in the course will be beneficial in the operations of my portfolio and assist in the growth of my company. "
–Webcast Attendee
Was this email forwarded to you? You can opt in, or opt back in, to receive these directly by signing up at myaahoa.com.

Asian American Hotel Owners Association, Inc.
Atlanta Headquarters
1100 Abernathy Road, Suite 725
Atlanta, GA 30328
Washington D.C. Office
601 New Jersey Avenue NW, Suite 610
Washington DC 20001
To update your subscription preferences, please email info@aahoa.com..