Click here if you are having trouble viewing this message.

Your Daily AAHOA Update for Tuesday

, August 10

, 2021
Today's Top Stories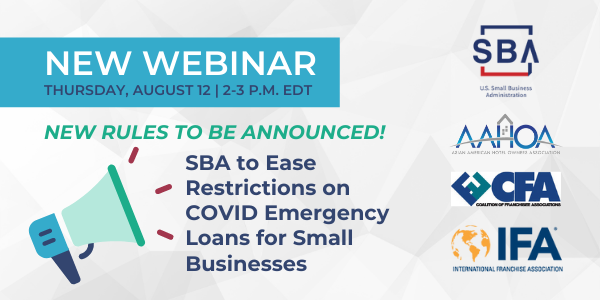 RESERVE YOUR SPOT: AAHOA to Co-host a Webinar on Revisions to the EIDL Program
The Small Business Administration is revising the Economic Injury Disaster Loan program for small businesses in continuing need of COVID-19 relief this summer. SBA representatives will provide an important update on the new rules and answer questions about how your business can benefit from the changes. Please join AAHOA, the International Franchise Association, and the Coalition of Franchisee Associations 2-3 p.m. EST Thursday, August 12 for this special update.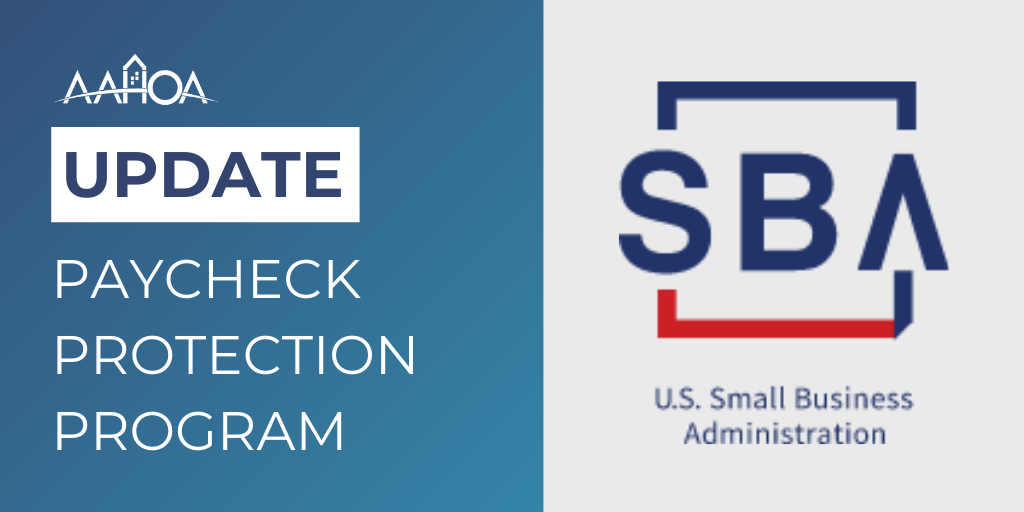 Small Business Administration Opens Paycheck Protection Program Direct Forgiveness Portal

Last week, the Small Business Administration opened a streamlined application portal to borrowers with Paycheck Protection Program loans of $150,000 or less. SBA Administrator Isabel Casillas Guzman stated that "the vast majority of businesses waiting for forgiveness have loans under $150,000. These entrepreneurs are busy running their businesses and are challenged by an overly complicated forgiveness process." AAHOA will keep you apprised of the latest updates from the SBA.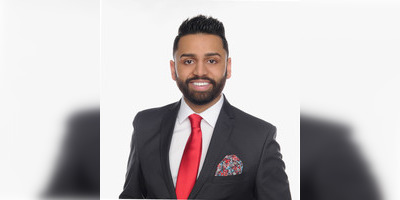 AAHOA Announces Its New Secretary and New Members of the Board of Directors
Miraj S. Patel, MBA, CHO, CHIA, and President of the Houston-based Wayside Investment Group, is the new AAHOA Secretary. "Congratulations to our new AAHOA Secretary and all of our newly elected Board members," AAHOA Interim President & CEO Ken Greene said: "It is encouraging to see so many members volunteering to serve America's hotel owners. I look forward to working with new AAHOA Chair Vinay Patel, the Board Officers, our Board of Directors, and the entire AAHOA team as we assist the hospitality industry on the road to recovery." Also elected to the Board were:
Female Director Western Division: Tejal N. Patel, CHIA, CHO

Gulf Regional Director: Vimal Patel

Mid Atlantic Regional Director: Mahendra (MZ) Patel

Mid South Regional Director: Harikrishna (HK) Patel

North Pacific Regional Director: KP Patel

Northeast Regional Director: Sunil (Sunny) Patel CHO, CHIA

South Carolina Regional Director: Fenil Desai

South Central Texas Regional Director: Kiran (Kevin) Patel

Southeast Texas Regional Director: Ailesh Mulji

Southwest Regional Director: Dharmesh Ahir

South Pacific Regional Director: Mike Riverside CHA, CHO

Upper Midwest Regional Director: Mehul (Mike) Patel
Help AAHOA Progress and Thrive by Volunteering As a Regional Ambassador
The participation and talent of our dynamic membership is vital to AAHOA's success. If you want to make a difference for AAHOA Members and the hospitality community, we encourage you to apply to serve as an AAHOA Ambassador. Your support of the Regional Director in his duties will help ensure our Association is the best it can possibly be. The deadline to apply is Tuesday, August 17.
Take Our AAHOA 2021 Technology Survey: Powered by DISH Business 
AAHOA Members, to better understand your current usage of technology, plans for the future, the impact of COVID-19, and your use of technology and in-room entertainment solutions, we're asking for your feedback in this brief survey. The survey should take about four minutes to complete. The purpose of this research is to better understand your viewpoints and outlook Responses are confidential and voluntary.
2021 AAHOA Northwest Charity Golf Tournament, 11:30 a.m. PDT Monday, August 23 - Aurora, OR

2021 AAHOA Northwest Regional Conference & Trade Show, 1 p.m. PDT Tuesday, August 24 - Vancouver, WA

2021 AAHOA Arkansas Regional Conference & Trade Show, 1 p.m. CDT Thursday, August 26 - Little Rock, AR

2021 AAHOA North Carolina Charity Golf Tournament, 1 p.m. EDT Saturday-Sunday, August 28-29 - Concord, NC
Upcoming Events & Webcasts
Join AAHOA and the Industry at The Lodging Conference Next Month
The Lodging Conference, set for September 27-30 in Phoenix, brings together the hotel industry's most influential owners, operators, presidents, CEOs, and dealmakers to strategize about every aspect of the industry's development, finance, franchising, management, construction, design, and operations. Hear from all five AAHOA Officers and Past Chair during this unique conference that offers attendees the opportunity to actually participate in the discussions and help solve problems.
September 27-30
Southern Lodging SummitGets Underway in Memphis in August 
AAHOA VP of Government Affairs & Counsel Dean Heyl will be a featured speaker at the 19th Annual Southern Lodging Summit in Memphis, TN, in August. Heyl and AHLA Vice President of Government Affairs Troy Flanagan will give a National and State Legislative Update during the two-day event. The summit provides a forum for a diverse group of owners, operators, financial institutions, hotel company representatives, and others to interact with industry notables and speakers.
August 24-25
What They're Saying...
"I just wanted to thank you for your efforts in helping us out to make this possible. Without your help, this was not possible. So, they had agreed not to implement that [brand standards]  mandate right now."
–AAHOA Member
Was this email forwarded to you? You can opt in, or opt back in, to receive these directly by signing up at myaahoa.com.

Asian American Hotel Owners Association, Inc.
Atlanta Headquarters
1100 Abernathy Road, Suite 725
Atlanta, GA 30328
Washington D.C. Office
601 New Jersey Avenue NW, Suite 610
Washington DC 20001
To update your subscription preferences, please email info@aahoa.com..