Click here if you are having trouble viewing this message.

Your Weekly AAHOA Wrap-Up for Friday, July 23, 2021
Message from the Interim President & CEO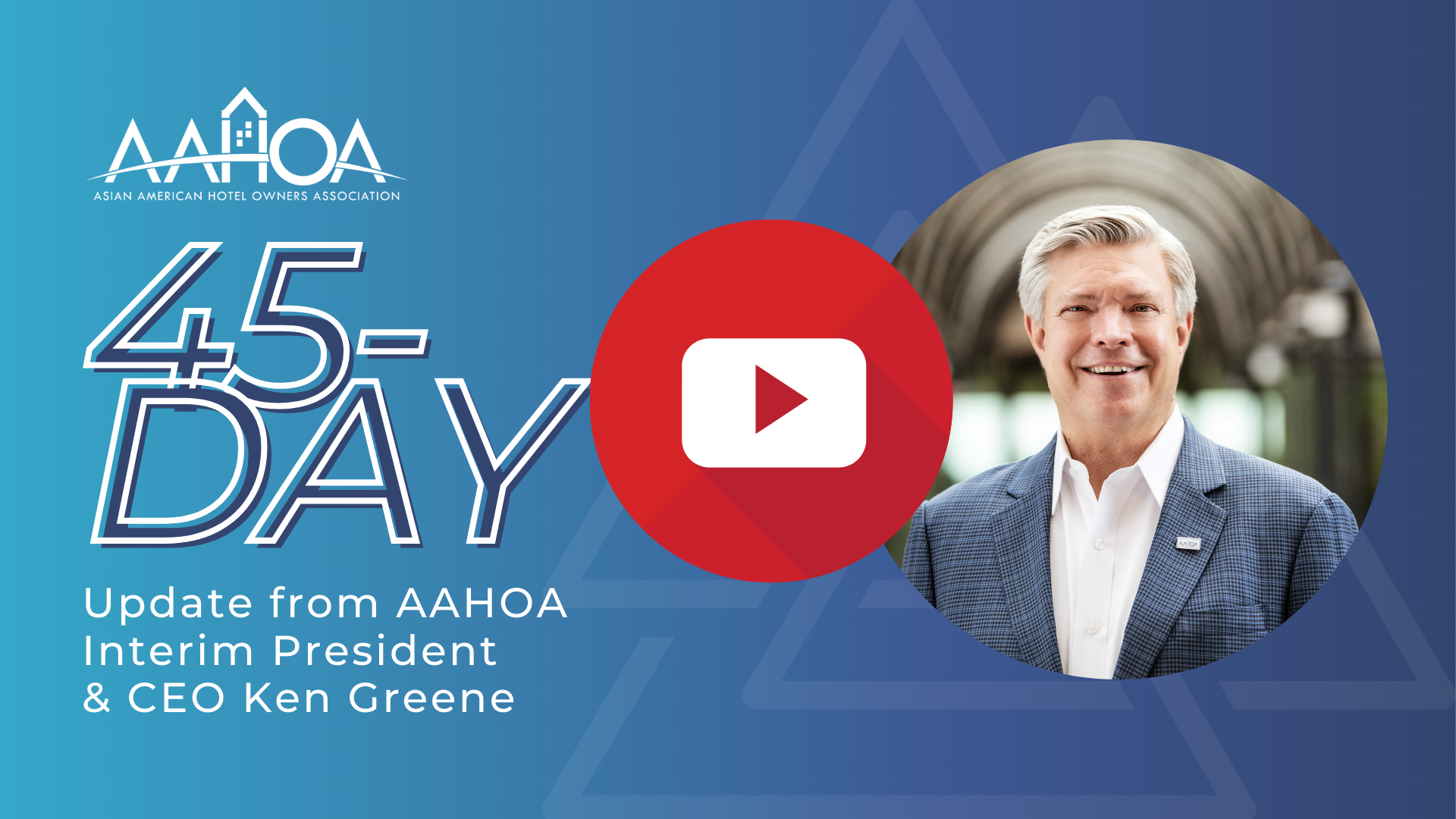 "We are excited to be the first, true live large convention, in person, that Dallas is hosting since the pandemic started".
This week we held our seventh annual Virtual Action Summit…connecting industry leaders with members of Congress.
By educating our lawmakers on issues directly affecting the lodging industry, we can help shape their opinions of our industry and the public policy that affects it.
It was a huge success, but the advocacy work isn't done yet.
AAHOA also appeared on several podcasts this week, sharing our excitement for the most anticipated event of the year: AAHOACON21.
We are a week and a half away from the convention.
With thousands registered, we are excited to be the first, true live large convention, in person, that Dallas is hosting since the pandemic started.
We want to remind everyone that safety is our number-one priority. Learn more about our health and safety measures here.
We are Team AAHOA, and we have so much more to accomplish together.
Sincerely,
Ken Greene
AAHOA Interim President & CEO
10 

Bloomberg: Prices of U.S. Hotel Stays Recover to Pre-Pandemic Level

 

The party is over for bargain-hunting travelers. The cost of hotel and motel accommodations in the U.S. surged 7.9% in June from a month earlier, the second-largest gain on record, the Labor Department's consumer price index data showed Tuesday. That marked the fourth straight monthly advance and pushed the price index back above where it was before the pandemic.
9 

ICYMI: AAHOA Interim President & CEO Ken Greene Featured on 'No Vacancy Podcast' 

 

"No Vacancy Podcast" host Glenn Haussman recently welcomed AAHOA Interim President & CEO Ken Greene to the show to talk about taking over the role and what he envisions for the association. "Eighteen years ago, at my first [AAHOA] convention, a bunch of members took me under their wings … and I've never forgotten it," Greene said. "This was a way for me to give back at this point." Greene was asked why he chose to take on this challenge at AAHOA now, especially given the impact the COVID-19 pandemic has had on the hospitality industry. "It's difficult times for everybody, not just the hotel business, … though we've been hit the hardest," Greene said. "There were some changes happening at AAHOA ... and I have just a tremendous amount of respect for what the association represents. … I couldn't be more excited to be here. I think the future is very bright for AAHOA." 
8 

Hotel Business: Roger Dow to Retire As U.S. Travel Association Leader in July 2022

 

The U.S. Travel Association has revealed that Roger Dow will extend his leadership as president/CEO of the association through July 2022, at which time he will retire following 17 years of service. In his capacity, which he has held since January 2005, Dow has guided U.S. Travel and the broader industry through periods of remarkable growth—marked by 10 consecutive years of expansion from 2009-2019, according to the association. 
7

 AAHOACON21: Plan Your Professional Development

 

We are offering two certificate programs at AAHOACON21 – we challenge you to make it a goal to earn at least one on Tuesday, August 3. We also are offering 10 other education sessions from the industry's top leaders, three specifically for Young Professional hoteliers, women hoteliers, and independent hoteliers. We'll feature sessions on everything from how to solve the talent dilemma, learning proven strategies for revenue recovery, and how to advocate at all levels of government to gaining insights into what the future of franchising will look like, how to advance hospitality through technology and design, harnessing the power of great leadership, and more. Check out the full schedule and plan your professional development track ahead of time so you don't miss out.
6 

Today's Hotelier: The Franchise Disclosure Document – What to Know As a Franchisee

 

The Franchise Disclosure Document (FDD) can be overwhelming to a franchisee in the hospitality industry. Some well-known franchisors file FDDs that are almost 400-500 pages in length. Simply knowing where to start can be daunting. For starters, the franchisee must discriminate between critical points and boiler-plate language. Additionally, some states require that the franchisor register an FDD, while others do not. Reviewing an FDD carefully is critical, as a franchisee is committing to a long-term relationship with the franchisor and this will impact all future business.
5 

'Hospitality Live with Rupesh' Welcomes AAHOA Interim President & CEO Ken Greene

 

AAHOA Interim President & CEO Ken Greene recently joined host Rupesh Patel on "Hospitality Live with Rupesh." Tune in to get updates about AAHOACON21 in Dallas, discuss leadership habits, discover trending topics affecting hotels and how you can get involved, and so much more. You don't want to miss it! 
4

 Brand New for AAHOACON21! Announcing the AAHOA Inaugural Tech Pitch Competition: Innovations, Ideas, and Products to Propel Us Forward

 

AAHOA is excited to announce its first hotel tech pitch competition! We're exploring the latest and greatest technology innovations that can help you make money, save money, and protect your investments. Come hear from four select companies that will pitch to five seasoned judges with expertise in technology and hospitality. See why they think they can make a difference in our business today, and identify and support companies making a difference for hoteliers as we come out of the most challenging time in our industry's history.

 

5-6:30 p.m. CDT Thursday, August 5 
3

 AAHOA 2021 Technology Survey: Powered by DISH Business

 

As hoteliers continue down the road to recovery, we know that technology solutions are more important than ever to the success of your hotels and bottom line in a post-pandemic landscape. To better understand your current usage of technology, plans for the future, the impact of COVID-19, and your use of technology and in-room entertainment solutions, we're asking for your feedback in this brief survey. Our survey should take about five minutes to complete and will close at 11:59 p.m. EDT on Wednesday, August 11. The purpose of this research is to better understand your current viewpoints and outlook, and responses to the survey are confidential and voluntary.
2 

A Message on Health & Safety at AAHOACON21

 

We would like to reiterate our commitment to providing a safe, healthy, and rewarding experience for everyone in attendance. From the onset of planning, AAHOA has put together an event that takes into account all recommendations from the CDC, local hosts, and Texas health authorities. Here's a quick overview of what you can expect: Sanitization stations throughout the convention in partnership with ECOLAB; routine sanitizing procedures; the wearing of face masks; more space to encourage social distancing through seating, traffic flow, and wider aisles; safe food and beverage measures; and friendly reminders regarding health and safety measures will be placed strategically throughout the event.
1 

That's a Wrap! AAHOA and AHLA Cap Off the Seventh Virtual Action Summit

 

The 2021 Virtual Action Summit was an incredible success! We thank each and every AAHOA Member who volunteered their time to advance the interests of hotel owners nationwide. Over the past two days, more than 100 AAHOA advocates engaged with their elected members of Congress and their staffs. Our advocates covered numerous top-line issues ranging from priority legislation to staffing concerns, leading to productive and informative conversations.

 

Hoteliers continue to face an array of challenges even as the economy rebounds. We encourage you to get involved and make advocacy an integral part of your business plan. AAHOA and AHLA provided briefing materials, accessible here, breaking down the top-line policies and issues, such as the Save Hotel Jobs Act, bills to freeze the General Services Administration's per diem rates, and fair access to the Employee Retention Tax Credit. 
Was this email forwarded to you? You can opt in, or opt back in, to receive these directly by signing up at myaahoa.com.

Asian American Hotel Owners Association, Inc.
Atlanta Headquarters
1100 Abernathy Road, Suite 725
Atlanta, GA 30328
Washington D.C. Office
601 New Jersey Avenue NW, Suite 610
Washington DC 20001
To update your subscription preferences, please email info@aahoa.com..