Click here if you are having trouble viewing this message.

Your Daily AAHOA Update for Thursd

ay, July 8

, 2021
Today's Top Stories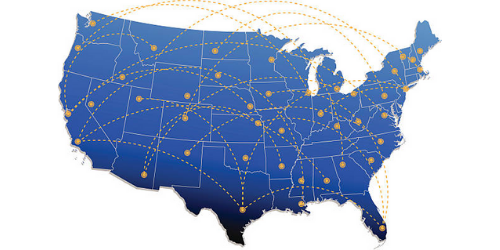 The Transportation Security Administration (TSA) screened 10.1 million travelers this past weekend through airport security checkpoints. According to the TSA, the number of travelers screened represents 83% of the volume recorded over the same period in 2019.
Gov. Gretchen Whitmer and the Michigan Department of Labor and Economic Opportunity distributed $15.6 million in grants to support Michigan residents impacted by the pandemic find new jobs. The program will provide an estimated 5,069 participants with training and education programs to assist their transition to "high-skill, high-wage careers, resulting in industry-recognized credential attainment and reduced educational debt."

Our partners at the Virginia Restaurant, Lodging, and Travel Association (VRLTA) received grant funding from GO Virginia Region 4 and local partners to create a free job training and upskilling program. In addition, some funds will be used to promote VRLTA's hospitality industry job board. The full press release can be accessed here. 
Hotel Business: Industry Groups Release Blueprint for International Travel Reopening
A coalition of 24 trade organizations representing a large and diverse swath of the U.S. economy, including AAHOA and the American Hotel and Lodging Association, is renewing urgent calls to lift restrictions on international visitation to the U.S., and released a policy blueprint for reopening borders safely. Called "A Framework to Safely Lift Entry Restrictions and Restart International Travel," the document identifies policy principles for welcoming international visitors back to the U.S., while keeping health and safety as the top priority. For each week that travel restrictions remain in place, the U.S. economy is losing $1.5 billion in spending just from Canada, the European Union and the U.K.—enough money to support 10,000 American jobs.
Truist: US RevPAR +88.9% Y/Y Last Week; 2-yr +5.7% vs. Prior -7.8%
Truist Securities (formerly SunTrust Robinson Humphrey) reports, "Last week's RevPAR was up against a -44.8% comparable result in 2020 vs. -56.5% in the prior week's 2-year run-rate. On a 2-year run-rate, RevPAR was +5.7% vs. -7.8% in the prior week's 2-year run-rate. Clearly, the results are driven from the Independence Day holiday (strength continuing into next week's STR data, given occupancy of 76.4% on Saturday night).
AAHOA VP of Conventions Akshar Patel Featured in The Meeting Professional
AAHOA VP of Conventions Akshar Patel joined other industry professionals in sharing his experiences, challenges, achievements, and thoughts of the post-pandemic future in The Meeting Professional's "2021 State of the Industry." "We executed our association's first virtual convention in less than 30 days with over 800 hours of production," Patel said. 
In-person Event
Join AAHOA and the Industry at The Lodging Conference Next Month
The Lodging Conference, set for September 27-30 in Phoenix, brings together the hotel industry's most influential owners, operators, presidents, CEOs, and dealmakers to strategize about every aspect of the industry's development, finance, franchising, management, construction, design, and operations. Hear from all five AAHOA Officers and Past Chair during this unique conference that offers attendees the opportunity to actually participate in the discussions and help solve problems. 
September 27-30
In-person Event
ALIS Law: The Law Conference for Hotel Owners & Operators Set for July
The legal issues and challenges facing hotel owners, investors, brands, and operators are complex, fast-moving, and constantly changing. The General Counsel Roundtable - Owners and Investors, moderated by AAHOA EVP & COO Rachel Humphrey, will hone in on what is on the minds of some of the key legal leaders in the hotel industry, and what they see on the horizon. In addition, Dean Heyl, AAHOA VP of Government Affairs and Counsel, will contribute his expertise to the Employment Law session, which will discuss the latest statutes, OSHA regulations, and other safety policies and procedures.
July 25-26
What Members Are Saying...
"Excellent marketing ideas and I liked their responses during the Q&A. They made you think of different scenarios that you may not have thought of."
– Webcast Attendee
Was this email forwarded to you? You can opt in, or opt back in, to receive these directly by signing up at myaahoa.com.

Asian American Hotel Owners Association, Inc.
Atlanta Headquarters
1100 Abernathy Road, Suite 725
Atlanta, GA 30328
Washington D.C. Office
601 New Jersey Avenue NW, Suite 610
Washington DC 20001
To update your subscription preferences, please email info@aahoa.com..