Click here if you are having trouble viewing this message.

Your Daily AAHOA Update for Wednesd

ay, July 7

, 2021
Today's Top Stories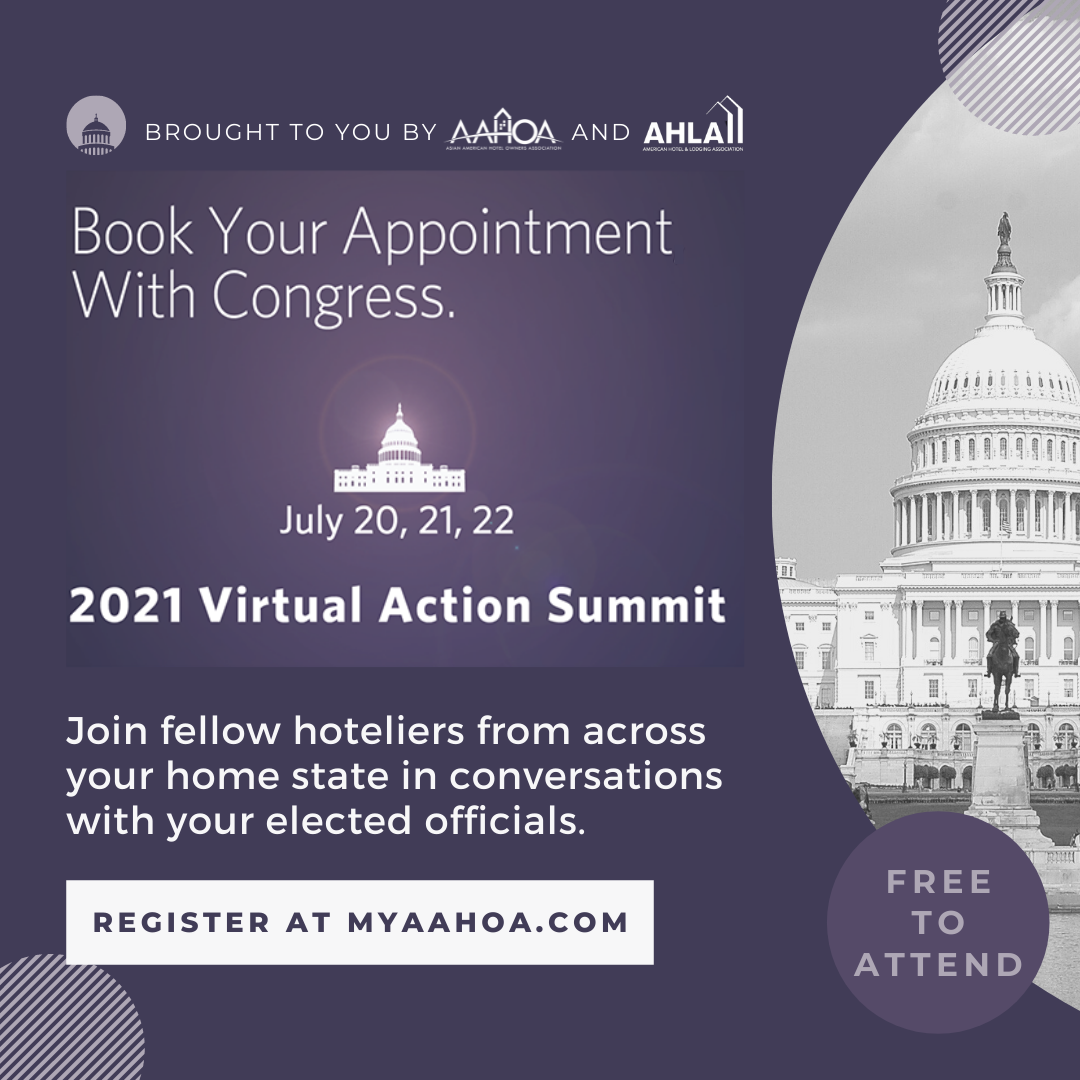 Register NOW for the 2021 Virtual Action Summit
AAHOA and AHLA are co-hosting the 2021 Virtual Action Summit July 20-22. During this event, you will join fellow hoteliers in meetings with your elected members of Congress to discuss the ongoing effects of the pandemic and our industry's legislative priorities on the road to recovery. This unique opportunity is FREE for AAHOA Members and space is limited so be sure to register now.
AAHOA Releases Hospitality Labor Report Survey Findings
AAHOA Members across the country are confronting workforce shortages. As the economy continues to recover from the pandemic and Americans embark on summer vacations, hoteliers are eager to welcome guests back to their businesses, create new jobs, and reinvest in their communities. Unfortunately, it has become increasingly challenging to recruit and retain employees in the hospitality industry. AAHOA conducted an online survey of AAHOA Members over the past several months to assess the current labor market and employment situation in the hospitality industry. The results of the 14-question survey were compiled and the key findings are distilled into this report.
Baird/STR Hotel Stock Index Drops 3.0% in June to 4,993
The Baird/STR Hotel Stock Index dropped 3.0% in June to a level of 4,993. Year to date through the first six months of 2021, the stock index was up 9.2%. "Hotel stocks declined again in June and continued their relative underperformance vs. the benchmarks for the fourth consecutive month," Michael Bellisario, senior hotel research analyst and director at Baird, said. In June, the Baird/STR Hotel Stock Index fell behind both the S&P 500 (+2.2%) and the MSCI US REIT Index (+2.2%).
Coming Up @ AAHOA
AAHOA Georgia Young Professional Hoteliers Town Hall Meeting, 5 p.m. EDT Thursday, July 8  - Atlanta, GA

AAHOA Greater Los Angeles Area Women Hoteliers Networking Reception, 5 p.m. PDT Thursday, July 8 - La Habra, CA

AAHOA North Pacific Town Hall Meeting, 5 p.m. PDT Monday, July 12 - Oakland, CA

AAHOA North Texas Town Hall Meeting, 5 p.m. CDT Monday, July 12 - Waco, TX

AAHOA Southwest Town Hall Meeting, 5 p.m. PDT Monday, July 12 - Tucson, AZ

AAHOA North Pacific Inaugural Charity Golf Tournament, July 13 - Callippe Preserve Golf Course, Pleasanton, CA

AAHOA Southeast Texas Town Hall Meeting, 5 p.m. CDT Tuesday, July 13 - Houston, TX
Webcast
Hot Topics: Planning Ahead – A Return to Meetings Business
Hotel Business and Delos, a wellness real estate and technology company, continue their collaborative series of virtual educational sessions with Planning Ahead – A Return to Meetings Business. These thought-leadership sessions will explore the return to travel and the consumer-driven demand for safety and wellness protocols. "This series is sure to provide attendees with the information they need to prepare for the uptick in both leisure and, ultimately, business travel," Christina Trauthwein, VP, content & creative, Hotel Business, said.
2 p.m. EDT Thursday, July 15
Webcast
eCornell: A Green Slate – Building Smarter, Sustainable Hotels
 
From rooftop beekeeping to ditching single-use plastics, many hotels are embracing environmental sustainability. The pandemic has only boosted the trend: In an April 2021 poll by global agency Virtuoso, 82% of luxury travelers reported that the pandemic made them want to travel even more sustainably going forward. But is there enough supply to meet growing demand? And on which areas should hotels focus for the biggest impact? In this webinar, tune in as hotel design and engineering leaders explore ways to build smarter and more sustainably, and address what that means for guests, as well as the future of development and of our planet.
1 p.m. EDT Wednesday, July 21
What Members Are Saying...
"Every webinar that [presenter] presents is extremely helpful and timely. His style of teaching  philosophy is spot on. In comparison to other sales webinars, [presenter's] info is the most helpful. We have seen a big improvement in sales with our hotels. Other webinars barely gloss the surface. [Presenter's] post-webinar help is also a fantastic value. ....We get free advice and free info! He's open and honest and always accessible."
– Webcast Attendee
Was this email forwarded to you? You can opt in, or opt back in, to receive these directly by signing up at myaahoa.com.

Asian American Hotel Owners Association, Inc.
Atlanta Headquarters
1100 Abernathy Road, Suite 725
Atlanta, GA 30328
Washington D.C. Office
601 New Jersey Avenue NW, Suite 610
Washington DC 20001
To update your subscription preferences, please email info@aahoa.com..