Click here if you are having trouble viewing this message.

Your Daily AAHOA Update for Mond

ay, June 21

, 2021
Today's Top Stories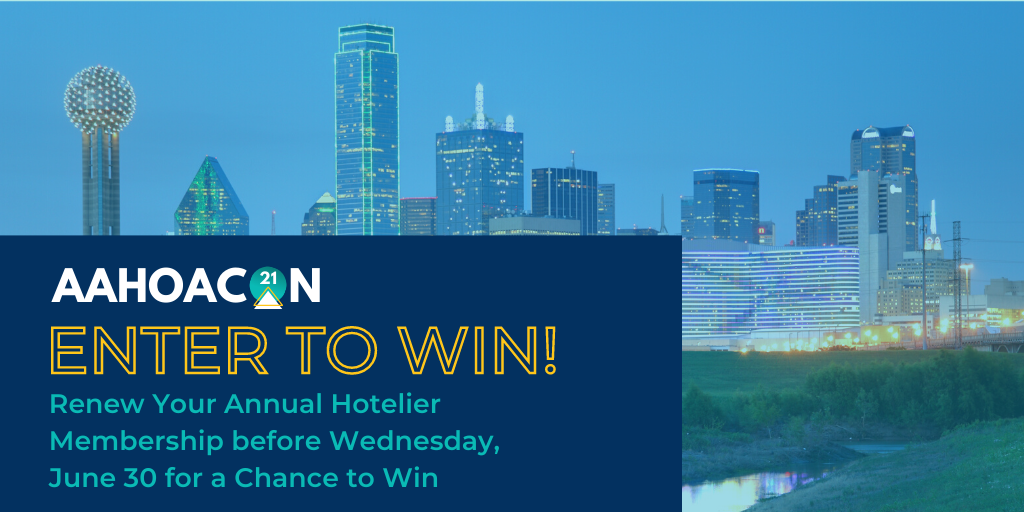 Less Than 10 Days Left to Renew Your Hotelier Annual Membership for a Chance to Win!
Want to help us build a stronger AAHOA and also have a chance to win free airfare and accommodations for AAHOACON21? You can do both at the same time by renewing your hotelier annual membership, but you only have 10 days left to do so. If you renew your membership by Wednesday, June 30, you will be eligible to win roundtrip coach airfare to Dallas and three nights' accommodations at the Omni for AAHOACON21.* The drawing to determine the winner is July 1, and there is no requirement to register for convention to enter the sweepstakes. These past 16 months have been unlike anything we've ever seen. But this is just one of the many reasons AAHOA exists – to unite behind a common cause and weather any storm together. Help us build a stronger AAHOA by renewing your annual membership today.
*No purchase necessary, subject to official rules. Ends 6/30/2021. Rules apply. Prizes shall not be redeemable for cash and all decisions are final.
California Moves Closer to Final Amendments to COVID-19 Workplace Safety Rules
On June 11, Cal/OSHA released a third set of proposed revisions to its Emergency Temporary Standard (ETS). The revised ETS will largely track the CDC/CDPH guidance and generally allow fully vaccinated employees to remove face coverings, regardless of whether others at the workplace have been vaccinated. It also will make several other changes that employers will have to implement in short order. What are the 10 key revisions you need to know about?
AHLA: Hotel Industry Updates Mask Guidance for Vaccinated Hotel Employees
AHLA President & CEO Chip Rogers released a statement today on easing face covering and physical-distancing requirements for hotel employees in response to updated CDC/OSHA guidance. "The hotel industry supports vaccinated employees being given the choice whether to continue wearing face coverings, in accordance with state and local laws," Rogers said.
2021 Young Professional Hoteliers Leadership Series: Building Successful Networks, 4 p.m. EDT Wednesday, July 7 - Atlanta, GA

Georgia Young Professional Hoteliers Town Hall Meeting, 5 p.m. EDT Thursday, July 8 - Atlanta, GA

Greater Los Angeles Area Women Hoteliers Reception, 5 p.m. PDT Thursday, July 8 - La Habra, CA

Southwest Town Hall Meeting, 5 p.m. MDT Thursday, July 8 - Albuquerque, NM

Women Hoteliers Networking Reception, 5 p.m. PDT Thursday, July 8 - La Habra, CA
Webcast
eCornell: Post-pandemic Hotel Transactions – Will the Pace Finally Pick Up?
As the hospitality industry begins to rebound from the pandemic, the languishing pace of hotel transactions has left investors with questions. How quickly will transactions rebound and what, if anything, stands in the way of a robust recovery? What does the near future hold for investors from both the buyer and financing perspectives? The School of Hotel Administration's Center for Real Estate and Finance brings together a panel of seasoned industry professionals to help address these questions and offer a glimpse into the future of hotel transactions.
1 p.m. EDT Tuesday, June 22
In-person Event
Come Network and Support Charities at the North Pacific Charity Golf Tournament
Player registration is sold out for the North Pacific Charity Golf Tournament, set for July 13 at the Callippe Preserve Golf Course in Pleasanton, CA. However, you can still participate as a Social Registrant for only $80 with all proceeds going to charity. Even though you won't be able to compete in the tournament, you still can join us in person on one of the nation's premier golf courses for a beautiful day of sunshine, networking, and socializing, all while contributing to worthwhile charities and ongoing COVID-19 relief efforts.
July 13
What Members Are Saying...
"As an industry participant, I really appreciate the lobbying and educational efforts of AAHOA this year."
– Industry Partner
Was this email forwarded to you? You can opt in, or opt back in, to receive these directly by signing up at myaahoa.com.

Asian American Hotel Owners Association, Inc.
Atlanta Headquarters
1100 Abernathy Road, Suite 725
Atlanta, GA 30328
Washington D.C. Office
601 New Jersey Avenue NW, Suite 610
Washington DC 20001
To update your subscription preferences, please email info@aahoa.com..