Click here if you are having trouble viewing this message.

Your Daily AAHOA Update for Thursd

ay, June 10

, 2021
Today's Top Stories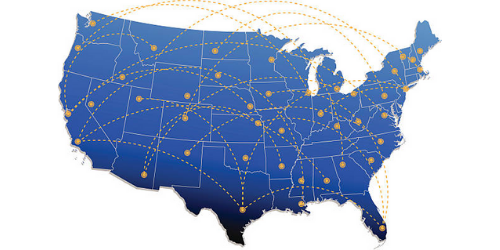 New York Times: Map of State Reopening Plans and Mask Mandates
All across the country, mask mandates have eased, restrictions have lifted, and many states have gone back to business as usual. It appears much of the country will be open with few restrictions by the Fourth of July. The New York Times is tracking coronavirus restrictions at the state level, including what businesses are allowed to open and whether officials require masks. A state is considered fully reopened once it has lifted all specific restrictions on businesses statewide, though masking and social-distancing rules and limits on gatherings may remain in effect. Stricter local orders may also be in place, and local conditions may not always reflect state requirements. For more in-depth information on reopening, check out this helpful COVID-19 State and Local Policy Tracker from our friends at MultiState Associates.
Coast to Coast News Update
Connecticut: Hiring Bonus Program Introduced for Long-term Unemployed
Gov. Ned Lamont created the Back to Work CT program to provide up to 10,000 long-term unemployed Connecticut residents a $1,000 bonus when they reenter the workforce. Applicants will receive the bonus after they have held a job for eight weeks. Funding for the program has been appropriated from the Coronavirus Aid, Relief, and Economic Security Act, the $2.2-trillion federal relief package passed in March of 2020. Some 500 residents have submitted applications to Back to Work CT. 
Nevada: Law Passed Requiring Short-term Rentals to Remit Lodging Taxes 
Gov. Steve Sisolak signed A.B. 363 last week, requiring short-term rental platforms to pay the state's lodging tax. Additionally, the law includes restrictions on the location and occupancy of properties advertised on popular platforms like Airbnb and VRBO. The law goes into effect on July 1. 
Four Active AAHOA Campaigns – Send Your Letters to Congress and Support the Pledge to Protect Initiative
Representing more than 50% of all hotels owned in America, AAHOA is a powerhouse with the ability to enact change at the highest levels of government. AAHOA currently has four active campaigns, including the new NOVID Act, as well as the Pledge to Protect initiative in our AAHOA Action Center. Have you sent your letters yet? We encourage you to get involved in each campaign. You can send all four letters in under five minutes.
STR: U.S. Weekly Hotel Performance Remains Relatively Flat But Still Hits COVID-era Highs
U.S. weekly hotel performance remained relatively flat from the previous week but still reached pandemic-era highs, according to STR's latest data through June 5. May 30 through June 5, 2021 (percentage change from comparable week in 2019*):
Occupancy: 61.9% (-14.0%)

Average daily rate (ADR): US$123.49 (-6.7%)

Revenue per available room (RevPAR): US$76.44 (-19.7%)
Each of the three key performance metrics were the highest of the pandemic era.
In-person Event
ALIS Law: The Law Conference for Hotel Owners & Operators Set for July
The legal issues and challenges facing hotel owners, investors, brands, and operators are complex, fast-moving, and constantly changing. The General Counsel Roundtable sessions, moderated by AAHOA EVP & COO Rachel Humphrey, will hone in on what is on the minds of some of the key legal leaders in the hotel industry, and what they see on the horizon. In addition, Dean Heyl, AAHOA VP of Government Affairs and Counsel, will contribute his expertise on the Employment Law session, which will discuss the latest statutes, OSHA regulations, and other safety policies and procedures.
July 25-26
In-person Event
Southern Lodging Summit Kicks Off in Memphis in August
AAHOA VP of Government Affairs Dean Heyl will be a featured speaker at the 19th Annual Southern Lodging Summit in Memphis, TN, in August. Heyl and AHLA President & CEO Chip Rogers will give a National and State Legislative Update during the two-day event. The summit provides a forum for a diverse group of owners, operators, financial institutions, hotel company representatives, and others to interact with industry notables and speakers.
August 24-25
What Members Are Saying...
"Thank you for your unwavering dedication."
– Facebook Comment
Was this email forwarded to you? You can opt in, or opt back in, to receive these directly by signing up at myaahoa.com.

Asian American Hotel Owners Association, Inc.
Atlanta Headquarters
1100 Abernathy Road, Suite 725
Atlanta, GA 30328
Washington D.C. Office
601 New Jersey Avenue NW, Suite 610
Washington DC 20001
To update your subscription preferences, please email info@aahoa.com..