Click here if you are having trouble viewing this message.


Your Weekly AAHOA Wrap-Up for Friday, April 23, 2021
Message from the President & CEO
AAHOA Members,
Earlier this week, President Joe Biden announced plans to issue a paid-leave tax credit for employers that provide full pay for employees who take time off to get and recover from a COVID-19 vaccination. The tax credit is available to organizations with fewer than 500 employees, covers up to $511 per day for each vaccinated employee and is funded by the American Rescue Plan.
AAHOA is leading the industry's vaccination efforts with the Pledge to Protect initiative asking all hoteliers across the country to educate their employees on the importance of getting the COVID-19 vaccine and to provide the resources they need to get vaccinated. Nationwide vaccine distribution has been a staple priority of the Biden administration and its strategy to mitigate the spread of COVID-19. By signing the Pledge to Protect, you affirm the leading role America's hoteliers are taking to make sure travel can return promptly and safely. Take the Pledge and join hundreds of your fellow hoteliers who are taking proactive steps to get Americans vaccinated and back on the road again.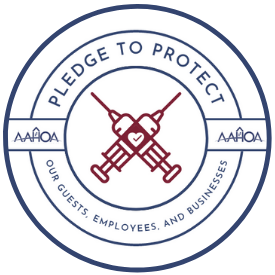 Visit our Pledge to Protect landing page regularly for more information, resources, and vaccination updates because new resources are added as they become available.
Stay well and have a great weekend.
Sincerely,
Cecil P. Staton
AAHOA President & CEO
Top 10 Things to Know This Week
All U.S. Adults Now Eligible for COVID-19 Vaccine
All 50 U.S. states, plus Washington, D.C. and Puerto Rico, have made U.S. adults over the age of 16 eligible for COVID-19 vaccines, successfully meeting the April 19 deadline set by President Biden. With more Americans getting the vaccine, they will undoubtedly begin traveling again and they need to have confidence that hotels are safe and employees are protected from COVID-19. The most critical action hoteliers can take now is to encourage your staff to get a vaccination as soon as they are available. Take the Pledge to Protect today to ensure your property is prepared to receive returning guests.
CoStar: Analysts Expect More Clarity on Demand Recovery in First Quarter Earnings Reports
With each passing month, hotel performance in the U.S. is improving, much to the relief of hotel executives when they look back over last year. As the first quarter 2021 earnings season approaches, industry analysts are waiting to hear from hotel brand and real estate investment trust executives about how these positive trends are shaping the recovery. Everyone is bullish on the leisure demand recovery, primarily in resort and ski destinations, said C. Patrick Scholes, managing director of lodging and experiential leisure equity research for Truist Securities. Group and corporate, however, are still behind.
Kalibri Labs: Industry Health Dashboard Updated
Total U.S. Occupancy + ADR have begun to flatten out from the spring break bump. However, they continue to hold at higher levels than earlier Q1 performance. This is just one of the findings in Kalibri Labs' latest Industry Health Dashboard. Kalibri Labs also released the Denver report for its "Ahead of the Curve" series, with reports upcoming for New Orleans (5/5) and Raleigh/Durham (5/19).
USTA: National Travel and Tourism Week
Save the date for National Travel and Tourism Week: May 2-8, 2021. This year, NTTW will recognize the POWER OF TRAVEL and the industry's role in bringing back our vibrant communities, restoring the U.S. economy, rebuilding our workforce, and reconnecting America.  
STR: U.S. Weekly Hotel Occupancy Falls 2.6 Percentage Points from Previous Week
U.S. weekly hotel occupancy fell 2.6 percentage points from the previous week, according to STR's latest data through April 17. April 11-17, 2021:
Occupancy: 57.3%

Average daily rate (ADR): US$107.16

Revenue per available room (RevPAR): US$61.37
Mark Your Calendars for Our Upcoming Town Halls and Webcasts!
HotStats: How to Keep Hotel Labor Costs Down When Business Ramps Up
When the pandemic hit worldwide in 2020, sending hotel occupancy into freefall, owners and management companies worked to reduce labor costs wherever possible. Now, as the industry gears back up, what will hoteliers do to control labor costs? How many measures that have been used over the past year to avoid the loss of gross operating profit will remain in place? 
AAHOA Joins List of Coalition Supporters to Reauthorize the EB-5 Regional Center Program
The Coalition to Save & Create Jobs is pleased to announce that AAHOA joined its growing ranks to support the bipartisan federal legislation, S. 831 the EB-5 Reform and Integrity Act of 2021, introduced by Sen. Chuck Grassley (R-Iowa) and Sen. Patrick Leahy (D-Vt.), to reauthorize the EB-5 Regional Center Program. The program's current expiration date is June 30, 2021. The EB-5 program was created to attract capital from foreign individuals who
Dean Heyl Joins AAHOA As Vice President of Government Affairs
AAHOA is pleased to welcome Dean Heyl as its new Vice President of Government Affairs. He will lead AAHOA's Washington, D.C., office and join the association's Executive Leadership Team. Heyl brings decades of experience from many sectors of the U.S. government and in the C-suites of industry associations. Prior to joining AAHOA, he served as the U.S. Department of Labor's Director of the Office of Public Liaison where he reported directly to the U.S. Secretary of Labor.
Small Business Administration (SBA) Updates Guidance on First Draw Paycheck Protection Program (PPP) Loan Increases   
Yesterday, the SBA updated its guidance on the loan increases for the first draw of the PPP, enacting a change specified in the PPP Extension Act of 2021. The PPP Extension Act, which was signed into law on March 31, extended the PPP application deadline to May 31 and provides an extra 30 days for the SBA to process pending applications. In addition to other measures, the updated guidance allows for borrowers to apply for an increased First Draw PPP Loan on unforgiven loans approved before Aug. 8, 2020. The SBA release can be found here. Contact your lender or visit our CARES Act lending page for more information.
Was this email forwarded to you? You can opt in, or opt back in, to receive these directly by signing up at myaahoa.com.

Asian American Hotel Owners Association, Inc.
Atlanta Headquarters
1100 Abernathy Road, Suite 725
Atlanta, GA 30328
Washington D.C. Office
601 New Jersey Avenue NW, Suite 610
Washington DC 20001
To update your subscription preferences, please email info@aahoa.com..