Click here if you are having trouble viewing this message.


Your Weekly AAHOA Wrap-Up for Friday, April 9, 2021
Message from the President & CEO
Dear AAHOA Members,
The past year shifted the way we run our businesses and coordinate events, but our steadfast commitment to helping others did not waver. I had the pleasure of joining dozens of AAHOA Members and our vendor partners this week in Phoenix and Houston for the 2021 AAHOA Charity Golf Tournament Series.
There may have been a bogey or two shot and a ball or two lost, but we all won big fundraising for local charities. Together, with players and our generous sponsors, we raised nearly $100,000 combined from our first two tournaments. I thank everyone who came out to participate in these in-person events. It was truly great to be able to gather together in person – know we're all looking forward to doing the same this coming August in Dallas for AAHOACON21, and at our four remaining golf tournaments.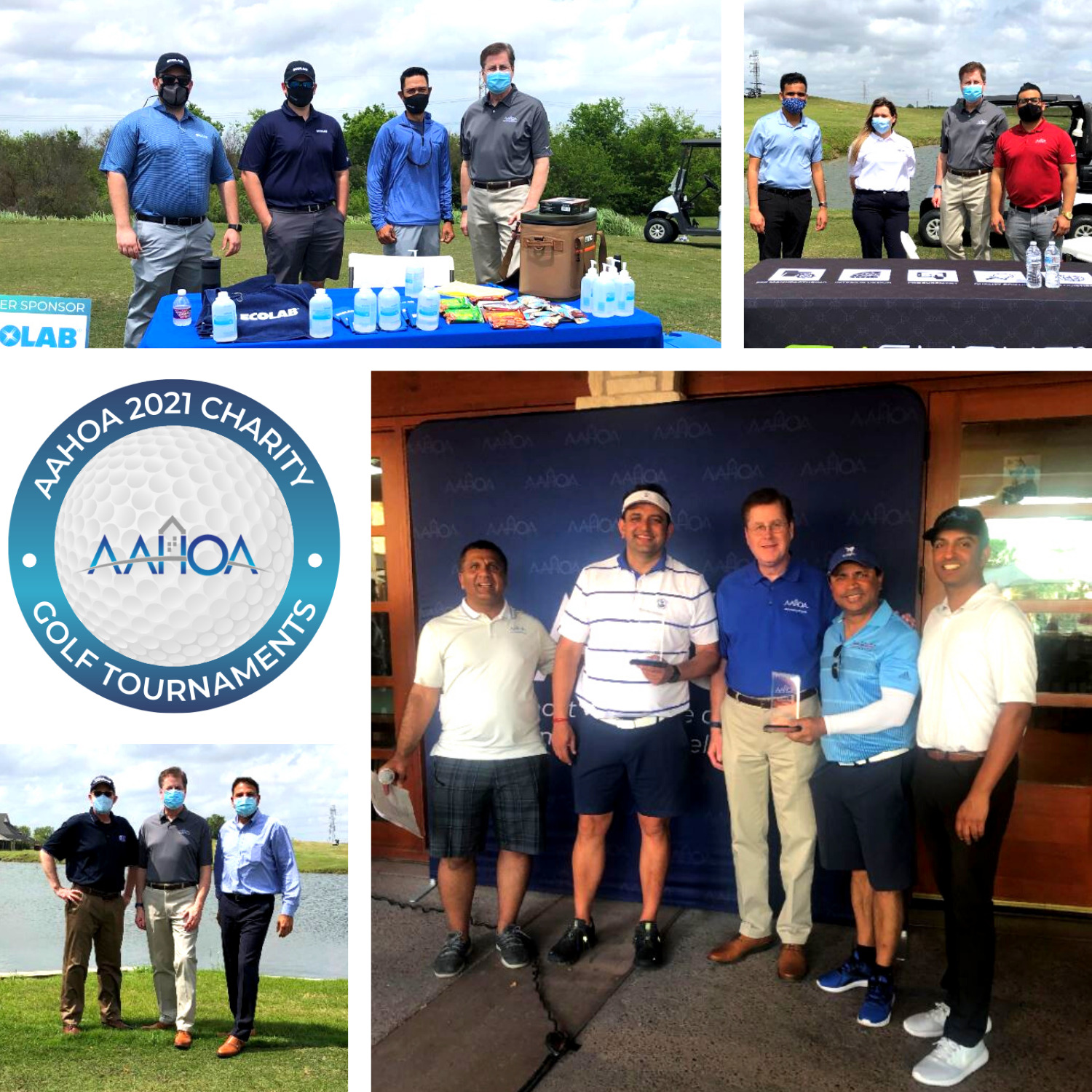 A Taste of Travel and What Is to Come
Jetting between Phoenix and Houston this week was a welcomed respite from a year of lockdowns and stay at home orders. It is encouraging to see the country transition back to a state of normalcy. Recent upticks in industry reporting and the ongoing success of the national vaccine rollout point toward a productive summer season.
As we prepare to welcome travelers back to hotels across the country, I encourage you to sign the Pledge to Protect if you have not already done so. Educating, encouraging, and empowering the hospitality industry workforce to get vaccinated will protect hotel associates and guests, serving as a catalyst for travelers to feel comfortable visiting our hotels again soon.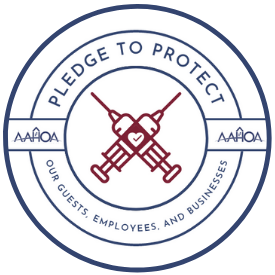 AAHOA Members have now Pledged to Protect more than 33,000 of their team members serving as essential workers on the frontline. Visit our Pledge to Protect landing page for more information, resources, and vaccination updates as new resources are added as they become available.
Looking forward to seeing many of you soon – in person – at an upcoming AAHOA event. Stay well and have a great weekend.
Sincerely,
Cecil P. Staton
AAHOA President & CEO
Top 10 Things to Know This Week
HotStats: Are Hotels Prepared for the Return of Meetings & Conferences?
Meetings and conferences generate big business for hotels. The pandemic made a big mess of that. On the rebound, hoteliers are eager to see that demand segment return. The arrival of COVID-19 vaccines—coupled with a societal eagerness to get out of the house—has led to a relatively robust bounce in leisure travel, which helped underpin a listless hospitality business. Add Zoom fatigue of workers to the list of travel motivators and the return of medium-sized and large-scale gatherings aren't too far behind. That's good news for hotels, as properties suffered massive losses due to the near evaporation of group business last year. But are hotels ready to welcome back meetings? Marriott and Hilton think so.
ICYMI: CDC OKs Travel for 'Fully Vaccinated' Americans 
The U.S. Centers for Disease Control and Prevention says Americans who are fully vaccinated can travel "at low risk to themselves," both domestically and internationally. According to the new CDC Domestic Travel During COVID-19 guidance, fully vaccinated travelers must continue to take precautions, such as wearing a face mask in public, maintaining social distance and washing hands frequently. "The new CDC travel guidelines are welcome news for America's hoteliers and the millions of Americans who are fully vaccinated against COVID-19," AAHOA President & CEO Cecil P. Staton said.
Kalibri Labs: Industry Health Dashboard Updated
Strong spring break and holiday travel continued to push an upward trend in occupancy for the Total U.S. ADR levels continue to stay up relative to the beginning of 2021, and hotel closures, while up in the most recent week, are flat relative to 2021 YTD. These are just some of the findings in Kalibri Labs' latest Industry Health Dashboard. Kalibri Labs also released the updated schedule for its "Ahead of the Curve" series. The Nashville report is currently available, with reports upcoming for Denver (4/21), New Orleans (5/5), and Raleigh/Durham (5/19). 
STR: U.S. Hotel Occupancy Remains Flat from the Previous Week
U.S. hotel occupancy remained flat from the previous week, while the country's ADR and RevPAR levels were its highest since the beginning of March 2020, according to STR's latest data through April 3, 2021. March 28 through April 3, 2021: 
Occupancy: 57.9%

Average daily rate (ADR): US$112.76 

Revenue per available room (RevPAR): US$65.33
The occupancy level was 1 point below the pandemic peak reached two weeks prior.
Jan Gautam Providing Jobs, Rooms to Displaced Workers, Guests from Closed Motel
AAHOA Lifetime Member Jan Gautam is providing jobs and hotel stays to nearly 100 guests and employees after they were kicked out by Champion's World Resort in Kissimmee, FL, on Thursday after being told the hotel was sold. Several employees were also fired on the spot. Gautam, CEO of Interessant Hotels Group, owns seven hotels in the area and has offered free stays at his hotels for those who didn't have anywhere to go. He also is working with AAHOA to make sure employees who were suddenly fired have jobs. 
Mark Your Calendars for Our Upcoming Events and Webcasts!
Red Roof Franchisee and Former AAHOA Regional Director Nancy Patel on Her Way to Success
For Nancy Patel, finding resilience in body and mind meant more than succeeding at business, it was life or death. As a young franchisee, Patel was in a car accident that left her paralyzed from the waist down. Following two years of exhausting physical therapy and thanks to unwavering support from her family and community, Patel overcame her injury and returned to business, establishing herself as the first female Georgia Regional Director for AAHOA in 2007, among many other accomplishments. In July, Patel will grow her portfolio with the opening of her first Red Roof property in Corpus Christi, TX. Patel spoke about personal and professional resiliency, overcoming challenges, and more.
AAHOA Treasurer Nishant Patel Named to HFTP Task Force
AAHOA Treasurer Nishant (Neal) Patel has been named to the Global Hospitality PII Management Task Force by Hospitality Financial and Technology Professionals (HFTP®). The task force will develop guidelines on how to safely collect and manage personal data to use for guest services, while also protecting it from malicious cyber activity. Congratulations, Neal!
BWH Hotel Group Honors AAHOA Female Director Nimisha Patel
AAHOA Female Director Western Division Nimisha Patel was recently celebrated by BWH Hotel Group for her contributions to the industry. "Whether giving back to our brand, industry, or her local community, Nimisha's serving heart and exceptional leadership is a significant point of pride for our entire hotel family," BWH Hotel Groups' Dorothy Dowling said. Congrats, Nimisha!
KY Hotel Group Donates Rooms to Displaced Cancer Patients
When Lexington's Hope Lodge was forced to close due to the COVID-19 pandemic, a local hotel group partnered with UK HealthCare's Markey Cancer Center to provide patients with a place to stay during treatment. Rainmaker Hospitality, whose corporate team former AAHOA Board member Ketan Patel is on, has donated more than 1,000 nights' stays since April 2020.
Have 1 Minute? Tell Congress to Support FY 2020 Per Diem Lodging Rates!
U.S. Representatives Charlie Crist (D-FL) and Bill Posey (R-FL) have introduced H.R. 2104, which would require the U.S. General Services Administration (GSA) to take into consideration the economic impact of the coronavirus when setting future per diem rates for federal travel. The legislation would set future per diem rates at the pre-pandemic Fiscal Year 2020 levels. 
Join our call to action and contact your members of Congress to request their support on this critical legislation.
The U.S Department of the Treasury (USDT) Releases "Made in America" Corporate Tax Plan
The USDT released a report detailing President Biden's Made in America tax plan, which proposes measures to fund Biden's American Jobs Plan, the second step of the administration's three-step economic recovery agenda. This plan outlines an increase of the corporate tax rate from 21 percent to 28 percent, "the goal of which is to make American companies and workers more competitive by eliminating incentives to offshore investment, substantially reducing profit shifting, countering tax competition." The plan does not include measures on individual income tax, estate tax, or other potential tax increases.
Was this email forwarded to you? You can opt in, or opt back in, to receive these directly by signing up at myaahoa.com.

Asian American Hotel Owners Association, Inc.
Atlanta Headquarters
1100 Abernathy Road, Suite 725
Atlanta, GA 30328
Washington D.C. Office
601 New Jersey Avenue NW, Suite 610
Washington DC 20001
To update your subscription preferences, please email info@aahoa.com..