Click here if you are having trouble viewing this message.

Your Weekly AAHOA Wrap-Up for Friday, March 26, 2021

Message from the President & CEO
AAHOA Members,
The Biden administration eclipsed its initial goal of administering 100 million COVID-19 vaccines in 100 days, and just yesterday the administration doubled that goal. According to the latest data from the Centers for Disease Control, more than 130 million shots have been administered in the U.S. As I am sure you know, AAHOA is leading the industry's vaccination efforts with the "Pledge to Protect Our Guests, Employees, and Businesses" initiative asking all hoteliers across the country to educate their employees on the importance of getting the COVID-19 vaccine and to provide the resources they need to get vaccinated.
Educating, encouraging, and empowering the hospitality industry workforce to get vaccinated will protect hotel associates and guests, serving as a catalyst for travelers to feel comfortable visiting our hotels again soon. Doing so also strengthens our working relationship with the Biden administration and Congress. Sign the Pledge and join hundreds of your fellow hoteliers who are taking proactive steps to get Americans vaccinated and back on the road again.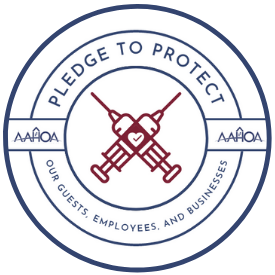 Visit our Pledge to Protect landing page for more information, resources, and vaccination updates as new resources are added as they become available.
There are positive signs regarding the recovery, yet we realize that there is a long road ahead before we return to pre-pandemic levels of travel and financial health for our industry. Know that AAHOA is here for you. Registration is now open for AAHOACON21 where we will celebrate the fact that the road to recovery runs through AAHOA! See you in Dallas this August.
Cecil P. Staton
AAHOA President & CEO
Top 10 Things to Know This Week
STR: U.S. Weekly Hotel Occupancy Jumps Almost Seven Points
U.S. weekly hotel occupancy jumped almost seven points from the previous week to the highest level in the country since early March 2020, according to STR's latest data through March 20, 2021. March 14-20, 2021:
Occupancy: 58.9%

Average daily rate (ADR): US$108.07 

Revenue per available room (RevPAR): US$63.62 
The 58.9% absolute occupancy was a 93.9% increase from the comparable, pandemic-affected week last year, but more importantly, represented almost 85% of occupancy regained from the 2019 benchmark. There was also more improvement in ADR, which reached 81% of the comparable 2019 level.
Trepp: CMBS Week in Review - Extended Stay America Acquisition Sign of What's to Come?
Despite fears over a potential Fed tapering, the Central Bank indicated plans to hold rates and bond purchases steady for the foreseeable future and also committed to purchasing $120 billion in Treasuries and MBS each month, which caused stocks to rally last Wednesday. The prospect of falling unemployment, GDP growth, and loose monetary policy, however, once again heightened investor concerns over inflation later in the week. The Fed's decision not to extend a capital break for banks implemented during the pandemic on Friday triggered a sell-off in the financial sector, which led to a mixed performance for U.S. stocks for the session.
HotStats: Profit Matters Global Hotel Performance Review 2020 
2020 came in with a whimper and went out with a bang as the worst year the hotel industry has ever had to endure, the result of a global pandemic that continues to push forward, albeit with less intensity. As the data proves, the hotel industry has its work cut out for it but is already seeing some green shoots, especially as global vaccine distribution accelerates. But many challenges remain. "How will [the new normal] impact certain changes implemented during the pandemic, such as cleaning protocols and F&B?" AAHOA Chairman Biran Patel asks in the report. "Will brands abandon grab-and-go breakfasts and return to buffets? Will owners implement such rigorous sanitization regimens in guestrooms and common areas? It is difficult to say with any degree of certainty because we are still headed into the recovery phase."
USTA: Final 2020 National Economic Impact Numbers
Final 2020 economic impact data shows the devastation COVID-19 had on the U.S. travel industry compared to 2019. During Destination Capitol Hill, U.S. Travel issued a press release emphasizing the devastating losses, which delegates also shared directly with members of Congress.
Travel spending is down nearly $500 billion, costing the U.S. economy $1.1 trillion

The total number of travel-supported jobs fell from 17 million in 2019 to just 11 million in 2020

Prior to the pandemic, total travel-supported jobs accounted for 11% of the U.S. workforce, but in 2020, accounted for a staggering 65% of unemployment

Business travel spending fell by 70% in 2020, a loss of $245 billion for the U.S. economy

Spending by international travelers was down by 76%
Registration for AAHOACON21 Is Now Open, So Don't Delay! Register Today!
We are thrilled to announce that registration is now open for AAHOACON21 – our first in-person convention and trade show since 2019! It's been an unprecedented year for our industry, and there's never been a more important time to gather at the industry's largest hospitality event of 2021. With leading names in the industry, incredible insights from experts you trust, inspiration around every corner, and the chance to network, learn, and make deals on the trade show floor – all in person – you do not want to miss this year's event, set for August 3-6 in Dallas, TX. AAHOA Lifetime Members are able to register free of charge. The road to recovery runs through AAHOA.
Mark Your Calendars for Our Upcoming Events and Webcasts!
AAHOA Members Hold Roundtable with Florida Governor, DBPR Secretary
Danny Gaekwad, Chair of AAHOA's Government Affairs Committee, and a group of AAHOA Members recently met with Florida Gov. Ron DeSantis and Julie Brown, Secretary of the Department of Business and Professional Regulation, to further the business interests of hoteliers and other small business owners in the state. The group, which featured AAHOA Members from Ocala, Orlando, Fort Myers, Port St. Lucie, Melbourne, and Gainesville, discussed the latest bills, policies, and issues affecting major industries such as construction and real estate. Among other proactive stances to keep the hospitality industry alive during the pandemic, DeSantis supports vaccinations and is working hard in the state to get people vaccinated, as is AAHOA through our Pledge to Protect campaign.
Upper Midwest Region Ambassador Jesal Patel Running for Mayor of Lincolnwood, IL
AAHOA Upper Midwest Region Ambassador Jesal Patel is running for mayor of Lincolnwood, IL, in the upcoming election on April 6. "I have more than 25 years of local business experience as a real estate developer and broker, a manufacturer, a retailer, a hotelier, an employer, and of course, as a taxpayer," said Patel, who has been endorsed by two U.S. Representatives. "That business experience, combined with my service as a trustee and 15 combined years of advocacy on the state and federal levels for AAHOA and ICSC (International Council of Shopping Centers), makes me the best candidate to lead Lincolnwood into the future."  
Patel's candidacy highlights the importance of AAHOA Members becoming active advocates on the local and state levels to help promote the interests of hoteliers and other small business owners to help their voices be heard.
Take Our ADA Lawsuits Survey to Help Us Help You
For the last decade, an increasing number of frivolous lawsuits under Title III of the ADA have been filed. Unfortunately these lawsuits have done little to ensure places of public accommodation are more welcoming to all guests, and have hurt hoteliers and other small businesses. We are conducting a survey to gather data on how hoteliers have been impacted by these lawsuits, and your response helps shape our efforts  to combat this issue. We would appreciate 7 minutes of your time to fill out this survey submitting the details of your specific ADA lawsuits or demand letters. Please re-submit the form for each property for which you have received a lawsuit or demand letter.
A Good Week for Small Business Administration (SBA) COVID-19 Loan Programs
On Wednesday, the SBA announced an increase in the maximum amount small businesses and non-profit organizations can borrow through its COVID-19 Economic Injury Disaster Loan (EIDL) program. Starting the week of April 6, the loan limit for the COVID-19 EIDL program rises to 24 months of economic injury with a maximum loan amount of $500,000.
Yesterday, the Senate passed the Paycheck Protection Program (PPP) Extension Act. This major piece of legislation will extend the PPP's deadline two months, giving small businesses until the end of May to apply for the program's forgivable loans. Stay tuned for educational programming coming soon from AAHOA on these topics.
Was this email forwarded to you? You can opt in, or opt back in, to receive these directly by signing up at myaahoa.com.

Asian American Hotel Owners Association, Inc.
Atlanta Headquarters
1100 Abernathy Road, Suite 725
Atlanta, GA 30328
Washington D.C. Office
601 New Jersey Avenue NW, Suite 610
Washington DC 20001
To update your subscription preferences, please email info@aahoa.com..