Click here if you are having trouble viewing this message.

Your Weekly AAHOA Wrap-Up for Friday, March 19, 2021
Message from the President & CEO
New Report: AAHOA One Year Later
To our AAHOA Members and Industry Partners,
I want to thank you for your support and for sticking with us throughout the past year. I wholeheartedly thank our Board of Directors for helping AAHOA support our vision of being the foremost advocate and resource for America's hotel owners and also for helping AAHOA Members get the information, resources, and support they need when it matters most.
In the 12 months since the pandemic broke out, our nation and our industry have weathered the most difficult series of challenges in recent history. As vaccines roll out and states across the country work toward reopening, we can begin a new chapter with reasons for optimism and hope. At AAHOA, our members, staff, and Industry Partners have faced a multitude of unforeseen challenges and shifted the course of our industry in ways that would have been unimaginable just a year ago.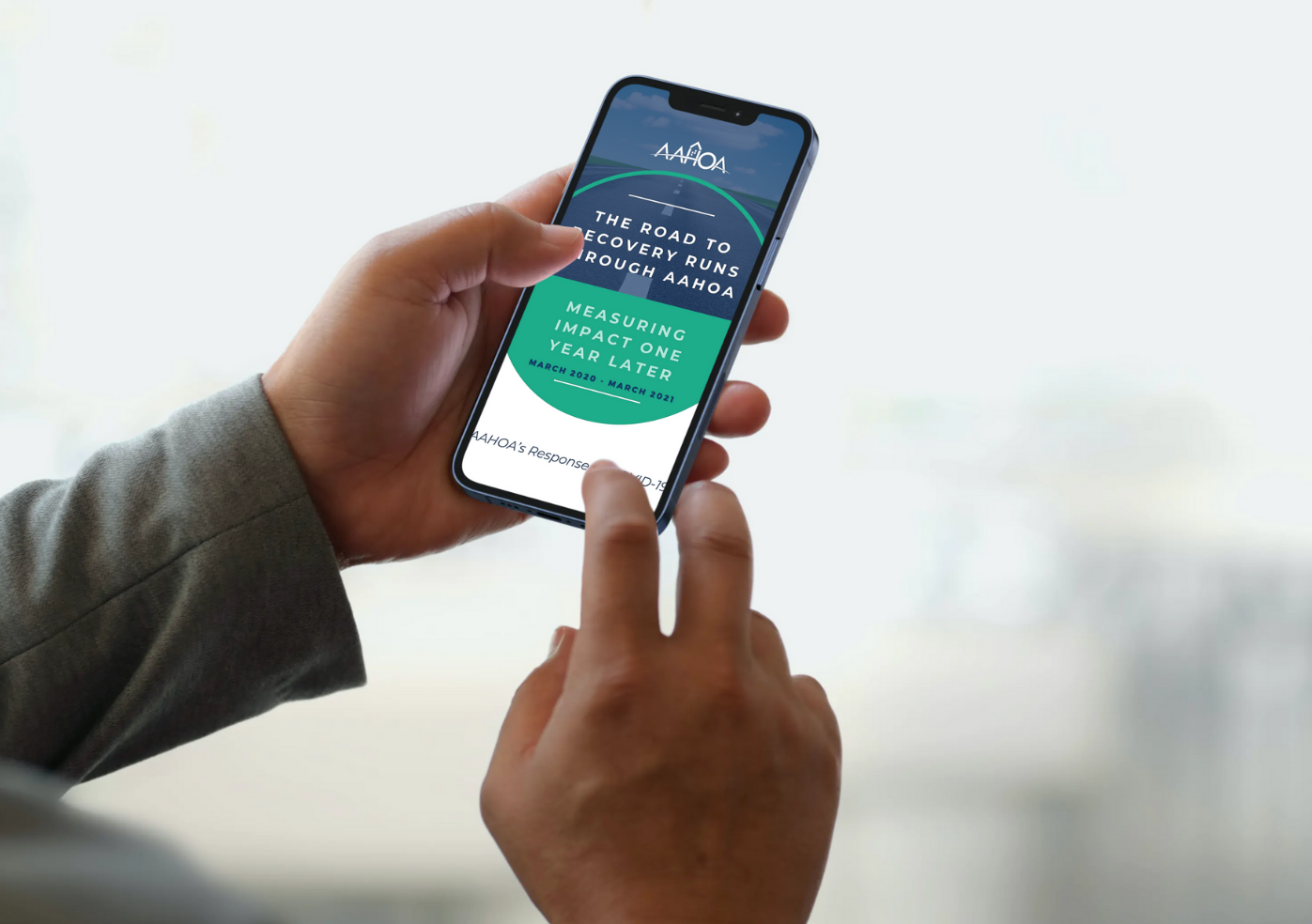 Just released today, the "The Road to Recovery Runs Through AAHOA: Measuring Impact One Year Later" report serves as a reminder of what we can accomplish when the odds are against us, and it's our hope that you're as inspired by the information you see here as we are.
The road to recovery runs through AAHOA!
Cecil P. Staton
AAHOA President & CEO
Top 10 Things to Know This Week
Bloomberg: Wall Street Is Betting You'll Be Packing Your Bags Soon 
Blackstone Group Inc. and Starwood Capital Group announced a deal on Monday to buy Extended Stay America Inc. for $6 billion, following a spate of recent investment activities that suggest confidence in a recovery of the leisure and hospitality industry as vaccine rollouts hold out hope for an end to pandemic restrictions. Meanwhile, Bloomberg News reported recently that Dreamscape Cos. has $1 billion to put toward snapping up hotels, with its chief executive officer seeking ways to wager on the potential for a pickup in business travel. The latest travel trends suggest there is reason for optimism. JetBlue Airways Corp. and Southwest Airlines Co. indicated in Monday regulatory filings that they were seeing improvements in bookings by leisure travelers.
HotStats: Is This the Lean Hotel of the Future? 
"You're a lean, mean, fighting machine!" It's a sexist cinematic trope to be sure (hey, it was the '80s), but during the scene in 1981's "Stripes," Bill Murray's character inflates the ego of John Candy's character by calling him a "lean, mean, fighting machine." A lie, yes (Candy was rotund and not nimble), but it did the trick, leading to an unctuous Candy tussling in a pool of mud. What does this have to do with the hotel industry? Murray's alliterative pronouncement is motivation for hotels as they emerge from the pandemic: leaner, smarter, expense-minded, profit-driven.
Kalibri Labs: Industry Health Dashboard Updated 
Total U.S. ADR and occupancy continue to remain significantly depressed relative to 2020 prior to the full onset of the pandemic. However, the first week of March 2021 and the month of February 2021 do show a more favorable YoY comparison than January 2021. That's just one of the observations in Kalibri Lab's recently released Industry Health Dashboard. Kalibri Labs also released the updated schedule for its "Ahead of the Curve" series. The Philadelphia report is currently available, with reports upcoming for Dallas (3/24), Nashville (4/7), Denver (4/21), New Orleans (5/5), and Raleigh/Durham (5/19).
In-Person Event
Grand Reopening Celebration & Learning
Hotel owners, you're invited to an exclusive informational and networking event hosted by AAHOA and AHLA featuring O'Connor & Associates at the Westin Dallas Park Central Hotel in Dallas, TX on Tuesday, April 13. During this free event for hotel owners, networking and cocktails will be followed by "Hotels Back In Business," presented by AAHOA and AHLA, and an exclusive presentation by O'Connor & Associates, "COVID Impact on 2021 Hotel Property Taxes." Dinner also will be served. You don't want to miss this exclusive event! The deadline to register is March 31, so secure your seat now.
5 p.m. CDT Tuesday, April 13, Dallas, TX
AAHOA Mentioned on ABC's 'Shark Tank'
Three Sharks make offers on Judy Cannella Schott and Nita Friloux Gassen's bedding accessory company The Better Bedder. Ultimately, Lori Greiner gets the deal, but Daymond John had an interesting idea for this product: Take it to members of AAHOA, who own half of the hotels in the United States. Watch now from season 12, episode 15 of 'Shark Tank.'
Mark Your Calendars for Our Upcoming Events and Webcasts!
SBA Releases New Guidance, Other Updates on Paycheck Protection Program
On Tuesday, the Small Business Administration released new guidance and updates on the Paycheck Protection Program. The new information includes an exhaustive, 66-question FAQ as well as guidance on how to calculate First Draw and Second Draw PPP loan amounts, depending on what type of business you have.
AAHOA, Coalition Send Letter to Congress Seeking Extension of PPP Application Period 
On Monday, AAHOA joined a coalition of nearly 100 associations in sending a letter to members of Congress thanking them for their leadership and urging them to pass the PPP Extension Act of 2021, which will extend the Small Business Administration's (SBA) Paycheck Protection Program (PPP) application period beyond the March 31, 2021, sunset date. The bill has already passed in the House. "While we realize the Small Business Administration (SBA) is under tremendous time constraints and is struggling with internal resource issues, our members are highly concerned by the lack of progress on major Paycheck Protection Program (PPP) processing issues," the letter reads in part. "These delays and denials may put many applicants in danger of not making the March 31st authorization deadline."
Jack P. Deboer, Extended-Stay and All-Suite Hotel Pioneer, Passes at 90 
Jack P. DeBoer, who designed and built the first Residence Inn in 1975, has passed away. He was 90. Speaking on the last day of the 2011 AAHOA Convention & Trade Show, the industry legend made it clear that while we're all in business to make money, it's the personal relationships which matter. "If you can invest in your personal relationships, you can never lose," DeBoer said. With the founding of Residence Inn, followed by Summerfield Suites and Candlewood Suites, DeBoer is recognized as the pioneer of the extended-stay and all-suite hotel concepts. He designed and built that first Residence Inn, an all-suite hotel, in downtown Wichita, KS, and built or franchised 103 more properties before selling The Residence Inn Company to Marriott Corporation in 1987. "To say that Jack is a legend in hospitality is a massive understatement." said Jeffrey H. Fisher, President & CEO of Chatham Lodging Trust, where DeBoer served as a board member since its initial public offering in 2010. "He certainly belongs on the Mt. Rushmore of hospitality alongside J. Willard Marriott and Conrad Hilton."
SBA Roundup
The SBA issued two notices detailing the Adjustment Plan to microloan programs authorized by the Economic Aid Act, and an amendment to the Coronavirus Aid, Relief and Economic Security Act. Due to insufficient funding in the $3.5 billion allocated to the programs, the SBA has reduced the number of months provided for 7(a) and 504 Microloan Programs. This image provides a flow chart summarizing SBA Procedural Notices 5000-20079 and 5000-20095.
The American Rescue Plan amended the PPP Interim Final Rule, revising the exclusions from payroll costs for purposes of loan forgiveness, and providing that a PPP borrower that receives a PPP loan after December 27, 2020, can be approved for a Shuttered Venue 2 Operator Grant under certain conditions. Contact your lender or SBA District Office for more information and questions on the matter.
Was this email forwarded to you? You can opt in, or opt back in, to receive these directly by signing up at myaahoa.com.

Asian American Hotel Owners Association, Inc.
Atlanta Headquarters
1100 Abernathy Road, Suite 725
Atlanta, GA 30328
Washington D.C. Office
601 New Jersey Avenue NW, Suite 610
Washington DC 20001
To update your subscription preferences, please email info@aahoa.com..