Click here if you are having trouble viewing this message.

Your Weekly AAHOA Wrap-Up for Friday, March 12, 2021
Message from the President & CEO
AAHOA Members,
Last week, we launched the "Pledge to Protect Our Guests, Employees, and Businesses" initiative asking all hoteliers across the country to educate their employees on the importance of getting the COVID-19 vaccine and to provide the resources they need to get vaccinated. In the days and weeks ahead, hoteliers who sign the Pledge commit to provide time, reduce barriers, and consider incentives to encourage their employees to get vaccinated when it becomes available in their community.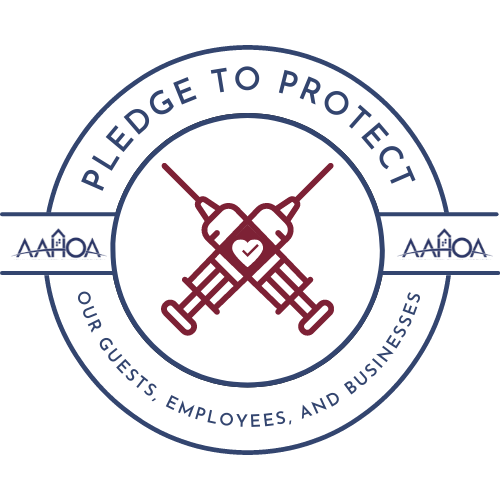 Our goal is to reach 50,000 employees pledged by the end of the month. Join your fellow AAHOA Members who have already taken the Pledge to Protect today. Visit our Pledge to Protect landing page for more information, resources, and vaccination updates.
President Biden Signs the American Rescue Plan
Yesterday, President Biden signed the American Rescue Plan into law, securing $1.9 trillion in pandemic relief for our country's recovery from the ongoing pandemic. AAHOA applauds Congress and the Biden Administration for funding several key initiatives such as increased testing, vaccination, and vital economic assistance that will support an expedited recovery for the hospitality industry. AAHOA is grateful for these initiatives, but will continue to advocate for targeted relief for our industry. The road to recovery runs through AAHOA!
Cecil P. Staton
AAHOA President & CEO
Top 10 Things to Know This Week
STR: Baird/STR Hotel Stock Index Jumps 22.4% in February
The Baird/STR Hotel Stock Index jumped 22.4% in February to a level of 5,141. Year to date through the first two months of 2021, the stock index was up 12.4%. "Hotel stocks posted huge gains in February as the reopening and reflation trade momentum caused many hotel brands and hotel REITs to reach new post-pandemic highs," Michael Bellisario, senior hotel research analyst and director at Baird, said. In February, the Baird/STR Hotel Stock Index outperformed both the S&P 500 (+2.6%) and the MSCI US REIT Index (+3.8%). The Hotel Brand sub-index increased 22.0% from January to 8,833, while the Hotel REIT sub-index rose 23.6% to 1,305.
Trepp: February Sees Fifth Monthly Decline in Overall CMBS Special Servicing Rate
In February, the Trepp CMBS Special Servicing rate saw a reduction of 12 basis points, coming in at 9.60%, in comparison to 9.72% in January. This marks the fifth consecutive monthly decline in special servicing rates. The recent reductions can be mainly attributed to a significant reduction in the CMBS special servicing rate for the retail and lodging sectors. Lodging special servicing rates, which increased by 42 basis points in January, saw a reduction of 26 basis points in February.
Women's History Month: A Celebration of Women in Hotel Ownership
What was once a predominantly male industry is becoming a place where more women than ever before are making a name for themselves. In fact, women hoteliers have been called "the industry's most profitable asset"! As we continue to celebrate Women's History Month, join us to gain valuable insight and learn proven strategies for success from top women hoteliers.
2 p.m. EDT Tuesday, March 16
myDigitalOffice: U.S. Hotel Performance —Spring Break 2021 
March is here, which means spring is on the horizon: warmer weather, spring breaks, and March marks a full year since the first "two week lockdown" here in the U.S. Well, our lockdown lasted a bit longer than two weeks. But it seems as though things are finally starting to look up. As vaccine rollouts continue and warmer weather allows for outdoor, socially distant vacations, travelers are feeling more confident putting their long overdue sky miles and hotel points to good use. As school spring breaks kick off, AAHOA Silver Member myDigitalOffice is seeing some really promising data for our industry.
NY Times: CDC — Vaccinated Americans May Gather Indoors in Small Groups But Should Still Wear Masks in Public
The Centers for Disease Control and Prevention on Monday issued long-awaited advice to Americans fully vaccinated against COVID-19, freeing them to take some liberties that the unvaccinated should not, including gathering indoors in small groups without precautions while still adhering to masking and distancing in public spaces. The agency offered good news to grandparents who have refrained from seeing children and grandchildren for the past year, saying that vaccinated people may visit indoors with unvaccinated people from a single household so long as no one among the unvaccinated is at risk for severe disease if infected with the coronavirus.
Mark Your Calendars for Our Upcoming Events and Webcasts!
AAHOA Condemns Murder of Maryland Hotelier Ushaben Patel
AAHOA President & CEO Cecil P. Staton issued a statement condemning the murder of Elkton, MD, hotel owner Ushaben Patel and the wounding of her husband Dilipbhai Patel: "America's hotel owners are shocked and outraged by this senseless act of violence against two small business owners doing their jobs. We offer our deepest sympathies to Dilipbhai Patel and his family, and our community is mourning with them today. Attacks against hoteliers continue to increase, and this is yet another horrendous episode of violence against Asian Americans that is plaguing our society. It must stop now."
The Pledge to Protect: AAHOA Launches New Initiative to Encourage Employees to Get Vaccinated
In order for Americans to return to normal travel patterns, guests need to have confidence that hotels are safe and employees are protected from COVID-19. In addition to ensuring industry standards for sanitization, the most critical action hoteliers can take now is to encourage their staff to get a vaccination as soon as they are available. That's why last Friday, AAHOA launched a brand-new initiative called The Pledge to Protect designed to give hoteliers the tools they need to help motivate their employees to get vaccinated.Here's how you can get involved:
Send this email from the CDC to your employees.

Provide time, reduce barriers, and consider incentives for your employees to get vaccinated when they are available. (Employer tax credits may be available for those who provide paid leave for vaccinations.)
Registration Is Opening Soon for AAHOACON21!
Registration is opening soon for the 2021 AAHOA Convention & Trade Show, set for August 3-6 in Dallas, TX. As our first in-person convention since 2019, it is the most-anticipated AAHOA event of the year! We can't wait to gather in person to network, learn, get inspired, and make deals on the trade show floor. Want to win roundtrip coach airfare and three nights' hotel accommodations to AAHOACON21? You can do so by renewing your hotelier annual membership by June 30.* The drawing to determine the winner is July 1, and there is no requirement to register for convention to enter the sweepstakes.
*No purchase necessary, subject to official rules. Ends 6/30/2021. Rules apply. Prizes shall not be redeemable for cash and all decisions are final.
President Biden Signs $1.9-trillion American Rescue Plan Act
Yesterday afternoon, President Biden signed the $1.9-trillion American Rescue Plan Act of 2021. The historic pandemic relief package passed a final hurdle on Wednesday in a party-line vote in the House, clearing the way for the Biden Administration to achieve its first major legislative victory. This relief package is also a major win for hoteliers and other small businesses as it will provide billions of funding to the Paycheck Protection Program, Economic Injury Disaster Loans, and increase the nation's vaccine supply and testing capacities. AAHOA will continue to provide updates as the American Rescue Plan is rolled out. 
Was this email forwarded to you? You can opt in, or opt back in, to receive these directly by signing up at myaahoa.com.

Asian American Hotel Owners Association, Inc.
Atlanta Headquarters
1100 Abernathy Road, Suite 725
Atlanta, GA 30328
Washington D.C. Office
601 New Jersey Avenue NW, Suite 610
Washington DC 20001
To update your subscription preferences, please email info@aahoa.com..