Click here if you are having trouble viewing this message.

Your Weekly AAHOA Wrap-Up for Friday, March 5, 2021
Message from the President & CEO
AAHOA Members,
Today, we launched the "Pledge to Protect Our Guests, Employees, and Businesses" initiative, asking all hoteliers across the country to educate their employees on the importance of getting the COVID-19 vaccine and to provide the resources they need to get vaccinated. Vaccinations will help not only to protect hotel associates and guests but also serve as a catalyst for travelers to feel comfortable visiting our hotels again soon.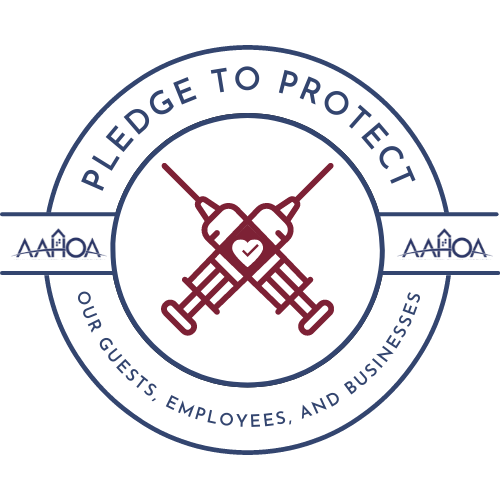 As states ease travel restrictions and other mandates, it becomes even more imperative that our employees are informed, empowered, and protected. Nearly half of American travelers have stated that their willingness to travel correlates in some way to vaccinations. From the onset, hotels have innovated industry-best practices in sanitization and enhanced on-site protocols to provide and communicate a safe, clean lodging experience. We have worked tirelessly toward returning to normal levels of travel, and this vaccination initiative acts as another pillar on the road to recovery. 
In the days and weeks ahead, hoteliers who sign the Pledge commit to provide time, reduce barriers, and consider incentives to encourage their employees to get vaccinated when it becomes available in their community. 
Visit our Pledge to Protect landing page for more information, resources, and vaccination updates. We appreciate your engagement and support and will continue to keep you well-informed of the $1.9-trillion relief package currently in the Senate. Stay well and have a great weekend.
Cecil P. Staton
AAHOA President & CEO
Top 10 Things to Know This Week
STR: U.S. Hotel Profitability Improved Slightly in January
U.S. hotel gross operating profit per available room (GOPPAR) improved slightly from prior months but remained in the low single digits, according to STR's January 2021 monthly P&L data release. In a year-over-year comparison with January 2020, the industry reported the following:
GOPPAR: -95.9% to US$3.14

TRevPAR: -73.3% to US$60.94

EBITDA PAR: -120.1% to US$-11.88

LPAR (Labor Costs): -63.3% to US$31.82
"As we approach the one-year mark of the first major restrictions in the U.S., profitability is at least sitting on the positive side of the spectrum," said Raquel Ortiz, assistant director of financial performance at STR. "... But hoteliers are not going to feel a sense of security until profitability rises to meaningful absolute levels.
Trepp: CMBS Delinquency Rate Plunges in February; Hotel & Retail Rebound Accelerates
In February, the Trepp CMBS Delinquency Rate generated its largest improvement since the beginning of the pandemic. After two huge jumps in the reading in May and June of last year, the rate has now declined for eight consecutive months. The Trepp CMBS Delinquency Rate in February was 6.80%, a decline of 78 basis points from the January number, which is the biggest drop over the last eight months. The percentage of loans in the 30-days-delinquent bucket is 0.58% – down 16 basis points for the month.
HotStats: Global Hotel Profit Performance Divides in New Year
Turning the page doesn't always assure a better result. After the worst performing year on record, the hotel industry was ready for 2021, but resigned to the fact that a new year doesn't mean things automatically get better. The harsh reality is a global pandemic that has ceased to fully recede. Still, there is cause for optimism. Though travel remains stunted across the world, some regions are showing signs of sustained performance positivity. Include Asia-Pacific and the Middle East on that list.
March Issue of Today's Hotelier Now on Newsstands Everywhere 
The March 2021 issue of Today's Hotelier magazine is now available. In the cover story, Teague Hunter, President & CEO of Hunter Hotel Advisors, the nation's leading investment advisory firm focused exclusively on the hotel industry, dives into how hoteliers have risen to have risen to meet the challenges of COVID-19. AAHOA President & CEO Cecil P. Staton explains how AAHOA, through its 2021-23 Strategic Plan, will provide the services, advocacy, and resources to get back to business as usual, while Rushi Shah delves into what you need to consider before converting your hotel into an apartment building.
Politico: CDC's Draft Guidelines for Vaccinated Americans Call for Small Steps Toward Normal Life
The Centers for Disease Control and Prevention is set to release guidance this week on safe activities for people who have received both doses of the COVID-19 vaccine amid growing questions about when, and how, shots will enable a return to normal life. The recommendations will mark the first time the federal government has signaled to Americans that they can start taking steps back to the old rhythms of work, school and play, according to two senior administration officials involved in the drafting of the guidelines.
Mark Your Calendars for Our Upcoming Events and Webcasts!
CBRE: Annual Hotel Demand Drops by 37% in 2020
U.S. hotels suffered the worst annual occupancy level in 2020 since the Great Depression in the 1930s. Smaller markets and mainland U.S. resort destinations had the smallest declines in RevPAR in 2020. These less-dense markets benefited from their ability to better maintain social distancing and from their drive-to destination appeal. The biggest declines in RevPAR in 2020 occurred in the larger gateway markets. These markets suffered from the lack of group demand, fewer inbound international travelers and a reliance on airline travel.
Edison Democrats Nominate Bhagia for Mayor in a Landslide
Last week, AAHOA Lifetime Member Mahesh Bhagia secured the local Democratic Party's endorsement for mayor in New Jersey's 5th-largest municipality, capturing the nomination that Democratic Mayor Tom Lankey had previously held. Bhagia defeated current Edison Councilman Richard Brescher by a vote of 101 to 32 — a 72%-22.8% margin. "I am deeply grateful to the members of the Edison Democratic Organization for their overwhelming support," said Bhagia. "I cannot wait to start working tirelessly alongside each of you and the residents of our town to ensure that we start putting Edison first." Bhagia, the current Edison Democratic Organization Chairman, would make history as the first South Asian mayor in Edison.
News from Coast to Coast
North Carolina: Property Tax Relief Bill for COVID Affected Businesses Has Over 40 Cosponsors
North Carolina AAHOA Members and our partners at the NCRLA have been highly engaged with the state legislature to advocate for a tax relief bill targeted at businesses impacted by the pandemic. Learn more about the bill in a recent article published by the Winston-Salem Journal.
New Jersey: Starting on March 29, Frontline Hospitality Workers Will be Eligible to Receive Vaccinations
The Centers for Disease Control (CDC) recently reclassified traveler accommodation employees as essential workers eligible for vaccinations under Phase 1C of the rollout plan. AAHOA applauds the CDC's revised guidelines and will continue to advocate for other states to follow New Jersey. If you are a New Jersey AAHOA Member, you can find more information of the vaccine registration here and location sites here.
Alabama: AAHOA Partner ARHA Applauds Swift Passage of COVID Immunity Bill and Alabama Taxpayer Stimulus Freedom Act 
"We made our case before the Alabama Legislature and they responded to our concerns, and we are thankful for the passage of these two bills," said Mindy Hanan, President and CEO of the Alabama Restaurant and Hospitality Association.  
The Senate bill, sponsored by Senator Dan Roberts, R-Mountain Brook, exempts all the COVID-19 relief funds received from the government from state taxation. The legislation also makes some modifications to the state's corporate tax code. "We are not going to tax any of the stimulus monies that came in for businesses, for individuals, for anyone," Roberts said, adding that the bill will also help Alabama-based businesses to compete on a global scale.
U.S. Senate Takes Up $1.9-Trillion American Rescue Plan
On Thursday afternoon, the Senate voted to take up President Biden's $1.9-trillion relief package. Vice President Kamala Harris cast the tiebreaking vote. The Senate will have 20 hours of debate after Senate clerks finish reading the entire bill text, which was requested by Sen. Ron Johnson (R-WI). Senate Majority Leader Chuck Schumer plans to keep the Senate in session until the bill is finished, which could keep members in the chamber for a weekend of "vote-a-rama" as amendments and other changes to the text are proposed by both parties. AAHOA will keep our members apprised of significant amendments to the relief package. 
Was this email forwarded to you? You can opt in, or opt back in, to receive these directly by signing up at myaahoa.com.

Asian American Hotel Owners Association, Inc.
Atlanta Headquarters
1100 Abernathy Road, Suite 725
Atlanta, GA 30328
Washington D.C. Office
601 New Jersey Avenue NW, Suite 610
Washington DC 20001
To update your subscription preferences, please email info@aahoa.com..