Click here if you are having trouble viewing this message.

Your Weekly AAHOA Wrap-Up for Friday, Feb. 5, 2021
Message from the President & CEO
AAHOA Members,
The Senate voted early this morning along party lines to pass President Biden's $1.9 trillion American Rescue Plan, with Vice President Harris casting the tie-breaking vote. The resolution now goes to the House, where Democrats will again not need Republican support to pass the proposal. However, a proposal by Republican Senator Joni Ernst to prohibit the $15 per hour minimum wage increase during the pandemic was accepted by the Democrats.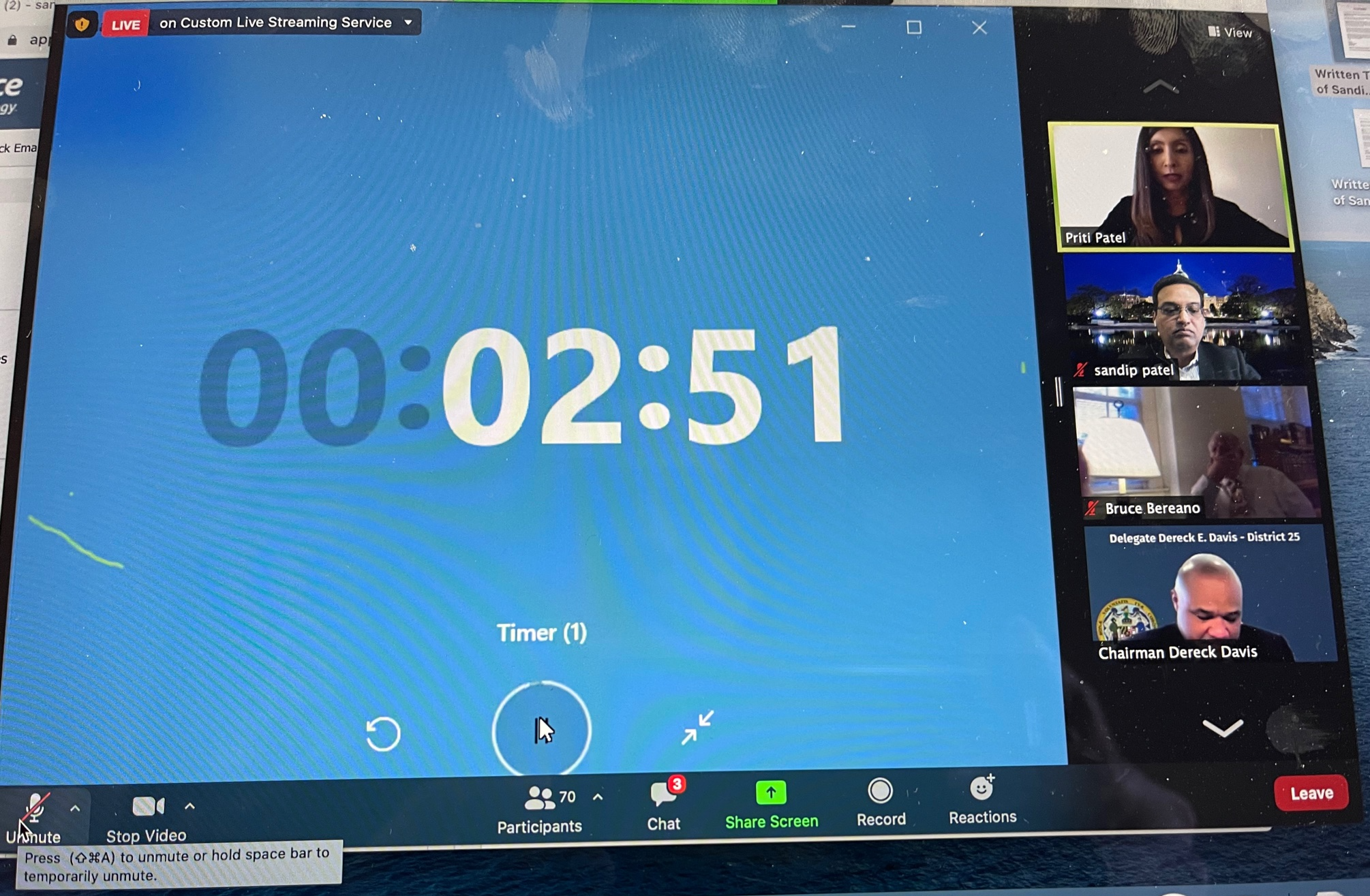 AAHOA Members in Action
This week, AAHOA Members Priti and Sandip Patel testified (Washington DC Area Ambassador and Regional Director, respectively) before the Maryland House Economic Matters Committee to protect small businesses and their employees. I commend Priti and Sandip for their testimony on behalf of their fellow Maryland hoteliers. If you are looking to get involved with AAHOA's advocacy efforts, tune into our virtual events, contact your lawmakers, or take part in our upcoming advocacy campaigns. Our voices are stronger together.
We appreciate your engagement and support and will continue to keep you well-informed of political developments and small-business assistance in the coming weeks. Stay well and have a great weekend.
Cecil P. Staton
AAHOA President & CEO
Top 10 Things to Know This Week
STR: U.S. Weekly Hotel Occupancy Remains Relatively Flat from the Previous Week 
U.S. weekly hotel occupancy remained relatively flat from the previous week, according to STR's latest data through January 30. January 24-30, 2021 (percentage change from comparable week in 2020):
Aggregate data for the Top 25 Markets showed lower occupancy (38.4%) but higher ADR ($95.50) than all other markets. Tampa/St. Petersburg, Florida (58.2%), reported the highest occupancy level among the Top 25 Markets.
Trepp: CMBS Special Servicing Rate Falls in January; Lodging Rate Rises
In January, the Trepp CMBS Special Servicing rate saw a reduction of nine basis points, coming in at 9.72%, in comparison to 9.81% in December. This marks the fourth consecutive monthly decline in the overall special servicing rate.The drop in January can be mainly attributed to a significant reduction in the CMBS special servicing rate of every property type, besides lodging. The lodging special servicing rate saw an increase of 42 basis points last month. This comes after a reduction in the lodging special servicing rate in December.   
Fisher Phillips: OSHA's Latest Guidance Suggests Employers Will Be Required to Adopt a COVID-19 Prevention Program
The Occupational Safety and Health Administration (OSHA) recently released new guidance on mitigating and preventing the spread of COVID-19 in the workplace in response to President Biden's Executive Order on Protecting Worker Health and Safety. Here is what employers need to know about the January 29 release. OSHA indicates the guidance was prepared "for planning purposes" and directs employers to use the guidance in identifying risks of being exposed to COVID-19 in workplace settings and to determine appropriate control measures to implement. OSHA's use of the language "for planning purposes" suggests that it is likely the first step towards OSHA implementing an Emergency Temporary Standard that will provide required steps that employers must take. Therefore, employers should begin to implement the guidance.
Our Vendor Digest Is Chock Full of Deals, Discounts Just for AAHOA Members 
Did you know AAHOA sends weekly deals and discounts from our Industry Partners exclusively for AAHOA Members? Here's the latest edition of our Vendor Digest with the most-recent offerings. Aren't subscribed? Update your communication preferences in MyAAHOA.com so you don't miss out! You also can check out our online Vendor Directory for a complete list of AAHOA's Industry Partners.
CoStar: Hotel Owners the Driving Force Behind Tech Adoption
The COVID-19 pandemic has accelerated the need for leaner hotel operations and enhanced tech features for both staff and guests. During his appearance on the "Technology – Are You With IT?" panel at the recent Hotel Optimization Part 3 Conference, AAHOA Treasurer Nishant (Neal) Patel said the brands used to drive tech investment decisions, but recently, franchise owners are taking the lead.
Mark Your Calendars for Our Upcoming Virtual Event and Webcasts!
CBRE: Recovery Still Underway As GDP Grows by 4.0% in Q4 2020 
U.S. GDP grew by 4.0% in Q4 2020, in line with CBRE's forecast but just below consensus expectations of 4.3%. Q4 2020 growth was driven by residential construction, exports, and companies investing in new equipment. CBRE expects growth to moderate further in Q1, but rapidly accelerate in H2 2021. For full-year 2021, CBRE forecasts GDP growth of 4.9%. CBRE has also upgraded its 2022 GDP forecast to 4.2% from 2.9%, reflecting additional fiscal support from the Biden administration and a robust recovery once the COVID-19 crisis is fully resolved.
The Latest Issue of Today's Hotelier Magazine Is on Newsstands Everywhere 
The February 2021 issue of Today's Hotelier magazine is now available. This month's issue features our cover story on Bruce Haase, President and CEO of Extended Stay America, who took an in-depth look at what steps brands can take to meet changing guest expectations in the face of the COVID-19 pandemic.
Coalition Letter to White House: 'A Testing Requirement for Domestic Air Travel Is Unwarranted'
AAHOA joined a coalition of more than 20 other organizations last week in sending a letter to Jeffrey Zients, the White House COVID-19 Recovery Team Coordinator, regarding President Biden's Executive Order Promoting COVID-19 Safety in Domestic and International Travel. While the coalition supports many aspect of the EO, the group expressed concern about recent media reports that the CDC is considering a pre-departure testing requirement for domestic air travel. Given the strong scientific evidence that the risk of COVID-19 transmission onboard an aircraft is very low, the coalition believes that a testing requirement for domestic air travel is unwarranted.
The Latest from Washington, D.C.
After weeks of buildup surrounding President Biden's $1.9-trillion relief package, Senate Democrats will advance the legislation using a budgeting procedure that will enable them to move forward without cooperation from their Republican counterparts. However, this process will include many procedural and messaging votes you will likely hear about in the coming days. This will be an early test of the unity within the Democrats Congressional caucus, having slim majorities in both the House and Senate. You can read more about the President's American Rescue Act here.
AAHOA is closely following the discussions about additional small business assistance. We believe there will be some additional relief, but since the package passed in December included many of our industry's priorities, including PPP second draw, banking relief, and SBA assistance, additional targeted stimulus may be in a future effort.
Was this email forwarded to you? You can opt in, or opt back in, to receive these directly by signing up at myaahoa.com.

Asian American Hotel Owners Association, Inc.
Atlanta Headquarters
1100 Abernathy Road, Suite 725
Atlanta, GA 30328
Washington D.C. Office
601 New Jersey Avenue NW, Suite 610
Washington DC 20001
To update your subscription preferences, please email info@aahoa.com..