Click here if you are having trouble viewing this message.

Your Daily AAHOA Update for Monday, Jan. 25, 2021
Today's Top Stories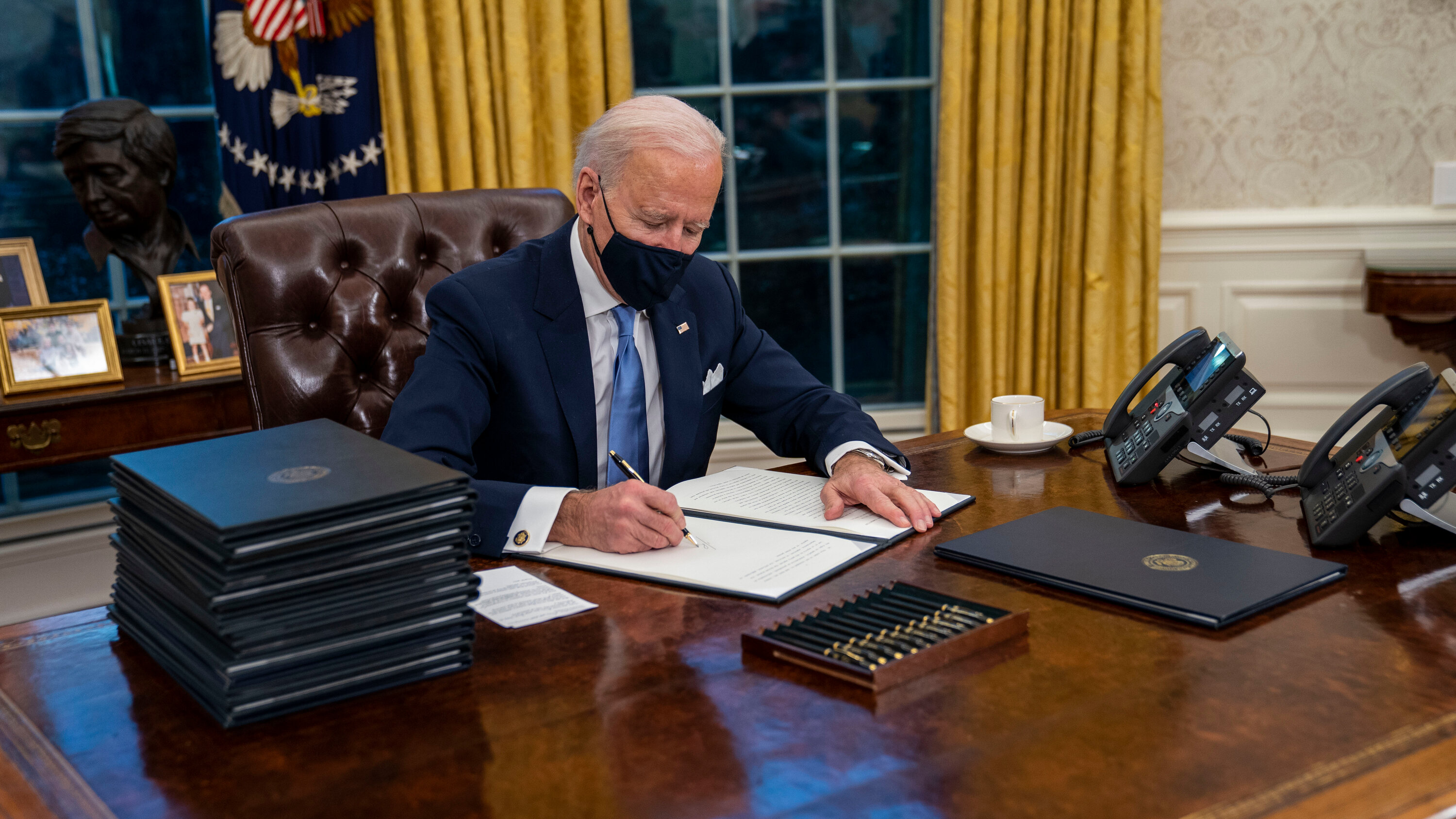 The Latest from Washington D.C.
Today, President Biden signed an Executive Order intended to promote U.S. manufacturing by closing loopholes in the "Buy American" policies for the federal government. Biden will continue to take executive actions in his first full week as President. The $1.9-trillion pandemic relief package proposed by the Biden administration is receiving bipartisan pushback in the Senate, notably on the direct payments to Americans.
Later this evening, the House will deliver an article of impeachment against former President Donald Trump to the Senate. The trial will begin on February 9.

AAHOA Reschedules 2021 Convention & Trade Show
Today, AAHOA announced new dates for the 2021 Convention & Trade show, giving the AAHOA community the opportunity to reconnect and continue rebuilding our industry together, which includes gathering safely in person for ​our leading event of the year. The 2021 AAHOA Convention & Trade Show will be moving to August 3-6, 2021, in Dallas, TX. 
"We are confident that rescheduling the convention is the right decision for our members, industry partners, and our association so that people can travel and gather safely in Dallas. I look forward to seeing all our friends in the hospitality industry Dallas this August," AAHOA President & CEO Cecil P. Staton said in a statement released today. 
AAHOA appreciates your unwavering support, enthusiasm, and patience. The road to recovery runs through AAHOA – and we look forward to hosting you this August in Dallas. Stay tuned as registration will be opening soon!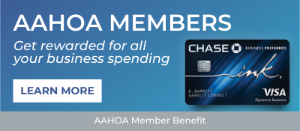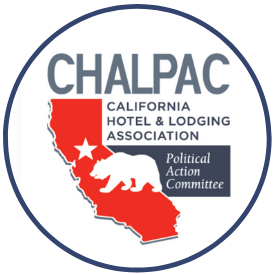 AAHOA Lifetime Member Alpesh Jivan Named President of CHLA PAC
AAHOA Lifetime Member Alpesh Jivan, CHA, Managing Partner of Jivan Hospitality, has been named President of CHLA's political action committee for special issues. Jivan, who also is on the AAHOA Government Affairs Committee, both contributed and helped raise money for CHLA's successful "No on Prop 15" campaign. The purpose of the California Hotel Issues PAC is to influence state and local political issues, including ballot measures on behalf of the hotel industry. CHLA re-established the PAC after the industry's success in defeating Proposition 15, which would have increased taxes on all commercial properties.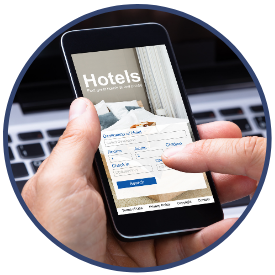 HotStats: PAR or POR? A Guide to Interpreting Hotel Operational Ratios
Data is king, but futile if you don't know how to best interpret the numbers. Asking yourself, "What's the best way to analyze my data?" is too broad and only adds to the confusion. A better approach is to start by setting goals for your analysis. What specific information do you want to extract from your data? When you have a clear understanding of this, you can choose the most relevant ratios accordingly.The two most popular ways to calculate hospitality ratios are on a per-available-room (PAR) or per-occupied-room (POR) basis.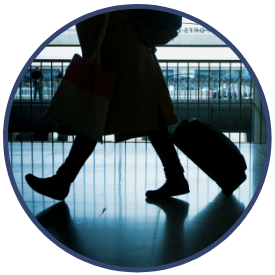 USTA: Weekly Coronavirus Impact on Travel Expenditures in the U.S.
In 2020, the travel sector lost $492 billion compared to the prior year – an unprecedented 42% annual decline. Travel spending improved modestly during the last three weeks of the year. The week leading into the new year registered $14.6 billion in travel spending – the second-best week since March 14th, behind only the week of Labor Day Weekend. While still well below regular levels, the industry has experienced progress since the low of a mere $17 billion in travel spending in April. Recovery began in late May as numerous lockdown measures were lifted and the summer travel season ensued.
What Members Are Saying...
"I appreciate all of your assistance in getting underway with you, your team, and your membership."
– New Industry Partner, Tennessee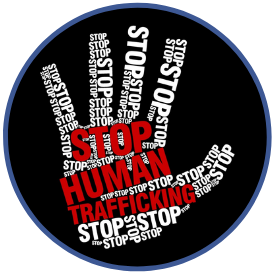 Live Training
Only 2 Days Left! Register for AAHOA's Live Training Session to Help Fight Human Trafficking
National Slavery & Human Trafficking Prevention Month is winding down, but our work continues. We are offering Virtual Training Group Session: BEST Inhospitable to Human Trafficking Training, Sponsored by AAHOA at 3 p.m. Wednesday, January 27. This live virtual event is the latest effort in our drive to help as many AAHOA Members and their employees as possible spot the signs of trafficking to save lives and protect businesses. This event will be capped at 500 attendees and you must be an AAHOA Member to attend. It will not be recorded, so it's imperative that you register yourself and your staff as soon as possible.   
3 p.m. EST Wednesday, Jan. 27, 2021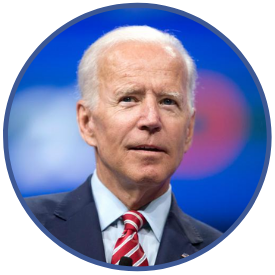 Webinar
TOMORROW | What Employers Can Expect from the New Administration 
With the presidential and congressional elections behind us, we can look forward to significant changes in the employment law landscape, particularly in relation to hoteliers. Join us as we discuss what to expect with the new administration, including how to avoid increased litigation trends and safeguard your bottom line in the new year and beyond.
11 a.m. EST Tuesday, Jan. 26, 2021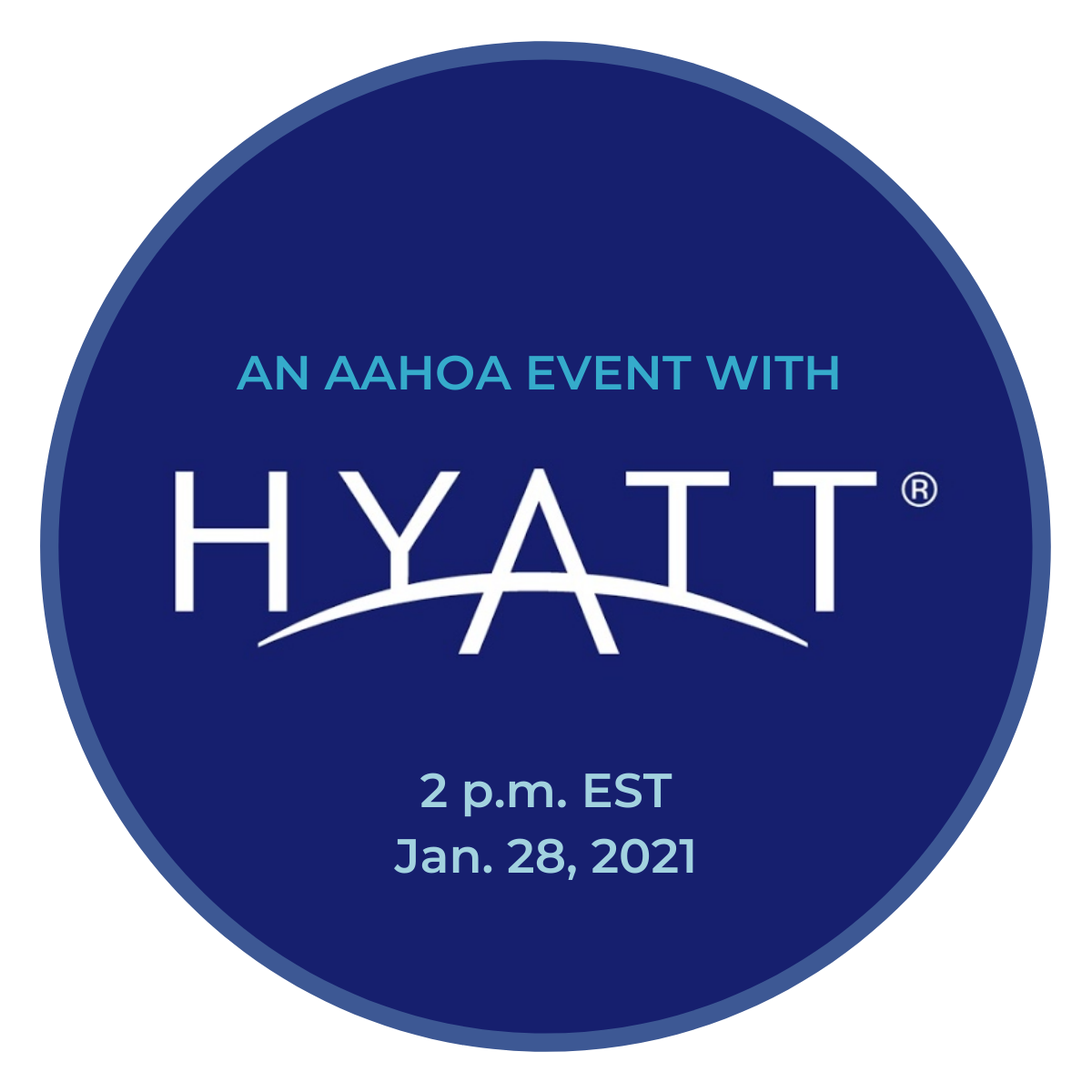 Virtual Event
Navigating the Road to Recovery in a Post-COVID-19 World: A Conversation with Hyatt
Join Washington DC Area Regional Director Sandip Patel as he hosts Navigating the Road to Recovery in a Post-COVID-19 World: A Conversation with Hyatt, where the ongoing recovery of the hotel industry amidst a continuing pandemic will be the top-of-mind topic of discussion. HotStas' David Eisen will moderate a panel of Hyatt leaders, including Jim Tierney, Melissa Masitto and Brian Contreras, with appearances by AAHOA Lifetime Member and Past Chairman Mehul Patel of Newcrest Image and Steven Nicholas of Noble Investment Group.
Email your questions at least 24 hours in advance to franchise@aahoa.com
2 p.m. EST Thursday, Jan. 28, 2021
Upcoming Industry Events & Webcasts 
Webinar
Tune in to JF Capital Advisors Unplugged #5 for Topical Discussions
Tune in to JF Capital Advisors Unplugged #5 for Topical DiscussionsTune in at 1 p.m. EST Monday, February 8 for JF Capital Advisors Unplugged #5 as Jonathan Falik and Nick Mellis discuss topical issues, including the impact and effects of future business travel, the Biden administration, lender restructuring updates, Airbnb, and 2021 predictions.
1 p.m. EST Monday, Feb. 8, 2021
Live Webinar
USTA – Refueling the Economy and American Jobs Through Travel
Join U.S. Travel Association President & CEO Roger Dow for an exclusive virtual update on the state of the American travel Industry. The address will cover the relief and stimulus policy priorities that will be necessary to help safely reignite domestic and international inbound travel to accelerate our industry's rebound in the year ahead. USTA also will release its comprehensive Power of Travel platform, which details how advocacy will deliver economic relief and recovery, increase America's global competitiveness, define the future of mobility and infrastructure, reimagine air travel, and improve travel facilitation.
1 p.m. EST Wednesday, Jan. 27, 2021
Live Webinar
Calling All California Hoteliers: CHLA Announces Virtual 2021 Legislative Action Summit
After a fast-paced year of advocacy, CHLA is pleased to host the 2021 Legislative Action Summit through a virtual forum. This forum will include updates about CHLA priorities, information about the general sentiment of government officials and agencies, and provide opportunities for you to connect with your elected officials to advocate for the issues that matter most. Legislators are struggling to cut through the noise and find how to support the most affected, so help us guide legislators to the tools our industry needs to recover.
1 p.m. EST Tuesday, March 16, 2021
Upcoming AAHOA Events & Webcasts 
Webcast
What Employers Can Expect from the New Administration, 11-11:30 a.m. EST, Tuesday, Jan. 26, 2021
Webcast
Hotel Valuation Outlook: What to Expect in 2021, 3-3:30 p.m. EST, Tuesday, Jan. 26, 2021
Live Training
AAHOA Offering Live Training Session to Members to Help Fight Human Trafficking, 3 p.m. EST, Wednesday, Jan. 27, 2021
Virtual Event
Navigating the Road to Recovery in a Post-COVID-19 World: A Conversation with Hyatt, 2 p.m. EST Thursday, Jan. 28, 2021
Webcast
Understanding Human Trafficking and Child Exploitation, 3-4 p.m. EST Thursday, Jan. 28, 2021
Webcast
Update on Hotels in CMBS Special Servicing: What's Next in Round Two?, 3-3:30 p.m. EST, Wednesday, Feb. 3, 2021
Webcast
Employee Handbook Essentials: What Hoteliers Need to Know to Avoid Lawsuits, 1-1:30 p.m. EST, Thursday, Feb. 4, 2021
Webcast
Increase Guest and Employee Engagement by Confronting and Mitigating Bias on the Front Line, 3-3:30 p.m. EST, Tuesday, Feb. 9, 2021
Webcast
How Our Hotels Increased RevPAR Indexes In 2020, 3-3:30 p.m. EST, Thursday, Feb. 11, 2021
*Disclosure: AAHOA receives compensation from Chase.
Was this email forwarded to you? You can opt in, or opt back in, to receive these directly by signing up at myaahoa.com.

Asian American Hotel Owners Association, Inc.
Atlanta Headquarters
1100 Abernathy Road, Suite 725
Atlanta, GA 30328
Washington D.C. Office
601 New Jersey Avenue NW, Suite 610
Washington DC 20001
To update your subscription preferences, please email info@aahoa.com..