Click here if you are having trouble viewing this message.

Your Daily AAHOA Update for Tuesday, Jan. 12, 2021
Today's Top Stories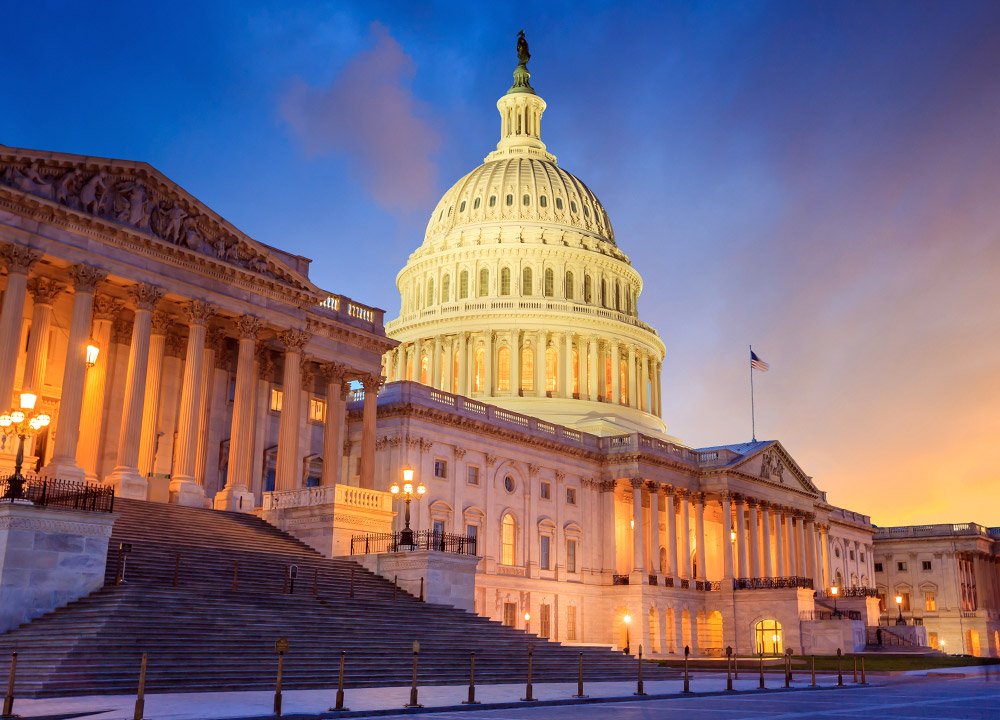 The Latest from Washington, D.C.
In a press conference held earlier this afternoon, officials from the Department of Justice (DOJ) and the Federal Bureau of Investigation (FBI) provided updates on the departments' joint investigations and prosecutions relating to the riots at the U.S. Capitol building last week. The FBI and DOJ have already opened more than 160 cases. According to acting U.S. Attorney Michael Sherwin, "The scope and the scale of this investigation into these cases are really unprecedented not only in FBI history but probably DOJ history in which essentially the Capitol grounds outside and inside are essentially a crime scene." Congress has been briefed on the potential for further violence in Washington, D.C., and state capitals across the country leading up to the Presidential inauguration on January 20. At the request of Mayor Muriel Bowser, President Trump approved D.C.'s emergency declaration, which will send supplies and National Guard troops to the nation's capital in the coming days.
In Congress, Democrats in the House are moving rapidly toward a vote on the article of impeachment against President Trump. Vice President Mike Pence has indicated that he will not invoke the 25th Amendment to remove President Trump from office, spurring the House Democrats to move forward with the impeachment proceedings. The House could vote to impeach President Trump as early as tomorrow, yet Speaker Nancy Pelosi has not indicated when she would send the article of impeachment to the Senate.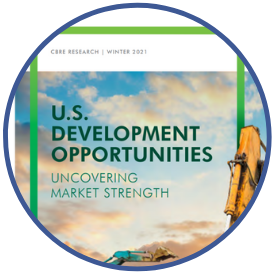 CBRE: U.S. Development Opportunities – Uncovering Market Strength
The next real estate cycle will require changes to the design and construction of space. CBRE's U.S. Development Opportunities report analyzes existing real estate supply, current construction costs, and past performance to identify markets and property types that offer the best opportunities. The report also provides rankings and detailed overviews of the top 50 U.S. development markets.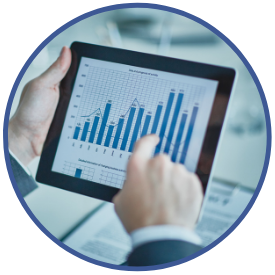 STR: Baird/STR Hotel Stock Index Rose 5.0% in December, Ends Year Down 13.2% 
The Baird/STR Hotel Stock Index was up 5.0% in December to a level of 4,574. For 2020 as a whole, the stock index fell 13.2%. In December, the Baird/STR Hotel Stock Index outperformed both the S&P 500 (+3.7%) and the MSCI US REIT Index (+2.7%). The Hotel Brand sub-index jumped 5.2% from November to 7,967, while the Hotel REIT sub-index increased 4.4% to 1,115.
CMBS Delinquency Rate Wraps Up 2020 on Lower Note: Retail Improves, Lodging Worsens
The Trepp CMBS delinquency rate continued to recede for the last month of 2020. After two huge jumps in May and June, the rate has now declined for six consecutive months. Hotel loans continued to be the worst-performing segment, with the overall delinquency rate for that property sector climbing for the second straight month.
What Members Are Saying...
"I enrolled in the CHIA to strengthen my industry analytic knowledge base. I am familiar with the reports, but I wanted a thorough understanding to glean additional information from the reports to increase the revenue of my portfolio. I would highly recommend the course to any operator who wishes to increase their utilization of the reports.  The course was beneficial in providing additional perspective on various markets and segments in the industry. The information learned in the course will be beneficial in the operations of my portfolio and assist in the growth of my company."
–  AAHOA Member, Albuquerque, NM

Upcoming AAHOA Events & Webcasts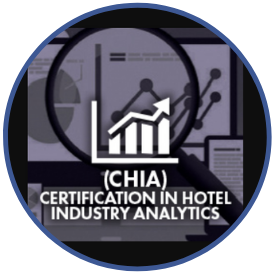 Digital Training
It's BAAACK! Register Today to Get Your CHIA Certification in March
AAHOA's virtual Certification in Hotel Industry Analytics (CHIA) is back and set for March 4-29. The CHIA is the leading certification for industry professionals focused on analytics and teaches you how to read, understand, and interpret statistical hotel data to help you strategically set rates and make business decisions. Registration is capped at the first 50 registrants and only members in good standing can participate. The cost for certification is only $199. To learn more, click here, then register today to get your certification as seats are limited!
March 4-29, 2021
Webcast
Strategies to Boost Topline Revenue at Your Property and Generate Your Way Back
The increase in available data and ways to track and analyze it may seem like it has complicated the industry, but it also provides a wealth of new opportunities for your business to turn a profit. Join us to learn a three-pronged approach of Revenue Management, Marketing, and Sales initiatives to regain RevPar indexes. As our industry has changed, your markets have changed, it's up to you to cause progress and produce results.
11 a.m. EST Thursday, Jan. 14, 2021
Upcoming Industry Events & Webcasts 
Live Webinar
eCornell: Reimagining Travel – Reinventing the Travel Experience & Using Data to Boost Recovery
With widespread vaccinations now underway, there are promising signs that recovery is just around the corne. This webinar will delve into the data, analytics, use cases, and organizational challenges that will shape travel's rebound in 2021 and beyond. A panel of industry leaders will examine this topic through a variety of perspectives, from guest acquisition and retention to engagement and personalization.
11 a.m. EST Thursday, Jan. 14, 2021
Live Webinar
SHaDTalk! Understanding the Written Agreements in a Private Equity Hotel Investment 
With the many legal documents and agreements, are you confident in your understanding of what you are agreeing to? Before you sign off on your next real estate investment, tune in for a She Has a DealTalk specifically designed to equip you with basic knowledge of these essential agreements, including the legal, operational, and practical aspects of the deal.
12 noon EST, Thursday, Jan. 21, 2021
Upcoming AAHOA Events & Webcasts 
Webcast
Strategies to Boost Topline Revenue at Your Property and Generate Your Way Back,11-11:30 a.m. EST Thursday, Jan. 14, 2021
Webcast
Getting Back to Business: Understanding the Intricacies of Hotel Valuation, 1-1:30 p.m. EDT, Jan. 21, 2021
Webcast
What Employers Can Expect from the New Administration, 11-11:30 a.m. EST, Tuesday, Jan. 26, 2021
Was this email forwarded to you? You can opt in, or opt back in, to receive these directly by signing up at myaahoa.com.

Asian American Hotel Owners Association, Inc.
Atlanta Headquarters
1100 Abernathy Road, Suite 725
Atlanta, GA 30328
Washington D.C. Office
601 New Jersey Avenue NW, Suite 610
Washington DC 20001
To update your subscription preferences, please email info@aahoa.com..