Click here if you are having trouble viewing this message.

Your Daily AAHOA Update for Monday, Jan. 11, 2021
Today's Top Stories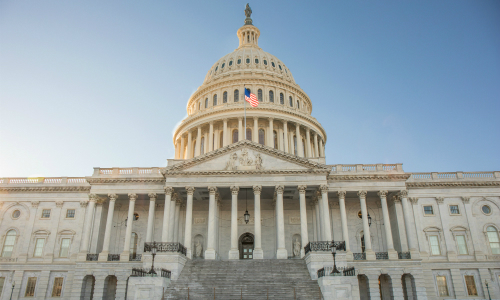 Today's AAHOA Advocacy Update
The tumultuous events at the Capitol building in Washington, D.C., last week will be at the forefront of political discourse for weeks to come. Members in the House of Representatives have already introduced an article of impeachment to remove President Trump from office, and the House may vote on the matter as early as this Wednesday. To succeed in impeaching and convicting President Trump, which can occur after his term has ended, Democrats need a majority vote in the House to impeach and a supermajority vote in the Senate to convict. The Senate is not scheduled to return until January 19 and would not have time for a trial before the inauguration.
The Small Business Administration (SBA) announced that the Paycheck Protection Program (PPP) is reopening this week. All participating lenders are expected to gain access to the program on or after January 13.
New PPP borrowers can submit your application today.
If you have already exhausted your first PPP loan, the process for second draw will be available beginning Wednesday, January 13.
We encourage all AAHOA Members seeking to participate in the PPP to contact your lenders if you have not already done so. Visit the AAHOA website for more information.
#WearBlueDay in Support of National Human Trafficking Awareness Day
January is National Slavery & Human Trafficking Prevention Month, Today is National Human Trafficking Awareness Day. 
"The pandemic's economic fallout is providing traffickers with more opportunities to exploit the most vulnerable in our society," said AAHOA President & CEO Cecil P. Staton in a statement released today. "That's why America's hotel owners stand vigilant against trafficking not just today, but every day."
Ensure you and your staff are trained and educated to fight human trafficking on the front lines. BEST Inhospitable to Human Trafficking Training, Sponsored by AAHOA is free for AAHOA Members, all-digital, and available on demand for you and your staff. We challenge you to make a commitment to earn your certificate this month. 
AAHOA has long been committed to ending human trafficking and we're showing it today by wearing blue in honor of #WearBlueDay. Thank you to everyone who participated in this important awareness campaign and for doing your part to eradicate human trafficking from our communities.
Marcus & Millichap Special Report: 2020 Election Results Bolster Real Estate Investment Outlook 
Following the results of Georgia's senatorial runoff election, the Democratic Party holds a reduced majority in the House of Representatives and the tie-breaking vice presidential vote in an evenly split Senate, AAHOA Silver Partner Marcus & Millichap reports. Despite numerous policies put forward by President-elect Joe Biden during the campaign, the political division in Congress will greatly restrict legislative reform. Consistency from a policy perspective will help lay a stable groundwork for future decision-making by commercial property investors, although ambiguity remains surrounding the resolution of the health crisis.
This latst report takes a look at tax reform outlook and other notable legislation; the role of new stimulus and vaccine rollout on 2021 economic outlook; and key stimulus provisions for real estate investors. 
What Members Are Saying...
"Feeling so grateful. Thank you so much. This is scary business. I appreciate the support."
–  Webcast Attendee
Upcoming AAHOA Events & Webcasts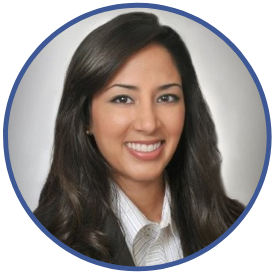 Webcast
How Will the New Stimulus Package Impact SBA Loan Programs?
Now that Congress has approved a new $900-billion dollar stimulus package, what does it mean for your small business loan? In this webinar we will focus on the new relief bill and its impact on the various SBA loan programs affecting hoteliers, including the recent restart and enhancement of the Paycheck Protection Program (PPP). We will also review the new simplified Economic Injury Disaster Loan (EIDL) process, as well as enhancements to the 504 and 7(a) loan programs.
3 p.m. EST Tuesday, Jan. 12, 2021
Webcast
Strategies to Boost Topline Revenue at Your Property and Generate Your Way Back
The increase in available data and ways to track and analyze it may seem like it has complicated the industry, but it also provides a wealth of new opportunities for your business to turn a profit. Join us to learn a three pronged approach of Revenue Management, Marketing, and Sales initiatives to regain RevPar indexes.  As our industry has changed, your markets have changed, it's up to you to cause progress and produce results.
11 a.m. EST Thursday, Jan. 14, 2021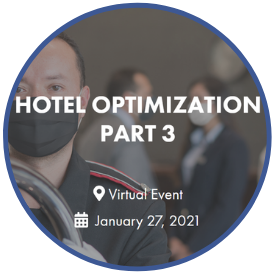 Virtual Event
Hotel Optimization Part 3: Where Do We Go from Here?
The impact that the coronavirus pandemic has had on the hospitality industry is palpable, leaving many asking, "Where do we go from here?" and "How do we come back from this?" AAHOA Chairman Biran Patel and Secretary Nishant (Neal) Patel will be among the featured speakers who will answer those questions and more at Hotel Optimization Part 3, set for January 27. This virtual event series, created in partnership with AAHOA, will provide clear insight, opinion and forecasting to help you better understand your options of getting back to profitability... and fast. Your FREE pass gives you access to expert panels that will discuss technology available to take slices out of your bottom line; how to protect yourself from lawsuits; where the opportunities are for investment; selling up vs. staying and taking the long-term view; and more! View the agenda and register for your free pass. We'll see you January 27!
10 a.m. - 1 p.m. EST Wednesday, Jan. 27, 2021
Upcoming Industry Events & Webcasts 
Live Webinar
2021 - A View from the Top: Hospitality Insights & Strategies 
Are you wondering what lies ahead for 2021 amid the shifting hospitality landscape? Are you interested in better understanding how to successfully navigate the dynamic hospitality environment? Join AAHOA Chairman Biran Patel and other hospitality executives for expert insights and valuable strategies that span all facets of the hospitality industry. Each of the panelists will provide valuable perspectives to help you make sound decisions in this dynamic environment.
12 noon EST, Thursday, Jan. 14, 2021
Live Webinar
USTA – Refueling the Economy and American Jobs Through Travel
Join U.S. Travel Association President & CEO Roger Dow for an exclusive virtual update on the state of the American travel Industry. The address will cover the relief and stimulus policy priorities that will be necessary to help safely reignite domestic and international inbound travel to accelerate our industry's rebound in the year ahead. USTA also will release its comprehensive Power of Travel platform, which details how advocacy will deliver economic relief and recovery, increase America's global competitiveness, define the future of mobility and infrastructure, reimagine air travel, and improve travel facilitation.
1 p.m. EST Wednesday, Jan. 27, 2021
Upcoming AAHOA Events & Webcasts 
Was this email forwarded to you? You can opt in, or opt back in, to receive these directly by signing up at myaahoa.com.

Asian American Hotel Owners Association, Inc.
Atlanta Headquarters
1100 Abernathy Road, Suite 725
Atlanta, GA 30328
Washington D.C. Office
601 New Jersey Avenue NW, Suite 610
Washington DC 20001
To update your subscription preferences, please email info@aahoa.com..