Click here if you are having trouble viewing this message.

Your Weekly AAHOA Wrap-Up for Friday, October 9, 2020
Message from the President & CEO
AAHOA Members,
Since late March, Congress and the administration have struggled to find common ground and lead our nation through this pandemic. In fact, it has been 196 days since lawmakers have passed a substantial COVID-19 relief bill. And with the election in 25 days, some politicians are more concerned with keeping their jobs than helping the millions of American workers. This window of time is critical. Our industry needs relief now.
We need our public officials to pass additional stimulus funding for hoteliers. Beginning on this coming Tuesday, October 13, AAHOA, along with our industry partners, are launching an advocacy campaign for our members and the industry to press their public officials to take action.
Our new campaign, "10,000 Letters, One Purpose: Save America's Hotels," will rally members and the industry to send 10,000 letters to public officials. The inundation of 10,000 letters at one time will impact the discussion in Washington, and we must act as a united force in letting them know how our industry is enduring this crisis.
Now is the time to get engaged and spread the word. Your role will be to help encourage those in your network to send a letter personally and recruit additional people from their networks, including family, colleagues, employees, friends, partners, and vendors.
Look out for next week's Chairman's Report for additional information on our new advocacy campaign.
We appreciate your engagement and support during these times, and will continue to keep you well informed of political developments and more in the coming weeks. Stay well, have a great weekend, and be ready to get engaged.
Cecil P. Staton
AAHOA President & CEO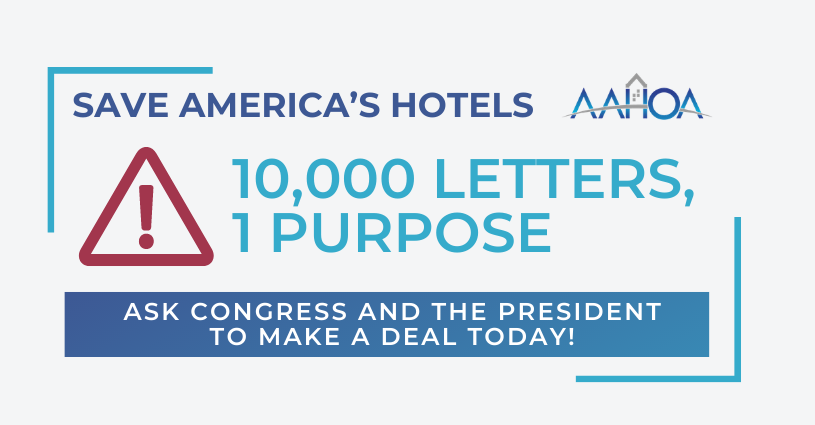 Top 10 Things to Know This Week
SBA, Treasury Release New Guidance on Paycheck Protection Program
The Small Business Administration and the Treasury Department recently released additional guidance on the Paycheck Protection Program, adding Question No. 52 to the FAQ. The SBA also released a letter to the forgiveness Platform Authorizing Officials (AO) noting that the SBA has begun remitting PPP loan forgiveness payments to lenders.
Save the Date for the AAHOA North Carolina Virtual Meeting: Region Update
Join us at 4 p.m. ET Thursday, October 15 for an AAHOA North Carolina Virtual Meeting: Region Update, hosted by Regional Director Akshat Patel. Female Director Eastern Division Lina Patel will provide an update for women hoteliers, while Young Professional Director Eastern Division Bhavik Patel will provide an update for YPs.
Join by Phone: 646-558-8656
Meeting ID: 936 2725 0863
AAHOA, Coalition Asks Feds to Stop the Selling of Falsified/Stolen Mailing Lists
AAHOA has joined a coalition of more than 100 other organizations, including professional and trade associations and trade show organizers, in petitioning the Federal Trade Commission Chairman and the U.S. Attorney General to crack down on the fraudulent business practice of selling falsified or stolen association mailing lists and event attendee and/or exhibitor lists.
We Need Your Input: Take Our 1-Minute Survey Today! 
AAHOA would like to hear how you are handling your business at this point in the COVID-19 pandemic and recovery. Your thoughts and insights during these times would be greatly appreciated as they will help guide our advocacy and outreach efforts to the appropriate elected officials and agencies.
Three New Top-Notch Webcasts Added to the Schedule
AAHOA has added three new webcasts to the schedule to help members continue down the road to recovery. Check them out to hear from experts on how to cut waste and stand out in the crowd, how to budget during a pandemic, and how to renegotiate your debt and increase cash flow during these challenging times. Don't miss out!
AAHOA Statement on Breakdown of Stimulus Negotiations
AAHOA President & CEO Cecil P. Staton issued the following statement in response to the breakdown of stimulus negotiations: "The breakdown of the negotiations over the next round of economic stimulus represents the absolute dysfunction of our government. Millions of Americans remain out of work. Tens of thousands of small businesses need a lifeline to survive this pandemic and need real relief now. American's deserve a government that will not forestall vital economic stimulus to score cheap political points."
Baird/STR Hotel Stock Index Drops 7.1% in September
The Baird/STR Hotel Stock Index dropped 7.1% in September to a level of 3,329. Year to date through the first nine months of 2020, the stock index was down 36.8%. "Hotel stocks declined in September, which mirrored the broader market's pullback," said Michael Bellisario, senior hotel research analyst and director at Baird. The September performance of the Baird/STR Hotel Stock Index fell behind both the S&P 500 (-3.9%) and the MSCI US REIT Index (-3.7%).
Save the Date: Join AAHOA Regional Directors for a Conversation with IHG
Join us at 2 p.m. EDT Wednesday, October 14 as Washington DC Area Regional Director Sandip Patel hosts a live virtual event with IHG. He will be joined by Kevin Schramm, VP Mainstream Development, Raul Ortiz VP, Global Holiday Inn, EVEN & Extended Stay Brand Management, Southwest Regional Director Imesh Vaidya, and IHG owner Chet Patel. HotStats' David Eisen will moderate. Click here to add this can't-miss virtual event to your calendar!
Don't Miss Out on Region-Specific Education at Our 2020 Regionals Series
Registration for AAHOA's 2020 Regional Conferences & Trade Shows is officially underway. We have assembled an incredible lineup of topics and industry experts to share their knowledge as it relates to owning a hotel in your region and give updates on the current state of the lodging industry and top challenges impacting your local market. Visit here to learn more about this can't-miss series, then pre-register to reserve your spot!
AAHOA Member Shares His Story with the New York Times
AAHOA Lifetime Member and Mid Atlantic Ambassador Montu Patel was the subject of a New York Times article on Tuesday. Patel owns eight properties in Maryland, Virginia, Pennsylvania, and New Jersey. The article chronicles the struggles and challenges he has faced because of the COVID-19 pandemic and the adjustments he's had to make to try to survive the worst crisis the hospitality industry in general and the hotel industry in particular has ever faced.
Was this email forwarded to you? You can opt in, or opt back in, to receive these directly by signing up at myaahoa.com.

Asian American Hotel Owners Association, Inc.
Atlanta Headquarters
1100 Abernathy Road, Suite 725
Atlanta, GA 30328
Washington D.C. Office
601 New Jersey Avenue NW, Suite 610
Washington DC 20001
To update your subscription preferences, please email info@aahoa.com..