Click here if you are having trouble viewing this message.
November 21, 2020
'Thank You' Is Key
From the very beginning of this pandemic, GHA and our hospitals have received support from all over the state, including many government officials. We have often heard the words "thank you," from prominent dignitaries, including Gov. Kemp. 
We are just one week away from Thanksgiving, and if there was ever a year to give thanks for our many blessings, this is the year. Thank you (that phrase again!) to our hospitals. Many people will be able to join loved ones at the dinner table or by virtual call to celebrate because of the courageous and determined actions of healthcare workers. Our healthcare workers are indeed heroes and Georgians give thanks to the men and women who saved their lives. 
November has always been one of my favorite months as it has Veterans Day, Thanksgiving Day, and, in a non-COVID environment, we would be hosting the annual GHA Hospital Hero Awards ceremony. Although we could not have a physical ceremony this year, that didn't stop us from finding a way to honor all Georgia hospital employees as Hospital Heroes. 
GHA launched our #ThankAHospitalHero campaign to honor the hospital heroes who put their lives on the line each day. First, we sent special banners to each of our member hospitals. With a heading that says, "Georgia's Hospital Heroes," the banners show that GHA recognizes and thanks the employees of each hospital for their dedication during the COVID-19 pandemic. We have asked hospitals to send us pictures of their employees with the banners, and it has been a true blessing to see photos of the men and women in our hospitals proudly holding these banners. We are proud to honor all GHA-member hospital employees as 2020 Georgia Hospital Heroes. As a reminder, if you have not already, you can send your banner pictures to estewart@gha.org.
We are also working on telling the stories of these Hospital Heroes through a series of videos that will be released in the coming weeks. You can watch the first one of these here.
Considering that hospital workers practice the ultimate acts of kindness every day as they care for patients and battle the pandemic, a final element of our #ThankAHospitalHero campaign is to show our support for them by practicing acts of kindness. We ask our member hospitals to encourage their communities to join the campaign by doing something nice for someone and posting about it on social media with #ThankAHospitalHero.
Finally, the pinnacle of the whole campaign was when Gov. Kemp proclaimed Nov. 13, 2020 as "Thank a Hospital Hero Day." Our hospitals are indeed critically important to the communities they serve and we are thrilled to have that recognized.
It is a time to give thanks for what we have in life. At GHA, we thank you for your continued support, determination and commitment.
God bless you, your colleagues, and loved ones; have a Happy Thanksgiving!
Earl Rogers
GHA President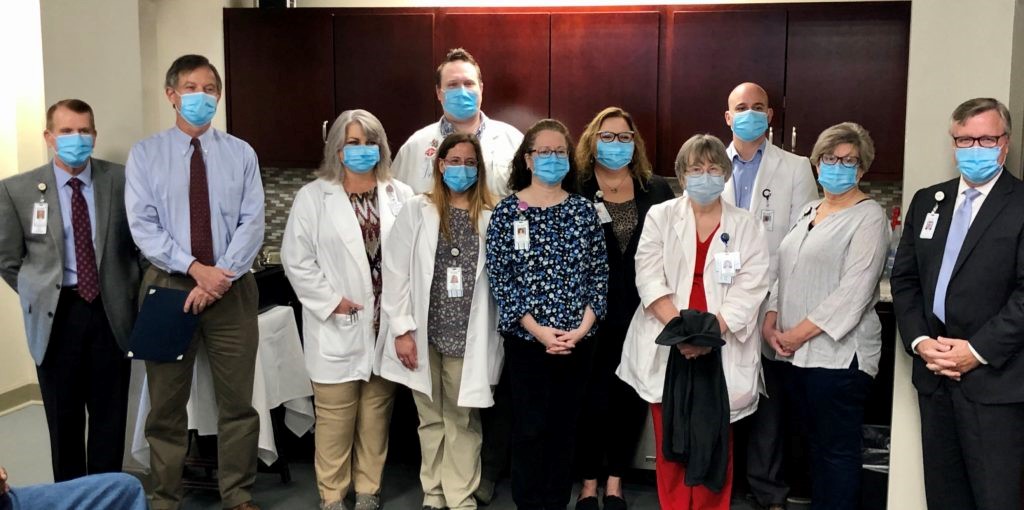 (From L-R): Chief Nursing Officer Randy Smith, Dr. Will Hanson, Director of Laboratory Angela Robinson, Jeremy Williford, Amy Dellapenna, Kathryn Murchie, Christina Okuma, Brenda Jordan, Charlie Peace, Cindy Martin, and Chief Executive Officer Ronald Dean.
SGMC Lab Professionals Honored as Hospital Heroes
South Georgia Medical Center honored its laboratory professionals as the November Hospital Heroes at its monthly Board of Directors meeting. 
According to Chief Nursing Officer Randy Smith, "Nurses and doctors all over the world are doing a phenomenal job day in and day out, but the role of lab professionals cannot be overlooked as they have truly been some of the unsung heroes in the fight against COVID-19."
It was the foresight of laboratory leadership in obtaining necessary equipment and testing platforms early on that set the stage for appropriate treatment and triage of patients within the hospital. To date, SGMC has three in-house testing platforms and more than 40,800 samples have been collected and tested.
Additionally, the laboratory plays a critical role in the antibody testing and collection of convalescent plasma, providing blood products to help treat hospitalized patients with COVID-19.
Smith said, "Thank you for your commitment, dedication, critical-thinking and your problem solving skills. You have shown amazing resilience as you have adapted to evolutionary changes that have come from the Centers for Disease Control and Prevention and other agencies regarding the understanding of this virus. You are all amazing and true heroes!" 
Phoebe Recognized Nationally for Stroke Care in Diabetes Patients
Phoebe Putney Memorial Hospital has received the American Heart Association/American Stroke Association's Get With The Guidelines® Target: Stroke Type 2 Honor Roll award. The award recognizes hospitals that ensure patients with Type 2 diabetes receive the most up-to-date, evidence-based care when hospitalized with a stroke.
"We are extremely proud to receive this award as we continue to grow and strengthen the stroke program here at Phoebe. This award reflects the hard work and dedication of not only our stroke team but all Phoebe employees," said Faryn Hackett, RN, Phoebe Stroke Coordinator
To qualify for the recognition, hospitals must meet quality measures developed with more than 90% of compliance for 12 consecutive months for the "Overall Diabetes Cardiovascular Initiative Composite Score." People who have diabetes are two times more likely to have a stroke compared to people who do not have diabetes. In the U.S. every two minutes an adult with diabetes is hospitalized for a stroke.
Phoebe has met specific scientific guidelines as a primary stroke center, featuring a comprehensive system for rapid diagnosis and treatment of stroke patients admitted to the emergency department. In addition to Target: Stroke Type 2 Honor Roll, Phoebe has also been awarded the following for their stroke care:
Get With The Guidelines Stroke – Gold Plus Achievement

Get With The Guidelines Resuscitation – Gold Achievement

Target: Stroke Honor Roll Elite
"We've heard it before, but every second counts when it comes to stroke care. During this COVID-19 crisis, now more than ever we need to remember that a stroke is an emergency and you should call 9-1-1. The faster a patient is able to get to the hospital after they have a stroke, the greater the likelihood they will be able to recover," added Hackett.
Northeast Georgia Medical Center Gainesville First in State to Earn Three New Center of Excellence Designations
Northeast Georgia Medical Center (NGMC) Gainesville is the first hospital in Georgia to receive accreditation as a Center of Excellence in Colorectal Surgery, Minimally Invasive Surgery and Minimally Invasive Gynecology. Surgical Review Corporation (SRC), an internationally recognized patient safety organization, recognized NGMC for its dedication to delivering safe, effective and evidence-based patient care in these three designated areas through its independent, external process of evaluation.
These new designations are in addition to NGMC's Robotic Surgery and Hernia Surgery Center of Excellence accreditations, which NGMC was also the first in the State to earn. 
"These designations speak volumes to the dedication and commitment of our surgeons and clinical staff at Northeast Georgia Medical Center to provide the highest-quality surgical care – close to home – for our community," says Carol Burrell, president and CEO of Northeast Georgia Health System.
Click here to read more.
Georgia Cancer Center Receives $576,000 USDA Grant to Increase Access to Care for Patients with Skin Cancer
It is the most common form of cancer in the United States. And while there are steps a person can take to protect their skin from developing skin cancer and precancerous lesions, the American Cancer Society's Cancer Facts and Figures 2020 report estimates nearly 3,200 people will be diagnosed with melanoma, the most aggressive form of skin cancer, this year. Thanks to a new grant from the United States Department of Agriculture, the Georgia Cancer Center will make sure more Georgians will have the opportunity to be diagnosed earlier and receive treatment sooner.
"Unfortunately, rural and minority communities in Georgia do not have adequate access to dermatologists who can accurately diagnose the different forms of skin cancer," said Dr. Loretta Davis, Chair of the Department of Dermatology at the Medical College of Georgia. "In fact, Georgia ranks 34th among the 50 states in terms of density of dermatologists. Given the rising rates of skin cancer, particularly melanoma, the need for timely access to dermatologic care continues to increase."
Previous research has shown nearly 20% of people living in the United States will be diagnosed with skin cancer sometime in their life. As part of the USDA's Distance Learning and Telemedicine Grants program, the Georgia Cancer Center received a $576,035 grant to build partnerships with 15 medical centers in 14 counties in Georgia to create a telemedicine program aimed at increasing the probability of an early diagnosis of various forms of skin cancer. As part of the partnership, the Cancer Center will distribute MoleScope II dermatoscopes to the satellite clinics.
The MoleScope II will allow these clinical providers to capture highly magnified images of skin lesions at high resolution. These images can then be transferred to a team at the Georgia Cancer Center and Augusta University Health who will examine the image to determine if a lesion is likely cancerous, needing further workup or biopsy, or if there could be another cause. To meet the grant's distance learning requirement, the Georgia Cancer Center and AU Health teams will also provide educational materials and hold educational seminars about skin cancer and skin health for both medical providers and people living in the communities where the clinical sites are located.
Wellstar Health System Leads Georgia in Emergency Cardiac Care Center Designations
Wellstar Health System, one of the largest and most integrated health systems in Georgia, leads the state in Emergency Cardiac Care Center (ECCC) designations from the Georgia Department of Public Health, Office of Cardiac Care.
Established by legislation passed in 2017 by the Georgia General Assembly, the three-level designation program aims to strengthen Georgia's Emergency Medical Services system by identifying hospitals that provide outstanding advanced emergency cardiac care aimed at improving survival rates for heart attacks andcardiac arrest. Five Wellstar hospitals have now received the designation, including Wellstar Kennestone Hospital (Level I), Wellstar North Fulton (Level II), Wellstar Cobb Hospital (Level II), Wellstar Douglas Hospital (Level II), and Wellstar Paulding Hospital (Level II). Wellstar has the largest ECCC network in Georgia and is home to one of only two LI ECCCs in Metro Atlanta.
"Receiving the Emergency Cardiac Care Center designations further illustrates Wellstar's ability to provide exceptional critical and often life-saving care for patients having heart attacks or other acute cardiac problems," said Dr. Barry Mangel, chief cardiology officer for Wellstar Health System Cardiovascular Medicine. "Wellstar has a robust network of cardiology experts and services across our system so people can get the right care atthe right time - no matter how routine or complex. These designations further validate our ability to offer quality cardiac care for some of our most critical patients."
Wellstar Kennestone Hospital received Level I ECCC designation, the highest level of recognition for emergency cardiac care in Georgia. Level I designated hospitals must provide comprehensive emergency cardiac care services 24/7, 365 days a year. Services that must be offered include cardiac catheterization and angioplasty to treat cardiac patients with clogged, blocked or narrowed arteries, and advanced procedures such as implanting left ventricular assist devices and automatic implantable cardioverter defibrillators for patients experiencing heart failure from sudden cardiac arrest.
"As a not-for-profit health system, our communities rely on Wellstar to provide the very best care, for every person, every time," said Mary Chatman, Wellstar Health System executive vice president and president of Wellstar Kennestone and Windy Hill Hospitals. "For heart events, as with many medical emergencies, every minute counts. This designation confirms that we are equipped for and committed to providing the highest levelof emergency cardiac care for our communities."
Wellstar North Fulton Hospital and Wellstar Cobb Hospitals received Level II ECCC designation. Wellstar Paulding and Douglas were the first hospitals in the state of Georgia to receive Level II designations earlier this year. Level II-designated facilities must meet several standards, including the performance of interventional cardiac catheterizations, established protocols for therapeutic hypothermia to treat cardiac arrest patients, and reporting data to the national Cardiac Arrest Registry to Enhance Survival database.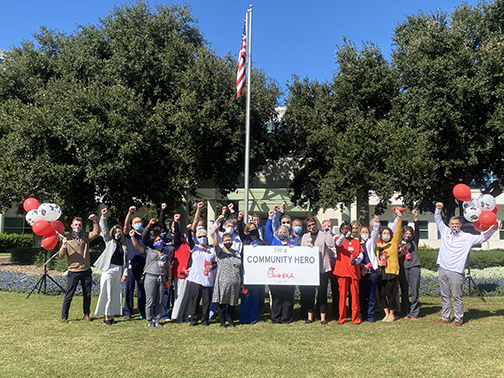 Coffee Regional Medical Center Employees Recognized as "Community Heroes" by Chick-fil-A Douglas
Chick-fil-A honored several Coffee Regional caregivers as part of their Community Heroes initiative. Owner and operator of the new Chick-fil-A in Douglas, Matt Baker, and his wife, Jessica, came to the CRMC campus with their management team to personally present the awards to each recipient. The presentation was held on the front lawn of Coffee Regional.
Two weeks before the event, Coffee Regional Medical Center employees received an anonymous community partner email. They were asked to nominate a co-worker who they believed was deserving of the 'Community Hero' title.
The email described a 'Community Hero' as, "Someone who consistently goes above and beyond serving those around them. This person often puts the needs of others ahead of themselves. Community heroes offer their courage, strength, and self-sacrifice to benefit people who may never know them by name."
The email continued with, "Coffee County is blessed to have many everyday community heroes who work to make this town the best it can be. Please take this opportunity to nominate a CRMC/CRHPP co-worker who, in your mind, embodies a community hero."
Thanks to the generosity of Chick-fil-A Douglas, twenty-six health care workers were selected and awarded FREE Chick-fil-A for a year! Those who received the Community Hero Award were from various departments throughout the hospital, including nursing, environmental services, laboratory, respiratory therapy, patient financial services, medical staff, pharmacy, information technology, emergency department, supply chain, security, and more. The prize was a gift card for a FREE meal every week for 52 weeks!
Carl Vinson VAMC Encourages Veterans to Leave Smoking Behind During Yearly Great American Smokeout
The U.S. Department of Veterans Affairs (VA) encouraged veterans to take the first step to stop smoking as part of the annual Great American Smokeout to improve their physical and mental health by combining cessation counseling with other VA clinical resources and support.
Research shows behavioral counseling can significantly improve one's chances of quitting and combining counseling and medication works better than medication or counseling alone.
"My hope is that all Veterans who smoke lose the habit," said Medical Center Director David Whitmer. "Cigarettes have taken so many lives too early. It's time to defeat this 'enemy' for good."
VA's smoking counseling programs are one of the most effective tools available for veterans who want to permanently stop smoking. VA health care providers can help veterans explore the role tobacco plays in their daily routine, including the activities or situations that trigger someone to use tobacco products. These triggers can include talking on the phone, drinking coffee or alcohol or feeling bored or stressed. VA providers work with Veterans to develop strategies for coping with those triggers and to tailor plans for quitting that will fit into each Veteran's everyday life.
In addition to counseling, VA provides other services designed to help Veterans stop smoking, including prescription medications, nicotine-replacement products like gum and patches and resources such as Quit VET and SmokefreeVET.
The Future of Hometown Health Care
Hospital Expansion on Track for a Timely Completion
Although coronavirus has brought some aspects in life to a standstill, the Southeast Georgia Health System Brunswick Campus Master Renovation and Expansion Project has not missed a beat.
"We've been very fortunate that coronavirus has minimally impacted the project. Years of planning were dedicated to this project, and good planning often creates good luck," said Tripp Stephens, vice president, Support Services, Southeast Georgia Health System.
Stephens explained, "From the start, we approached this project with the goal of minimizing its impact on hospital operations. When the pandemic started, we were fortunate that construction had progressed to a point where we could continue isolating construction activities from hospital operations and minimize the number of contractors entering the hospital."
The health system recently celebrated a major milestone in its expansion project timeline, opening the new Surgical Services rooms, main entrance and lobby, and covered visitor/patient parking areas.
As part of its Master Renovation and Expansion Project, the health system is expanding and renovating four significant areas of the Brunswick Campus:
Emergency Care Center

Surgical Services and Inpatient Tower

St. Simons Tower Inpatient Floors

Central Energy Plant and Infrastructure
The projected $142.2 million budget includes construction, infrastructure, medical equipment, and information technology as well as architecture and engineering fees.
"When the pandemic began, we shifted our construction efforts to prioritize aspects of the project that impacted direct patient care and emergency services," said Michael D. Scherneck, president and CEO, Southeast Georgia Health System. "As a result, the inpatient floor of the new tower opened in July, three months ahead of schedule. The early opening allowed access to additional beds, which was instrumental in caring for the increase of patients hospitalized due to COVID-19."
Also completed this summer was an overhaul of the hospital's central energy plant. The plant houses heating and cooling systems, generators and other components vital to our operations. In preparation for the additional square footage being added to the hospital, the central energy plant required equipment with more capacity and greater energy efficiency to accommodate the expansion. "Our existing equipment was approaching end of life, so the timing worked well," Stephens said.
Two major phases of construction were completed on the Health System's Brunswick Campus Emergency Care Center (ECC) this summer as well, including the addition of the two trauma rooms, multiple patient treatment spaces, a new main entrance and lobby, patient registration, triage spaces, a CT scanner and an ambulance entrance. Additionally, directly connected to the ECC is a new elevator tower that will improve patient flow and provide direct connectivity to Surgical Services and the inpatient floors. This feature greatly enhances patient privacy. The Brunswick Campus ECC currently treats approximately 50,000 patients annually. That number is expected to increase as the community grows. When complete, the ECC's expansion will add approximately 12,000 square feet and 15 new treatment rooms, including two trauma rooms. Construction is being completed in phases to prevent disruptions to patient care and is scheduled for completion by the summer of 2021.
Construction of the Surgical Services rooms wrapped up in October. Sixteen spacious, state-of-the-art operating suites will house newer technologies, including robotic surgical systems. Once the new tower is online, the existing surgical services area will also be renovated to provide additional post-anesthesia and pre- and post-recovery bays for greater privacy and patient comfort. Completion for that phase of construction is slated for early 2022. "We structured this space to enhance efficiency and cost savings while streamlining care and improving technology," Stephens said.
The renovation of the two existing patient floors in the St. Simons Tower will include 32 spacious, aesthetically pleasing, private patient rooms per floor as well as internal zones for staff, the patient and family members. Construction on that phase is scheduled to begin in early 2021 and will finish by the end of 2022, with a year of construction activities anticipated per floor.
"So many elements of this project support our ability to recruit and retain the best physicians and caregivers, expand our services to the community, and ultimately, improve patient experience and the environment," said Stephens.
The Atlanta Gas Light Foundation Aids AU Health in Pandemic Response With $50K Donation
Augusta University Health's ongoing COVID-19 response efforts received a boost from Atlanta Gas Light and the Atlanta Gas Light Foundation with a $50,000 gift to the Emergency Response Fund.
The donation will help AU Health address the demands of the pandemic in the Augusta region, including being one of the few health systems in the nation to offer saliva testing for COVID-19. The donation also helps ensure AU Health's frontline workers have adequate levels of increasingly scarce PPE and testing materials.
"Our sincere thanks go to the leadership of Atlanta Gas Light and its Foundation in supporting our work to expand testing and provide complex patient care as we continue to battle COVID-19," said Augusta University President Brooks A. Keel, PhD. "Augusta University is proud to uphold our responsibility to the citizens of Georgia as the state's only public academic medical center, and the support of our community is critical as we fight to save lives and prevent the spread of coronavirus."
The Atlanta Gas Light Foundation, a subsidiary of the Southern Company Gas Charitable Foundation, is committed to supporting those who are transforming lives by tackling the complex challenges facing the communities it serves. The donation is part of an initial $2.5 million commitment from the Southern Company Gas Charitable Foundation, Southern Company Gas and its subsidiaries to support COVID-19 relief efforts in communities across its operations footprint, including Georgia, Illinois, Tennessee and Virginia. To date, the commitments have increased to more than $3 million.
"As the impact of the COVID-19 pandemic extends into the winter months, it is critical that we do all we can to ensure frontline efforts can continue," said Pedro Cherry, president and CEO of Atlanta Gas Light. "AU Health's work has positively impacted the health and wellbeing of the Augusta community, and we are committed to helping sustain its efforts."
Since March, when Augusta University began its COVID-19 response efforts, over 70,000 hotline calls have been answered, more than 20,000 telemedicine screenings were completed through the AU Health ExpressCare app and over 95,000 specimen collections have been taken at drive-thru locations around the state.
Floyd Offering New Antibody Treatment to Fight COVID-19
Floyd is testing a new therapy to fight COVID-19 that could possibly keep patients with mild to moderate cases from needing hospitalization.
Bamlanivimab is an antibody that was designed to halt the virus' ability to replicate inside the human body. The Food and Drug Administration issued an emergency use authorization for bamlanivimab earlier this month. The FDA uses its emergency use authority to allow unapproved medical products to treat or prevent serious or life-threatening diseases.
Preliminary results suggest bamlanivimab may cut hospitalization rates and emergency room visits for patients with mild to moderate cases of COVID-19. It does not appear to be an effective therapy for more serious patients already hospitalized, according to the FDA.
Three outpatient candidates were administered the antibody Tuesday at Floyd Medical Center. There is no time estimate on when their condition might improve.
Any patient 65 or older who meets the following criteria is eligible to receive bamlanivimab:
Is not hospitalized

Has a mild to moderate case of COVID-19

Weighs 88 pounds or more

Started showing symptoms within 10 days of receiving the treatment

Does not require additional oxygen
Patients between the ages of 12 and 64 must also meet the above requirements while also exhibiting signs of any other serious conditions such as diabetes, obesity, cardiovascular disease, high blood pressure, COPD, asthma or sickle cell anemia.
"This can save lives," said Dr. Ken Jones, Floyd's Executive Vice President and Chief Medical Officer. "We received 40 doses of bamlanivimab to use at this point and immediately began identifying patients to benefit from the medication. Floyd has committed to offering approved therapies such as convalescent plasma and remdesivir as soon as approved for public use."
COVID-19 Safety for Thanksgiving
Thanksgiving is a time when many families travel long distances to celebrate together. Travel increases the chance of getting and spreading the virus that causes COVID-19. Staying home is the best way to protect yourself and others. If you must travel, be informed of the risks involved. Northeast Georgia Health System is offering advice to be safe during Thanksgiving.
Is It Flu or COVID-19?
For decades, fall and winter months were dominated by the flu and the common cold. Since the arrival of COVID-19, the cold months now have an added danger. Because of this, it's vital to recognize whether you're suffering from the flu virus or coronavirus. How do you determine which respiratory disease is affecting you? With two simple steps provided by Southeast Georgia Health System.
Step 1: See the Similarities
Some symptoms are identical for the flu and coronavirus, making it difficult to determine which virus is causing them. Common symptoms shared by flu and COVID-19 sufferers include:
• Fever
• Cough (more common with COVID-19)
• Fatigue
• Body aches
• Headache
• Sore throat
Step 2: Decipher the Differences
While flu and COVID-19 have many similar symptoms, the differences between the viruses are significant. The most obvious differences are the effects COVID-19 has on the body's senses.
With COVID-19, one of the most dreaded symptoms is breathing difficulties. In some cases, breathing becomes so difficult that it is necessary to use a ventilator. If left untreated, these breathing problems can be fatal, especially for individuals with pre-existing conditions.
Another common symptom is a sudden loss of taste or smell. Whereas the congestion associated with flu may cause food to taste bland, COVID-19 can cause an individual to lose all ability to taste or smell before suffering other symptoms. It is currently unknown whether this can lead to permanent loss of taste or smell.
What Now?
If you suspect you may have COVID-19 or have had contact with someone who has the virus, it's best to err on the side of caution. According to the Centers for Disease Control and Prevention, quarantine yourself for 14 days after coming in close contact—within six feet, for at least 15 minutes—with someone with COVID-19 or up to two days before they exhibit symptoms. As soon as you can, contact those you've interacted with face to face. Let them know you were exposed to the virus and they, too, may want to take precautions.
Experiencing symptoms?
To help prevent exposing others, it's important to call your physician or the Health System's COVID-19 Screening Hotline at 912-466-7222, Monday–Friday, 8 a.m.–5 p.m., before you visit the doctor's office. Staffed by Health System nurses and advanced practice providers, the hotline offers immediate access to Southeast Georgia Physician Associates health care providers. Patients who meet the criteria for an in-person coronavirus screening will be given an appointment and instructions for a virtual or in-person physical exam and, if warranted, coronavirus testing.
Southeast Georgia Health System also offers free online health risk assessments for COVID-19, depression and anxiety. The assessments include symptom quizzes that evaluate an individual's lifestyle factors and health risks. Upon completion, the participant is provided with a risk score and feedback for areas of improvement. To participate in the online health risk assessment, visit sghs.org/symptom-quiz.
Regardless of which illness is affecting you, keep your distance from other people, drink lots of fluids and get plenty of rest as you recover. With the flu, you're safe to return to normal activities once you've gone 24 hours without a fever. Should you have COVID-19, follow your physician's isolation recommendations to protect others from the coronavirus. Contact your doctor if your symptoms worsen over time.
Anil A. Dhople, MD, Named Quality Advisor of Tanner Radiation Oncology
Anil A. Dhople, MD, a board-certified radiation oncologist, is joining the Tanner patient care team at Tanner Radiation Oncology, a Tanner Medical Group practice.He has also been appointed to be the quality advisor for radiation oncology at Tanner Health System.
Dr. Dhople will lead the patient care team at Tanner's Roy Richards, Sr. Cancer Center to advance cancer services close to home for residents throughout west Georgia and east Alabama. 
Click here to read more.
Coffee Regional Medical Center Foundation Holds Fall Golf Classic
The Coffee Regional Medical Center (CRMC) Foundation Fall Golf Classic was held on Friday, Nov. 6, at the Douglas Golf and Country Club with twenty-one teams competing in the 18-hole, 4 man scramble. Proceeds will be used to cover ongoing expenses from COVID-19 and provide support for equipment and supplies to ensure safe and high-quality healthcare and wellness for our community.
The CRMC Foundation would like to thank all of our sponsors who made the tournament possible.  A very special thank you goes out to our Premier Sponsors Access ATC and First National Bank of Coffee County as well as to Parrish Construction and Williams Institutional Foods who served as our Hole-In-One Sponsors for the $10,000 prize opportunity. No winner again this year, but the challenge is always fun! Plus, we are very appreciative of Surchero's for serving as our lunch sponsor and Burger King for providing breakfast biscuits for the tournament.
Team Sponsors included Anderson Buick Ford GMC, Coffee County Gin / R.W. Griffin, Inc., Coley Electric & Plumbing Supply, Colony Bank, Diamond Cargo, Elixir Extrusions, Farrar, Hennesy & Tanner, Forestate Growers LLC, Jeff Davis Hospital, McCrary-Daniels, Optima Chemical Group, Premium Peanut, Dr. Chet Royals, Steam-Co, Veritas Surgical Solutions, and SEI Investments. 
Hole Sponsors were Ameris Bank, Ankle and Foot Associates, Brewer Realty, Edward Jones - Marlene Baldree, FNB South, KFC/Krystal, Griffin Insurance, Hall, Booth & Sloan PC, Lasseter Equipment, Optima Chemical, Smile Doctors, South Georgia Dentistry, and Southwire. Other contributors were Cottingham & Porter, Fitzgerald Family Eye Care, and Moorman, Lindsey & Crawford Dental.
Congratulations to all of our winners! First Place Gross winning team was sponsored by Diamond Cargo which included Rhett Holley, Sam Lastinger, Will Spivey, and Nick Thompson. First Place Net winning team was Anderson Buick Ford GMC team consisting of Luke Anderson, Nathan Moore, Rhett Moore, and Walker White. The Second Place Gross winning team was sponsored by Dr. Chet Royals and consisted of Dr. Chet Royals, Reb Benton, Matt Clayton, and David Infinger. Second Place Net winning team was the Parrish Construction team made up of Andy Bennett, Jeremy Bennett, Charlie Griffis, and Alex Tinsley.

Georgia Hospital Association
1675 Terrell Mill Road
Marietta, GA 30067
Click here to update your subscriptions.