Click here if you are having trouble viewing this message.
November 14, 2020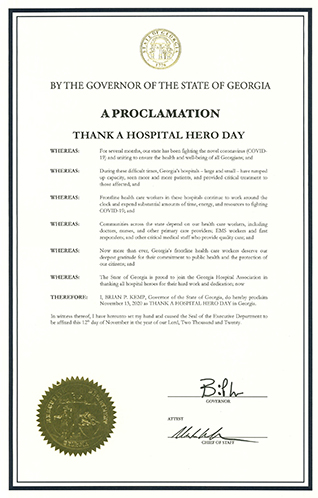 See a larger version of Gov. Kemp's proclamation here, or click the image above.
Gov. Kemp Issues Proclamation for Thank a Hospital Hero Day
GHA is extremely proud of you and your staff and celebrated Thank a Hospital Hero Day on Friday, Nov. 13. Gov. Kemp is very supportive of our front line workers and ordered a proclamation for this special day for Georgia health care workers. We appreciate you and your hospitals.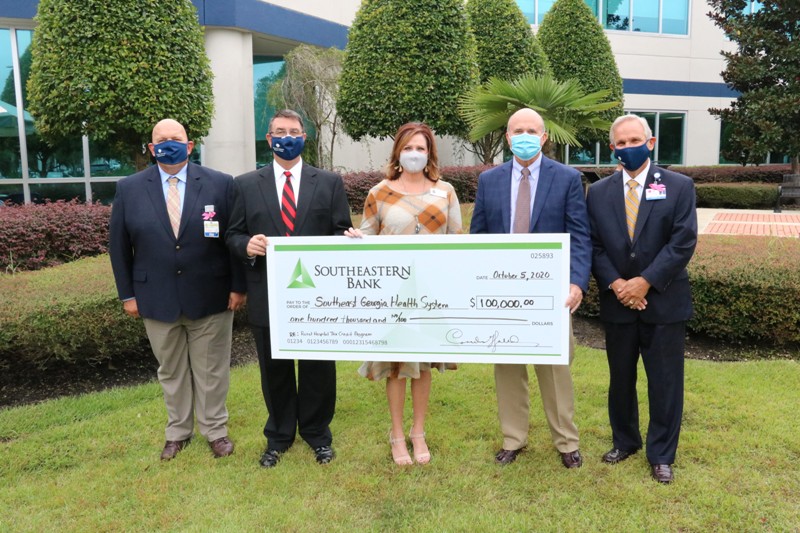 (From L-R): Glenn Gann, vice president and administrator, Camden Campus, Southeast Georgia Health System; Jim Lomis, senior vice president, Southeastern Bank; Shannon Sasser, vice president, Southeastern Bank; Con Holland, president & CEO, Southeastern Bank; and Michael D. Scherneck, president and CEO, Southeast Georgia Health System.
Georgia HEART Gives Taxpayers Opportunity to Earn Tax Credit When Supporting Southeast Georgia Health System Camden Campus
You have to pay taxes, but do you know what your tax dollars are used for? It's your money, and whether you're taxed $50 or $50,000, you should have a choice on how it's used or who it benefits, and now you do.
Georgia is the only state in the nation afforded the opportunity to financially support its rural hospitals--at no cost. Enacted by the Georgia General Assembly, the HEART (Helping to Enhance Access to Rural Treatment) rural hospital tax credit program allows a 100% state tax credit for individuals, married couples and corporations who redirect their tax liability to a designated rural hospital. Lawmakers enacted the HEART tax credit program to encourage taxpayers throughout Georgia to learn more about the financial and other challenges rural hospitals face and to contribute to improve their financial condition and patient offerings.
In other words, you can choose to help improve health care in your community by redirecting your state tax to the Southeast Georgia Health System Camden Campus through the Georgia HEART program.
Southeastern Bank recently took advantage of the HEART program, and graciously contributed $100,000 to the Health System's Camden Campus.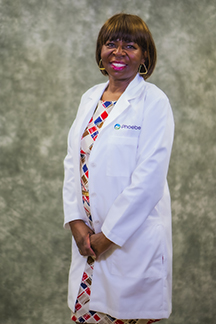 New Chief Medical Officer Brings Patient Safety Expertise to Phoebe Putney Health System
As a little girl growing up on her grandparents' farm in rural Mississippi, Dianna Grant had big dreams. 
"You could see the stars at night, and I was always told I could reach the stars," she recalls. The odds were stacked against African-American girls in the segregated south, but Dianna never felt her future was limited. "I was very blessed to be born into a household of very progressive-thinking people. I was never told there was something I couldn't do."
Dianna and her sister integrated the local school system. "My teachers wouldn't pass out my papers with the rest of the students. They would fold them and hand them to me at lunchtime. My classmates thought, as a black girl, I couldn't be smart, and it would destroy the myth if they found out my grades were better than theirs."
And she had plenty of good role models to emulate. "My grandmother would always get in the truck and drive to town to see her sisters. In her, I saw a woman who always did what she wanted to do," she said. "We always had a black doctor, a black dentist, a black lawyer.  So, for me, you could do those things. I never thought it wasn't attainable."
Click here to read more.

Wellstar West Georgia Medical Center Announces Opening of Fully Renovated Enoch Callaway Cancer Center
Wellstar Health System, one of Georgia's largest and most integrated health care systems, announces the newly renovated Enoch Callaway Cancer Center (ECCC) at Wellstar West Georgia Medical Center in LaGrange. The center was unveiled at a live-streamed ribbon-cutting ceremony on Nov. 6 to celebrate the official opening and community impact.
The ECCC has been delivering expert cancer care for West Georgia and East Alabama residents since 1975. Following a $25 million renovation and consolidation of all cancer services in one location, the center reopened to patients on Nov. 9, 2020. The ECCC now offers the community and surrounding areas a state-of-the-art facility with world-class expertise, treatment, and medical support in a beautiful setting.
The newly expanded and enhanced 40,000 square foot ECCC at Wellstar West Georgia Medical Center –made possible by the generous donations of Callaway Foundation and local businesses, residents, and team members - is fully equipped to provide patients with the effective, efficient, and compassionate cancer care they need and deserve, all in one convenient location. This includes expanded patient spaces and services, leading cancer treatment technology and expertise, support from the community's best and brightes thealth care professionals, as well as integrated procedures based on best practices from across the Wellstar Health System and the health care industry.
The ECCC offers four main types of treatment for patient-centric, innovative cancer care: chemotherapy,immunotherapy, radiation therapy, and surgery. Following the renovation, it also now features a new $5 millionlinear accelerator in addition to the advanced radiation therapy and targeting software previously available. TheECCC program has been accredited by Commission on Cancer since 1992. Only 1,500 of 5,000 hospitalswhere patients receive cancer care are accredited through the Commission on Cancer.
"The newly renovated Enoch Callaway Cancer Center allows us to provide compassionate, comprehensivecancer care, support, and education, all under one roof," said Wellstar West Georgia President Coleman Foss."With our expansive facility, advanced treatment options, and expert oncology team, we're able to serve ourpatients better than ever before, providing healing and hope for cancer patients in a convenient location. Weare so thankful to the Callaway Foundation, our team members and volunteers, and all the individuals andbusinesses who have supported this effort. In addition, we appreciate Batson-Cook for the incredible workthey've done in constructing this new beautiful cancer center that will serve our community for years to come."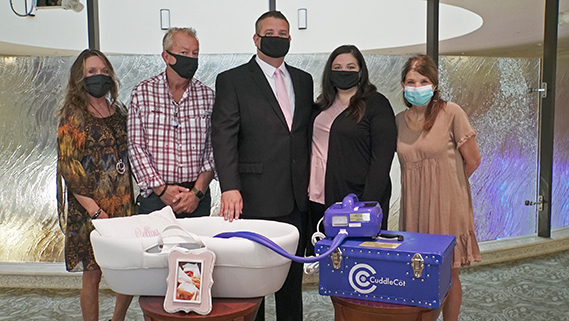 Joseph and Leigh Jones (middle) pose with family members in front of a CuddleCot during the donation ceremony. 
Family Donates CuddleCot™ to Phoebe in Memory of Daughter
Phoebe's Women's & Children's Department received a special donation. The Jones family donated a CuddleCot™ in memory of their daughter, Collins, who died at 29 weeks gestational.
At 29 weeks pregnant, Leigh Jones started having excruciating pain. Her husband, Joseph, rushed her to the hospital, where they learned that their baby girl did not have a heartbeat. After 25 hours of labor, Leigh delivered a beautiful baby girl weighing 3lbs 4oz on Feb. 25, 2020.
She asked her nurses for a CuddleCot, a special bassinet used to cool and preserve a newborn's body in the event of a stillbirth, allowing parents more time with their baby before saying good-bye.
Leigh says she learned about the CuddleCot after reading an article in January 2020. "I lay in bed in one night and came upon a news article about a mother in Warner Robins that had not only lost one baby, but two babies, and had donated CuddleCots to middle Georgia hospitals in their memory," said Leigh. "Little did I know, that in me reading that article, the good Lord was preparing me for what was to come."
For their memorial donation, the Jones family worked with Kendall Reid of Ashlie's Embrace, a non-profit organization that helps raise awareness of CuddleCots and makes them available to parents through medical facilities. Kendall is also the woman Leigh read about in January that brought CuddleCots to her attention. "Losing a baby is very hard, but the Jones family is channeling that devasting event into something sweet and helping other families," said Reid.
"The CuddleCot gives the precious gift of time to help families with the grieving process, which is so important. We are honored to receive this donation," said Deb Block, Director, Women's and Children's Services at Phoebe.
This is the second donation of a CuddleCot Phoebe has received. When asked why they decided to donate one Leigh said, "We want people to learn about these. Moms need to know this are available if they are ever in the same situation we were."
ARTrageous Bras Raises More Than $22,000 for Cancer Care Programs
The Southeast Georgia Health System Foundation concluded its annual ARTrageous Bras fundraiser on Friday, Nov. 6, with a virtual auction. This year's event, which included 43 incredibly designed bra entries, raised more than $22,000 for the Health System's cancer care programs.
Developed to help increase breast cancer awareness, ARTrageous Bra entries were designed by Health System team members, local businesses and community members. The bras were on display at the Brunswick and Camden campuses throughout October and the Foundation collected $1 votes to determine the top 10 favorite bras.
Northeast Georgia Medical Center Announces New Director for Psychiatry Physician Residency Program
Northeast Georgia Medical Center (NGMC) has a plan to help fill the region, state and nation's need for more well-trained mental health professionals – and now they have a new leader to help make it happen. Kalpana Prasad, MD, has been named program director for NGMC's planned psychiatry physician residency program.
"Building a residency program to train the next generation of skilled psychiatrists is the perfect combination of teaching and community service – two passions of mine," said Dr. Prasad, who is a practicing psychiatrist with Northeast Georgia Physicians Group. "I am thrilled to empower the physician leaders of tomorrow to best serve the people who need their help."
Dr. Prasad attended medical school at King George Medical College in Lucknow, India. She completed psychiatry residencies at Birmingham and Solihull Mental Health NHS Foundation Trust in the UK and Drexel University in Philadelphia, Pennsylvania.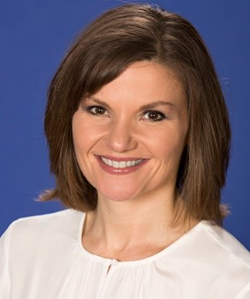 Julie Teer Appointed to Lead Wellstar Foundation
Julie Teer has joined Wellstar Health System as senior vice president and Wellstar Foundation president.
In this position, Julie will oversee Wellstar's philanthropic strategy and partnerships, and focus on elevating efforts to secure vital resources for the not-for-profit Wellstar Health System, one of Georgia's largest and most integrated health systems. She will be the lead strategist responsible for enhancing Wellstar's philanthropic community engagement and charitable efforts, and a key member of the system's leadership team.  
Julie is a highly respected leader with more than 20 years of experience in fundraising and public affairs. She most recently served as chief development and public affairs officer of the Boys & Girls Clubs of America, where she launched The Great Futures Campaign. The initiative mobilized the nation to support afterschool and summer programs, raising nearly $600 million in five years for programming.  Julie was appointed to the President's Council for Sports, Fitness, and Nutrition in 2018 and developed a national strategy to increase youth sports participation. 
She also received the 2020 Innovation in Lobbying and Advocacy Award from the Public Affairs Council for her work on the Boys & Girls Clubs of America's first federal inspired legislation, The Youth Workforce Readiness Act. A native of East Lansing, Mich., Julie earned a Bachelor of Arts from the University of Michigan at Ann Arbor.
Georgia Academy of Family Physicians Elects Dr. Tom Fausett as President for 2020-2021
Adel, GA, November 10, 2020 – The Georgia Academy of Family Physicians (GAFP) inaugurates Thomas D. Fausett, Jr, MD, FAAFP among family and close colleagues in Adel in a socially distant event on the front portico of Southwell Medical.
Dr. Fausett becomes the 73rd Georgia Academy president and joins other family physician leaders who inspire and mount initiatives, education, resources, and advocacy efforts in service to fellow family physicians and Georgia families.   The GAFP is the only medical society devoted solely to primary care. Nearly one in five of all office visits are made to general and family physicians. Today, family physicians provide the majority of care for America's underserved and rural populations.  More Americans depend on family physicians than on any other medical specialty.
 "I am deeply thankful for the honor and responsibility entrusted to me by my colleagues," said Dr. Fausett, "and I am ready to advance the Georgia Academy and its causes this year in this new capacity."
Dr. Fausett operates a private independent practice in Adel, Georgia, about 25 miles south of Tifton and 25 miles north of Valdosta and is on staff at Southwell Medical and Southwell Health and Rehabilitation Center, both also in Adel.
In addition to his practice, Dr. Fausett is heavily committed to community and professional leadership. He has served on the GAFP Board of Directors since 2005 and was its secretary for three years. Previously, he was an assistant professor of medicine at Mercer University, Emory University, Augusta University (then known as Georgia Regents), Albany State, and Valdosta State. In his home county, Cook County, Dr. Fausett has served as member and chair of the Board of Health, and is Department Chair of Southwell Medical.
Dr. Fausett is certified as a Diplomate by the American Board of Family Medicine and is a Fellow of the American Academy of Family Physicians. He has also completed Medical Director certification in Post-Acute and Long-Term Care and serves as medical director of Southwell Health and Rehabilitation.
Dr. Fausett obtained his Bachelor of Science in biology from Valdosta State University, his medical degree from the Mercer University School of Medicine and completed his residency program in family medicine at Phoebe Putney Memorial Hospital in Albany.
Southeast Georgia Health System Offers Free Online Symptoms Quizzes for COVID-19, Anxiety and Depression
It's probably safe to say that 2020 has been a difficult year for most of us. Worry, uncertainty and lifestyle changes caused by the coronavirus pandemic has taken its toll on us physically, emotionally, financially and mentally. But some people are feeling its impact deeper than others.
We all know the importance of preventive health care; taking caring of your mental health is just as important, especially during these times of added stress and uncertainty. To help the community do just that, Southeast Georgia Health System is providing free online health risk assessments for COVID-19, depression and anxiety. The assessments include symptom quizzes that evaluate an individual's lifestyle factors and health risks. Upon completion, the participant is provided with a risk score and feedback for areas of improvement.
To participate in the online health risk assessment, visit sghs.org/symptom-quiz.
Northeast Georgia Health System Now Providing Stroke Procedures That Save Lives, Keep People Closer to Home
When it comes to strokes, seconds could be the difference between full recovery and long-term effects. For decades, people could rely on Northeast Georgia Medical Center (NGMC) to provide clot-busting drugs that might save their lives, but they would have to be transferred to other hospitals outside the region if other critical procedures were needed. Now – thanks to NGMC adding new technology and welcoming a new stroke expert – people can receive all the stroke care they need closer to home, saving valuable time and increasing the chances for recovery.
Sung Lee, MD, will perform critical stroke intervention procedures in NGMC Gainesville's new Neurointerventional Lab. The lab features the latest stroke-fighting technology to perform mechanical thrombectomies, a procedure that uses small catheters and wires to remove blood clots from the brain. He is the only doctor in the northeast Georgia region performing the procedure, and the lab is the only one of its kind in the region.
"Even though we are grateful for our colleagues in Atlanta, the delay in getting to timely treatment was a real detriment to our community," said Dr. Lee, a neurointerventional surgeon with Northeast Georgia Physicians Group (NGPG) and NGMC's medical director of Neurointerventional Surgery. "This is a game-changer for how we not only treat strokes, but it also gives us the ability to perform other complex brain, spinal and vascular procedures. It's the dawn of a new era of neurological care in Hall County and the surrounding region."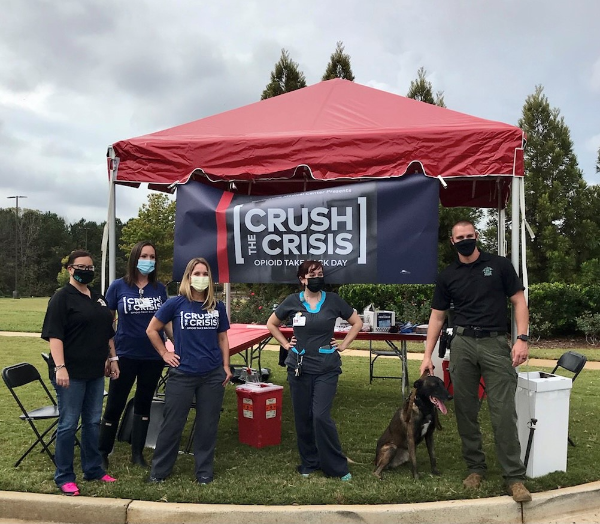 Cartersville Medical Center Collects 47 Pounds of Medications as Part of the HCA Healthcare's National Opioid Take Back Day
Cartersville Medical Center announced that it exceeded last year's total and collected 47 pounds of medications during its "Crush the Crisis" opioid take back day on Oct. 24, 2020 to help combat the nation's opioid crisis. Several community members participated in the event by dropping off unused and expired prescription medications. 
"We were happy to host 'Crush the Crisis' again this year at Cartersville Medical Center," said Mark Senger, chief medical officer. "We collected 47 pounds of unused or expired prescription medications, exceeding combined totals from the event the past two years. It's reassuring to know that those medications have been collected for safe disposal and are no longer in homes. We thank and appreciate Bartow-Cartersville Drug Task Force for partnering with us and helping educate our community about the serious threat opioid misuse."
As an affiliate of HCA Healthcare, Cartersville Medical Center is part of a learning health system that uses data from approximately 35 million annual patient encounters to help continuously improve care. The organization uses the science of "big data" to reduce opioid misuse and transform pain management, with initiatives in surgical, emergency and other care settings, including:
Enhanced Surgical Recovery (ESR): a multi-modal approach to pain management using pre, intra and post-operative interventions to optimize outcomes. HCA Healthcare's ESR programs have demonstrated significant improvements in surgical recovery and patient satisfaction and, importantly, up to a 50.8% decrease in opioid use in data collected from 124,000 major abdominal, joint, gynecologic oncology, spinal and bariatric surgeries from January 2018 - August 2020.
ALTernatives to Opioids in the Emergency Room (ALTO in the ER): a multi-modal approach to acute pain management, which focuses on alternative medication to hit various pain receptors as a first line treatment for common painful conditions. Initial results of ALTO pilot programs demonstrate a 36% reduction in opioid administrations. 
Electronic Prescribing of Controlled Substances (EPCS): aims to stem increasing rates of opioid-related addiction, misuse diversion and death by making it more difficult for medication-seekers to doctor-shop and alter prescriptions. Physicians have access to aggregated electronic health record (EHR) providing data that will allow them to prescribe opioids judiciously.  
Approximately 95 HCA Healthcare facilities hosted a "Crush the Crisis" opioid take back day in their communities on October 24, collecting more than 10,000 pounds of unused or expired medications and breaking last year's record.
Time for T.H.A.N.K.S. – Wellstar Physician Guidance for Thanksgiving 2020 
By Dr. Danny Branstetter, medical director of infection prevention 
and Dr. Chirag Patel, medical director of population health, Wellstar Health System 
As many Georgians plan for Thanksgiving, it's important to protect families, friends, and communities from the spread of COVID-19. Travel and traditional gatherings in a home, around a table, and sharing a meal can promote spread of the coronavirus. In fact, some studies show that small gatherings are one of the greatest contributors to community spread, in part as a result of people relaxing safety behaviors among friends and family. Things will be a bit different this year than in the past, so to help you navigate the holidays safely, Wellstar has prepared some "T.H.A.N.K.S." tips.
Phoebe Increases Minimum Wage and Provides Raises and Bonuses
Despite financial pressures resulting from Phoebe's ongoing COVID-19 fight, the health system is announcing a substantial investment in its greatest asset – its people – raising the system's minimum wage and providing raises and bonuses to the vast majority of employees. 
In total, the wage increases, bonuses, and market adjustments represent an incremental annual investment of more than $9 million. Phoebe is raising the system minimum wage to $10 per hour for all employees and contract workers, with the pay increases going into effect in early December. 
"Any employee currently making less than $10 an hour, and many making up to $12 an hour, will see an automatic raise in pay," said Scott Steiner, Phoebe Putney Health System President and chief executive officer. "COVID-19 drove many health systems around the country to reduce staff, furloughing or laying off workers. Not Phoebe.  Our employees were here when we needed them most, and we believe they should be rewarded for the heroic efforts they put in every day to keep our system and our community healthy and safe," Steiner said.
Phoebe has also committed to giving merit pay increases and bonuses again this year. Normally, pay increases are based on an individual employee's annual performance review and bonuses are tied to annual strategic goals; however, this is no normal year. Therefore, Phoebe will provide an across-the-board 2.5% increase to all eligible employees and fund the maximum performance-based bonus amount for the majority of employees up to the manager level.
"COVID-19 may have prevented us from meeting all our strategic goals, but that is no one's fault.  Our employee performance has been stellar, even in the face of this pandemic, and they deserve raises and bonuses," Steiner said.
This is the fifth consecutive year Phoebe has provided bonuses, though notably, leaders at the director level and above will forgo bonuses to fully fund those for other employees.  "I hope these investments in our team show the members of the Phoebe Family how much we value all they do," Steiner said. "They've gotten us through 2020, and I know they'll be there for our communities in the years to come."
St. Francis-Emory Healthcare Announces Plans for Annual Light the Spirit Tree Lighting Ceremony
St. Francis Hospital is pleased to present the twenty-sixth Light the Spirit: Tree Lighting ceremony on December 1, 2020, from 6:00 p.m. to 9:00 p.m. at the Butler Pavilion located at 2300 Manchester Expressway. This annual holiday event is free to the public. Join us for holiday cheer with our annual tree lighting ceremony, a drive-thru visit with Santa and Mrs. Claus, a drive-in movie, Elf, and popcorn, all from the comfort of your car.
This year's event will look a little different with efforts to keep you safe during this annual event. Without ever leaving your car, you can drive-thru and say hello to Santa and Mrs. Claus and receive a candy cane and a keepsake Santa and Mrs. Claus ornament with a slot to place your family picture. Drop off your Santa letters in the red Santa mailbox as you drive-thru. The tree lighting will be live-streamed on the movie screen before the movie begins. Movie tickets (free) will need to be reserved by visiting MyStFrancis.com. Space is limited. We ask all families to make a reservation and bring a printed copy to show upon arrival. We ask that you remain in your car at all times, but if you must leave to visit the restroom or for any reason, please social distance and wear a mask.

Georgia Hospital Association
1675 Terrell Mill Road
Marietta, GA 30067
Click here to update your subscriptions.