Click here if you are having trouble viewing this message.
November 7, 2020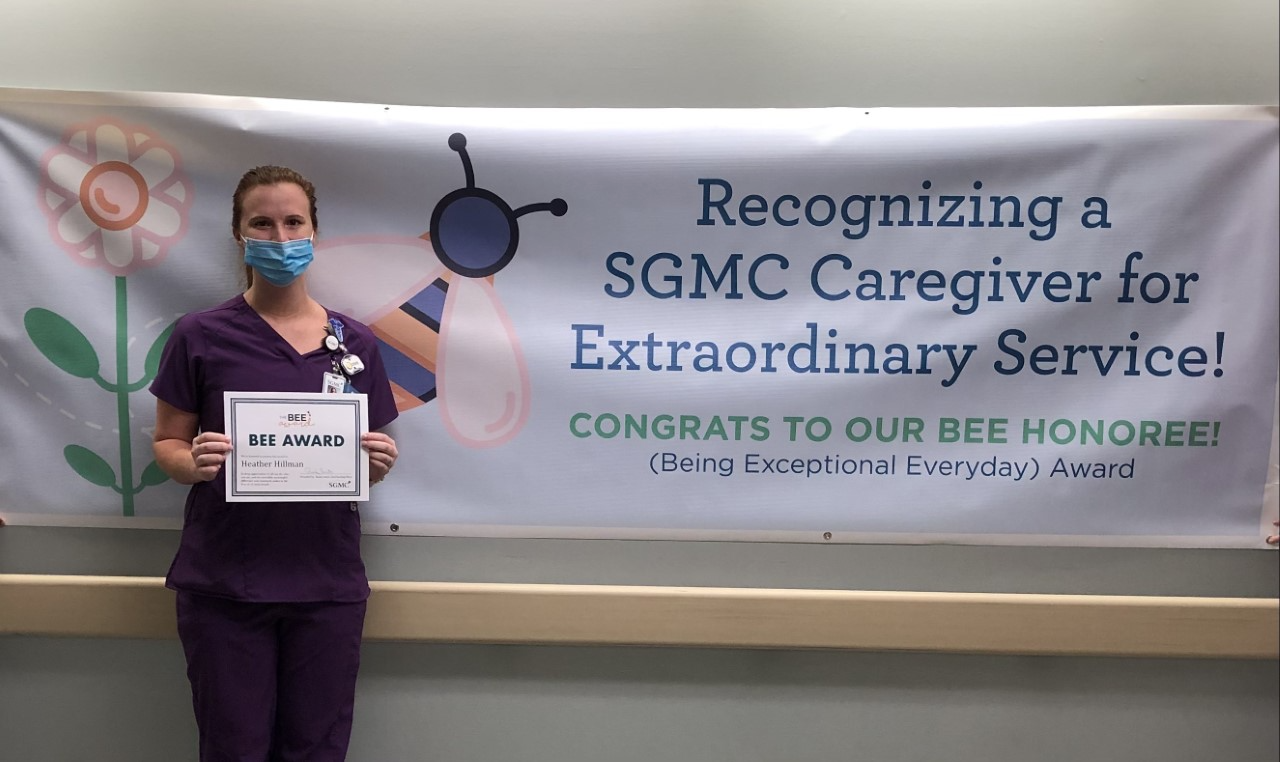 Hillman Recognized for Extraordinary Care
South Georgia Medical Center presented Heather Hillman with its BEE Award, which stands for "Being Extraordinary Everyday." Hillman is a patient care tech and was nominated for her patient advocacy and attention to detail. 
The nomination read, "Heather is a fantastic tech. She recognized a patient had a status change, took vitals and noted they were very abnormal. Not only did she escalate the situation to get the patient appropriate care, she also stayed with the patient to help comfort him as he was awaiting transfer to another unit."
The BEE Award is presented monthly and recognizes staff members who support the role of a nurse, which includes patient care technicians, nursing assistants, and medical assistants. Nomination criteria includes compassion, teamwork, leadership, attitude, and skills and knowledge. 
Children's Hospital of Georgia Installs Nursing Pods for New Moms
Nursing moms visiting the Children's Hospital of Georgia can now use a freestanding lactation pod to conveniently, privately and safely pump breast milk or nurse their babies.
The hospital has installed a mobile pod equipped with cushioned benches, a fold-down table, an electrical outlet for plugging in a breast pump and a door that can be locked for privacy. The pod is 4 feet by 8 feet and is meant for individual use, but can fit more than one person, as well as mothers with babies and other children if needed.
Primarily intended for Augusta University (AU) Health employees, the pod is also available to those visiting the hospital. Women gain entry by using a physical key provided by AU Health or by unlocking the keypad lock with a code provided through the Mamava app.
AU Health has a total of three pods located throughout the Augusta University Medical Center, the Children's Hospital of Georgia and in the Medical Office Building. 
"Installing the Mamava suites reinforces our commitment and dedication to the health of mothers and their babies," said Kim Basso, director of nursing for women and children services at the Children's Hospital of Georgia. "We consider these pods as an extension of the health care we already provide to meet the needs of nursing moms and their families while they are at our facilities." 
In addition to the Mamava suites, Augusta University has private lactation rooms for its employees and students on the Health Sciences, Summerville and Riverfront campuses. The purchase of the suites was made possible by the donations from individuals and community partners to Children's Miracle Network Hospitals.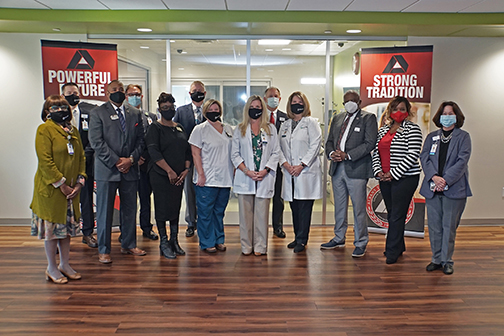 Phoebe and Albany Technical College leaders gathered for the signing ceremony.
Phoebe and Albany Technical College
Sign Agreement to Enhance Nurse Education and Training
Phoebe and Albany Technical College (ATC) are working together to address a growing nursing shortage by increasing the number of graduates from the Associate of Science Nursing (ASN) Program at Albany Tech. 
"The nursing shortage is a national issue, and it's only getting worse. The Bureau of Labor Statistics estimates there will be 176,000 openings for registered nurses every year for the remainder of this decade, and there simply aren't enough nursing graduates to fill those positions," said Evelyn Olenick, DNP, RN, Phoebe Putney Memorial Hospital chief nursing officer. "We must be creative and unwavering in our efforts train, recruit and retain quality nurses."
Phoebe and Albany Tech formalized a plan to address the issue in southwest Georgia when Phoebe Putney Health System Chief Executive Officer Scott Steiner and Albany Technical College President Dr. Anthony Parker signed a donation agreement Monday in the Phoebe Simulation and Innovation Center. 
"The best way we can address the nursing shortage in southwest Georgia is to make sure we are graduating more nurses who are from this area and will likely stay in this area to work. Phoebe's support will allow us to expand our ASN program, improving healthcare in our region and boosting our economy as well," Dr. Parker said.
As outlined in the agreement, Phoebe will fund the salary and benefits for a full-time biology instructor and one-half of one full-time nursing instructor at Albany Tech. 
"This is a smart investment for Phoebe. When we can help enhance and expand nurse education in our region, it doesn't take long for us to reap the benefits. We need a continuous pipeline, providing us with nurses who are prepared to meet the healthcare needs of our patients, and we are excited anytime we can work with an educational partner like Albany Tech to make that happen," Steiner said.
Phoebe will also provide access to clinical rotations for Albany Tech ASN students and provide access to the Phoebe Simulation and Innovation Center for ATC students and instructors. 
"No other hospital in Georgia has a center like this. It represents a $5.3 million investment in patient safety and workforce development.  The training we do here ensures our staff members have the competencies required to provide safe, high-quality care," said Tracy Suber, Ed.N, RN, Phoebe assistant vice president of nursing education. "Collaborating with Albany Tech is a win-win. We look forward to helping educate and train their students, and we believe many of those students will want to work for Phoebe after seeing our facilities and learning the level of care we provide," Suber added.
U.S. News & World Report Names Budd Terrace at Wesley Woods a 2020-21 Best Nursing Home
Budd Terrace at Wesley Woods, Emory Healthcare's skilled nursing facility, has been recognized by U.S. News & World Report as a Best Nursing Home for 2020-21. Just 21 percent of U.S. skilled nursing facilities made the Best Nursing Homes list this year. Budd Terrace received a four out of five in overall ratings.
Patients may come to Budd Terrace, a 250-bed facility, for short-term rehabilitation following a hospital stay or surgery, or for long-term care for those in need of daily assistance with medical and non-medical needs.
Budd Terrace earned Best Nursing Home status by achieving a rating of high performing for short-term rehabilitation, the highest possible rating for that category. The facility scored three out of three in the short-term rehabilitation category. Data used to evaluate these facilities come from the federal Centers for Medicare & Medicare Services (CMS) and include metrics of nurse staffing, patient outcomes, facility complaints and rehabilitation therapy.
"We are pleased to be recognized as a Best Nursing Home this year by U.S. News & World Report," says John Pulliam, administrator of Budd Terrace. "We are proud of our staff and physicians who have worked tirelessly to care for our patients and residents during a very challenging year with COVID-19 on the forefront."
For long-term care, Budd Terrace scored two out of three, or average performing. The data used to evaluate long-term care in nursing homes also come from CMS and include metrics of nurse staffing, adherence to best practices in preventive care and resident safety and minimizing the need for and use of anti-anxiety or hypnotic medications.
This year, to accompany the new ratings, nursing home profile pages were updated to include a patient safety summary that reflects COVID-19 data alongside other measurements of safety and related advice on choosing a nursing home or facility amidst the pandemic.
Budd Terrace has taken stringent measures to care for and isolate patients with COVID-19, while following proper protocols and guidelines to maintain disinfection and cleanliness of the facility. COVID-19 testing has been instrumental throughout this year for the low number of COVID-19 patients at Budd Terrace.
Other safety measurements include: short-term rehabilitation patients in nursing homes being given timely flu vaccinations (92.4 percent at Budd Terrace), long-term care of residents receiving pneumonia vaccines (98.8 percent at Budd Terrace), short-term rehabilitation patients who did not experience any falls resulting in major injury (99.8 percent at Budd Terrace) and no infection control violations. 
"Many in our community and beyond depend on Budd Terrace, its excellent staff and physicians to provide both short-term and long-term care resources for patients," says Sharon Pappas, PhD, RN, chief nurse executive for Emory Healthcare, who oversees the skilled nursing facility. "We are committed to providing safe, high-quality care and exceptional services to those who depend on us."
Now in its 11th year, the U.S. News Best Nursing Homes ratings and profiles offer comprehensive information about care, safety, health inspections, staffing and more for nearly all of the nation's 15,000-plus nursing homes. The Best Nursing Homes ratings reflect U.S. News' exclusive analysis of publicly available data using a methodology defined by U.S. News that evaluates factors it has determined most greatly impact patient and resident care, safety and outcomes.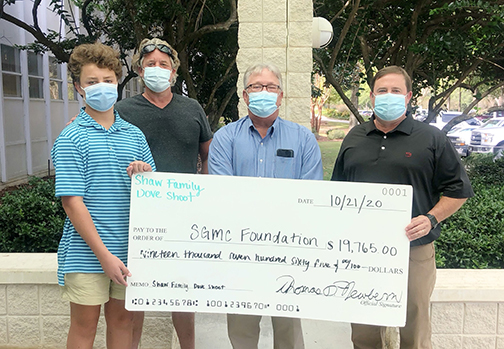 Swin Shaw, Kevin Shaw, Tom Newbern and Jason Shaw present a $19,765 donation to the South Georgia Medical Center Foundation on behalf of the Shaw Family Dove Shoot.
Dove Shoot Supports Local Health Care Scholarships for Teens
More than 50 people attended the Shaw Family Dove Shoot in Lakeland, GA on Sept. 19 in support of the Jay Shaw Scholarship, raising almost $20,000.
This scholarship is awarded annually by the South Georgia Medical Center Foundation and Shaw family and was established to honor the late State Representative Jay Shaw for his dedication and commitment to quality local health care. Shaw used his position in the Georgia Legislature to advocate for health care and in particular, hospitals in South Georgia.
"This event would not have been possible without the hard work from the entire Shaw family, Thomas Newbern, and First Federal Savings & Loan of Valdosta," said SGMC Foundation Executive Director Elizabeth Vickers. "This scholarship honors Jay Shaw's countless contributions of service to his community and state by promoting education and interest in the healthcare industry in South Georgia."
Scholarships offer financial assistance to Lanier County students seeking a profession in health care who want to return to Lakeland or South Georgia to work.
"The Shaw family has accomplished so much in our community and throughout the entire state. Jay Shaw was an impeccable leader during his tenure in the legislature and funds raised from this event is a wonderful show of support," said Thomas Newbern, president and chief executive officer of First Federal Savings & Loan of Valdosta.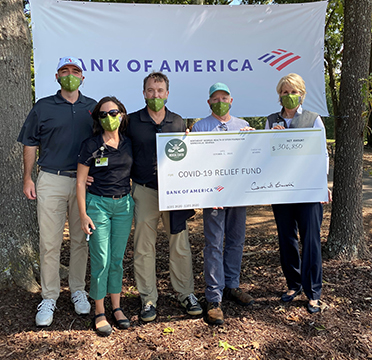 (Pictured L to R): Casey Ryals, Joy Green, Dr. Chad Copper, Reese Daniel, and Carol Burrell.
Northeast Georgia Health System Foundation's 29th Annual Medical Center Open Supports the COVID-19 Relief Fund
Reese Daniel and Chad Copper, MD, co-chairs of the 29th Annual Medical Center Open (MCO) golf tournament, are pleased to announce that this year's tournament raised more than $306,000 for Northeast Georgia Health System's (NGHS) COVID-19 Relief Fund. This fund benefits patient care, employees and NGHS' developing telemedicine program.
Due to the COVID-19 pandemic, the 2020 MCO "Own Your Own" golf tournament had a new look and format this year. Golfers played their rounds during the month of October at Chicopee Woods Golf Course, competing to win the coveted Woody Stewart Trophy. This year's top prize was awarded to Jason DeJiacomo, Rob Fowler, Pete Miller and Mike Smith from Brenau University's team.
"We are extremely appreciative of the support shown to our local healthcare workers by our community through their participation in the MCO," said Chris Bray, president and chief development officer for the NGHS Foundation. "Our longtime sponsors were joined by several new sponsors this year, proving our corporate partners' dedication to advancing health care in the Northeast Georgia region during an especially difficult time."
Since 1997, the Medical Center Open has raised more than $4.4 to support community health improvement initiatives.
Emergency Center Upgrades Result in More Efficient ER Visits
Phoebe Putney Memorial Hospital recently completed a renovation project and process improvements, creating a safer environment in its main emergency center and resulting in quicker visits for emergency patients. 
"Safety is our top priority, and these upgrades were designed to further enhance the safety of our patients and staff," said Joe Austin, Phoebe Putney Memorial Hospital chief executive officer. "We are also determined to improve the patient experience.  We know it's never a good day when you have to visit an ER, but we want to make the process more efficient and ensure all patients receive timely, high-quality care."
Patients will notice the changes immediately upon entering the emergency center.  The new, more secure entrance will be staffed by a clinician who will promptly begin the triage process. 
"We can check the patient's oxygen level and ask a few questions that will help us determine if they need to be taken to a room for immediate emergency care. This process will also help us identify patients with symptoms of COVID-19 right away," said Mandy Hall, RN, emergency center director.
The renovations include a new, separately ventilated waiting room for suspected COVID-19 patients and four additional negative pressure exam rooms where COVID-19 patients can be safety treated, preventing exposure to other patients.  Phoebe also added a designated treatment area that can accommodate up to 20 patients being administered medication or waiting for lab work, as well as a 22-bed observation unit on the second floor of the hospital for emergency patients who require a short stay for monitoring, testing, therapy and assessment before they can be safely released.
"Our ER is extremely busy. Unfortunately, we often have more emergency patients than treatment rooms.  The new designated treatment space and the observation unit create new areas where we can provide appropriate care for patients, while freeing up patient care rooms," said James Black, MD, Phoebe Putney Health System medical director for emergency services. "This will reduce wait times and create more efficient workflow for our hardworking ER staff."
Because of the upgrades, and a leveling off of COVID-19 cases, Phoebe will reinstitute limited visitation in the emergency center. 
"We know it is extremely difficult for patients in the ER to be separated from their loved ones, but we simply have not been able to allow safe visitation, until now.  Beginning Nov. 2, we will reinstitute limited visitation in the ER. We know this will be a big relief to patients and their families, and we are pleased to provide this service," said Evelyn Olenick, DNP, RN, Phoebe Putney Memorial Hospital chief nursing officer. Each patient will be allowed to bring one visitor into the main emergency center waiting area, as long as proper social distancing can be provided. One visitor will be allowed into patient care rooms.  Visitors must remain in those rooms and will not be allowed in the new designated treatment area. 
A significant increase in trauma cases recently has created a need for additional areas to care for trauma patients. 
"We added two trauma rooms, allowing us to provide the highest level of care to more trauma patients at the same time. It's also another step in our journey to earn designation from the state as a Level II Trauma Center," Dr. Black said.
Including all those new elements in limited space was not easy. Austin said he's extremely proud that the Phoebe operations staff was able to pull off the upgrades quickly, and he said Phoebe is still moving forward with plans to build an entirely new emergency center on its main campus. 
"The COVID-19 pandemic stalled our design work a bit, but it also taught us some important lessons and gave us a chance to step back and re-evaluate what an emergency center needs to be in a post-pandemic era," Austin said. "We are incorporating those lessons in our design work now and will construct the biggest, best, safest and most efficient emergency center in our region."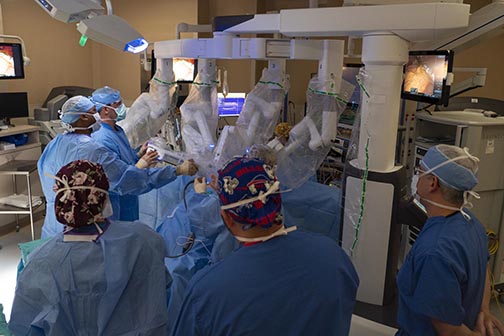 Robot-Assisted Surgery Performed at Floyd Medical Center
Floyd Medical Center's first robot-assisted surgery took place this week using the groundbreaking da Vinci Xi Surgical System. The technology allows doctors to perform minimally invasive surgeries with greater precision and control than is often possible using conventional techniques.
Dr. Ryland Scott, a Harbin Clinic general surgeon and medical director of Floyd Center for Bariatric Services, performed several surgeries Wednesday morning using the system. The technology is ideal for bariatric surgery because it makes it easier to be precise in tight confines.
The technology is not just for bariatric surgery. It has also been optimized for use in general surgery, as well as gynecological, urological and thoracic surgeries.
The da Vinci Xi Surgical System allows the doctor to sit at a console and guide the surgical instruments. The surgeon is 100 percent in control. The technology translates hand movements into smaller, more precise movements of tiny instruments inside the patient's body. The Xi System's immersive 3D-HD vision system provides surgeons a highly magnified view, virtually extending their eyes and hands into the patient.
Scott led the team that chose the robotic system. He said the system continues Floyd's and Harbin Clinic's pledge to provide technologically advanced health care.
"Floyd has always been a leader in laparoscopic and minimally invasive surgeries," Dr. Scott said. "This certainly takes surgeries to the next level." 
Dr. Ken Jones, chief medical officer at Floyd, said he expects robot-assisted surgery to become more commonplace. Medical residents training now in the use of robotics will likely use the technology routinely as part of their practice.
Floyd Healthcare Management Inc. approved the $2.3 million for the purchase of the da Vinci Xi surgical system in September.
By offering more precision, the da Vinci Xi Surgical System is a win-win for patients, said Gia Pyles, director of surgical services at Floyd. "This really gives us another tool in providing the highest quality care. Today would not have been possible without our great operating room team's hard work and attention to details in starting this service line."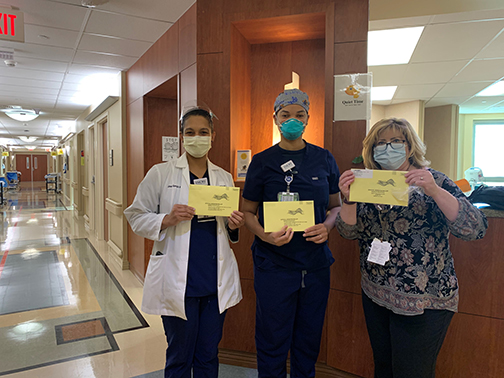 Emory Johns Creek Hospital Helps Patients Rock the Vote From Their Hospital Beds
Emory Johns Creek Hospital (EJCH) staff helped patients who were unexpectedly admitted to the hospital on Election Day cast absentee ballots.
"We've worked for months with the Board of Elections in DeKalb, Forsyth and Gwinnett counties to ensure our hospitalized patients can still cast a ballot," says Maria Fernandez, EJCH senior manager of patient relations.
"As a health care team, we want to support our patients to exercise their right to vote, even if they're hospitalized or isolated because of COVID-19 or other illnesses," says Fernandez.
Emergency absentee ballots allow patients who are eligible, registered voters to safely apply for and receive absentee ballots on Election Day.
On Election Day, the Board of Elections in various metro-Atlanta counties deputized EJCH staff, which authorizes them to deliver the secured and completed emergency absentee ballots to the appropriate County Board of Registrars by the deadline.
"Due to the COVID-19 pandemic and flu season, some individuals may find themselves unable to vote in person," says Kristi Royston, elections supervisor for the Gwinnett County Board of Elections.
"We're proud to partner with Emory Johns Creek Hospital during this historic election to help patients figure out how to vote, but not who to vote for – ensuring a non-partisan process," says Susan Motter, member of the DeKalb County Board of Elections.  
Hospital volunteers completed a training on election and ballot integrity by Shannon Clawson, statewide outreach director for the non-partisan group, The Equality Foundation of Georgia.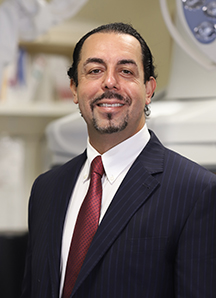 Cardiologist Joins Upson Regional Medical Center
Upson Regional Medical Center is proud to welcome cardiologist Ryan Macwar, M.D., to Upson Cardiology. Dr. Macwar will be instrumental in assisting with the startup of Upson's interventional cardiac cath lab beginning in December 2020. The interventional cardiac cath lab will give Upson the ability to perform procedures to treat more complex heart conditions, including emergency treatment of many heart attacks.
Dr. Macwar comes to Upson from Florida Heart Institute in Tampa, Florida.  He is board certified in interventional cardiology, cardiovascular disease, and internal medicine, and nuclear medicine. He specializes in a variety of invasive cardiac procedures as well as imaging exams. Dr. Macwar has also authored a number of academic publications throughout his career.
Dr. Macwar earned his medical degree at the University Mohammed V School of Medicine in Morocco. He completed his cardiology fellowship at Geisinger Medical Center in Danville, Pennsylvania, his advanced imaging cardiac MRI fellowship at Duke University, his advanced imaging nuclear cardiology fellowship at Yale University, and his interventional cardiology fellowship at Henry Ford Hospital in Detroit, Michigan.
Dr. Macwar is excited to join the Upson team. "I wanted to bring my skills to an organization that is committed to growing its cardiology services based on needs within its population.  Working with Upson staff and the many healthcare professionals throughout middle Georgia, I'm confident we will make a positive impact on people's health through this new interventional cardiology program," he said.
Sue Mangum, Upson Regional Medical Center's director of cardiology and imaging services, said, "We are looking forward to working with Dr. Macwar in bringing this new and exciting treatment to our community. His expertise will be of great benefit—we know this program will improve health and save lives throughout middle Georgia."
Dr. Vu Joins SGMC Gastroenterology
South Georgia Medical Center is pleased to announce Loan Vu, DO, FACOI, gastroenterology, has joined SGMC Gastroenterology. SGMC Gastroenterology is part of the SGMC Physician Network, which is the largest multi-specialty group in the region.
Dr. Vu comes to Valdosta from East Georgia Regional Medical Center in Statesboro. She specializes in the diagnosis and treatment of conditions that affect the GI tract. This includes the esophagus, stomach, small intestine, large intestine (colon), and biliary system, including the liver, pancreas, gallbladder and bile ducts. For more than 10 years, Dr. Vu has treated a variety of diseases, including hepatitis, gastric reflux, irritable bowel syndrome and inflammatory bowel disease.
Dr. Vu received her medical degree from Kansas City University of Medicine & Biosciences in Kansas City, Missouri. She went on to do her residency at Plaza Hospital in Fort Worth, Texas, and completed her fellowship at Plaza Hospital and John Peter Smith Hospital in Fort Worth. Dr. Vu is board certified in internal medicine and gastroenterology and is a Fellow of the American College of Osteopathic Internists (FACOI).
Dr. Vu is certified in Endoscopic Ultrasound by the American Society for Gastrointestinal Endoscopy and is a member of the American College of Gastroenterology, American Obesity Associations, and American College of Osteopathic Internal Medicine. 
Cardiology Practice Joins Southeast Georgia Physician Associates
Southeast Georgia Health System is proud to welcome the physicians and staff of Strickland Certain Jones to the Southeast Georgia Physician Associates family. Effective Nov. 1, 2020, the newly affiliated Health System practice is named Southeast Georgia Physician Associates-Cardiology.
A familiar face in the community and members of the Health System's Brunswick Campus medical staff for decades, the practice includes Marsha Certain, M.D.; Matthew Certain, M.D.; Mitchell T. Jones, M.D.; A. Wade Strickland, M.D.; Ashley Lezotte, FNP and Elizabeth B. Coleman, PA-C. The practice will continue to provide a full range of advanced cardiovascular services, including risk assessments, stress testing, echocardiograms, minimally invasive heart catheritization, peripheral vascular disease, coronary stents and pacemakers, vascular ultrasounds and more.
Tanner Urges All to Get Your Flu Shot
We are facing a dual health threat this fall and winter from COVID-19 and the seasonal flu. A COVID-19 vaccine is still in development; however, the seasonal flu vaccine is safe and effective. Brad White, MD, a board-certified internal medicine specialist and the director of Tanner's hospitalist program, explains how a flu shot reduces the chances of a person contracting the flu virus. Watch his video now.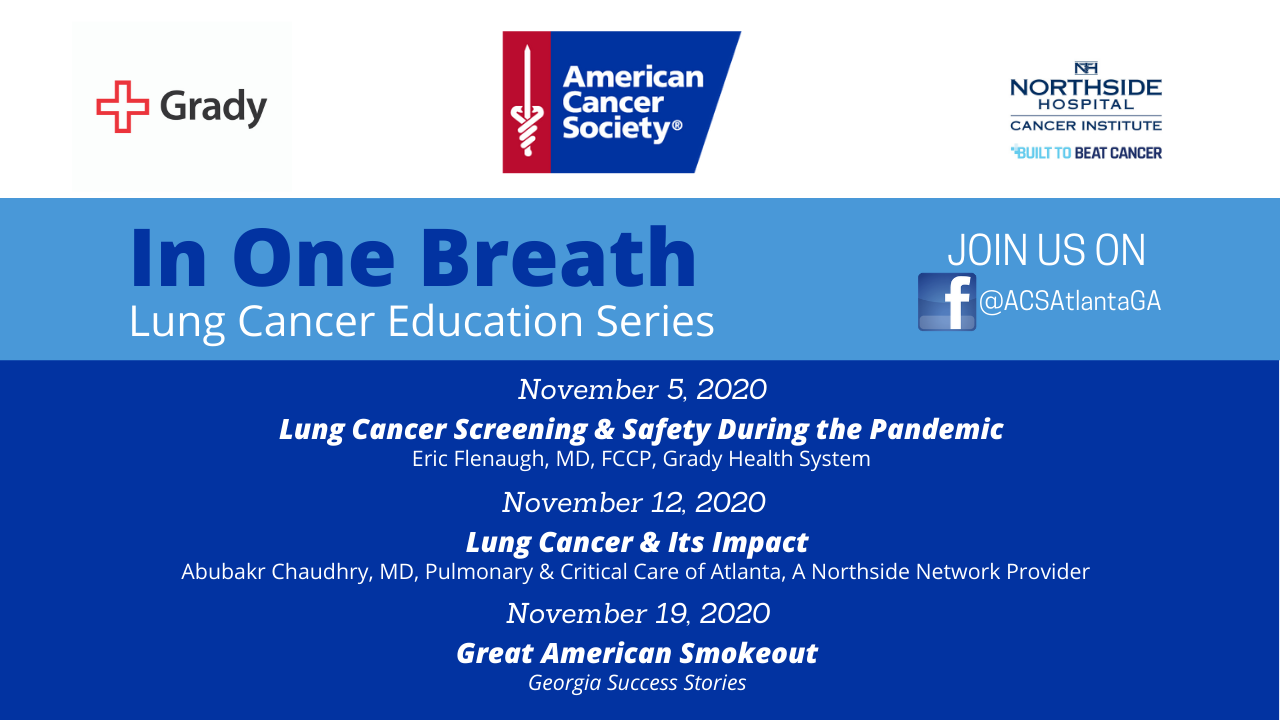 Georgia Hospital Association
1675 Terrell Mill Road
Marietta, GA 30067
Click here to update your subscriptions.