Click here if you are having trouble viewing this message.
October 31, 2020
If We Could Only Turn Back Time
Tonight, we "fall back" and change our clocks. What a year it has been, and now we are entering the final two months of one the most incredible years in our lives. 
What if we could turn back time? What would we do differently? Is there something that could have been done to avoid COVID-19?
The answer to those questions may never be known, but Georgians have had to make many sacrifices in 2020. Some have not seen loved ones for months. Others have missed memorable events such as birthdays and anniversaries as more than 350,000 Georgians have tested positive for one of the most disruptive illnesses in modern times. The holiday season is just around the corner and uncertainty looms.
We cannot turn back time, but we can look to the future. As John F. Kennedy said, "Those who look only to the past or present are certain to miss the future."
We have learned many things this year. Above all was that Georgia's hospitals and caregivers met a tremendous challenge and are now prepared for most anything. Georgia is truly blessed to have amazing health care workers committed to treating patients in the face of almost overwhelming adversity. The year is coming to a close, but there is still much to be done in 2020. We thank you for your perseverance and for your dedication to the hospitals and patients you serve.
God bless you, your employees, and families, 
Earl
Sweet Treats on Halloween!

Neonatal Intensive Care Unit nurses at Wellstar Atlanta Medical Center dressed these adorable babies in Halloween costumes to celebrate the holiday. Patients come in all sizes and GHA salutes our health care workers. GHA staff wishes you a safe and happy Halloween weekend. See safety tips from Wellstar's Danny Branstetter, medical director of infection prevention, and former GHA Hospital Hero Award winner Dr. Avril Beckford, chief pediatric officer.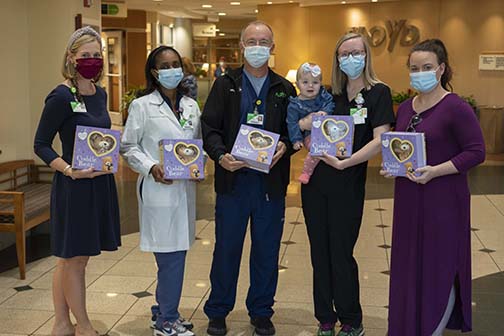 Cuddle Bears Donated to NICU
Blair Elrod and Hannah Hooper arrived at Floyd Medical Center recently "bearing" gifts. The two women brought with them 100 Cuddle Bear boxes that include a cute teddy bear and a book. The women donated the items to Floyd's Neonatal Intensive Care Unit through Floyd Healthcare Foundation.
Also accompanying the women, who are sisters in law, was Hooper's daughter, Kelsyn Hooper, who was born premature last year and spent time in the NICU. The connection between the family and Floyd's NICU goes further back than that. Kelsyn's dad, Connor Hooper, was also a NICU baby at Floyd, as was Elrod's husband, Adam.
Elrod, Executive Director of the Polk County Chamber of Commerce, spearheaded the drive to get the Cuddle Bears with the help of Hannah Hooper. She also lives in Cedartown and is a radiologic technologist at The Breast Center at Floyd.
"The NICU has obviously been a special place for our families," Elrod said. "It meant so much to us when Kelsyn got little things, like a baby beanie, when she was there last year. We just wanted to give something back to the NICU. It can be a long stay back there for many babies."
Elrod said their goal was to get the 100 books in a month. They finished it in three weeks. The company that sells the books, Usborne Books & More, donated one book for every two purchased through the fundraiser.
Floyd Medical Center Named a Level II Emergency Cardiac Care Center
The Georgia Department of Public Health has named Floyd Medical Center a Level II Emergency Cardiac Care Center.
The Level II designation means Floyd Medical Center offers effective cardiac care for patients suffering a heart attack and can quickly and safely transport patients needing a higher level of care to an appropriate facility. Floyd will have to reapply after three years to keep its status.
Level II Emergency Cardiac Care Centers must:
Offer 24/7/365 cardiac catheterization and angioplasty services, and report data to a national database

Have written transfer plans for patients who need a higher level of care

Have established protocols for therapeutic hypothermia for cardiac arrest patients

Have neurologic protocols to measure how well patients are functioning when they are discharged
According to the DPH, the mission of the state's Emergency Cardiac Care system is to improve survival from out-of-hospital cardiac arrests and heart attacks through quality improvement, benchmarking and evidence-based guidelines.
The state's Office of Cardiac Care has also established protocols for Emergency Medical Services to appropriately diagnose, triage and transport cardiac patients.
"The Level II Emergency Cardiac Care Center designation is a testament to the quality of care that is provided by the teams here at Floyd," said Lee Clevenger, director of critical care and cardiovascular services at Floyd. "From EMS all the way through the emergency care center, the catheterization lab and the intensive care unit, the dedication to providing excellent cardiac care is evident."
Letter to the Editor from Wayne Memorial Hospital CEO
Wayne Memorial Hospital is blessed to be located in the midst of a community filled with such caring people. We are humbled, appreciative and overwhelmed by the ongoing generosity shown to us during this pandemic. Individuals, businesses, civic organizations, schools and churches have supported us continuously throughout via well-wishes, prayers, words of encouragement, meals, treats and personal protective equipment donations. We are grateful for your acts of kindness and compassion.
We would like to thank everyone for their patience and understanding as we continue to fight Covid-19. The health and safety of our patients, their families and our staff members remain our top priority. We understand everyone prefers to visit their loved ones in the hospital. Yet, we need to protect our frontline workers, to allow them to be ready and available to take care of those patients in their care. It's understandable that this change from our visitation policy, pre-pandemic, can be difficult for family members and friends of patients. Our frontliners are sons, daughters, husbands, wives, moms and dads as well. They are exposed daily to many risks and dangers in carrying out their duties. Therefore, every measure we can put into place that provides extra protection for them is essential in order to ensure their safety, their families' safety and the continuum of care for all patients.
Self-sacrifice is defined as "the giving up of one's own interests or wishes in order to help others."    Our healthcare workers are visible examples of such service. Their positive attitudes, coupled with their courage and steadfast commitment, make all the difference.
On behalf of everyone at Wayne Memorial, and with our deepest gratitude, we say, "Thank you!" for your support. It demonstrates the strength and concern we have together as a community, one we are certainly proud to call home.  
Joseph P. Ierardi
CEO, Wayne Memorial Hospital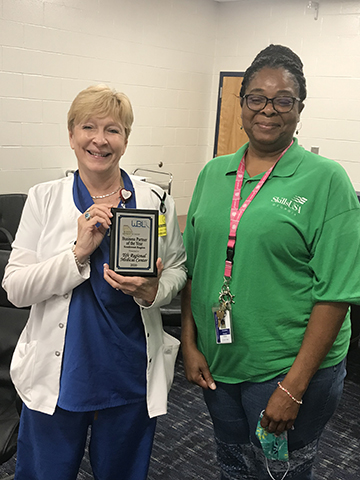 Carol M. Smith, chief nursing executive for Southwell and chief operating officer for Southwell Medical, and Cassandra Thomas, WBL/YAP coordinator for Tift County School System, are pictured holding the award presented to Tift Regional Medical Center.
Tift Regional Medical Center Named Southwest Region Work-Based Learning Business Partner of the Year
Tift Regional Medical Center (TRMC) was recently named Business Partner of the Year for the Southwest Region of the Georgia Work-Based Learning (WBL) and Youth Apprenticeship (YAP) program.
The WBL/YAP program is in association with the Georgia Department of Education. According to Georgia WBL/YAP, the WBL program allows qualified students who have mastered skills in pathway areas and/or enrolled in any level course the opportunity to work at an approved job placement to gain valuable work experience while receiving CTAE (Career, Technical, and Agricultural Education) course credit. Youth Apprenticeship is a structured combination of related coursework completed at the high school level and on-the-job training specific to a post-secondary credential which the employer and student is committed to.
The state of Georgia is comprised of six WBL/TAP regions. Each year, the WBL/YAP program announces Business Partnership winners from each region at their annual conference. Business partners are employers who work with their local WBL coordinator to place students in their places of employment.
"TRMC has been a supporter of Tift County Public School System for years. Work-Based Learning students learn so much during their time at the hospital. Being in the vicinity is a learning experience in itself especially if they must run down the hall with their supervisor. Some finish with confirmation of their career choices, some decide to focus on other careers in the medical field, and some decide that the medical field in not for them," says Cassandra Thomas, WBL/YAP coordinator for Tift County School System.
Each WBL/YAP coordinator is given the opportunity to nominate a business partner for this regional award. Submissions are judged based on varying factors, including a description of how the partnership was formed, the process of selecting students for participation, involvement of the business in training the mentoring student(s), and the impact of the partnership.
The business partner is also required to submit a letter with the application.
"Health care is a complex industry that requires a high school diploma as a minimum for entry into the work place, so it is often difficult for high school students to gain employment in or exposure to the industry," said Carol Smith, MBA, RN, NEA-BC in her letter. Smith is the chief nursing executive for Southwell and chief operating officer for Southwell Medical.
"However, through the guidelines of WBL/YAP, the value of real life learning and career development, innovative position development, and Ms. Thomas' work building upon the foundation her predecessor started, Ms. Thomas helped our partnership expand and grow," she continued. "We were honored to receive this award for the Southwest Region. It is our pleasure to partner with the Tift County School System. With a partnership that has this caliber of leadership, the result is worth every minute of effort."
Alexander Named Chief Human Resource Officer
South Georgia Medical Center is pleased to welcome Brenda Alexander, SHRM-SCP, to its senior leadership team as vice president and chief human resource officer.
Alexander comes to Valdosta with more than 20 years of experience in human resources and organizational development within health systems. The last five years she has served as the regional vice president for human resources at SSM Health in Southern Illinois. 
Alexander earned her Bachelor of Science in organizational leadership from Greenville College and her Master of Science in technology with a focus on training and development from Eastern Illinois University. She also received her Certificate in Work Performance Improvement and is a Senior Certified Professional with the Society for Human Resources Management. 
Alexander and her husband Jay have been married for 30 years and have two adult daughters and seven grandchildren. In her spare time, she enjoys reading and gardening. She says she is excited to be in South Georgia and working with a organization that serves such a vital role in its community.
Early Detection of Lung Cancer Possible with Robotic-Assisted Bronchoscopy
by Dr. Jason McClune, Interventional Pulmonologist
November is Lung Cancer Awareness Month and Memorial Health is using the latest technologies to fight this dreaded disease. Lung cancer is one of the most commonly diagnosed cancers in the US. The American Cancer Society (ACS) estimates there will be nearly 229,000 new cases of lung cancer diagnosed in 2020. Another sobering fact is lung cancer is the leading cause of cancer deaths in the US for both men and women. Because it often has no symptoms early on, it's usually found at an advanced stage and most patients don't survive.
There is some good news – the ACS also reports the number of lung cancer deaths is declining, in part due to advances in early detection and treatment. At Memorial Health, one way we live out our mission, "Above all else, we are committed to the care and improvement of human life," is by making leading-edge technology available to our patients. We now have an innovative new procedure that holds promise in fighting lung cancer.
In June, Memorial Health became the first healthcare system in Georgia and among the first hospitals in the US to offer robotic-assisted bronchoscopy for patients with lung nodules. This new technology allows for earlier detection of lung cancer with greater accuracy. This minimally invasive procedure is safer than CT-guided lung biopsy and unlike a traditional bronchoscopy, the robotic platform gives the physician the ability to reach the entire lung safely and obtain tissue samples of small and hard-to-reach nodules in the periphery of the lung. The physician navigates the scope through the small tubes in the patient's lungs using a hand remote much like a gaming system. Once the scope reaches the desired location, the physician can perform biopsies with direct visualization, which increases accuracy and reduces risk of complications.
Since launching this program, the thoracic oncology team has used the robot to detect early stage cancers, which led to earlier treatment and hopefully positive outcomes.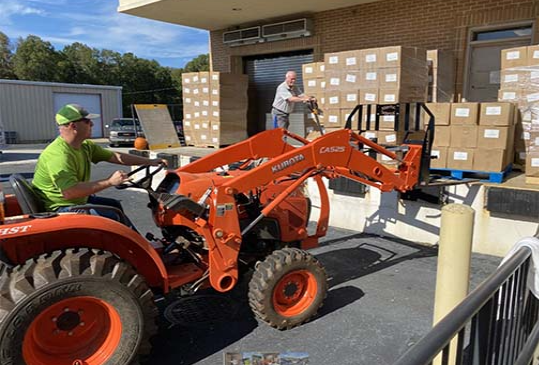 Former Governor Sonny Perdue Sends 480 Boxes of Food to Putnam General Hospital
U.S. Secretary of Agriculture Sonny Perdue created the Farmers to Families Food Box Program and launched a program which would distribute food boxes in support of American farmers and families affected by the COVID-19 pandemic. 
"The Farmers to Families Food Box Program was designed to put American farmers and distributors of all sizes back to work while supporting over-burdened food banks, community and faith-based organizations, and other non-profits serving Americans in need, and the program is doing just that," said Secretary Perdue. 
"It's encouraging to see the passion with which farmers, distributors and non-profits have gone above and beyond to make this program work in support of the American people. Through these innovative program small and regional distributors are bringing back their workforce to procure food directly from our American farmers and ranchers. Fresh food is getting to those in need, even in the hardest to reach places, through partnerships with food banks, non-profits and faith-based communities," said Advisor to the President Ivanka Trump. 
Putnam General Hospital was approached about the giveaway and quickly agreed to be a distribution site. In less than a week's notice, all of the food was successfully distributed in less than an hour. This was a greatly needed food drive for which Putnam General Hospital was proud to serve as the distribution site. 
Putnam General Hospital Participates in Pink Out
Breast cancer is one of the most common types of cancer seen in women, and it is one of the leading causes of cancer death in women. October is Breast Cancer Awareness Month dedicated to create awareness about the early detection, management and treatment about the disease. 
Breast cancer can occur in both men and women, but it is more commonly seen in women. According to research by mayo clinic, breast cancer survival rates have increased, and the number of deaths related with this disease is gradually declining. The reasons for the same are factors such as earlier detection, a new modified approach to treatment and certainly a better understanding of the disease. 
Putnam General Hospital honored the women who have fought and are currently fighting breast cancer by participating for the 11th year in a "Pink Out."  On Oct. 23, the PGH staff wore pink and took time to decorate pumpkins with a breast cancer pink theme.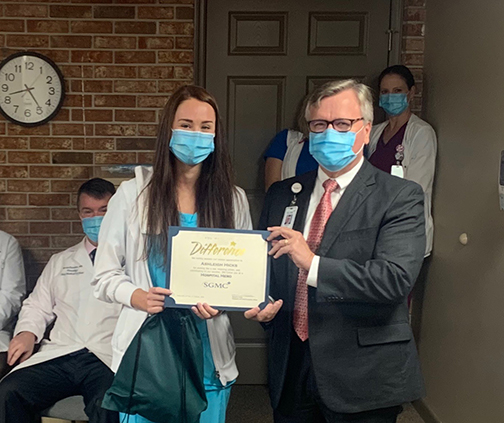 South Georgia Medical Center October Hospital Hero honoree Ashleigh Hicks and SGMC President and Chief Executive Officer Ronald E. Dean.
SGMC Social Worker Honored as Hospital Hero
South Georgia Medical Center honored Ashleigh Hicks, social worker at the SGMC Lakeland Villa- a skilled nursing home facility, as the hospital hero at its October Board of Directors meeting. 
Hicks was nominated by a patient's daughter who said, "Ashleigh has integrity and has demonstrated professionalism in all that she does. She certainly puts her patients first. From the moment my mother entered Lakeland Villa until the time she passed, I always knew that she was in good hands. I knew that she would be treated with compassion and supported in a way that would allow her to flourish. My mother trusted Ashleigh and felt that she genuinely cared about her." 
SGMC Lakeland Villa Administrator Geoff Hardy shared, "Although this award is based on a single nomination, if you spoke to anyone who works with Ashleigh, they would echo these comments. That's just who Ashleigh is and we are proud to have her on our team."
St. Francis Holds Graduation for Cohort 23 Fall Nurse Residents
St. Francis-Emory Healthcare held its Cohort 23 Nurse Residency Graduation on Oct. 27. A total of twenty-four nurse residents graduated from the 14-week program. The outstanding resident award was presented to Estin Martin. The speaker was former nurse resident Allison Gooden, RN, who works in the St. Francis Emergency Department. 
"As a former nurse resident, each cohort graduation reminds me of my graduation from the St. Francis Nurse Residency Program", said Tricia Hamid, St. Francis nurse residency manager. "Cohort 23 overcame many obstacles while working in a forever changing dynamic healthcare environment and being a novice nurse during the current pandemic. I commend each of them and encourage them to keep on learning and growing."
The St. Francis Nurse Residency Program utilizes Patricia Benner's "Novice to Expert" model to assist new graduate nurses in moving from the classroom to an acute care setting. Residents are trained to provide patient-focused care centered on Clinical Excellence. During the program, Residents alongside a preceptor and attend one professional development class per week. The clinical and classroom experience provides the confidence and education needed to deliver high quality and patient centered care, preparing them for a challenging and rewarding career as a nurse. Competency assignments, progress reports, and evaluation tools are utilized to demonstrate the learning outcomes that have been achieved.
New Pharmacy Residency Program First of its Kind in Georgia
Pharmacy residents interested in leadership positions will have a new pathway beginning July 2021.
That's when Augusta University will begin offering a two-year Health-System Pharmacy Administration and Leadership Residency.
The post-graduate training program is designed for the PGY1 and PGY2 years to flow seamlessly together. During the first year, the resident will undergo comprehensive training with a focus in clinical practice. During the second year, the resident will work collaboratively with pharmacy leadership in operational efficiency, regulatory compliance, delivery of patient care, fiscal stewardship and many other exciting opportunities.
Residents supplement their clinical and administrative learning by completing an MBA through the Hull College of Business at Augusta University.
It is the only program of its kind in Georgia, said Joshua Wyche, director of Pharmacy for Ambulatory Services.
"This will be the first two-year Health-System Pharmacy Administration and Leadership Residency program in the state of Georgia," he said.
The program includes competency areas in medication-use systems, quality assurance, human resources, finance, technology and leadership. Residents will also spend time with AU Health senior executive leadership, including CEO Katrina Keefer and Tim Gaillard, Chief Operating Officer.
This will give residents a deeper understanding about how pharmacy leadership works within the greater health system, said resident program director Richard Burrell.
Upon completion of the Health-System Pharmacy Administration and Leadership Residency, the resident will have developed significant professional skills and will be prepared to assume clinical and/or operational management positions in a hospital or health system.
Phoebe Foundation Announces 2020 Lights of Love Tree Lighter
The Phoebe Foundation is excited to announce Monique Wilson, a cancer survivor from Albany, has been named the honorary tree lighter for the 2020 Lights of Love ceremony. Often considered as the official kick-off of the holiday season, this year's ceremony is taking place virtually on Dec. 3.
Monique was diagnosed with breast cancer in July 2016. While that diagnoses might bring feelings of fear or anger to some people, she had a different reaction that continues to fuel her passion for breast cancer awareness today. "When people see me, they see laughter," said Monique. "They see joy. And I'm going to say people see that even more now because I feel I was given a new lease on life when I was diagnosed July 26, 2016 with breast cancer."
As Phoebe Cancer Center's Survivorship Data Coordinator, and as the lead coordinator of the Georgia Chapter of the national Young Survival Coalition (YSC), Monique puts that new lease on life to work every day- helping others who have been impacted by cancer. Together with her husband, and steadying rock of support, Fred Wilson - also a Phoebe Family member - they have supported hundreds of cancer patients through various fundraising efforts, including the multi-day, Tour de Pink.
"We get on these itty bitty bicycles, which we call road bikes, and we do that every year. We take three days in October, a Friday, Saturday and Sunday, and we ride our bicycles 200 miles," added Monique.
While Monique kept her diagnosis from most of her family and friends in the beginning, she says she relied heavily on her faith for guidance. She endured 33 radiation treatments and a lumpectomy, and is still taking hormonal therapy, something she'll be doing for a few more years.
"I thank God for the power of prayer. Because, deep down, I really believe that what I went through I was going through to help somebody else in their process. My journey has not been easy," she said. "But I'm striving every day."
The other honorary tree lighters are Robert Thomas, of Sumter County, at Phoebe Sumter and Shala Juster, of Worth County, at Phoebe Worth. Their stories of hope, along with Monique's, can be found by visiting www.lights-of-love.org.
Wellstar Health System Announces Health Insurance Exchange Partners for 2021
Wellstar Health System, one of Georgia's largest and most integrated health care systems, announces 2021 Health Insurance Exchange (HIE) partners to connect patients with affordable, quality health care across all the communities and geographies served by Wellstar.
The HIE is a service that helps people shop for and enroll in affordable health insurance, which can impact health, wellbeing, and patient outcomes.
Georgia ranks 48th in the nation for uninsured people, with 13.41% of the population across the state being uninsured. Increases in unemployment rates during the pandemic have exacerbated the need for affordable health insurance. More than 1.4 million Georgians received unemployment benefits during the past seven months of 2020, according to the Georgia Department of Labor.
Having health insurance has a material effect on healthcare access and health outcomes -including mortality - by reducing financial barriers to quality medical care, including preventive care; medical screenings; chronic disease identification and therapies, such as for diabetes;diagnosis and treatment for serious medical conditions, such as cancer; emergency care andhospitalization; prescriptions; and mental wellness services.
Celebrate a COVID Safe Halloween
Doctors from Beverly Knight Olson Children's Hospital Offer Safety Tips
Halloween is traditionally a fun night for children across the U.S., but the novel coronavirus (COVID-19) pandemic has left parents wondering if they should celebrate this year, and if so, how to celebrate safely. Pediatricians from Beverly Knight Olson Children's Hospital, Navicent Health offer tips to celebrate a COVID Safe Halloween.
"It's important to create as much normalcy for children as possible while also taking steps to protect them from COVID-19. We encourage people to follow the guidelines set by the Centers for Disease Control and Prevention (CDC), and get creative in order to celebrate safely," said Edward Clark, MD, Medical Director of BKO.
Pediatricians from BKO recommend the following tips to prevent the spread of COVID-19 this Halloween:
Trick-or-treat with those in your household and stay at least six feet apart from celebrants who do not live in your household.

Avoid direct contact with trick-or-treaters.

Go outside to pass out treats.

Wash your hands thoroughly for 20 seconds with warm water and soap before handing out treats.

Instead of handing out treats, create individual treat bags and set up an outdoor station for children to take their own bag.

Wear a cloth mask that covers the nose and mouth at all times.
"Be sure to wear a cloth mask that covers the nose and mouth to protect yourself and others from COVID-19. A standard Halloween costume mask is not a substitute for a cloth mask, and you should not wear a Halloween costume mask over a cloth mask – this can make breathing very difficult.  Instead, have fun incorporating a cloth mask into your costume! For example, dress up as a ninja or a healthcare worker," said Katherine Duncan, MD, Director of Pediatric Advocacy and Global Health at BKO.
Pediatricians at BKO also ask parents and guardians to remember the general Halloween safety tips that have applied in year's past and remain applicable this year. Those safety measures include the following:
Adults should accompany younger children at all times. If teens plan to go out on their own, review their route in advance and agree on a specific time to return home.

Cross streets at the corners, looking both ways before crossing. Obey traffic signals and remain within crosswalks.

Decorate costumes and treat bags with reflective stickers, lights or glow sticks. Have children carry flashlights.

Make sure costumes fit appropriately to avoid trips and falls. Select fire resistant costumes, wigs and accessories.

Inspect all treats before consuming them to ensure wrappers are sealed and have not been tampered with. Do not accept homemade treats.
Those who may not feel comfortable trick-or-treating this year do not have to miss out on the festivities and fun. Pediatricians at BKO suggest the following trick-or-treat alternatives:
Decorate your home as a family. Invite neighbors to compete in a decorating contest.

Hold a neighborhood parade outdoors so everyone can show of their costume while maintaining social distancing.

 Visit a pumpkin patch. Carve pumpkins with the members of your household, or outside with friends and neighbors.

Go on an outdoor, Halloween-themed scavenger hunt.

Have a spooky movie marathon with members of your household. Let each member choose a movie.

Hide Halloween treats around your home and have a treat hunt with members of your household.
"Although we need to make adjustments to the way we celebrate this year, there are still plenty of opportunities to have a fun and safe holiday," said Dr. Clark.
Dr. Derakhshan Joins SGMC Cardiology
South Georgia Medical Center is pleased to announce Daryoosh Derakhshan, DO, interventional and general cardiology, has joined SGMC Cardiology. SGMC Cardiology is part of the SGMC Physician Network, which is the largest multi-specialty group in the region.
Dr. Derakhshan comes to Valdosta from Palmetto General Hospital in Hialeah, FL, where he completed his internship, residency, and cardiology and interventional cardiology fellowships. He received his medical degree from Nova Southeastern University College of Osteopathic Medicine in Davie, Florida.  
Dr. Derakhshan is board certified in cardiology, echocardiography, cardiovascular computed tomography, and nuclear cardiology. He also received his certification as a Registered Physician in Vascular Interpretation® (RPVI®) which documents the highest standard in vascular ultrasound interpretation. 
Dr. Derakhshan offers a vast array of cardiac interventions and treatments. Some of which include adult congenital heart disease, treatment of hypertension and hyperlipidemia, congestive heart failure diagnosis and management, cardiomyopathies, stable ischemic heart disease, coronary artery disease, percutaneous coronary artery intervention, coronary artery atherectomy, coronary artery imaging, peripheral arterial disease diagnosis and intervention, patent foramen ovale closure, and transthoracic and transesophageal echocardiography.
"I am very excited to be joining the South Georgia Medical Center family and taking part in the excellent care that is being provided to the community. I have had the privilege to live in the city of Valdosta over the past month and have been encouraged by the kindness and openness of everyone I have met. I am enthused to be welcomed and given the opportunity to provide care for the community," said Dr. Derakhshan.
Baker Appointed to Hospital Authority
Justin Baker, MD was recently appointed to the Colquitt County Hospital Authority, the governing board of Colquitt Regional Medical Center.
Originally from Lowndes County, Baker graduated from Mercer University with a Bachelor of Business Administration in finance. He then completed his medical education at the Medical College of Georgia, followed by an internship in general surgery in Greenville, South Carolina, and a residency in family medicine at McLeod Hospital Systems in Florence, South Carolina.
Baker has lived in Moultrie since 2008, when he began his career as a family medicine physician at the Kirk Clinic. Since relocating to Moultrie, Baker has been active in the community, serving as Chairman of the Colquitt County Health Board, Medical Director of Green Oaks Center for Disabilities, member of First United Methodist Church, and former Chief of Staff at Colquitt Regional.
Baker and his wife Molly have two sons, Grayson and Austin.
"I am very honored to serve on the Hospital Authority," said Baker. "Providing access to quality health care is vital for any community. I look forward to working with other members of the Authority as we guide hospital leadership and continue to improve the quality of care available to our patients and community members."
Baker was appointed to succeed Jim Keith, MD, who completed his term on the Authority in September. Other members of the Authority include Maureen A. Yearta, Ed.D., Kirk Friedlander, Howard Melton, MD, FACS, Richard Bass, Richard Turner, John Mark Mobley, Jr., Johnny Brown, and John Griffin.
"We are pleased to welcome Dr. Baker to the Authority," said Hospital Authority Chairman Maureen A. Yearta, Ed.D. "He has already proven to be a great asset to our organization and community and we look forward to the experience and knowledge he will bring to the Authority."
Colquitt Regional also recently elected several new physicians to leadership roles within the medical staff at Colquitt Regional.
At the September Medical Staff meeting, the following physicians were elected to fulfill at two-year term on the Medical Executive Committee:
Chief of Staff: Cheau Williams, MD, FACOG, FACS

Chief of Medicine: Gary Swartzentruber, MD

Chief of Surgery: Amber Holt, DO

Medicine Members at Large: Wit Kabange, MD, and Kent Posey, MD

Surgery Members at Large: Fred Powell, MD, and Emerson Harrison, MD, FACS
"Dr. Baker, along with the new members of our medical staff, are all talented individuals who will be advocates for Colquitt Regional," said Colquitt Regional President and CEO Jim Matney. "I have no doubt that our health system will continue to prosper and reach new heights under their leadership."
The Heart Center of Northeast Georgia Medical Center Welcomes New Electrophysiologist
To continue providing the highest level of specialized cardiac care, The Heart Center of Northeast Georgia Medical Center (NGMC) welcomes a new electrophysiologist to their impressive team of experts. Shalabh Chandra, MD, MPH, will begin seeing patients this week at The Heart Center of NGMC in Gainesville. In addition to extensive training, Dr. Chandra brings years of experience in the diagnosis and management of arrythmias, as well as routine and complex ablations.
"I have always been passionate about the field of electrophysiology and the ongoing advancements and innovations within this subspecialty," said Dr. Chandra. "I look forward to joining the established and well-known electrophysiology program at The Heart Center of NGMC. I believe my years of experience, combined with the extensive services and resources of this practice, will ensure that we continue improving and growing the electrophysiology care offered to patients throughout the region, especially as the need for this specialty only continues to increase."
Dr. Chandra received his medical degree from Seth G.S. Medical College, University of Mumbai in India. Shortly after, he went to the University of Texas Health Science Center in Houston, Texas, where he received his Master of Public Health before completing his internal medicine residency at Michigan State University in East Lansing, Michigan. Dr. Chandra also completed his cardiology fellowship at Michigan State University, where he later served as Chief Fellow. He then went to Henry Ford Health System in Detroit, Michigan, to complete his clinical cardiac electrophysiology fellowship before going to the University of Massachusetts Hospitals in Worcester, Massachusetts, to complete a fellowship in advanced clinical cardiac electrophysiology.
For the last eight years, Dr. Chandra has been working as an electrophysiologist in private practice and caring for patients in Massachusetts. In addition to arrythmia diagnosis and management, Dr. Chandra specializes in pacemaker and ICD implantations and ablation of arrhythmias. He also has special interest in mind-body wellness and has been conducting community- and hospital-based workshops for patients and physicians throughout the last 15 years.
Southeast Georgia Health System Volunteer Services Host Popular $5 Jewelry and Accessory Sale
Everyone who loves jewelry and appreciates scoring a great buy should mark Nov. 30-Dec. 6 on their calendars to save the date for Southeast Georgia Health System's popular $5 Jewelry and Accessory Sale fundraiser.
Hosted in partnership with the Health System's Volunteer Services and Masquerade Fundraising, the sale is a great opportunity to purchase gifts for teachers, friends and family or to treat yourself while supporting patient care in our community.
Due to limited visitor restrictions at the Health System, the sale will be held online this year. Shop online at store.masqueradefundraising.com, Monday, Nov. 30 through Sunday, Dec. 6.
Everything sold during the online fundraising sale is at the incredible price of $5. Items include jewelry, watches, scarves, handbags, purses, wallets and a vast array of other accessories and seasonal items--with new inventory added daily.
Emanuel Medical Center Auxiliary Presents Annual Employee Tuition Scholarship
The Emanuel Medical Center Auxiliary group presents their annual Employee Tuition Scholarship to two recipients for the 2020-21 school year, Brandi Jo Reynolds of Mount Vernon, Georgia and Kelly Jackson of Swainsboro, Georgia.
Sue Stockholm, treasurer and Damien Scott, CEO presented Reynolds a $500 scholarship. Stockholm also presented Jackson a $500 scholarship.
Reynolds has been employed with Emanuel Medical Center in the ICU for over a year as a RN. She is currently seeking her master's degree in nursing to become a nurse practitioner through Walden University College to become a family nurse practitioner. She says, "she plans to stay local and focus more on wellness and prevention for the community."  
"Brandi is not only an excellent nurse, but also is a compassionate, caring, kind, humble, knowledgeable and a very hard worker," said Dina Durden, RN.
Jackson has been employed with Emanuel Medical Center for over four years as a H.I.M Tech. She will continue her education to obtain her coding certificate. She says, "I want to become a coder to increase my skills and knowledge in the medical field."
The Emanuel Medical Center Auxiliary Group is proud of the dedication and education both Reynolds and Jackson have put forth to better serve our hospital and community.
The Road to Recovery
On Friday, Oct. 23, Ronnie Franklin took a few minutes to share his incredible journey of recovery from COVID-19 with reporter Wendy Corona from WSB-TV in Atlanta. Ronnie is a Putnam County EMS technician and has spent his entire career taking care of others. The tables were turned when Ronnie developed a bad cough which turned into fatigue and eventually a fever. Ronnie has endured a great deal during this fight and has lost over 70 pounds, been life flighted and incubated. 
Now, having been hospitalized for 99 days, Ronnie is on the road to recovery at Putnam General Hospital. "I feel good now, just weak," Ronnie said. Ronnie is working hard in physical therapy to regain his strength. "They are trying to get my muscles back to be self-mobile." It will be a lot of work but we are confident Ronnie is giving it his all. 
National Study Looking for Hotspots of Low Mammography Screening in Black, Hispanic Women
A young cancer epidemiologist who has already helped identify hotspots for geographic, racial and ethnic disparities in breast cancer mortality in the United States is now looking at mammography screening rates in those hotspots.
Identifying the hotspots, combined with personal insight from some of the women there about barriers to screening, will enable better targeting of women most at risk of dying from this common, largely treatable cancer, says Dr. Justin Xavier Moore, cancer epidemiologist in the Department of Population Health Sciences at the Medical College of Georgia at Augusta University. 
While Black and white women get breast cancer at about the same rate, Black women have a higher rate of death from breast cancer, according to the Centers for Disease Control and Prevention. Black and Hispanic women are 20% more likely to be diagnosed with advanced stage breast cancer, and they have, respectively, up to 70% and 14% increased risk of death, Moore says. 
"If we know that people are getting later diagnoses, if we know these data for the last 20 years, then we need to do something about making sure people get in a little earlier and are screened better so we can try to mitigate the burden before it is too far downstream," Moore says.
Moore has received a $646,332 Mentored Research Scientist Career Development Award, or K01 Award, from the National Institute on Minority Health and Health Disparities to enable him to find these women by looking at race specific estimates of mammography screening.  
"We know these are problem areas in terms of people dying, but I want to know if they align with access to screening. Screening is always important," Moore says, and mammography is one of the most definitive breast cancer screening tools. But while mammography may be free and even mobile sometimes, access is more multifactorial. 
Georgia Cancer Center will fight cancer on two continents with new $3.3 million grant from The Bristol Myers Squibb Foundation
When it comes to the number of cases and the number of deaths from cancer, African Americans are more likely to be diagnosed later and die earlier compared to Caucasians. With a new $3.3 million grant from the Bristol Myers Squibb Foundation awarded to a team at the Georgia Cancer Center, efforts to end these disparities, particularly for breast, multiple myeloma and prostate cancers, will aim to impact these statistics for African Americans living in urban and rural minority underserved areas in the state of Georgia.
"Right now, we are developing the curriculum for these three additional cancers for the study known as the c-CARE II (cancer-Community Awareness Access Research and Education - II) initiative," said Dr. Martha Tingen, associate director for Cancer Prevention, Control and Population Health at the Georgia Cancer Center at Augusta University and principal investigator of the new grant.
The c-CARE II initiative is a research study designed to: 1) improve cancer outcomes in minority and underserved populations by enhancing awareness through culturally tailored education, presented by indigenous community members, who the participants know and respect; 2) facilitate access to early detection through screening; 3) navigate populations most at risk to genetic testing (when indicated); and 4) provide access to cancer care of specialized cancers of the breast, multiple myeloma, and prostate.
This three-year study will enroll 600 African American adults from  20 faith-based sites across both rural and urban counties in Georgia that are ranked with some of the poorest health indicators and outcomes in the state and across the nation.
The research study and educational program for these three cancer types are made possible by a $3.3 million grant from the Bristol Myers Squibb Foundation as part of its commitment to health equity, which focuses on raising disease awareness and education, increasing health care access and improving outcomes for medically underserved populations. In 2015, the Georgia Cancer Center received its first c-CARE grant from the Bristol Myers Squibb Foundation, which was used to develop an educational program for lung cancer awareness, navigation to screening, and cancer care when needed.
"We are so thankful to the Bristol Myers Squibb Foundation for working with our team on this new grant award," Tingen said." Dr. Samantha Sojourner, who will serve alongside Tingen in leading the c-CARE II initiative, will work with faith-based leaders and community health care workers across Georgia to identify participants for the study.
"The idea is to let them know about risk factors for breast cancer, multiple myeloma and prostate cancer and provide seamless navigation to needed screening and treatment resources so we can reduce the number of Georgians diagnosed with those three cancers and facilitate their care when needed," Tingen said.
Yearlong Study of Coronavirus in Frontline Workers Underway
Fifteen hundred frontline workers are being recruited for a yearlong study to find what percentage are positive for the virus that causes COVID-19, what percentage become positive and whether the antibodies they produce protect them from reinfection.
"Once you get infected, does your body have the capacity to prevent reinfection and for how long are important bottom-line questions," says Dr. Ravindra Kolhe, director of the Georgia Esoteric and Molecular (GEM) Laboratory, and vice chair for translational research in the Medical College of Georgia Department of Pathology.
Frontline workers will get initial testing for the virus, then biweekly follow-up testing for the virus as well as antibodies in the blood and/or saliva that indicate the body is fighting the infection, says Kolhe, principal investigator on the federally funded study at Augusta University.
Kolhe's study is among four National Institute of Allergy and Infectious Diseases-funded projects totaling $1.9 million called the SARS2 SeroPrevalence And Respiratory Tract Assessment, or SPARTA, study at the University of Georgia College of Veterinary Medicine, MCG and Augusta University Health System, the University of California, Los Angeles and St. Jude's Children's Research Hospital.
Letter to the Editor from Pranav Jain
For many physicians, the joys of working in health care come from helping people. This call to help others often creates a sacred bond of trust between the physician and the patient. For better or worse, the evolution of society and technology has made a profound impact on this relationship. While texts, emails and social media are intended to make us feel more connected, this technology can also make the physician/patient relationship less personal and more transactional. As a practicing physician and a member of Northeast Georgia Health System's (NGHS) information technology team, I know I'm always trying to find that perfect balance – using available electronic tools to create transparency with my patients, while growing the bond of trust with them.
Over the past decade, the theory that increased transparency is beneficial for patients has been tested by several healthcare organizations across the country. Research shows that most people remember less than half of what they discuss with their medical professionals during a visit. Sharing health records like labs, radiology reports and clinical notes with patients improves that recall.  We know that transparency increases patients' engagement in their health and improves communication with their healthcare team. It also can help people manage their health care in a way that makes them feel more confident, prepared and in control. The importance of transparency has also been recognized at a national level, and there are new federal regulations, like the 21st Century Cures Act, that also support this perspective.
At NGHS, we accelerated our transparency journey in October 2017, when we implemented Epic as our community's electronic health record. Our Epic implementation includes a patient portal called MyChart, which allows patients to see their lab and radiology results and communicate with their physicians. Beginning November 2, 2020, we are putting our foot on the gas again, as we will begin sharing clinical notes with patients, as well as labs, radiology and pathology reports, in real time. I believe this change will empower patients to improve their health and participate more meaningfully with their healthcare team.
We have a shared responsibility in this new age of transparency. As patients, after November 2, you will be reading physician notes that can help reinforce the plan discussed during your visit. You will get the most out of this increased transparency if you see your medical records as a starting point for your to-do list. This list can guide you to a better state of health and should be brought to your future physician visits for discussion. Keep in mind, the physician notes will have complex medical terminology because they are records of a patient's health used by other clinicians to direct care.
Nov. 2 will mark a big change for both physicians and patients, and we all know change is hard. In the end, I believe increased transparency will improve the way patients interact with physicians, strengthening that special bond – helping us focus less on transactions and more on the long-term relationship. If you don't have a MyChart account already, I encourage you to visit mychart.nghs.com to create an account and join us in this journey.
Pranav Jain, MD
Chief Medical Informatics Officer for Northeast Georgia Health System

Georgia Hospital Association
1675 Terrell Mill Road
Marietta, GA 30067
Click here to update your subscriptions.