Click here if you are having trouble viewing this message.
October 24, 2020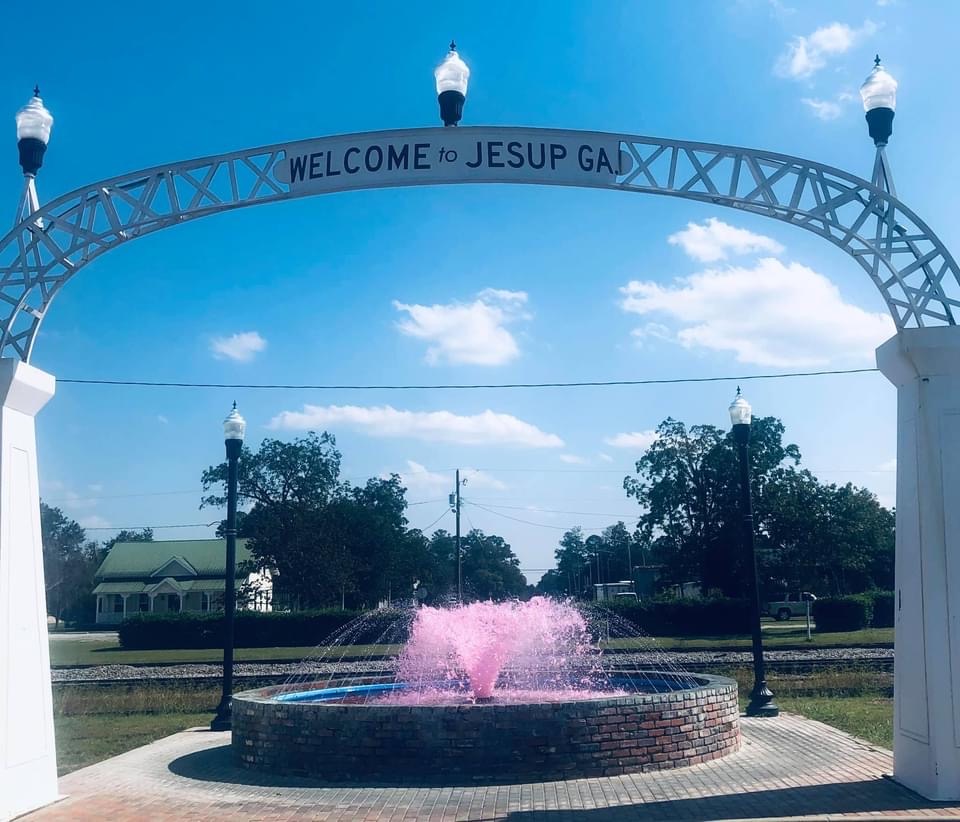 City Fountain in Jesup Turns Pink in Honor of Breast Cancer Awareness Month
The crisp blue sky on Oct. 16 provided a beautiful backdrop in which to "pink" the fountain in downtown Jesup in honor of Breast Cancer Awareness Month. Doing the honors with Jesup Mayor David Earl Keith were daughter Hanna Keith Lewis and Jerilyn Scott Bennett. Lewis and Bennett have battled breast cancer, with their families' support. Mrs. Bennett's husband and son, Albert and Cody, were also present as well as City Manager Mike Deal and Downtown Director Molly O'Hearon Hall.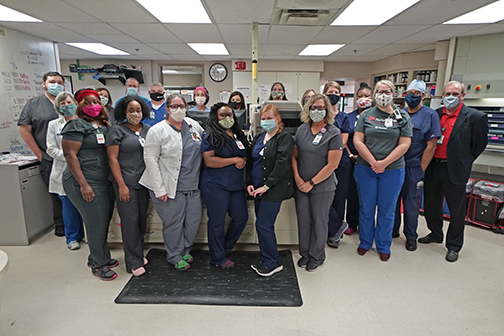 Members of the Phoebe Pharmacy team.
Phoebe Pharmacy Honored
for Outstanding Response to COVID-19
The Phoebe Pharmacy team was honored by the Georgia Society of Health System Pharmacists (GSHP) for its outstanding response during the COVID-19 pandemic.  GSHP presented the Phoebe Putney Health System Pharmacy Staff and Corporate Director of Pharmacy Services Marty Kelvas with its 2020 Outstanding Community Volunteer Service Award. 
"In my 44 years as a pharmacist, I have never seen a team work so hard and work so well together. They overcame unimaginable challenges with incredible ingenuity and a compassionate commitment to our patients, and I could not be more proud of them," Kelvas said.
The award is presented annually to a GHSP member who has demonstrated significant contributions to their local community outside of normal job duties. 
The Phoebe Pharmacy team was praised for taking on extra shifts and working around the clock to obtain critical medications at a time when southwest Georgia had one of the highest per capita outbreaks of COVID-19 in the world. 
In announcing the award, GHSP Past President Jennifer Stern-Allison said, "Medication dispensing was reorganized to provide nurses the medications they needed. Additional critical care units were created and quickly set up and stocked by the pharmacy. Pharmacy took the lead in developing protocols for the management of COVID-19.  Working side by side with physicians and nurses, they provided consistent care, assisted with making drug therapy choices in the face of critical drug shortages and rapidly changing medical information."
The Phoebe Pharmacy staff is made up of 58 pharmacists, 56 pharmacy techs, four residents, one intern and four University of Georgia Pharmacist Faculty. The department includes licensed pharmacies at all four Phoebe hospital campuses as well as an Employee Pharmacy, a Hematology/Oncology Pharmacy at both Phoebe Main and Phoebe Sumter, and a new Phoebe Specialty Pharmacy that will open within the next month. The department also administers a 340b Drug Discount Program and Indigent Drug Assistance Services at all four hospitals. The team processed 5,818,824 medication orders this past fiscal year to patients at Phoebe hospital campuses.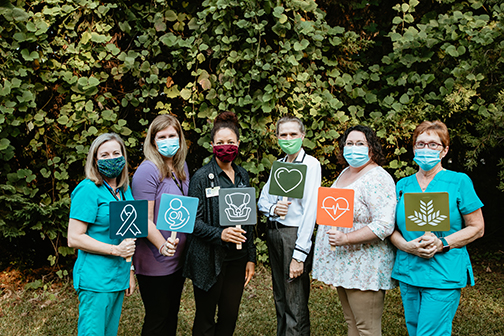 Northeast Georgia Health System Celebrates 20 Years of Employee Giving
During October, Northeast Georgia Health System (NGHS) is celebrating 20 years of employees giving back through the NGHS Foundation's employee giving club, We Are Targeting Community Health (WATCH).
For 20 years, employees have generously donated more than $11 million to help improve the quality of patient care, the lives of fellow employees and the health of the community through their gifts to WATCH.
Key projects supported by WATCH:
WATCH Walkway at Northeast Georgia Medical Center (NGMC) Braselton – a ¾ mile walking trail enjoyed by members of the community and staff on breaks

The new NGHS Mobile Simulation Unit – a mobile simulation vehicle used throughout the region to train healthcare professionals using new equipment and procedures

Change Grants – a program in which employees can propose new projects or processes to enhance patient experience, improve employee morale or impact patient-family satisfaction. Past Change Grants have funded:

NGMC Barrow's employee library

NGMC Gainesville's "Donate Life" flags and flagpoles
NGHS employee donors also make the following possible:
Employee scholarships and career training

Emergency assistance program for employees enduring personal hardships

Population health initiatives throughout Northeast Georgia, including efforts to impact mental and behavioral health, access to care and more

COVID-19 relief efforts
"Through WATCH, 100% of senior leadership and more than half of NGHS staff are committed to enhancing the compassionate care that we provide," said Melissa Tymchuk, chief of staff to the president and CEO for NGHS. "By giving back to NGHS, WATCH employee donors are investing in our core values and ensuring we will be better tomorrow than we are today."
Learn about NGHS' employee giving program.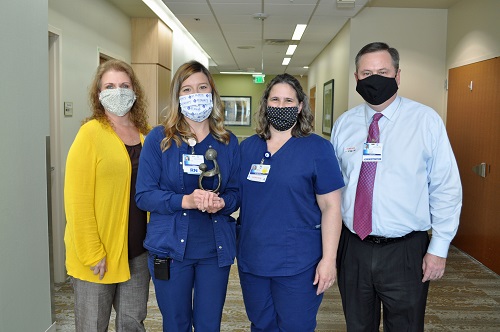 St. Mary's DAISY Award recipient Jami Bolman Taylor, RN, second from left, poses with Sacred Heart Hospital leadership after receiving her award. From left to right are: Regina Hooper, Director of Nursing; Jami Taylor; Kim Driver, Medical/Surgical Unit Manager; and Jeff English, Sacred Heart Hospital President.
Sacred Heart Nurse & Toccoa Native Receives St. Mary's DAISY Award for Excellence
Jami Bolman Taylor, a registered nurse who works on the medical/surgical unit at St. Mary's Sacred Heart Hospital and in other units as needed, has received St. Mary's system-wide DAISY Award for nursing excellence.
"Jami started as a new nurse and in her four years at Sacred Heart has become one of our most valued employees," says nurse manager Kim Driver. "Jami is energetic and enthusiastic, and there is no challenge she is afraid to tackle. She is truly an extraordinary nurse."
Taylor's nomination highlighted the special care she provided to a dying patient and their family. The patient was unable to receive visitors, but Taylor took extraordinary measures to ensure the family could stay in touch, including bringing the patient's bed to the window so they could see each other in person, as well as numerous virtual visiting measures such as helping the patient record a message for them and posting written prayers and notes of love throughout the patient's room.
"This example shows beautifully not only what kind of nurse Jami is, but what kind of person she is," says Sacred Heart President Jeff English. "No matter what the need is, Jami is always willing to lend a hand."
In addition to her work as a staff nurse, Taylor often serves as charge nurse for the medical/surgical unit and "floats" to other areas when needed, including the mother/baby unit and critical care unit. She also works nights on occasion.
Taylor grew up in Toccoa and still resides there with her husband, son and daughter. Her husband and parents were able to join Sacred Heart staff for the award presentation on Thursday, Oct. 22.
At St. Mary's, each DAISY Award recipient is recognized at a COVID-safe public ceremony on their unit. They receive a certificate, a DAISY Award pin, and a hand-carved sculpture entitled "A Healer's Touch." In addition, they and their colleagues are invited to celebrate the occasion with cinnamon rolls, a favorite of the young man whose nurses inspired the creation of the DAISY Foundation.
Houston Healthcare da Vinci Robotic Cases Surpass 400
On Thursday, Oct. 22, Houston Medical Center completed its 400th robotic-assisted surgical case. In November 2019, the first robotic case was performed with assistance of the da Vinci Xi Surgical System.
The da Vinci Xi System was designed with the goal of further advancing the technology used in minimally invasive surgery. The system can be used across a spectrum of minimally invasive surgical procedures and has been optimized for multi-quadrant surgeries in the areas of gynecology, urology, thoracic, cardiac and general surgery.
"Houston Healthcare is proud to offer robotic surgery. Our robotic equipment assists the skilled physician in providing minimally invasive surgery," shares Dr. Mindy Hartley, DNP, MBA-MHA, RN, NE-BC, chief operating officer for Houston Healthcare. "This tool allows the physician to make small incisions and a high definition look inside the body while the physician performs the surgical procedure. Investment in this technology is another way Houston Healthcare is working to provide our community with exceptional care 'at home' in our county."
Houston Healthcare physicians using the da Vinci Xi system initially included general surgeons but has now expanded to a gynecologist. Robotic surgery significantly decreases recovery time, infection rates, blood loss, and pain. Because of this, the use of robotic surgery improves patient care, reduces length of stay, and consumes fewer resources.
One physician, Dr. Kerry Rodgers, general surgeon on the medical staff at Houston Medical Center, has championed the program from its inception and continues to be an advocate for the benefits to the patient. "The da Vinci robot is the greatest technological contribution to surgery since the scalpel, and I really love it," says. Dr. Rodgers. "Patient recovery has been reduced to days, not weeks, and many patients require no opioid pain medication at all!" Dr. Rodgers has now completed his 200th case using the da Vinci Xi robot.
Modern Healthcare names young Emory Healthcare executive in Top 25 Emerging Leaders list
Modern Healthcare has selected Hannah Henry, MBA, Emory Johns Creek Hospital (EJCH) vice president of operations, as an honoree in its "Top 25 Emerging Leaders" list.
The 2020 list recognizes the most impressive rising stars in the health care industry who have made significant contributions in the area of health care administration, management or policy. The publication chose the recipients based on actions they've taken during the COVID-19 pandemic to help their organization achieve or exceed financial, operational and clinical goals.
"During the COVID-19 pandemic, Hannah has served as an exceptional chairperson for Emory Healthcare's clinical operations group which impacts operations for more than 26,000 physicians, nurses, staff and employees," says Bryce Gartland, MD, Emory Healthcare Hospital Group President.
The young executives recognized in the list also demonstrate the ability to contribute to a culture of innovation and transformation. Marilyn Margolis, MN, RN, NEA-BC, EJCH Chief Executive Officer says Henry's work has improved the hospital's productivity, capacity and growth.
"Hannah has worked tirelessly during the COVID-19 pandemic to collaborate and problem solve to ensure the best outcomes for our patients and staff, while continuing to oversee multiple service lines including radiology, pharmacy, rehabilitation therapy and our wound care center," says Margolis. "I couldn't think of anyone more deserving of this acknowledgement and I'm confident Hannah will continue to lead Emory Johns Creek Hospital to new heights with her commitment to process improvement, patient care and employee engagement." 
See the complete listing of Modern Healthcare's Top 25 Emerging Leaders list.
Wellstar Health System Recognized as Cancer Treatment Leader 
Wellstar Health System, one of Georgia's largest and most integrated health care systems, announced that the Wellstar Cancer Network was recently recognized nationally as a cancer treatment leader. Honored with an Outstanding Achievement Award from the American College of Surgeons Commission on Cancer and designated as a Care Continuum Center of Excellence by the GO2 Foundation for Lung Cancer, the Wellstar Cancer Network continues to pioneer innovative cancer treatments and technologies to improve outcomes and quality of life for patients.
"Wellstar Health System is dedicated to providing patients with the highest quality of compassionate and personalized care," said Dr. Michael Andrews, chief cancer Officer of the Wellstar Cancer Network. "We are extremely proud of the Wellstar Cancer Network and our team of highly skilled physicians, nurses and oncology support services who excel at treating the spectrum of cancer illnesses with the most advanced, patient-centric technologies and treatments. We are focused on enhancing the health and well-being of everyone we serve, with a commitment to delivering world-class cancer care."
Wellstar earned an Outstanding Achievement Award for the third consecutive cycle from the American College of Surgeons Commission on Cancer (CoC). The highest honor in the United States awarded to a cancer program, the Wellstar Cancer Network was recognized for achieving excellence in providing care to cancer patients. Award recipients must have received commendation ratings in all seven commendation standards and receive a compliance rating for each of the 27 remaining cancer program standards.
Wellstar was also recognized by the Care Continuum Centers of Excellence (CCCOE), a program of the GO2 Foundation for Lung Cancer which identifies community hospitals that meet rigorous qualifying criteria and demonstrate collaborative leadership across the lung cancer care continuum. GO2 Foundation formed the Care Continuum Centers of Excellence program to enable patient access to standard of care lung cancer screening, early detection, diagnosis, treatment and survivorship in their local community. Meeting the CCCOE criteria puts member hospitals on par with leading academic and research institutions and provides patients with access to the latest innovations not typically found in community hospitals. The CCCOE program promotes a standard of compassionate and timely care excellence with, as well as treatment options that improve survivorship. 
St. Mary's Providing Free, Fresh Food to Those in Need
St. Mary's Hospital in Athens and St. Mary's Sacred Heart Hospital in Lavonia are providing free, fresh food to people in need in the community.
Under the Families First Coronavirus Response Act, the U.S. Department of Agriculture (USDA) announced that the Farmers to Families Food Box Program will distribute up to $3 billion worth of fresh produce, dairy, and meat products to families in need. USDA identified eligible counties within each state, and two St. Mary's hospitals are located in counties eligible to receive food boxes: St. Mary's Hospital in Clarke County and Sacred Heart Hospital in Franklin County.
St. Mary's is collaborating in this special community event with Metz Culinary Management, the system's regional food service vendor, and with Sysco Atlanta. Every food box is 30-40 pounds of fresh fruit, vegetables, dairy, meat and eggs.
Each hospital has approximately 1,250 food boxes to distribute to families in need of food on a first-come, first-served basis. No documentation, identification or paperwork is needed to receive the food box.
St. Mary's Health Care System Farmers-to-Families dates
Friday, Oct. 30, 9 a.m.-noon: Sacred Heart Hospital, 367 Clear Creek Dr, Lavonia, GA 30553. Please drive towards the left side of hospital near the Wellness Center to the distribution site. You may remain in your vehicle and the food box will be placed in your backseat or trunk.

Saturday, Oct. 31, 9 a.m.-noon, St. Mary's Hospital, 139 Alps Road, Athens, GA 30606. Please drive through the Alps or Broad Street entrances. The distribution site will be on St. Mary's campus behind Zoe's Kitchen. You may remain in your vehicle and the food box will be placed in your backseat or trunk.
Breast Cancer Risk Reduction Tips 
Last spring, as the pandemic took hold, 49-year old Wellstar case manager Cindy Tull went from managing patients to becoming one herself when a routine mammogram showed signs of stage one breast cancer. Early detection and treatment can save lives, and it saved Cindy's.
Breast cancer screenings are vital for women—especially women in Georgia—even during the COVID-19 pandemic. Our state's stats are astounding: breast cancer is the most common cancer diagnosed and the second leading cause of cancer death among women in Georgia. Women in metro Atlanta, specifically, have significantly higher breast cancer cases, death, and late-stage diagnosis rates when compared to the rest of the state and the U.S., according to Georgia Department of Public Health. Even more alarming is the fact that one in eight American females will develop breast cancer in her lifetime. 
The Wellstar Foundation is offering a no cost mammogram service to uninsured and under-insured patients through a partnership with Susan G. Komen Greater Atlanta.
Breast Health Tips:
Women 40 and older with breasts should get an annual mammogram.

Modifiable risk factors to help prevent breast cancer: physical inactivity, smoking, diet, alcohol intake, nightshift work.

Lifestyle changes to reduce risk:
Planning for first birth before the age of 30.

Breastfeeding for at least six months.

Avoidance or limited duration of use of menopausal hormone therapy.

Avoidance or cessation of smoking.

Limiting alcohol intake.

Maintenance of a healthy weight.

Limiting nocturnal-shift work.

Adopting a physically active lifestyle. This should include at least 150 minutes of weekly moderate-intensity activity, 75 minutes of weekly vigorous-intensity activity, or at least some physical activity above one's usual routine, in addition to limiting sedentary behavior.
Women with a family history of breast cancer should talk to their healthcare provider about their risk, some women should start mammograms before age 40.

Wearing a properly fitting bra can help prevent breast pain.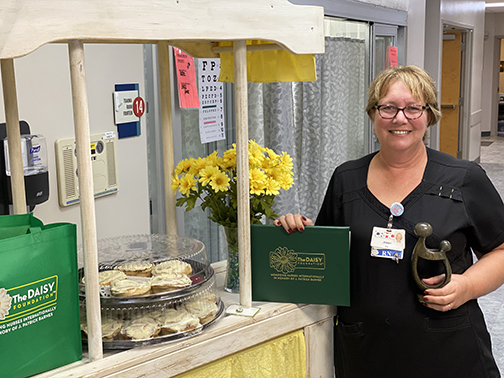 Coffee Regional Medical Center Recognizes DAISY Award Winner, Jenny Thompson, RN
Created in 1999 by the family of J. Patrick Barnes, The DAISY Foundation honors nurses internationally. Mr. Barnes's family was positively impacted by the nurses who skillfully and compassionately cared for Patrick during his eight-week hospitalization. Unfortunately, Mr. Barnes did not survive his illness; however, the nursing care he received when hospitalized profoundly touched his family. The Barnes family wanted a way to honor their loved one and chose to recognize nurses everywhere for their dedication. The DAISY Foundation has been utilized by over 4,500 healthcare facilities and nursing schools in the U.S. and worldwide.
Anyone in their organization may nominate nurses as well as those outside the organization – patients, family members, other nurses, physicians, and other clinicians and staff – anyone who experiences or observes extraordinary & compassionate care.
Coffee Regional Medical Center (CRMC) holds The DAISY Award ceremonies, recognizing these extraordinary nurses throughout the year. Each nominee is recognized, and one winner is chosen, for each quarter, from those nominees.
On Oct. 15, a ceremony was held to honor The DAISY Award winner for the second quarter of 2020 - Jenny Thompson, RN. Jenny is a registered nurse in the emergency room and was nominated by a patient family member for showing professionalism and compassion during a very difficult time.
This historic pandemic has resulted in some of the most trying times to be a health care provider. Coffee's entire team of caregivers have shown unwavering determination and drive throughout the pandemic. We are so very proud to have you on our team. Thank you for all you do each day to care for our patients (and each other) while staying true to Our Purpose; To Serve, To Heal, To Save. 
National Academy of Medicine Elects Two Emory researchers and leaders in 2020 class
The National Academy of Medicine (NAM) has elected Denise J. Jamieson, MD, MPH, and Susan Margulies, PhD, to its prestigious 2020 class, consisting of 100 new members. Election to NAM is considered one of the highest honors in the fields of health and medicine and recognizes individuals who have demonstrated outstanding professional achievement and commitment to service.
Jamieson is the James Robert McCord Professor and Chair in the Department of Gynecology and Obstetrics, Emory University School of Medicine, and chief of gynecology and obstetrics for Emory Healthcare. Jamieson's research interests focus on emerging infectious diseases in pregnancy, beginning with HIV and then broadening to include other emerging infections including H1N1 influenza, Ebola virus disease, Zika and now COVID-19. 
Margulies is the Wallace H. Coulter Professor and Chair in the Department of Biomedical Engineering (BME) at Emory University and Georgia Institute of Technology (Georgia Tech), a shared department between the two schools. She is also a Georgia Research Alliance Eminent Scholar in Injury Biomechanics. Her research interests center around traumatic brain injury in children and ventilator-induced lung injury with a focus in these areas on prevention, intervention and treatments.  
New NAM members are elected by current members through a process that recognizes individuals who have made major contributions to the advancement of the medical sciences, health care and public health.
Jamieson and Margulies are paving the way for women in the fields of science and medicine. They represent two of three female chairs in Emory University School of Medicine out of 28 chairs within the school.
"We are excited to have two stellar faculty members join the ranks of the National Academy of Medicine this year," says Jonathan S. Lewin, MD, executive vice president for health affairs at Emory University and CEO of Emory Healthcare. "Both Susan and Denise have contributed immensely to their fields of research and are exceptional leaders here at Emory and nationally in their specialty areas. We congratulate them on this newest achievement."
Memorial Health to Host Drug Take Back Day on Oct. 24
Memorial Health is hosting a Drug Take Back Day today. All expired and unused medications including tablets, capsules and patches will be accepted. Liquids, needles, syringes, lancets, inhalers and aerosols will also be accepted. Our collection site will be conveniently located across from the hospital main entrance at 4700 Waters Avenue and will be drive-thru only so individuals do not have to get out of their car. Due to the pandemic, please wear a mask when dropping off your medications.
The goal of this event is to raise awareness about the proper disposal of medications and the dangers of opioid misuse. It aligns with the Drug Enforcement Administration's (DEA) National Prescription Drug Take Back Day and invites community members to safely and anonymously dispose of unused or expired prescription medications.
 According to the Centers for Disease Control and Prevention, an estimated 2 million people in the U.S. suffered from an opioid use disorder and more than 67,000 Americans died from drug overdoses in 2018. As the COVID-19 pandemic continues, the U.S. is seeing an increase in opioid usage, with 40 states reporting increases in opioid-related mortality, according to the American Medical Association (AMA).
"Stress related to the COVID-19 pandemic may be exacerbating the opioid crisis by causing many Americans to have feelings of anxiety, grief, isolation, financial worry, and an ongoing sense of uncertainty, affecting those with substance use disorders as well as those at risk of developing one," said Dr. Jay Goldstein, medical director for emergency services. "It's more important than ever to get unused pain medications out of homes and to educate the community about the serious threat of opioid misuse."
Memorial Health's drug take back event is part of HCA Healthcare's second annual national "Crush the Crisis" opioid take back day. In fall 2019, 100 HCA Healthcare facilities in 16 states collected 5,887 pounds of unused and expired medications at nationwide drug take back events; the Savannah event collected 441 pounds of medications.
State's Only Public Medical School Growing Class Size
Next year the Medical College of Georgia at Augusta University is further expanding its class size — already one of the largest in the nation — to continue to address the physician shortage in one of the country's most populated and fastest growing states.
The state of Georgia's only public medical school, the ninth largest class size among the nation's more than 150 allopathic medical schools, will increase its enrollment from 240 students per class to 260 beginning with the 2021/22 academic year, with plans to grow to 300 students per class over the next five years.
The main campus in Augusta will grow from 190 to 200 students per class in August 2021 and the Augusta University/University of Georgia Partnership Campus in Athens will increase its class size from 50 to 60 students. 
"As the state's medical school it is our mission and our responsibility to address the state's growing physician shortage," says MCG Dean Dr. David Hess. "We not only need to grow the number of physicians we educate, but we need to find ways to keep them in Georgia, especially underserved Georgia, to practice once they graduate and complete a residency program in their chosen field."
Georgia remains one of the fastest-growing states in the country. The state's 10-year growth rate of 14.4% is more than 1.5 times that of the U.S. population growth rate and population projections forecast a 17.7% increase in Georgia's population by 2030, according to the Georgia Department of Economic Development. 
Yet Georgia ranks near the bottom – 39th – in the number of physicians per capita, according to data from the Association of American Medical Colleges. 
It's a national problem too – one that's only growing. According to a June report from the AAMC, the country is facing a looming shortage of between 21,400 and 55,200 primary care physicians and between 33,700 and 86,700 non-primary care physicians by 2033. 
"There is a significant physician shortage that continues to be a health problem for Georgia," says MCG Vice Dean for Academic Affairs Dr. D. Douglas Miller. "But the distribution of doctors also continues to be an issue. We're working to try to ensure that more physicians practice in the areas of the state with the greatest health needs."
Nine of the 159 counties in Georgia have no physician. The numbers are worse when it comes to frontline primary care physicians – 18 counties have no family medicine physician; 32 no internist; 60 no pediatrician; 74 no general surgeon; and 76 no OB/GYN. 
The medical school's growth in class size and an innovative new curriculum aim to change that. Beginning with the MCG Class of 2024, which started in August, the medical school's 3+ curriculum provides a more efficient pathway into primary care for a percentage of its students. The MCG 3+ Primary Care Pathway would see some students graduate in three years and enter directly into a Georgia primary care residency program. In exchange for a service commitment to an underserved area of the state, and dependent on future funding, those students would receive a scholarship to cover their tuition.
"It is the deliberate responsibility of the state's public medical school to bear the brunt of workforce development in support of the state's physician workforce needs," Miller explains. "We have to be deliberative about growth. Until we revised the curriculum and created the MCG 3+ Program, we couldn't balance growth and distribution of doctors. This is the right time to do both for Georgia."
Advancing Health with Free Prostate Cancer Ccreenings at Tanner
Tanner Health System and West Georgia Urology are providing free prostate cancer screenings to men age 50 and older on Tuesday, Nov. 10, helping detect prostate cancer early. Men younger than 50 with a family history of prostate cancer also should be screened. Screenings will be held from 5:30 to 7 p.m. in Carrollton and Villa Rica.
Everyone will be required to wear masks and stay 6 feet apart inside buildings. Hand sanitization stations will available.
New Travel Reimbursement System Available to Veterans and Beneficiaries
The U.S. Department of Veterans Affairs (VA) recently announced that the Carl Vinson VA Medical Center (CVVAMC) will now use the new Beneficiary Travel Self-Service System (BTSSS) to reimburse eligible Veterans and beneficiaries for travel to and from VA medical appointments.
The new system will allow users to submit and track transportation reimbursement claims using a secure web-based portal on the Access VA, available 24/7, 365 days a year.
"Thanks to the important innovations and dedication to information technology, we are proud to say we have streamlines this process making it easier for users," said David L. Whitmer, Carl Vinson Medical Center director. "The BTSSS replaces the need for older, manual tracking methods, bringing this process in line with many of our other web applications."
BTSSS has many advantages, for example, it:
Reduces the need for completing hard copy claim submissions in-person at the facility by replacing and eliminating the previous kiosk method.

Provides an easy to use web-based application that allows you to enter your claim over the internet via

AccessVA

.

Ensures timely processing and payment of travel reimbursements and reduces manual intervention and improper claim payments through automated features

Authenticates the Veteran or Beneficiary by: 1.) VA PIV card; or 2.) A DS Logon Level 2 account.
BTSSS will be available at the CVVAMC beginning in November 2020. As BTSSS goes live, the need for kiosk will be discontinued, however, in person and hard-copy claims submission will still be available. For information on eligibility, visit VA's Travel Pay Reimbursement site.

Georgia Hospital Association
1675 Terrell Mill Road
Marietta, GA 30067
Click here to update your subscriptions.