Click here if you are having trouble viewing this message.
October 17, 2020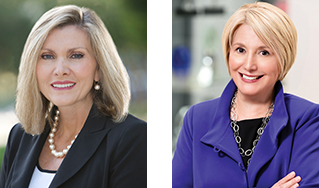 Children Healthcare of Atlanta's Donna Hyland (left) and Wellstar Health System's Candice Saunders.
Two Georgia Hospital Leaders Receive Honors
"The 25 Most Influential Atlantans" were featured in the October issue of The Atlantan magazine. Wellstar Health System's Candice Saunders and Children's Healthcare of Atlanta's Donna Hyland made the prestigious list with the likes of John Lewis, Ted Turner, Bernie Marcus, Arthur Blank, Ed Bastian, Tyler Perry, and Sara Blakely. Click here to view the complete list.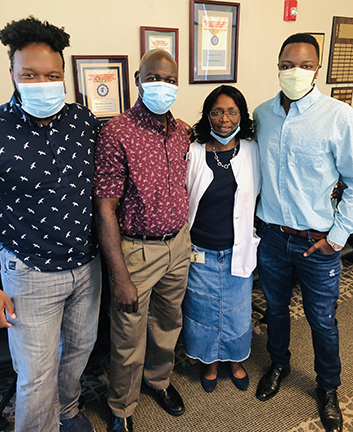 Angela Wilson (center right), 40+ year employee of Wayne Memorial, retires surrounded by her husband (center left) and sons.
First Job, Last Job:

 

Wayne Memorial 

Employee Retires After More Than Four Decades
Angela Wilson, dietetic technician and a Wayne Memorial Hospital employee for more than 40 years, recently retired. She is one of the rare people whose first job was also her last job.
For Wilson, her connection to health care all started in the fifth grade. A nutrition class sparked her interest, particularly the lesson of the 4/4/3/2 food groups. Her dad taught in the local school system and heard a fellow teacher was looking for students to place into the program. So, at age 14, when her dad asked if she would be interested in working at the hospital, she agreed and continued to do so for the next two years.
The CETA (Comprehensive Employment and Training Act) program allowed her to work in a school-work program with 15 hours maximum per week worked. After her sister, who was working in the nutrition department left her post to pursue nursing, Wilson followed in her footsteps and filled the vacancy in nutrition, where she continued to work for the next 40 years. Her first supervisor was Charlene Hand and her last supervisors were Misty McCormick and Emily Jones.
When asked about her best memories of her time served at Wayne Memorial, Wilson remarks how much she likes the word "serve." "I met and worked with really great people. Patients grew to trust me and I had many wonderful years. I hope I inspired people to let the light of the Lord shine."
Her favorite aspect of her role as a hospital dietician is "educating patients and working as a liaison between food service, doctors and nursing staff." When asked for any advice she'd give to young people entering the health care workforce today, she says, "Go for it. It's rewarding to know that you can help people." She warns there is lots of studying to do and learning on the job because the field is very broad, but that it's "exciting along the way, especially when you have great people to work with."
Wilson shares she's looking forward to staying home, spring cleaning, writing poetry, inspirations and songs." With her first grandbaby on the way in March, Wilson says, "The Lord has laid dreams and a vision on my heart."
Lorie Hutcheson, VP of Human Resources at Shepherd Center, Honored with HR Excellence Award
The Atlanta Business Chronicle has named Lorie Hutcheson, vice president of human resources, as the winner of its "Most Innovative Use of Technology" HR Excellence Award for 2020. Lorie was nominated for the award by Nick Hendricks, principal of The Benefit Company, which helps manage Shepherd Center's benefits package. Hutcheson was recognized in an Atlanta Business Chronicle virtual event on Oct. 8.
Hutcheson joined the Shepherd Center senior management team in 2014 after working for 32 years at ING, an international financial services company. At Shepherd Center, she has been responsible for creating innovative ways to engage all employees and for establishing the culture, systems and training that develop leaders and empower employees to solve problems and focus on fully supporting the hospital's patients.
In his nomination of Hutcheson for the Atlanta Business Chronicle award, Hendricks wrote: 
"Lorie is deserving of this award for multiple reasons. She has especially done incredible work over the last year-plus. Shepherd Center has an incredible culture that all companies would be envious of. The ability to initiate so much change while keeping the culture intact is the job that deserves recognition.
"Over the course of the last year, the Center has completely switched electronic health record systems to EPIC and transitioned HRIS to Workday!" Hendricks said. "These are two massive projects that were only accomplished by a pure vision and gritty hard work from Lorie and her colleagues. Her tenacity for doing what is right for Shepherd Center and the patients they take such great care of allowed for clear and decisive leadership in these changes.
"Additionally, her cohesive working relationship with the Shepherd CEO and the executive team allowed for a strategically sound endeavor from the start. There is no one more deserving of this recognition than Lorie," Hendricks added.
Jagdeep Singh named Chief Medical Officer of St. Francis-Emory Healthcare
St. Francis-Emory Healthcare is pleased to announce that Jagdeep Singh, MD, has been named the chief medical officer, effective Oct. 12, 2020. Dr. Singh joins St. Francis from Norwegian American Hospital in Chicago, Illinois, where he served as the chief medical officer and chief of clinical operations since 2018.
"We are so pleased to welcome Dr. Singh back to St. Francis in this important leadership role," said Melody Trimble, chief executive officer (CEO) of St. Francis. "Dr. Singh's experience as a Chief Medical Officer will serve us well." 
Dr. Singh has fifteen years of experience as a chief medical officer for non-profit and for-profit facilities. Singh previously served as chief medical officer for Piedmont Henry Hospital in Stockbridge, Georgia; vice president of medical affairs with Catholic Health System in Buffalo, NY; and as clinical management consultant and emergency physician at St. Francis Hospital, Columbus, GA, and as the EMS medical director for the city of Columbus.
"I am delighted to be back at St. Francis. It feels like a homecoming," said Jagdeep Singh, MD, chief medical officer of St. Francis. "St. Francis has a long history of being a health care leader in the community. It is an exciting time for St. Francis as the academic affiliation with Emory Healthcare, opens opportunities to further enhance clinical service lines and expand the legacy of St. Francis in the community."
Dr. Singh received his medical degree from Government Medical College in Amritsar, PB, India, and his MBA from Auburn University. He completed his residency in family practice at Flower Hospital in Sylvania, OH, and his fellowship in emergency medicine from UT, Memphis, TN. He is board-certified in family practice, has certification in medical management, ACPE, and Fellow of the American College of Healthcare Executives (FACHE).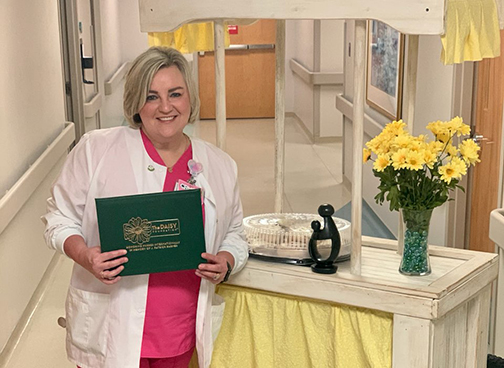 Coffee Regional Medical Center Recognizes DAISY Award Winner, Christy Knight, RN
Honoring nurses internationally, The DAISY Foundation was created in memory of J. Patrick Barnes. His family was positively impacted by the nurses who skillfully and compassionately cared for Patrick during his eight-week hospitalization. They wanted a way to honor their loved one and chose to recognize nurses everywhere for their dedication. The DAISY Foundation was created in 1999 and has been utilized by over 3,400 healthcare facilities in the U.S. and worldwide.
Nurses may be nominated by anyone in the organization and those outside the organization – patients, family members, other nurses, physicians, and other clinicians and staff – anyone who experiences or observes extraordinary & compassionate care.
Coffee Regional Medical Center (CRMC) holds ceremonies recognizing these extraordinary nurses throughout the year. On Oct. 7, a ceremony was held to honor Christy who is a registered nurse in our Labor & Delivery Unit. She was nominated twice by fellow employees for going above and beyond to ensure her patients are cared for in a professional and compassionate manner.
Local CMN Coordinator Receives National Award
Becca Miller, Children's Miracle Network Hospitals (CMNH) coordinator with Phoebe Foundation, has been awarded the Stephanie Melemis Award by CMNH. The award is CMNH's highest honor and recognizes someone at a CMN Hospital who embodies selflessness and commitment to service.
"I am extremely honored to be selected as this year's recipient of the Stephanie Melamis Award. I have been passionately fundraising for Children's Miracle Network since my freshman year of college, and I know this cause will always be close to my heart. I believe that every child deserves the best medical treatment possible to allow them to survive and thrive, and it's a privilege to have a small part in giving infants and kids that chance locally," said Becca Miller, Children's Miracle Network & Development Coordinator, Phoebe Foundation.
CMNH has always held a special place in Miller's heart. As a University of Georgia student, she participated in UGA Miracle Dance Marathon, which raises funds for CMNH. In 2016, she brought that passion and enthusiasm from college to the Phoebe Foundation.
Since joining the foundation, Miller has re-engaged hospital staff and all CMNH partners in southwest Georgia. She launched "May is for Miracles", a departmental miracle balloon fundraiser within the hospital, and created innovative ways to engage partners like Walmart, DQ, Publix, IHOP and REMAX. Each year Miller hosts the annual NICU Reunion Party – reuniting our NICU families with nurses and physicians who cared for their newborns. She also launched the Extra Life gaming fundraiser last year and will host the first Play Yellow golf tournament in April 2021 – all benefiting CMNH.
"We could not be more thrilled to have one of our very own honored with this national recognition," said Carolyn Higgins, president & chief fundraising officer, Phoebe Foundation. "Becca's creativity and enthusiasm for the cause is inspiring and she could not be more deserving of this award. She has a relentless commitment to the kids in the communities we serve." 
Every penny raised locally to benefit Children's Miracle Network Hospitals stays in southwest Georgia to help medical professionals treat local children. Since 1997, Children's Miracle Network supporters have raised more than $4.5 million to provide specialized equipment and programs to help babies and children treated at Phoebe. From life-saving equipment to help treat the region's most critically ill newborns to life-enhancing toys in the Pediatric Unit playroom, every child needing Phoebe's care has benefited from funds raised through the Children's Miracle Network.
Houston Healthcare Facilities Receive Quality-Based Reaccreditation from DNV GL
Houston Healthcare announces the successful completion of the reaccreditation process from DNV GL - Healthcare.
By earning full accreditation, Houston Healthcare facilities located throughout Houston County, have demonstrated they meet or exceed patient safety standards (Conditions of Participation) set forth by the U.S. Centers for Medicare and Medicaid Services. DNV GL's accreditation program is the only one to integrate the ISO 9001 Quality Management System with the Medicare Conditions of Participation.
"Patient safety includes each of us at Houston Healthcare and providing our patients and their family members with safe, quality care is our top priority," says Charles Briscoe, president and chief executive officer for Houston Healthcare. "It's imperative that we remain committed to patient safety and through the DNV GL program, we are able to consistently integrate their ISO 9001 quality standards with our clinical and financial processes to help improve the overall patient experience."
Houston Healthcare has three years from the date of its accreditation to achieve compliance with ISO 9001, the world's most trusted quality management system used by performance-driven organizations around the world to advance their quality and sustainability objectives.
"We have taken an entirely different approach to accreditation, and hospitals are really responding," says DNV GL - Healthcare CEO Patrick Horine. "Since accreditation is a must-have credential for just about every hospital in this country, why not make it more valuable, and get more out of it? That's where ISO 9001 comes into play, and turns the typical get-your-ticket-punched accreditation exercise into a quality transformation."
DNV GL's accreditation program, called NIAHO® (Integrated Accreditation of Healthcare Organizations), involves annual hospital surveys – instead of every three years – and encourages hospitals to openly share information across departments and to discover improvements in clinical workflows and safety protocols.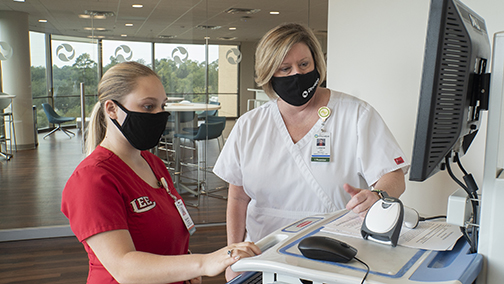 Madison Bradley and Phoebe Simulation and Innovation Center Manager Dr. Larecia Gill.
Lee County High School Students Get
Hands-On Work Experience at Phoebe
Lee County High School (LCHS) students interested in careers in health care are getting valuable work experience at Phoebe. Eight juniors and seniors who participate in the LCHS Work-Based Learning Program are currently interning in the Phoebe Simulation and Innovation Center. 
"They are so efficient. When we ask them to do something, in 10 minutes, they're back looking for something else to do.  It's working out better than we could have imagined," said Larecia Gill, PhD, RN, Simulation and Innovation Center Manager.
The students will work 5 - 15 hours per week at Phoebe for the remainder of the school year. "It helps the students learn how the real world works," said Betty Suggs, LCHS Work-Based Learning Program Coordinator. "They learn soft skills like how to present themselves and talk to people. They also see the job skills it will take to succeed in healthcare professions."
All the students are enrolled in the LCHS health care pathway and plan to pursue careers as nurses, pharmacists or other healthcare professionals. Senior Emma Hancock has been taking those healthcare classes since her sophomore year and is interested in becoming a neonatal nurse. 
"I got to sit in on classes for neonatal and mother/baby nurses, and I got to intubate one of the (mannequin) babies, and that was cool," Hancock said. "Learning what you would do as a neonatal nurse makes me want to do it even more."
The work-based learning program includes nine pathways: agriculture, business, construction, criminal justice, healthcare, marketing, NJROTC, teaching as a profession and welding. All the students chosen to work at Phoebe had to fill out an application, submit a resume and write an essay about why they want to work in health care. 
"It's a great opportunity for our kids. I just thank Phoebe for letting them come.  It's been great," Suggs said.
Right now, the students interning at Phoebe are completing tasks such as setting up the high-tech mannequins and other simulation equipment for training scenarios, cleaning up after the scenarios and stocking supplies. Phoebe nurse educators are working on curriculum that will allow the students to get more hands-on experience and work safely in some other areas of the hospital. 
Northeast Georgia Health System Partners with Lumeristo Enhance Population Health Delivery
The health care landscape is constantly changing and becoming increasingly complex each day. Health systems must have a strong foundation of providing high-quality care efficiently, as well as strong partnerships with other groups, so they can quickly adapt to the needs of the people who rely on their care. That's why Northeast Georgia Health System (NGHS) is now collaborating with Lumeris, the industry leader in value-based care outcomes, to enhance its population health capabilities.
The long-term partnership is focused on improving the overall health of the entire Northeast Georgia region by enabling NGHS to accelerate its work to expand value-based payment programs, optimize care models, develop population health management strategies and engage physicians and consumers.
"Our goal for this partnership is ultimately to ensure our health care is safer, more affordable and more personalized for the people we serve," said Carol Burrell, NGHS president and CEO, NGHS. "We've already made great strides through collaboration with strong physician partners like Northeast Georgia Physicians Group, The Heart Center of Northeast Georgia Medical Center, Longstreet Clinic and other clinically integrated groups – and we look forward to continually improving with Lumeris' expertise alongside us." 
As the leading health care provider in the region, NGHS has a long history of focusing on the needs of the community, demonstrating commitment to primary care and investing in programs across the continuum of care. That focus aligns well with the Lumeris mission to improve population health efforts and deliver the right care at the right time across populations. NGHS will leverage Lumeris' unique physician-driven model, which is designed to engage providers and increase patient satisfaction.
NGHS operates four hospital campuses with a total of more than 700 beds and more than 1,100 medical staff members representing more than 50 specialties. Last year, NGHS welcomed its first class of resident physicians, and it now plans to integrate population health management training to help empower the physician leaders of tomorrow.
"We're proud to partner with NGHS to strengthen their commitment of engaging physicians and patients to achieve superior clinical and financial outcomes, transforming healthcare in Georgia," said Mike Long, CEO, Lumeris. "Together we will navigate this transformation from volume- to value-based care, fulfilling NGHS' mission to improve the health of their community in all they do."
St. Francis-Emory Healthcare Begins to Use New Minimally Invasive Valve Replacement Technology
St. Francis-Emory Healthcare is proud to announce that the St. Francis Structural Heart and Valve Center is now open and offering various procedures treating heart valves. Procedures include mitral valve repair, mitral valve replacement (MVR), tricuspid valve repair and tricuspid valve replacement (TVR), surgical aortic valve replacement (SAVR), and in the near future transcatheter aortic valve replacement (TAVR). The Structural Heart and Valve Center is being led by a team of cardiothoracic surgeons and interventional cardiologists.
"For more than 45 years, St. Francis has served as the community's heart hospital beginning when local physicians developed the area's first cardiac surgery program," says Melody Trimble, chief executive officer of St. Francis. "This center is another milestone in our comprehensive cardiac program and something we are very thankful to provide the Chattahoochee Valley."
The Structural Heart and Valve Center team consists of cardiologist Vik Chhokar, MD, cardiovascular and thoracic surgeon Jacob Davtyan, MD and cardiologist Akram Ibrahim, MD. The team's multidisciplinary approach allows providers to develop individualized care to provide patients with high quality, comprehensive cardiovascular care. The program helps to ensure patients are able to stay in Columbus rather than travel elsewhere for these procedures.
"Structural heart disease affects millions of people across the world. I am so excited that we are strengthening our mission of Making Communities Healthier through this new cardiac service," says Jacob Davtyan, MD, assistant professor of surgery at Emory University and medical director for cardiovascular and thoracic surgery at St. Francis.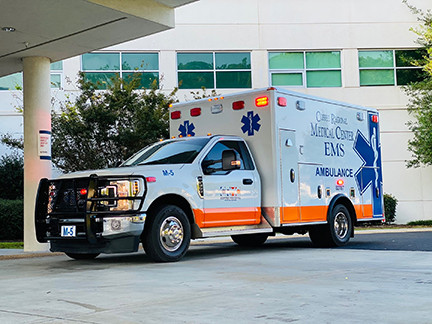 Coffee Regional Medical Center EMS Purchases New Ambulance
Coffee Regional Medical Center recently purchased a brand new Ford F350 Type 1 Ambulance from Emergency Tactical Rescue Vehicles (ETR) thanks to special purpose local option sales tax (SPLOST) funds designated by our generous community. CRMC EMS now has a total of 7 units. These units ensure we are available to successfully respond to emergencies outside the walls of our medical center while staying true to Our Purpose; To Serve, To Heal, To Save.
The new unit is state-of-the-art and equipped with the latest life-saving technology. Also, the unit features a power load system and a power cot. This power load system allows our paramedics and emergency responders to quickly and safely load patients into and out of the unit.
Named the #1 EMS Service in the State of Georgia for 2019 by Georgia Emergency Medical Services Association (GEMSA), our CRMC EMS service exemplifies outstanding service within our community. Covering all of Coffee County, CRMC EMS extends over 600 square miles and serves a county population of over 43,000. In 2019 the service had 7,300 calls. That is an average of 20 calls every single day for emergency response. In addition to emergency calls, our EMS service serves in many other capacities, including:
First Responders that provide Advanced Life Support 24-hours a day, seven days a week.

A unit that manages transports locally and out of town.

Units that transport hospital to hospital critical care patients

.
Colquitt Regional Urges Public to Receive Flu Shot
Colquitt Regional Medical Center officials and physicians are urging members of the public to get their flu shot as there has been an early increase in flu cases.
"Overall, there has been a slow and steady increase in flu cases over the last month," said Colquitt Regional President and CEO Jim Matney. "This year, more than ever, it is crucial for people to receive their flu shots and take the proper measures to decrease their chances of contracting the flu, especially those who are considered 'at-risk' for both the flu and COVID-19."
Since Aug. 31, there has been a total of 101 positive flu cases reported at Colquitt Regional and some Sterling Physician Group clinics.
During the month of September and the first two weeks of October, the Emergency Department saw 87 confirmed cases of the flu. That is more than double the 41 cases it saw during the same time period in 2019.
The most recent numbers reported on Oct. 12 show that the weekly number of positive cases increased almost threefold from the first week in September. During the week of October 5-11, 26 cases were confirmed with two of those also being COVID-positive.
From Sept. 28-Oct. 4, there were 19 confirmed flu cases, and four of those cases were also COVID positive. There were 10 cases the last week of September, preceded by 17 cases the third week, 20 cases the second week, and nine cases the first week.
Out of the total 101 cases since Aug. 31, 47 of the cases occurred in those 0-17 years of age, 42 cases in those 18-64 years, and 12 cases in those 65 years or older.
Because of COVID-19, health professionals are pointing out the importance of people receiving their flu shots this year.
"Because of the ongoing pandemic, this flu season will be like none we have ever experienced," said Sterling Physician Group pulmonologist and Colquitt Regional Chief Medical Officer Michael Brown, MD. "While the effect of having both viruses at the same time is not known at this point, the potential impact on your immune system could be extremely serious. Even the contraction of one of these viruses means that your immune system will be more vulnerable and susceptible to other illnesses, so don't take any unnecessary risks. Be prepared."
According to the CDC, everyone six months or older should receive a yearly flu vaccine.
Because of the similarity in symptoms, telling the flu apart from COVID-19 can be difficult. Either virus may result in fever, dry cough, aches, and/or chills. Those who are showing symptoms of either virus should stay home to recover unless medical attention is needed. For those experiencing COVID-19 symptoms, testing is still available at Colquitt Regional (doctor's order required) and the Colquitt County Health Department (free testing, no doctor's order needed).
"The best defense against both COVID-19 and the flu is to wear a mask, practice proper hand hygiene, social distance, and to stay home if you are sick," said Matney. "Because we have already become accustomed to these safety measures we are in a good position to help decrease transmission of the flu this season, along with COVID-19," said Matney.
Memorial Health Welcomes Fellowship-Trained Breast Surgeon Dr. Anne Saladyga
Memorial Health is pleased to announce that Anne Saladyga, MD, a board-certified general surgeon who is fellowship training in breast surgical oncology, has joined its Memorial Health University Physicians - Breast Care practice.
"We are excited to welcome a surgeon of her caliber and experience to our team," said breast surgeon Dr. William Burak. "Dr. Saladyga is uniquely qualified to help patients navigate a breast cancer diagnosis and guide them through their personalized treatment options to the best possible outcome," Burak added. 
Dr. Saladyga is an expert in providing evaluation and treatment of breast disease in both women and men of any age. She will lead the team diagnosing both benign and malignant diseases of the breast utilizing minimally invasive biopsy techniques, and then provide surgical procedures when needed. "I pride myself on walking the cancer journey with my patients. My goal is to treat their cancer while still providing a good overall and cosmetic outcome," says Saladyga.
Saladyga earned her undergraduate degree at Rochester Institute of Technology and completed medical school at State University of New York at Buffalo. She did her general surgery residency at William Beaumont Army Medical Center in El Paso, TX, and most recently completed a fellowship at the Breast Surgical Oncology at West Cancer Clinic, in Germantown, TN.
Dr. Saladyga is a Lieutenant Colonel in the U.S. Army Reserves and served on as a General Surgeon on Active Duty in the U.S. Army from 2005-2019. As a military surgeon, she served four deployments to the Middle East from 2012 to 2019, and earned a Bronze Star for her 2014 combat tour. 
Northeast Georgia Medical Center Announces New Program Director for Obstetrics and Gynecology Physician Residency
Northeast Georgia Medical Center's (NGMC) Graduate Medical Education (GME) program has announced Francis Nuthalapaty, MD, as its newest program director for the planned obstetrics and gynecology (OB/GYN) residency program.
"Our growing region will need additional skilled OB/GYN physicians to support mothers and families for generations to come. Dr. Nuthalapaty offers not only fellowship level clinical knowledge, but also the recognized expertise in medical education to train excellent physicians," said John E. Delzell, MD, vice president of Medical Education for Northeast Georgia Health System (NGHS) and Designated Institutional Official for NGMC. "We are excited to apply for OB/GYN residency program accreditation and keep the best and brightest to care for our community."
"Starting an OB/GYN residency is a profoundly unique opportunity for our community," says Dr. Nuthalapaty. "Women are often the champions of health for their families. This residency program will have a significant impact not only on the health of women in our community but also on their parents, spouse, and children. I am thrilled to be a part of this important work."
Prior to joining NGMC, Dr. Nuthalapaty completed a 7-year honors program in medical education at Northwestern University. As part of that program, he received his Bachelor of Science in biomedical engineering from the Northwestern University McCormick School of Engineering in Evanston, Illinois, as well as his Medical Doctorate from the Northwestern University Feinberg School of Medicine in Chicago, Illinois. Dr. Nuthalapaty subsequently completed his obstetrics and gynecology residency at Penn State Milton S. Hershey Medical Center in Hershey, Pennsylvania, where he also served as chief resident. He then went to the University of Alabama in Birmingham to complete his fellowship in maternal-fetal medicine.
NGMC plans to continue expanding its GME program by seeking accreditation for additional specialties: emergency medicine and psychiatry. By 2024, all six specialties–internal medicine, general surgery, family medicine, emergency medicine, OB/GYN, and psychiatry – could host more than 200 residents, which would make the program one of the largest in the state of Georgia.
Phoebe Expands Heart & Vascular Team
Two new physicians have joined Phoebe's highly-skilled heart and vascular team - Rachel Harris, MD, and J. William Mix, MD, FACS. 
"We are thrilled to welcome Dr. Harris and Dr. Mix to Phoebe Physicians. Each brings knowledge and skill to their respective specialties. I know they are dedicated to providing high-quality care to patients, and we are pleased to add them to our excellent team," said Dr. Suresh Lakhanpal, CEO, Phoebe Physicians.
Dr. Harris joined Phoebe Cardiology – bringing the latest in advanced training and specialized skills in cardiovascular disease diagnosis and management to the region. A board-certified cardiologist, Dr. Harris earned her medical degree from Morehouse School of Medicine in Atlanta before completing an internal medicine residency at Duke University Hospital in Durham, NC. She has completed a cardiac CT practicum at Johns Hopkins Hospital in Baltimore, MD, and a cardiovascular disease fellowship at University of Alabama at Birmingham Hospital in Birmingham, AL.
Additionally, Dr. Harris completed an advanced imaging fellowship at the University of South Florida in Tampa, FL – brining extensive training in advanced cardiovascular imaging to southwest Georgia. While she is looking forward to getting to know all her patients, Dr. Harris says she is passionate about women's heart disease prevention – the leading cause of death for women in the U.S.
Dr. Mix joined Phoebe Cardiovascular Surgery. With more than a decade of experience, Dr. Mix specializes in endovascular and traditional open vascular surgery. He has a special interest in treating abdominal/thoracic aortic aneurysms, thoracic aortic dissections, and thoracic outlet syndrome.
Dr. Mix earned his medical degree from Mercer University School of Medicine before completing a general surgery residency at Medical Center of Central Georgia/Mercer University School of Medicine. He also fellowship trained in vascular surgery from University of Tennessee-Knoxville, Graduate School of Medicine.
In addition to Dr. Harris and Dr. Mix, Phoebe Physicians recently welcomed three additional specialists:
Olyinka Afolabi, MD, also joined Phoebe Gastroenterology and has a special interest in treating inflammatory bowel disease (IBD), gastroesophageal reflux disease (GERD), irritable bowel syndrome (IBS) and hepatitis.

Stephen Alayli, DPM, joined Phoebe Orthopaedics. Dr. Alayli is a podiatrist specializing in foot and ankle surgery.

Franklin Goldwire, MD, has joined Phoebe Gastroenterology. Dr. Goldwire brings advanced gastroenterology specialty skills to the prevention, diagnosis and treatment of a wide variety of digestive tract and liver conditions.
"The addition of each one of these doctors further strengthens our network of physicians and continues our mission of meeting the healthcare needs of the communities we serve," added Dr. Lakhanpal.
Can I Get the Flu and COVID-19 At the Same Time? Tanner Expert Explains 
The flu and COVID-19 are two different respiratory illnesses, but is it possible to get them both at the same time? Rajesh Mathew, MD, an infectious disease specialist with Infectious Diseases of West Georgia, explains that it is possible to get infected with both, but he shares how we can reduce the risk of flu and COVID-19 this season by taking simple steps to protect ourselves and others. Watch the video.
Redmond to Host "Crush the Crisis"
Opioid Take Back Day
Redmond Regional Medical Center is collaborating with Floyd Against Drugs and the Floyd County Sherriff's Department to host "Crush the Crisis" on Saturday, Oct. 24 from 9 a.m.-1 p.m.
Crush the Crisis is an opioid and unused medication take back event to raise awareness about the dangers of opioid misuse and proper disposal of medications. Officials with Floyd Against Drugs and law enforcement officers from the Floyd County Sherriff's Department will be on site to direct the collection and disposal of unused medications. The event aligns with the Drug Enforcement Administration's (DEA) National Prescription Drug Take Back Day. The collection site will be located under tents at the main entrance of Redmond Regional Medical Center to accommodate "drive-through" drop off and social distancing. Redmond, the Floyd County Sherriff's Department, and Floyd Against Drugs invite all community members to safely and anonymously dispose of unused and expired prescription medications at this event.
According to the Centers for Disease Control and Prevention, an estimated 2 million people in the U.S. suffered from an opioid use disorder and more than 67,000 Americans died from drug overdoses in 2018. As the COVID-19 pandemic continues, the U.S. is seeing an increase in opioid usage, with 40 states reporting increases in opioid-related mortality, according to the American Medical Association (AMA).
"Stress related to the COVID-19 pandemic may be exacerbating the opioid crisis by causing many Americans to have feelings of anxiety, grief, isolation, financial worry, and an ongoing sense of uncertainty, affecting those with substance use disorders as well as those at risk of developing one," said Julie Barnes, chief medical officer at Redmond Regional Medical Center. "Now is more important than ever to get unused pain medications out of homes and to educate the community about the serious threat of opioid misuse."
Law enforcement officers from the Floyd County Sherriff's Department will be collecting tablets, capsules and patches of Hydrocodone (Norco, Lortab, Vicodin), Oxycodone (Oxycontin, Percocet), Tramadol (Ultram), Codeine, Fentanyl (Duragesic), Morphine, Hydromorphone (Dilaudid) and Oxymorphone (Opana). COVID-19 safety protocols will be in place at the event, including universal masking, social distancing, removal of high-touch items and a drive-through collection option.
Redmond Regional Medical Center is participating as part of HCA Healthcare's second annual national "Crush the Crisis" opioid take back day. In fall 2019, 100 HCA Healthcare facilities in 16 states collected 5,887 pounds of unused and expired medications at nationwide "Crush the Crisis" events.
To further help combat the nation's opioid crisis, HCA Healthcare, the parent company of Redmond Regional Medical Center proudly partners with and provides clinical insight to the National Academy of Medicine's (NAM) Action Collaborative on Countering the U.S. Opioid Epidemic. HCA Healthcare has committed $500,000 to the Collaborative to support the development of safer pain management protocols and reversal of the opioid crisis.
Phoebe to Host Drug Take Back Event Oct. 24
On Saturday, Oct. 24, Phoebe will host a drug take back event in conjunction with the U.S. Drug Enforcement Administration's National Prescription Drug Take Back Day. The event will be held from 10 a.m.-2 p.m. with disposal locations in Albany, Americus and Sylvester – giving communities the opportunity to safely and conveniently dispose of prescription drugs.
"The goal of this event is to help prevent pill abuse and remove potentially expired, unused and unwanted prescription drugs from homes. With this event we cannot only provide a safe, convenient and responsible means for medication disposal but also educate our communities about the potential abuse of old and unused medications – helping to keep our communities safe," said Dr. Jason Langer, Phoebe General Surgery.
Phoebe's Drug Take Back Event is free and no questions will be asked. All medication disposal locations will be accepting expired/unused narcotics/prescriptions as well as injectable medications, such as pre-loaded allergy and migraine medications or insulin needles, and any other prescription, veterinary or over-the-counter medications. To keep everyone safe, each of Phoebe's sites will be a drive-up/through event and will follow COVID-19 safety guidelines.  
Medication collection locations:
Phoebe Putney Memorial Hospital - Albany
Side parking lot on Jefferson St., next to the Parking Deck and across from street from the old Albany Middle/High School
Phoebe Sumter Medical Center - Americus
Main hospital guest parking lot; please enter campus from Highway 280.
Phoebe Worth Medical Center - Sylvester
Specialty Clinic parking area adjacent to main entrance.
The DEA hosts National Take Back Days in April and October. This October event marks the DEA's 19th nationwide drug take back event since its inception 10 years ago.  Last fall, Americans turned in nearly 883,000 pounds of medications (over 440 tons). In Georgia, 70 tons were collected.
This initiative addresses a vital public safety and public health issue. Medicines that languish in home cabinets make them vulnerable for accidents, misuse and abuse. Rates of prescription drug abuse in the United States are alarmingly high, as are the number of accidental poisonings and overdoses due to these drugs.
Phoebe would like to thank its community partners in southwest Georgia who are helping to make the event possible: Georgia Department of Public Health, Albany/Dougherty Drug Unit, Keep Albany/Dougherty Beautiful, Morehouse School of Medicine, Americus Police Department and Sylvester Police Department.
See Yourself Behind the Wheel with 20-20 Vision
Southeast Georgia Health System Foundation Offers Opportunity To Win A Buick Encore GX
Winning a car in 2020 will most likely brighten up a year that's been filled with challenges, social distancing and shelter-in-place orders. Although $20 may not buy very much these days, this fall it's enough to buy you a chance to put you behind the wheel of a Buick Encore GX.
The Southeast Georgia Health System Foundation is participating in the "Friends of the Davis Love Foundation Challenge" again this year with the hope that one of the raffle tickets they sell will win a lucky driver a brand new Buick Encore GX.
"We sold the winning ticket in 2012, and we're hoping to do it again this year," says Krista Robitz, director, development, Southeast Georgia Health System Foundation. "It will be a win-win for all of us! Proceeds from each raffle ticket sold by the Foundation benefits our 20-20 Vision Campaign, which is helping to fund the Health System's expansion and renovation of the Brunswick Campus hospital. And the lucky person who purchases the raffle ticket will win a new car!" 
Friends of Davis Love Foundation is a program administered by the Davis Love Foundation to help raise money for charities participating in the program. Each participating charity sells raffle tickets ($20 each) for the chance to win a brand new vehicle from Nalley Automotive of Brunswick.
For each raffle ticket purchased, the Davis Love Foundation will return 100% of the purchase to the charity selling the raffle ticket.
The proceeds the foundation receives from this year's raffle tickets will help fund the Health System's expansion of key patient areas, including the Emergency Care Center, Surgical Services, a new inpatient tower, and the renovation of existing inpatient rooms.
"The Health System is committed to delivering outstanding patient care and meeting the medical needs of the patients we serve. As our community grows, so does our responsibility. Our 20-20 Vision Campaign helps Southeast Georgia Health System achieve that goal," Robitz says.
Nalley Automotive of Brunswick is generously donating the Buick Encore GX. To enter for a chance to win the new car, simply go to www.wearethefoundation.org and click on the "Give" button. Donate $20 and you will receive an email confirmation with your raffle ticket number. Participants receive one entry for every $20 donated and may enter as many times as they like. You can also mail donations to Southeast Georgia Health System Foundation, 2415 Parkwood Drive, Brunswick, GA 31520, or call the Foundation office at 912-466-3360.
The deadline to enter is Nov. 13. The winner will be announced Nov. 22.
"Every donation helps support quality health care for our friends, families and neighbors. Who knows? Your donation might play a role in saving the life of someone you know. And it might just put you in the driver's seat of a new Buick Encore GX," Robitz says.
Hamrick Named MCG's Senior Associate Dean for Research
Dr. Mark Hamrick, bone and muscle biologist, federally funded investigator and honored educator and scientist, has been named senior associate dean for research at the Medical College of Georgia at Augusta University. 
In his new position, Hamrick will work closely with MCG Dean Dr. David Hess and other MCG research leaders to develop a plan to move MCG toward the top 50 in National Institutes of Health funding. Among the nation's medical schools, MCG currently is ranked 73rd by the Blue Ridge Institute for Medical Research, with nearly $48 million in funding. However, research funding grew to over $65 million last fiscal year, which should move that ranking to somewhere in the 60s.  
He will work with MCG department chairs and center and institute directors to recruit and retain new federally funded research faculty and identify and develop new research collaborations across MCG departments, other AU colleges and with university and industry partners across Georgia and beyond.
"Dr. Hamrick was a natural choice to oversee the research efforts of the medical school," Hess says. "He is not only a terrific collaborator and colleague, but also a strong mentor and role model for young scientists and a true advocate for the state's only public medical school. I am excited to work with him to continue to grow MCG's research footprint, not just in Georgia, but nationally and internationally."
As senior associate dean, Hamrick, Regents' Professor and George W. Weiss Research Professor in the Department of Cellular Biology and Anatomy, will also play a leading role in the assessment and allocation of research lab space on behalf of MCG, including planning for future space to align infrastructure needs with the goal of being a top 50 medical school.
Blood & Convalescent Plasma Drive October 27 at Coffee Regional Medical Center
Mark your calendars, Coffee County! The OneBlood Bus will be returning to Coffee Regional Medical Center for a blood drive on Oct. 27 from 11 a.m. - 4:30 p.m. in the hospital's parking lot. Coffee Regional Medical Center sources blood from OneBlood, so donating to OneBlood contributes to the life-saving efforts of our hospital.
We are excited to announce that all of the OneBlood Buses are now equipped to collect COVID-19 convalescent plasma. This means if you have fully recovered from COVID-19 and are eligible to donate blood, the OneBlood team needs you, as well as blood donors! All donors will receive an OneBlood Halloween T-shirt and a $10 eGift card. A wellness checkup including COVID-19 antibody test, blood pressure, temperature, iron count, pulse, and cholesterol screening will also be conducted. Appointments are encouraged, to schedule your appointment visit www.oneblood.org/donate-now and use sponsor code #17751.
If you have a fever or display any symptoms of being unwell, please do not present to donate. If you tested positive for COVID-19 or you have been exposed to someone who has or may have COVID-19, you must wait at least 14 days before donating.

Georgia Hospital Association
1675 Terrell Mill Road
Marietta, GA 30067
Click here to update your subscriptions.