Click here if you are having trouble viewing this message.
September 12, 2020
A Clear Skies Day We'll Always Remember
Nineteen years ago yesterday, the world was turned upside down. No one of a certain age will ever forget the tragic events of 9/11. And it's up to each of us to make sure those born later are educated about these events. Each year during this time, we say a prayer and remember those and their families who had to endure such pain.
Yesterday, GHA member Phoebe Putney sent a press release that caught my eye. CEO Scott Steiner put it better than I have ever heard in a quote I would like to share with you. Thanks, Scott.
"On this anniversary of the 9/11 terrorist attacks, it is important for us to remember all those whose lives were lost on that day, and all the brave men and women in our military who fought, and continue to fight, for our freedom. We also thank and honor all the first responders who rushed toward danger to save others on Sept. 11. The COVID-19 pandemic is certainly much different than the attack that our nation faced 19 years ago, but like those firefighters and EMTs and police officers back then, today's health care workers are putting fear aside to serve the greater good, and we thank them for that service."
Every American is important for the success of this Country. Each week we face a difficult challenge. Each week we prevail because of our determination.
God Bless You!
Earl Rogers
GHA President and CEO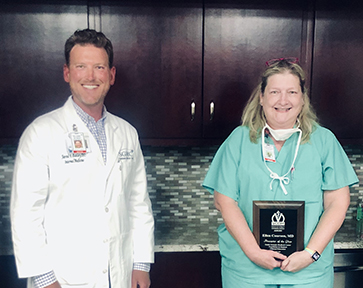 Dr. Jarod Bailey presents Dr. Ellen Courson (right) with the Via College of Osteopathic Medicine (VCOM) Preceptor of the Year award. 
Dr. Courson Named Preceptor of the Year
Dr. Ellen Courson was named the Preceptor of the Year by medical students of the Edward Via College of Osteopathic Medicine (VCOM) who spent their third year clinical rotations at South Georgia Medical Center (SGMC). 
Dr. Courson is board-certified by the American College of Obstetricians and Gynecologists, and operates a private practice, Valdosta Women's Health Center.
Dr. Jarod Bailey, SGMC Director of Student Medical Education for VCOM, presented Dr. Courson with her award last week. She was chosen among the 33 credentialed preceptors at SGMC, receiving a perfect 5.0 rating. 
Dr. Bailey said, "Dr. Courson is a blessing to this hospital, this community, and to the student medical education program." 
One student shared that his rotation with Dr. Courson influenced his decision to pursue a career in obstetrics and gynecology.
"As a physician there is no greater compliment than someone doing a rotation with you and saying they picked the rest of their life's path based on their one rotation with you. That says it all," said SGMC Chief Medical Officer Dr. Brian Dawson.
Dr. Courson graciously accepted the award stating that when she graduated from medical school she took the Hippocratic Oath which includes teaching future doctors. "I've always taken that to heart. I am very honored," said Dr. Courson.
Dr. Courson has trained over 150 medical students throughout her career.
VCOM medical students live in Valdosta and spend four-week rotations with SGMC affiliated physicians in the specialties of Internal Medicine, Surgery, Pediatrics, Psychiatry, Family Medicine, Obstetrics and Gynecology.
Through this rotation, they gain real world medical experience and insight into the various specialties to better determine which one is right for them.
Studies show that physicians tend to practice near their training sites. VCOM students spend an academic year in Valdosta and blend into the culture of SGMC. The ultimate goal being that they decide to stay and practice medicine in the area and fill a physician need.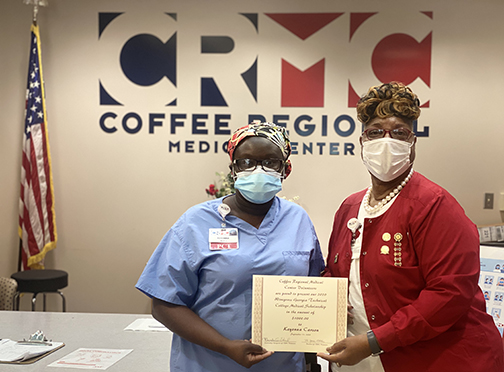 Brenda Veal (right) presents a scholarship certificate to Keyonna Carson.
Coffee Regional Medical Center Volunteers Announce Scholarship Winner
The Coffee Regional Medical Center Volunteers are pleased to announce that their 2020 Wiregrass Georgia Technical College Medical Scholarship was recently awarded to Keyonna Carson, Patient Care Technician (PCT) at Coffee Regional Medical Center (CRMC).
The Wiregrass Georgia Technical College Medical Scholarship, in the amount of $1,000, is awarded annually to a Coffee County student by the CRMC Volunteers. The volunteers have proudly awarded this scholarship for over 15 years. There is no requirement that the scholarship be awarded to a CRMC employee. The Volunteers were however excited to honor a hard-working CRMC healthcare hero this year. This year's scholarship was presented by Mrs. Brenda G. Veal, current Chairwoman of the CRMC Volunteer Scholarship Committee.
Scholarship recipient, Ms. Keyonna Carson, began her health care career as a Patient Care Technician (PCT) in 2016 with CRMC. She is currently employed full-time by CRMC, working throughout the hospital, including assisting in the COVID unit. Her hard work and dedication to patient care set a great example for her co-workers. In addition to working full-time as a PCT, she has continued her education at Wiregrass Georgia Technical College to complete her degree as a Licensed Practical Nurse (LPN). She expects to receive her LPN license in May 2021. Additionally, after receiving her LPN license, Keyonna plans to further her education and work toward her license as a Registered Nurse (RN).
Coffee Regional Medical Center Strengthens Relationship with Emory Healthcare Affiliate Network; Adds New Bariatric Program Supported by Emory
Emory Healthcare (EHC) and Coffee Regional Medical Center (CRMC) in Douglas, have strengthened their relationship by advancing CRMC as a quality collaborative member hospital in the Emory Healthcare Affiliate Network (EHAN). The organizations will also develop new clinical programs at CRMC with Emory's consultation and support, starting with a new bariatric program.  
Through the EHAN, Emory extends coordinated access to its highly specialized hospitals and ambulatory clinics. EHAN also offers educational opportunities to affiliate staff and providers and advances care capabilities in the affiliates' communities through program development. Additionally, CRMC's quality programming and educational training will be aligned with those across the EHC system of care through its membership in EHC's regional quality collaborative. Throughout this collaboration, Coffee Regional Medical Center and Emory Healthcare will remain independent organizations. 
Coffee Regional's new bariatric surgery program will receive training, consultative services and additional support from the EHAN through EHC's Department of Surgical Services. The new program is scheduled to open in October 2020.
"We've already seen the advantages of building relationships with Emory, who assisted Coffee Regional in the development of our Percutaneous Coronary Intervention (PCI) program for heart care in 2018," says Vicki Lewis, president and CEO of Coffee Regional Medical Center. "We're excited to soon offer our community a comprehensive bariatrics program, and highly value our collaboration with Emory during this process." 
"Since becoming a member of Emory Healthcare's Affiliate Network in 2017, Coffee Regional has gained access to Emory's clinical consultation and health care industry knowledge offerings," says Donald Brunn, senior vice president for network development at Emory Healthcare. "Strengthening Emory's relationship with Coffee Regional in the clinical quality domain promises to measurably improve the patient and provider experience while making local care in Coffee's communities more affordable." 
Coffee Regional Medical Center's physicians and patients will also have preferred and expedited access to Emory's growing offerings of telehealth programs. 
"We are pleased to advance our affiliation with Coffee Regional Medical Center, its providers, staff and patients," says Jonathan S. Lewin, MD, CEO of Emory Healthcare. "We are confident that our commitment to strengthening access to quality, affordable care in communities across the region through the Emory Healthcare Affiliate Network, will benefit the Coffee County community and surrounding areas."


Hamilton Emergency Medical Services Receives American Heart Association's Mission: Lifeline EMS Gold Plus Recognition Award
Hamilton Emergency Medical Services (HEMS) has received the American Heart Association's Mission: Lifeline® EMS Gold Plus Award for implementing quality improvement measures for the treatment of patients who experience severe heart attacks.
Every year, more than 250,000 people experience an ST (electrocardiogram segment) elevation myocardial infarction (STEMI), the deadliest type of heart attack caused by a blockage of blood flow to the heart that requires timely treatment. To prevent death, it's critical to restore blood flow as quickly as possible, either by mechanically opening the blocked vessel or by providing clot-busting medication.
The Mission: Lifeline initiative provides tools, training and other resources to support heart attack care following protocols from the most recent evidence-based treatment guidelines. Mission: Lifeline's EMS recognition program recognizes emergency medical services for their efforts in improving systems of care to rapidly identify suspected heart attack patients, promptly notify the medical center and trigger an early response from the awaiting hospital personnel. 
"Hamilton Emergency Medical Services is dedicated to providing optimal care for heart attack patients," said Scott Radeker, HEMS director. "We are honored to be recognized for our dedication and achievements in emergency medical care efforts through Mission: Lifeline."
The American Heart Association's Mission: Lifeline® program helps hospitals and emergency
medical services develop systems of care that follow proven standards and procedures for acute coronary syndrome patients. The program works by mobilizing teams across the continuum of care to implement American Heart Association/American College of Cardiology clinical treatment guidelines.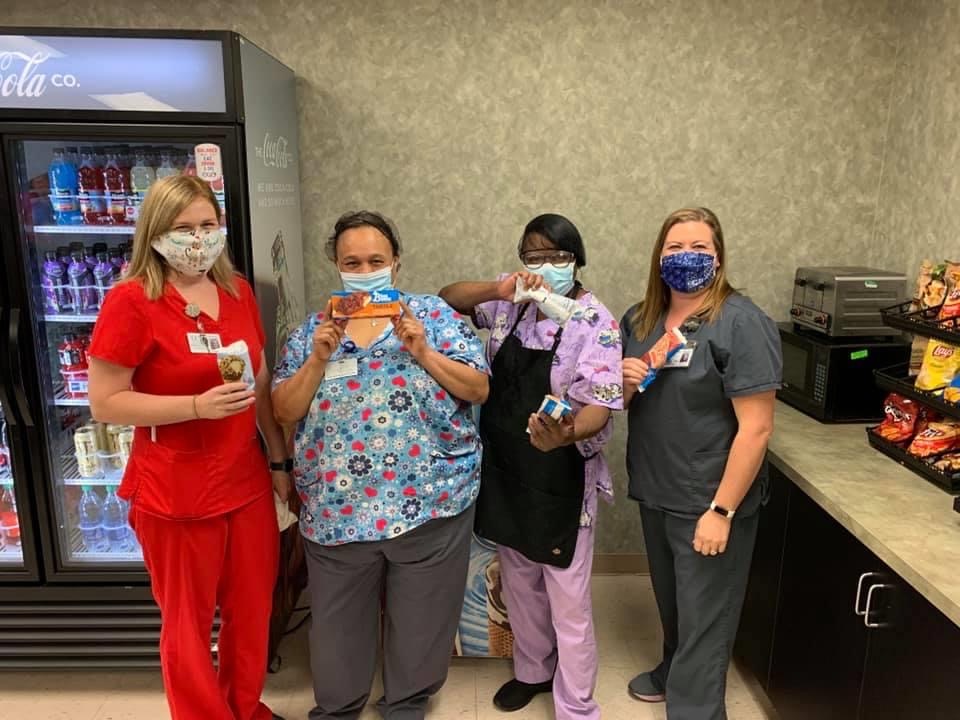 Putnam General employees are appreciative of gifts provided by former employee.
Putnam General Hospital Receives Gift from Former Student
On Sept. 4, all 140 Putnam General Hospital employees were able to enjoy a much needed "sweet ice cream treat" from former PGH Pharmacy student Lili Hill. After seeing the "How Sweet It Is" ice cream sponsorship campaign opportunity Ms. Hill felt moved to generously treat the hard working staff as she stated, "As a student on rotation there this summer from UGA, every staff member I interacted with was exceptionally nice."
Hamilton Physician Group Offering Rapid Flu Test
Hamilton Physician Group (HPG), part of Hamilton Health Care System, is offering ID NOW™ Influenza A & B 2, the fastest rapid molecular flu test, at its Convenient Care locations.
The ID NOW™ delivers flu results in 13 minutes or less, making it faster than other molecular methods and more accurate than conventional rapid tests.
"This rapid flu test is reliable, and it allows us to make quick, effective treatment decisions," said Holly Andrews, director of business administration for HPG.
Positive results are delivered in as few as five minutes, with 95 percent detected within seven minutes.
The speed and reliability of the test help target antiviral therapy and antimicrobial stewardship, a coordinated program that promotes the appropriate use of antimicrobials (including antibiotics), improves patient outcomes, reduces microbial resistance and decreases the spread of infections caused by multidrug-resistant organisms.
Wayne Memorial Hospital: It's Never Too Early to Get Prepared for Flu Season
Wayne Memorial Hospital's Sondra Grantham, RN, is reminding people that it is never too early to obtain the flu shot. Grantham, a 20-year Wayne Memorial Employee and 25-year health care worker, serves as the hospital's Infection Control/Prevention and Employee Health Director.
The flu season is defined as Oct. 1, 2020-March 31, 2021. Benefits of getting the shot, Grantham says, include a stronger immunity to a strain of the flu as well as less severe symptoms and a shorter duration, if the flu is contracted. One myth to dispel is that people can get the flu from the flu shot. Grantham states the flu shot "is not a live virus, therefore, you cannot get the flu from the shot." She also shares that September and October are good times to get the shot, but it can be obtained during the season as well.
Flu shots may be obtained from a healthcare provider or pharmacy.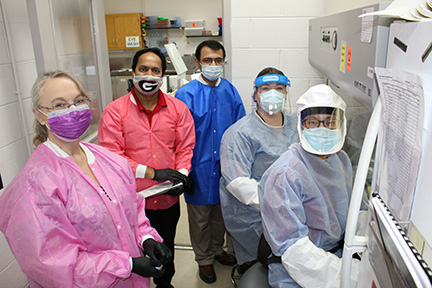 The team at the TVDIL show off their new lab space and equipment for testing human samples.
(L-R: Lisa Whittington, Dr. Hemant Naikare, Dr. Allen Kalantari, SarahBeth Benson, and Dr. Yung-Yi Mosley).
Southwell Collaborates with UGA Veterinary Diagnostic Labs for COVID-19 Testing
In March, while the Tifton area was getting hit hard with COVID-19 cases, Dr. Jessica Beier, medical director of Southwell Laboratories and medical director of quality and patient safety, was quarantined at home after returning from a vacation in Chile.
"When I got home, I was ready to activate," said Dr. Beier. "While I was gone, we had used the CDC lab, the state lab, our usual reference lab, and all those labs were becoming overwhelmed. Their turnaround times were starting to increase, and we were looking at people potentially having to wait a week to know whether they had tested positive for COVID-19. Everyone was wondering what we were going to do next, and then I was told by our employee health director that I had traveled to a country that was considered a level three risk.
"I was quarantined at home, and it was really not a good time," she said with a laugh. "I brought my microscope and started doing pathology from home. In the midst of all of this, I had a lot of time on my hands to think, and because I have a horse farm, I am well aware that we have a vet diagnostic lab here in Tifton that's part of UGA. I also know that this lab here does high complexity molecular diagnostic testing because of all of the infectious disease testing they normally do on animals."
Something clicked in Dr. Beier's head. Why not partner with UGA and the lab that was right in her own backyard to meet the pandemic head on? Although she had no contacts with anyone at the diagnostic lab, she was able to find the email address for Dr. Hemant Naikare, Tifton Veterinary Diagnostic and Investigational Lab (TVDIL) director and Associate Professor of Infectious Diseases in the College of Veterinary Medicine and reached out to him.
"I remember Dr. Beier reaching out to me on a Saturday at the end of March," Dr. Naikare said. "She wanted to know if we could assist with COVID testing, so we started correspondence the first week of April. I told her that we had the infrastructure, and we do polymerase chain reaction (PCR) testing, which is an essential component of processing COVID-19 tests. I explained to her that we could help, but our major hurdle was CLIA."
St. Mary's Receives 11th Gold-Plus Award for Stroke Care
St. Mary's Health Care System has received the American Heart Association/American Stroke Association's Get With The Guidelines®-Stroke Gold Plus Quality Achievement Award. The award recognizes the hospital's commitment to ensuring stroke patients receive the most appropriate treatment according to nationally recognized, research-based guidelines that are based on the latest scientific evidence.
 St. Mary's has received the Stroke Gold-Plus quality achievement award 11 years in a row and has been named to the Target: Stroke Honor Roll nine years in a row, elevating its achievement to Honor Roll Elite for the first time.
St. Mary's earned the awards by meeting specific quality achievement measures for the diagnosis and treatment of stroke patients at a set level for a designated period. These measures include evaluation of the proper use of medications and other stroke treatments aligned with the most up-to-date, evidence-based guidelines with the goal of speeding recovery and reducing death and disability for stroke patients. Before discharge, patients should also receive education on managing their health, get a follow-up visit scheduled, as well as other care transition interventions
"St. Mary's is dedicated to improving the quality of care for our stroke patients through our ongoing implementation of the American Heart Association's Get With The Guidelines-Stroke initiative," said Montez Carter, St. Mary's president and CEO. "The tools and resources provided help us track and measure our success in meeting evidenced-based clinical guidelines developed to improve patient outcomes."
At the same time, St. Mary's received the Association's Target: StrokeSM Elite recognition. To qualify for this honor roll, hospitals must meet quality measures developed to reduce the time between the patient's arrival at the hospital and treatment with the clot-buster tissue plasminogen activator, or tPA, the only drug approved by the U.S. Food and Drug Administration to treat ischemic stroke. Ischemic stroke is the most common kind of stroke, affecting about 80 percent of stroke patients. It happens when a blood vessel in the brain becomes blocked, interrupting blood flow to brain tissue. Up to 2 million brain cells can die each minute unless blood flow can be restored with clot-busting medication or mechanical thrombectomy, a procedure that physically removes clots from large blood vessels, that is available at St. Mary's in conjunction with neurosurgeon Neil Woodall, MD.
St. Mary's additionally received the Association's Target: Type 2 Honor Roll award. To qualify for this recognition, hospitals must meet quality measures developed with more than 90 percent of compliance for 12 consecutive months for the "Overall Diabetes Cardiovascular Initiative Composite Score." Diabetes is a common condition that can damage blood vessels if not well managed, leading to complications such as heart attack and stroke.
St. Mary's has also met specific scientific guidelines as a Primary Stroke Center, featuring a comprehensive system for rapid diagnosis and treatment of stroke patients admitted to the emergency department.
New, Comprehensive Concept in Senior Living Taking Shape in Villa Rica
An entirely new, comprehensive concept in senior living is coming to west Georgia as Tanner Health System's The Birches at Villa Rica takes shape.
The project is a unique venture for a health system, expanding seamless health and wellness services to people looking to live longer, more active lives.
Built on an almost six-acre site along Permian Way in Villa Rica — next to the Tanner at Mirror Lake medical office building — the single-level development will feature 61 total apartments, including 36 assisted-living apartments and 25 memory care apartments.
"Within the decade, the number of Americans age 65 and older — more than 36 million people — will represent almost a quarter of the nation's population," said Loy Howard, president and CEO of Tanner. "We're committed to providing the services that our community needs, and this project expands on that commitment."
Construction should be finished by Summer 2021. Leasing of the units will begin in late Fall 2020.
Sarah Minka, DO, Joins Dermatology Specialists of West Georgia
Residents now have more access to specialized skin care as board-certified dermatologist Sarah Minka, DO, joins Dermatology Specialists of West Georgia and the medical staff of Tanner Health System.
Dr. Minka earned her doctorate in osteopathic medicine at the Lake Erie College of Osteopathic Medicine in Bradenton, Florida. She completed her internship at LewisGale Hospital Montgomery in Blacksburg, Virginia, and her residency in dermatology at the University of North Texas Health Science Center in Houston.
Simple Strategies Help Kids Cope During These Unprecedented Times
A global pandemic. Bitter political battles. Gun violence. Wildfires and hurricanes. 
The state of the world today can seem overwhelming to most adults, much less to children. Many parents likely wonder what they can do in the midst of it all to ensure their children are coping mentally.  
According to a child and adolescent psychiatrist at the Medical College of Georgia at Augusta University and the Children's Hospital of Georgia, parents should have a simple strategy – just be there.
"The first, and most important step is just being present and willing to have a conversation with them. Not every family is," says Dr. Dale Peeples, associate professor of psychiatry and health behavior. "There are big things going on in the world. Those things are on the news. People are talking about them. Talk to your kids and ask them what they think about those things and get a sense of where they are emotionally."
He recommends parents make sure they take time to check-in daily, during dinner for example, and ask children open-ended questions, like "How was your day?" Those types of questions tend to lead to bigger discussions that can help parents get a gauge on how kids are feeling.
When it comes to the 24-hour news cycle that delivers terrible headlines right to our living rooms, Peeples says parents should let their kids' ages determine whether they watch.
"With preschool-aged children, definitely try to shield them from the nightly news and explain things, like the coronavirus, for example, at their level," he says. "With grade school kids, it's best to consume the news as a family, so if they have questions, you're there to answer them and offer context. High schoolers are honestly going to discover media on their own. Then it becomes about knowing what they've seen and where they're source is."
Parents should just ask, he says. "Certainly not every teen is going to want to talk about where they get their news, but most will be willing. They're likely to be more focused on bigger social issues than younger kids are and they're likely to have a more passionate response to those issues."
That passion can lead to bigger problems like depression and anxiety, particularly in teens. While depression is rare in younger children, anxiety can also be a concern for them. 
Symptoms of depression that parents should be on the lookout for are kids being tearful, withdrawn from the family and having sleep and appetite disruptions. "Some of it is normal teenage behavior," Peeples acknowledges. "But what we really have to think about is how far the behavior is from baseline. Has there been a drastic change?"
Anxiety can manifest in different ways, particularly in younger children, who may complain of things like headaches and stomachaches. Older kids, with a bigger emotional vocabulary, can likely identify those feelings and talk about what is causing them to be worried or anxious.
Some mild depression and anxiety in children, particularly during these unprecedented times, is to be expected, Peeples says. "But if it causes disruption to normal life, causes issues with the family, it's a problem that needs to be addressed."
Augusta University Health Partners with City of Albany, Dougherty County to Offer COVID-19 Antibody Testing
The City of Albany, Dougherty County and the Dougherty County School System are partnering with Augusta University Health to offer COVID-19 antibody testing to Albany and Dougherty County residents, including school system employees, to better understand the scope of the pandemic in the community.
Hard-hit Dougherty County, with about 98,000 residents, has seen over 3,000 confirmed cases of COVID-19 and 180 deaths since March.
"I want to thank the City of Albany, Dougherty County School System, and Augusta University for their partnership on this project," said Christopher S. Cohilas, chairman of the Dougherty County Board of Commissioners. "I'm extremely thankful for the expertise that Dr. Phillip Coule and the staff at Augusta University have provided for our region and want to encourage Dougherty County residents to take part in this testing that is crucial for our community."
Antibody tests show whether a person's immune system has responded to the infection but does not test for active infections. Those who have recovered from COVID-19 or were exposed to it may have antibodies in their blood that may help fight off future infections of the disease.
Earlier this summer, AU Health partnered with Columbia County to provide antibody tests to nearly 1,000 employees. Gov. Brian Kemp visited the testing site and lauded the efforts to help county leaders understand how the virus had impacted their community. Officials are using the data to help guide decisions on closures and other recommendations as the pandemic continues.
"Beyond the basic tenets of hand-washing, social distancing and wearing masks, we have learned that there is no one-size-fits-all approach to controlling COVID-19 outbreaks," said Dr. Phillip Coule, vice president and chief medical officer for AU Health. "Antibody studies allow local communities to have more information about infection rates and to make decisions based on the results in their region."
Testing will take place from Sept. 16-29 at the Albany Civic Center, 100 W. Oglethorpe Blvd. in Albany. Space is limited and appointments are required. Pre-scheduled testing is available for employees of Dougherty County School System by calling 706-721-9740. All other individuals should call 706-721-4905 to schedule an appointment.
The test, which requires a blood draw, takes about 10 minutes, and participants will also be asked to complete a research survey. Results will be sent via Augusta University Health System's Virtually Informed Patient ("VIP") Portal.
"Representatives of Augusta University believe the testing will have profound implications for the state and the country, due to the large number of people here in Dougherty County who have been infected," said Albany Mayor Bo Dorough. "All citizens, including those who previously tested positive for COVID-19, are encouraged to make an appointment and participate in the community antibody testing."
Southwell Recognizes National Fall Prevention Month
September is Fall Prevention Month, and while falls are a serious public health problem, they are largely preventable.
Southwell is recognizing Fall Prevention Month through a blog post, its Facebook page (Southwell), Instagram page (@mysouthwell), and a podcast with Dr. William Smith with Georgia Sports Medicine, which will be available on their Facebook page. There will also be special education throughout the month of September geared towards Southwell employees.
Falls can happen at any time to people of any age. As people get older however, the likelihood of falls and severity of the injury increases with age. According to the CDC, falls are the leading cause of fatal and non-fatal injuries in people age 65 and older. Commonly, the injuries involve the shoulder, wrist, spine, and hip as well as the pelvis. Falls can also cause serious head injuries.
"There are several steps that one can take to help prevent falls," said Dr. William Smith with Georgia Sports Medicine. "There are health factors that should be considered, and there are environmental factors that can be altered. There are things that put you at a higher risk of falling, such as certain medical conditions and dietary habits. It is important to get an annual eye examination and a physical exam that includes an evaluation for cardiac and blood pressure problems."
$3 million National Eye Institute Grant Supports Growth of Vision Research at MCG, AU
A $3 million National Eye Institute grant is enabling the critical infrastructure necessary to grow research initiatives in major vision-robbing conditions at the Medical College of Georgia and Augusta University.
The NEI center core grant, or P30 grant, comes at a time of critical development for the James and Jean Culver Vision Discovery Institute at Augusta University, and is key to the sustainability of future growth, says Dr. Sylvia Smith, chair of the MCG Department of Cellular Biology and Anatomy and director of the Culver VDI. Smith, a NEI-funded retinal cell biologist, is principal investigator on the new P30 grant. 
The Culver VDI currently includes 32 faculty members from MCG, the Dental College of Georgia, the College of Allied Health Sciences and The Graduate School at AU as well as the University of Georgia Experimental Therapeutics Program. Areas of focus in the institute include disorders affecting the retina, cornea and lens, including diabetic retinopathy, glaucoma and the retinopathy that affects premature babies. 
The grant provides support for organization of the critical expertise and infrastructure needed by these individual vision scientists, enables more efficient collaboration between them and their colleagues across the country, and encourages more collaborative projects with investigators in other fields with overlapping interests. The infrastructure support is also a powerful recruitment tool for additional vision scientists, Smith says.
"This growing group of scientists has always been a highly collaborative and collegial group, happy to share their expertise and equipment, but the grant enables us to formalize and expand our sharing more efficiently and effectively," Smith says. 
The new grant will not support purchase of new equipment, Smith says, rather enables the logical clustering of the significant equipment AU has made available to individual vision investigators with a system in place to schedule equipment usage, train and assist investigators and laboratory personnel in its usage, troubleshoot problems and oversee equipment maintenance. 

Georgia Hospital Association
1675 Terrell Mill Road
Marietta, GA 30067
Click here to update your subscriptions.