Click here if you are having trouble viewing this message.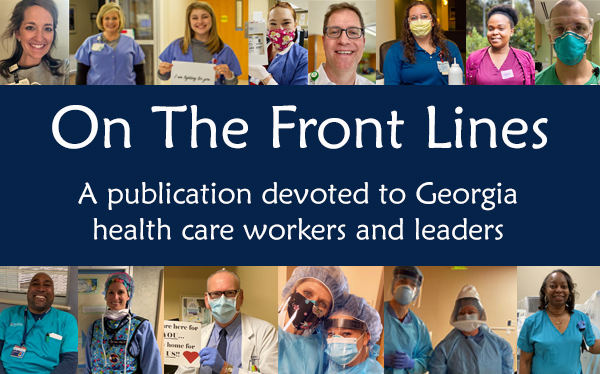 September 5, 2020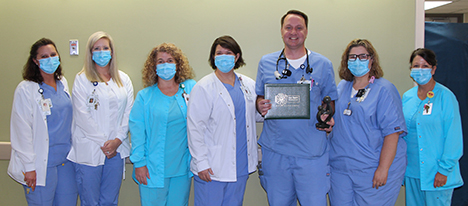 SGMC Recognizes Nurse for Excellence
Justin Mercer, licensed practical nurse at South Georgia Medical Center (SGMC), received The DAISY Award for extraordinary nursing care. 
Mercer was nominated by a patient who said, "I stayed at SGMC and had the pleasure of having Justin care for me for a few days. In talking with him, he shared some of his personal experiences, which made me feel seen and cared about in my recovery. I always enjoy getting to connect with my health care team, and Justin was the highlight of my stay; my level of interest in my care and the medical world in general was not frowned upon by him. He made me feel 'more human-like' and I cannot stress his generosity and care enough."
Mercer has been with SGMC for four years. SGMC continues to ask patients and fellow employees to honor nurses they feel go above and beyond in their actions and care. Nominations are reviewed by a committee based on criteria that include compassion, teamwork, leadership, attitude, and skills and knowledge.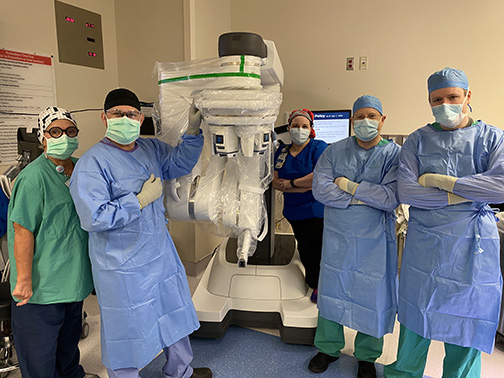 From left to right: Debbie Flowers, Josh Browder, Caitlin Godbold, Dr. Michael Cox and Dr. Andrew Michigan.
Memorial Health Acquires New Robotic Surgery System  
September is Prostate Cancer Awareness Month and Memorial Health is pleased to be the first hospital in Georgia to perform urological surgery using the innovative single port (SP) robotic surgery system. This new surgical robot was used in its first procedure, a prostate surgery, on Friday, Sept. 4.
The da Vinci SP robotic surgery system allows the surgeon to perform complex surgeries with a small, single incision, making the procedures even more minimally invasive. At this time, the SP is FDA approved for urologic and ENT surgeries.
"Traditional prostate surgery techniques require larger incisions and can result in increased post-operative pain and side effects," said urologist Dr. Michael Cox. "Being able to perform prostate surgery in a less invasive procedure will help provide the best possible patient outcomes."
Memorial Health launched its robotics program in 2010 and continues to be a leader in bringing the latest robotic technology to our region. Earlier this year, the hospital launched a new robotic-assisted bronchoscopy platform for early detection of lung cancer as well as a new surgical robot for custom knee replacements. In May 2019, Memorial celebrated the one-year anniversary of its dedicated Minimally Invasive Surgery Center. Surgeons have now performed more than 2,100 robotic procedures in these surgical suites.
"Robotic-assisted surgery offers many benefits for patients," said Dr. Oliver Whipple, bariatric surgeon and President of the Medical Staff. "In our experience, patients who have had robotic surgery experience less pain, shorter recovery times, and improved outcomes."
"We're excited to have this new surgery system for our patients. It shows our continued commitment to bring the latest technology to our region," said Cox.
Hamilton Medical Center Now Offering Highly Advanced Robotic-arm Assisted Joint Procedures
Hamilton Medical Center (HMC) recently began using an innovative robotic technology that allows surgeons to personalize total knee and total hip replacement procedures. HMC is the only hospital in Northwest Georgia using this technology.
The highly advanced robotic technology, Stryker's Mako System, was designed to transform the way joint replacement surgery is performed, enabling surgeons to have a more predictable surgical experience with increased accuracy.
"With Mako, we can provide each patient with a personalized surgical experience based on their specific diagnosis and anatomy," said Mitch Frix, MD, orthopedic surgeon. "Using a virtual 3D model, Mako allows surgeons to create each patient's surgical plan pre-operatively before entering the operating room. During surgery, we can validate that plan and make any necessary adjustments while guiding the robotic-arm to execute that plan. It's exciting to be able to offer this transformative technology across the joint replacement service line to perform total knee, total hip and partial knee replacements."
The Mako Total Knee application is a knee replacement treatment option designed to relieve the pain caused by joint degeneration due to osteoarthritis. Through CT-based 3D modeling of bone anatomy, surgeons can use the Mako System to create a personalized surgical plan and identify the implant size, orientation and alignment based on each patient's unique anatomy. The Mako System also enables surgeons to virtually modify the surgical plan during surgery.
The Mako Total Hip application is a treatment option for adults who suffer from degenerative joint disease of the hip. During surgery, the surgeon guides the robotic-arm during bone preparation to prepare the hip socket and position the implant according to the pre-determined surgical plan. 
Pamela Bennett had been having hip pain for approximately a year, and it had continued to get worse. She made an appointment with Frix who, after diagnostic tests, informed her that she needed total hip replacement and recommended the Mako total hip procedure.
Bennett – first Mako total hip replacement patient at HMC – had her surgery in mid-July. She was scheduled for an early morning surgery.
Bennett was scheduled for an early morning surgery. She was walking within a couple of hours after surgery with the assistance of her nursing and physical therapy staff. She went home in the afternoon on the same day of her surgery.
"The whole process was great," Bennett said. "From the time we walked in the door, everything was seamless, and I felt very safe. Everybody was wearing a mask and following all the safety procedures."
Bennett has continued her physical therapy at Bradley Whiteside Rehabilitation and says her recovery has been great.
"We're excited to be offering this highly advanced technology in our area," said Judean Guinn, director of Surgical Services. "It's another example of Hamilton's commitment to providing excellent healthcare."
Lilicia Bailey Named Chief Human Resources Officer for Emory Healthcare
Lilicia Bailey has been named chief human resources officer (CHRO) of Emory Healthcare, effective Sept. 28. As CHRO, Bailey will be responsible for all aspects of human resources (HR) at Emory Healthcare, including people strategy, benefits and compensation, employee relations, leader and staff development, talent acquisition and internal communications.
Bailey joins Emory Healthcare from Wake Forest Baptist Health in Winston-Salem, NC, where she served as system senior vice president, chief people officer and system academic enterprise change executive. There, she led HR transformation, culture integration strategies for mergers and acquisitions, and organizational change imperatives, including the design and implementation of a three-year transformational people strategy focusing on HR delivering value and measurable outcomes to improve the health system.
Prior to Wake Forest Baptist Health, Bailey was executive vice president and chief people officer at Belk, Inc., and senior vice president for business services and global chief people officer at Manheim Auctions, a part of Cox Enterprises, Inc. Bailey started her career in HR at Home Depot and has maintained support of community endeavors in Atlanta.
"With over 20 years of HR leadership experience in both private sector and academic health care organizations, we are confident that Lilicia's previous experience and extensive knowledge of HR transformation initiatives, engagement strategy, community empowerment and organizational effectiveness will be an asset to Emory Healthcare," says Dane Peterson, president and chief operating officer of Emory Healthcare. "We look forward to her arrival to Emory later this month."
Bailey has a bachelor's degree in psychology from Spelman College, a master's degree in human resource management from the Keller Graduate School of Management and an MBA from Pepperdine University. She is currently pursuing a PhD in global leadership and change at Pepperdine.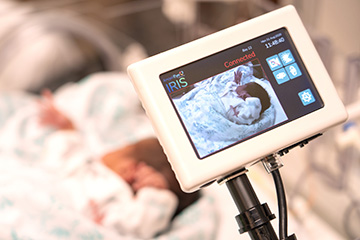 Cameras Let Parents Check on Their Babies at Floyd's NICU
Technology already plays a critical role in Floyd's efforts to provide care for its tiniest patients in the Neonatal Intensive Care Unit (NICU). Now technology is also keeping parents connected with their babies when they can't be there in person.
AngelEye Health cameras installed at the babies' bedsides give moms and dads the ability to see their baby on their phone, computer or tablet by logging on through a secure network with a personal password. The NICU staff can show parents how to get a password and sign on.
"Nobody wants to leave their baby behind," said Konda Dizon, clinical manager of the NICU. "These new cameras give parents the peace of mind that they can check in. They can also rest assured that the system is secure."
With AngelEye's secure, live-stream video, families can see their child's progress as the cameras capture their movement in real time. AngelEye also includes a clinical communication tool that allows the NICU staff to send parents vital updates and precious moments through text, photo or recorded video, further engaging parents in their infant's care.
The AngelEye platform also provided educational information so parents can be better prepared when it is time to take their baby home.
Floyd Healthcare Foundation raised more than $40,000 to help purchase the 23 cameras.
"During the NICU campaign, we heard from parents that they wanted to stay connected with their babies while they were away from the hospital," said Lauren Adams, foundation director. "This type of system enables family members to stay connected with their babies while they are at work, away for military service or when other circumstances limit their visits. During the pandemic, the peace of mind this system offers becomes even more crucial. We are thankful to all the donors who supported this project."  
Emory Pilot Study to Evaluate Freezing Procedure for Patients with Type 2 Diabetes
A new study is underway at Emory Johns Creek Hospital (EJCH) to assess the feasibility of cryoablation, or the use of extreme cold for patients with Type 2 diabetes.
The one-year pilot study, called "Percutaneous CT-guided cryoablation of the splanchnic nerves for the management of Type 2 diabetes" will enroll five patients between the ages of 22 and 65 at EJCH. The splanchnic nerves are located on both sides of the spine. The nerves carry both visceral sympathetic and sensory fibers.
According to the Centers for Disease Control and Prevention (CDC), 34.2 million people in the United States are living with diabetes, and approximately 90 to 95 percent have Type 2 diabetes, the most common form of the disease.
J. David Prologo, MD, FSIR, ABOM-D, director of Interventional Radiology Services at EJCH, and associate professor in the Department of Radiology and Imaging Sciences in Emory's School of Medicine is the principal investigator for the new FDA-regulated study at Emory.
"We use CT-image guidance to pinpoint the splanchnic nerves, freeze them and hopefully decrease blood sugar in patients with insulin resistance," says Prologo.
Researchers will evaluate patients at baseline, day seven, 30, 180, and 360 post-procedure.
"Our team will examine a plethora of data, including glycemic control, body weight, lipids, systolic, diastolic and orthostatic blood pressure measurements, among other things  throughout the study and track the changes compared to baseline after the procedure," says Prologo. 
A registered dietitian and exercise physiologist will provide standardized diet and exercise counseling to all subjects.
Participation in the study is voluntary. Patients will receive $25 for the screening visit, $100 on the procedure day, and $50 for each follow up visit to reimburse for travel and parking expenses.
The study is funded by the Georgia Research Alliance and The Emory Synergy Grant Mechanism.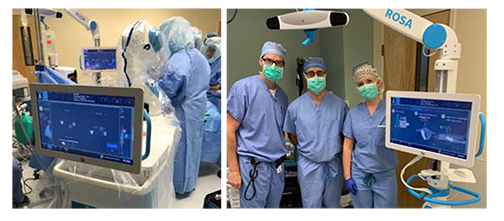 Photo (left): ROSA® Knee System in the surgical suite at Perry Hospital
Photo (right): Dr. JD Hall, anesthesiologist; Dr. Brian Ludwig, orthopedic surgeon; and Katherine Speight, PA
Perry Hospital Performs First Robotic Assisted Orthopedic Case
The first Robotic Assisted Total Knee Replacement in Houston County was performed this week at Perry Hospital. This new technology, the ROSA® Knee System, assists the orthopedic surgeon by essentially allowing the surgeons to conduct a virtual knee replacement before any cuts are made, ensuring the implant will be positioned correctly while in surgery. The surgery was performed by Dr. Brian Ludwig with anesthesia support from Dr. JD Hall. The ROSA® Knee System is available at Perry Hospital and Houston Medical Center.
Memorial Satilla Health Wins Award for Environmental Sustainability
Memorial Satilla Health was recently honored with a national Practice Greenhealth award for environmental sustainability efforts. The hospital is part of HCA Healthcare, which received 60 national Practice Greenhealth Environmental Awards in 2020. 
Memorial Satilla won a Making Medicine Mercury Free Award after submitting an application showing that it has virtually eliminated the use of mercury and has measures in place to prevent future use of it. This award is a permanent award extending past the 2020 award season.
"This is a great honor that reinforces our dedication to outstanding environmental practices. Being a mercury free facility is just one of the ways Memorial Satilla Health is committed to environmental sustainability," said Bobby McCullough, the hospital's CEO. "We also practice recycling and, as always, we are committed to anything and everything that contributes to a healthier community."
Practice Greenhealth is the nation's leading resource for environmentally friendly practices in health care, recognizing health care facilities and health systems for their commitment to improving environmental performance while demonstrating sustainability efforts in the community.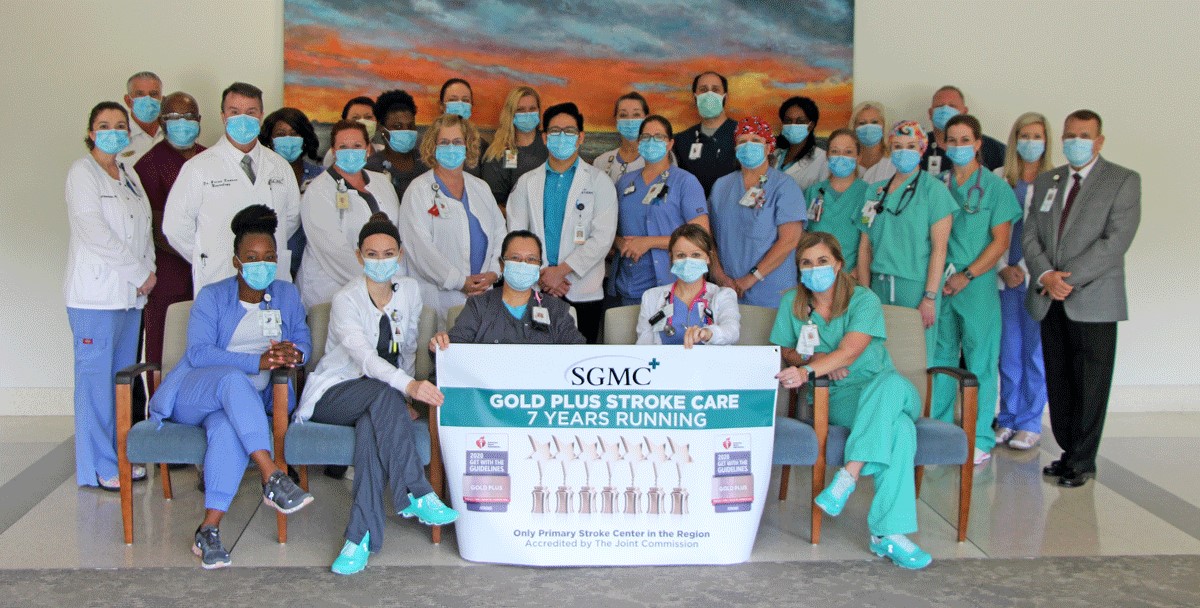 SGMC Stroke Program Receives Top Award
The stroke program at South Georgia Medical Center was recognized for excellence in stroke treatment. The hospital was just awarded the 2020 Get with the Guidelines- Stroke GOLD PLUS award from the American Heart Association and American Stroke Association for the seventh consecutive year. 
The award recognizes SGMC's commitment to ensuring stroke patients receive the most appropriate treatment according to nationally recognized, research-based guidelines.
Additionally, SGMC received the Association's Target: Type 2 Diabetes Honor Roll award. To qualify for this recognition, SGMC met quality measures developed with more than 90% compliance for 12 consecutive months for its "Overall Diabetes Cardiovascular Initiative Composite Score."
SGMC is also the only hospital in South Georgia with an Advanced Certification as a Primary Stroke Center by The Joint Commission.
Georgia is in the center of what is called the "stroke belt," the region in the southeastern United States with an unusually high incidence of stroke. Because of this, SGMC committed nearly a decade ago to make stroke care a priority. The hospital welcomed Dr. Brian Dawson, a stroke neurologist, in 2011 to launch and develop an enhanced patient care protocol known as Code Stroke. 
SGMC began participating in the Get with the Guidelines program in 2012, receiving Bronze the first year, Silver Plus the next year, and Gold Plus recognition every year since.
"From the consistent hard work of many remarkable professionals over the years, SGMC has developed and maintained one of the best stroke programs in South Georgia. We are grateful for the opportunity to serve as the region's Joint Commission Accredited Primary Stroke Center," said Dr. Brian Dawson, chief medical officer.
According to Dawson, through an enhanced partnership with community neurologists Drs. Mahmood Eisa, Bipin Patel, Hernan Posas, and Vipul Parek, and neurosurgeons Drs. Kimberly Mackey and Hitham Khalil, SGMC intends to keep taking neurological care to the next level.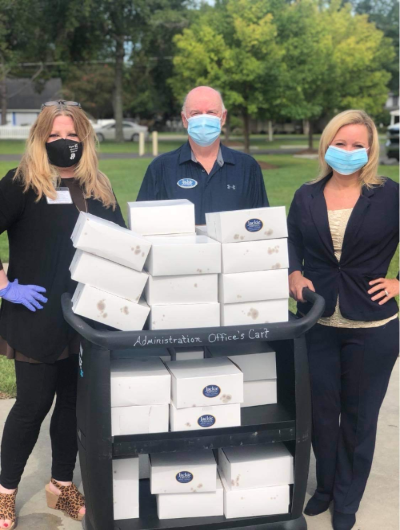 Accepting the donation was Janet Keith (left), the hospital's executive assistant to the CEO and CFO, and in-house legal counsel. Delivering them to the hospital were John B. Johnson, chief assistant district attorney (center) who shared, "You all are heroes in Wayne County. We want to recognize and honor people on the frontline." Also on hand was Sherry Ann Gibbs, chief administrator and victim assistance director for the Brunswick Judicial Circuit.
Dozens and Dozens of Donuts Delivered for Frontline Workers from

Jackie Johnson Campaign
Dozens of donuts were delivered Friday, Aug. 28 to Wayne Memorial Hospital employees as a thank you to all of the hospital's frontline workers. 
As the hospital is on visitor restrictions due to COVID-19, Janet Keith and another hospital employee made the delivery of doughnuts to each department.
Senior Care Center Visitor Cottages Keep Families Connected
In difficult times, necessity becomes the mother of invention. Southeast Georgia Health System's Senior Care Centers in Brunswick and St. Marys have taken that to heart. Outside of each facility stands a collection of diminutive white cottages, each featuring a covered porch.
"Because of the pandemic, it was necessary to restrict visitors at the Senior Care Centers for the safety of our residents," said Gary Trullinger, administrator of the Senior Care Center-Brunswick. Trullinger worked with the Health System's leadership to launch the concept. "Up till now, family and loved ones have connected with residents through window visits and with the use of a tablet for Skype calls. The Visitor Cottages can restore some normalcy by providing a private, safe and climate controlled space to reunite and spend quality time together."
Each cottage allows two visitors to spend time with their elderly relative in a safe, private atmosphere. Residents enter through a back entrance, which has a wheelchair-accessible ramp and door. Visitors enter in the front door under a covered porch.
"Isolation was already one of the biggest challenges for long term care and elder care facilities prior to COVID-19," said Rhondia Grant, LNHA, administrator, Senior Care Center-St. Marys. "COVID-19 made an already challenging situation worse with mandated shelter in place orders eliminating regular family visits for the past six months. While the Brunswick and St. Marys Senior Care Centers connect families through FaceTime and Skype, some families find the technology challenging. So the Visitor Cottages are a very exciting approach to helping our residents and their loved ones adapt to our 'new normal.'"
To prevent the spread of COVID-19, a protective plexiglass shield divides the climate controlled sitting area but stops short of the ceiling. "It's easier for residents to hear their visitors through a thin plexiglass shield than through a window," said Chasitee Chambers, activities specialist, referring to the window-to-window visits Senior Care Center residents have participated in since March.
Window visits have several drawbacks, weather being one. Visitors must stand outside in the hot sun and rainstorms can cancel a much-anticipated visit.
"Some residents have difficulty hearing visitors through the window. Others with cognitive decline get confused and tell their family to come inside," Chambers said.
Extra safety precautions aside, a cottage visit is like chatting in a living room. "The cottages are a lot more comfortable and personal than a window-to-window visit," Trullinger said.
Family and friends can call the Center to schedule a visit with their loved one. For now, visits are scheduled in 15-minute increments to give all residents an opportunity to use the cottages and to allow time for cleaning between visits. The Senior Care Center-Brunswick has four cottages; St. Marys has two.
"Making residents feel loved and cared for has always been our goal; that's especially important now, because their mental state affects their physical state. We want to make their experience here the best it can be. The cottages are one more way to keep residents connected with families," Chambers said. The cottages are small, but Chambers hopes they will have a big impact on the residents' well-being. Many residents are already excited, which makes Chambers feel supported by the Health System's efforts. "It's a great place to work," she said.
Her gratitude extends to the community, as well. "We have had an outpouring of gifts, mail and support from the community. Our residents are always so excited when they receive the gifts and cards."
Augusta University Health Recognized for Dedication to LGBTQ Health Care Equality
Augusta University Health has once again been named a national top performer for its dedication and commitment to LGBTQ equality in patient care.
Augusta University Medical Center received the designation in the 2020 Healthcare Equality Index, the Human Rights Campaign Foundation's benchmarking tool that reviews health care facility policies and practices related to the equity and inclusion of LGBTQ patients, guests and employees.
"The LGBTQ community has historically struggled to access equitable health care, and their concerns continue after the recent revisions to the Affordable Care Act's primary anti-discrimination provision. We strive to make our facilities welcoming and healing places for all," said Julie Moretz, chief experience officer and associate vice president of Patient- and Family-Centered Care for Augusta University Health. "Our staff works diligently to ensure Augusta University Health is an inclusive environment for LGBTQ patients and their loved ones."
Augusta University is home to the award-winning Equality Clinic, Augusta's first medical facility dedicated to serving the under- and uninsured LGBTQ community. The university also has a host of additional diversity and inclusion resources, such as LGBTQ information officer Dr. Lara Stepleman, who serves as a liaison for these patients.
Launched in 2007, the HEI was created to help health care facilities become more inclusive and sensitive in providing LGBTQ patient-centered care to diminish the fear of discrimination or refusal of care. See the 13th edition of the Healthcare Equality Index.
"The health care facilities participating in the HRC Foundation's Healthcare Equality Index are not only on the front lines of the COVID-19 pandemic, they are also making it clear from their participation in the HEI that they stand on the side of fairness and are committed to providing inclusive care to their LGBTQ patients," said HRC President Alphonso David. "We commend all of the HEI participants for their commitment to providing inclusive care for all."
Phoebe Expands Virtual Visits
As part of its ongoing effort to improve access to care for patients, Phoebe is expanding its virtual visit options. In addition to scheduling telehealth visits with primary care physicians, patients can also now take advantage of telehealth technology for urgent care visits. 
"We know people often need to see a provider right away for treatment of illnesses and injuries that don't require emergency care. Sometimes, they may be unable to travel to one of our urgent care locations, or they may simply prefer to speak with a provider from the comfort of their home. Our virtual visits allow them to do just that," said Suresh Lakhanpal, MD, Phoebe Physicians chief executive officer.
Common reasons to choose an urgent care virtual visit include:
Upper respiratory infections (sinusitis, cold,)

Sore throat (strep, viral)

Lower respiratory infections (pneumonia, COVID, flu)

Urinary tract infection

Pink eye

Skin infections/rashes

Mechanical back pain

Knee/ankle sprains/joint pain

Headache/earache

Gastrointestinal infection (nausea/vomiting/diarrhea)
Patients can also request an appointment with their Phoebe primary care physician. 
"Our primary care providers throughout Phoebe Physicians are pleased to offer this convenient option. While we have taken extraordinary measures to ensure the safety of our patients who visit our clinics in person during the COVID-19 pandemic, we know some patients would prefer not to have to come to an office right now. During the height of the pandemic, we quickly stood up this virtual visit option, and it continues to work well for many patient visits," said Derek Heard, MD, Phoebe Physicians medical director of primary care.
Northeast Georgia Health System Encourages You to Help Stop the Spread of COVID-19 This Labor Day Weekend
Northeast Georgia Health System (NGHS) is encouraging people to be more vigilant about avoiding crowds as we enter the Labor Day weekend, after Hall County and the surrounding region saw COVID-19 cases and hospitalizations jump to record levels following the Fourth of July weekend.
"When you look at the objective data, there's no doubt that our community got a little too relaxed as we celebrated Independence Day – and the resulting increase in COVID activity put people's lives in danger and placed tremendous strain on our health care workers," says John Delzell, MD, MSPH, one of NGHS' COVID-19 incident commanders with a background in public health. "Please celebrate Labor Day safely and help stop the spread by avoiding large parties, wearing your mask around others, watching your distance and washing your hands."
The NGHS seven-day average of positive COVID tests hovered between 5-10% in May and June. Those levels were in line with the state average and the World Health Organization's (WHO) recommendation that the positive rate should remain at 5% or lower for 14 days before communities fully reopen all services. On July 4, though, the NGHS rate jumped to 11.5% – then it leapt to a record 28% by July 16.
"It's taken a lot of hard work by this community to steadily lower the positivity rate, which is now at 15%," says Supriya Mannepalli, MD, Northeast Georgia Medical Center's medical director of infectious disease medicine. "While that's still higher than the state average of 10% and the 5% goal set by the WHO, it's still great progress trending in the right direction.
"We need to continue to work together to keep that positive momentum – especially as we head into a holiday weekend, schools are back in session and flu season is starting. Just keep following the simple precautions to help keep the people of this community, as well as local schools and businesses, healthy."
Augusta University Health Opens Second
COVID-19 Testing Site for Children
in Columbia County
As recent reports show a spike in the nation's COVID-19 cases among children, Augusta University Health has opened a new COVID-19 testing location in Grovetown, Georgia, to better support pediatric patients living in Columbia County.
Testing will be held at the Augusta University Care Center Grovetown Pediatrics at 305 West Robinson Avenue, and appointments will be available from 8 a.m.-4:30 p.m. Monday through Friday. 
Children and teenagers being treated at Augusta University West Wheeler can also schedule an appointment to be tested at that location.
"Although there is still much to learn about how this virus affects children and young adults, we want to offer testing and treatment so they also get the care they need," said AU Health Chief Medical Officer Dr. Phillip Coule. "At AU Health, it is our goal to ensure the health and safety of our community, and I am grateful we can expand our reach of testing to treat our youngest patients during the global pandemic."
SGMC Distributes 10K Masks to Community Partners
South Georgia Medical Center presented the Greater Valdosta United Way with 5,000 reusable cloth masks as part of its 10K Mask Challenge. The hospital's foundation launched the fundraising appeal in July, seeking to raise enough funds to purchase 10,000 masks to distribute to community members in need. The foundation reached its goal in August, making the purchase possible.
SGMC will distribute the remaining 5,000 masks to a variety of community organizations and locations who serve those in need. 
"We are pleased to announce that we have reached our goal and are overwhelmed with the response of participation. Over 75 donors, individuals and businesses stepped up during this short time frame and helped us fill this need with their monetary support. Our community truly knows how to give back," said Elizabeth Vickers, SGMC Foundation executive director.
"We are honored to partner with SGMC to distribute masks out in the community through our partner agencies. We want to keep the spread of COVID down and allow the economy to recover," said GVUW chief executive officer Michael Smith. "SGMC is a great partner of ours and we are proud of their leadership in keeping South Georgia safe."
The rate of new positive COVID-19 cases in Lowndes County has declined in recent weeks and SGMC believes this can be attributed to the community acting responsibly to prevent the spread. This includes wearing a mask while in public places or when social distancing cannot be maintained. 
Approaching the Labor Day holiday, SGMC encourages everyone to remember the acronym WWW- Wash your hands, Wear your mask, and Watch your distance. 
Two Surgeons Joining Athens General & Colorectal Surgeons and St. Mary's Medical Group
Dr. Kathleen Jeffery joining St. Mary's as region's first dedicated female breast surgeon
St. Mary's Medical Group and Athens General and Colorectal Surgery (AGCS) welcome Kathleen Jeffery, MD, the region's first female board-certified breast surgery specialist.
Dr. Jeffery comes to AGCS from Greenwood, S.C., where she served as medical director of the Breast Center at Self Regional Healthcare and as a partner in Advanced Surgical Associates. Previously, she practiced with Summit Surgical in Dahlonega, Ga., and was an assistant professor of surgery with the Medical College of Georgia in Augusta.
She earned her bachelor's degree in biology from Ohio State University-Columbus and her medical degree, Magna Cum Laude, also from OSU-Columbus. Dr. Jeffery completed her general surgery residency and internship at the Medical College of Georgia, where she served as director of the Resident Basic Science Course and administrative chief resident.
Dr. Jeffery is certified in ultrasound-guided breast biopsy and stereotactic breast biopsy by the American Society of Breast Surgeons and also is certified by the American Board of Surgery. She is committed to seeing patients as quickly as possible upon referral, often within 24 hours, and works with patients to help them understand all their options, including surgical procedures that minimize the cosmetic impact to the breast.
Dr. Brant Parramore to join Athens General & Colorectal Surgeons
J. Brant Parramore, MD, a board-certified general surgeon with roots in Georgia, is joining Athens General and Colorectal Surgeons (AGCS), part of St. Mary's Medical Group.
As a skilled endoscopic and laparoscopic surgeon, Dr. Parramore is able to use minimally invasive techniques for many procedures. Among the types of procedures he performs are breast surgery, including lumpectomy and mastectomy; thyroid surgery; gallbladder surgery; hernia repair; anti-reflux surgery; appendix surgery; stomach procedures; colon surgery; hemorrhoid disease, and colonoscopy and upper endoscopy.
Joining AGCS brings Dr. Parramore back to Athens. He is a graduate of the University of Georgia, where he earned his bachelor's degree in biochemistry, and received his medical education from the Medical College of Georgia in Augusta. He completed his general surgery residency at MCG and has practiced with Summit Surgical in Dahlonega, Ga., and Advanced Surgical Associates in Greenwood, SC.
Avjola Hoxha, MD, Expands Psychiatry Access at Willowbrooke Psychiatric Center
Avjola Hoxha, MD, a board-certified child and adolescent psychiatrist at the new Willowbrooke Psychiatric Center, is helping to expand access to psychiatric services for children and adolescents in west Georgia.
Dr. Hoxha earned her medical degree at the University of South Carolina – Columbia School of Medicine. She completed a residency in psychiatry and a fellowship in child and adolescent psychiatry at the University of Florida College of Medicine in Gainesville.
Dr. Hoxha is a member of the American Academy of Child and Adolescent Psychiatry (AACAP) and the American Psychiatric Association (APA). She is bilingual, fluent in English and Albanian.
At Willowbrooke at Tanner, Dr. Hoxha works with child and adolescent patients, ages 5 to 17, treating them for a wide spectrum of mental health needs — including ADHD, anxiety disorders, bipolar disorder, depression, mood disorders, OCD, PTSD, schizophrenia, tics and trauma — through psychiatric evaluations, psychotherapeutic intervention and medication management.
Heart Procedure Gives Woman Another Lease on Life
A patient story for National AFib Awareness Month
Donna Nichols has always been a go-getter and, even at the age of 72, she has no problem keeping up with her grandkids or making time to exercise.  
However, her active life was put on hold seven years ago when her doctor spotted an abnormal heart rhythm during a routine checkup.
"I had just turned 65 years old and I was feeling fine," Nichols said. "The only word that comes to my mind was 'shocked' when the doctor said my EKG results were abnormal and he diagnosed me with AFib."
Normally, the heart contracts and relaxes with each beat. But in atrial fibrillation, or AFib, the upper chambers of the heart beat irregularly, which can lead to blood clots, stroke, heart failure and other heart-related complications.
After her diagnosis, Nichols experienced three AFib episodes that left her feeling exhausted and experiencing heart palpitations.
"Whenever I was having an episode, it felt as if my heart was beating out of my chest and I had no energy to do anything," said Nichols. "I even felt light-headed, and that is a very scary feeling."
Nichols was referred to the Heart Rhythm Center's Electrophysiology Lab at Augusta University Health, where she was introduced to Dr. Haitham Hreibe, a cardiac electrophysiologist in the Department of Medicine in the Medical College of Georgia.
After running several tests to evaluate Nichols' heart condition, Hreibe concluded she was a candidate to undergo a cryoballoon ablation. This procedure works by delicately freezing the disabled heart tissue causing the arrhythmia.
"The recovery was great and I was back to my old self again," said Nichols. "But, then I started experiencing the flutters again this year and I knew I had to reach back out to AU Health."
Nearly two years after her procedure, Nichols experienced another AFib episode. In July, she underwent a minimally invasive radiofrequency ablation, a treatment that interrupts the electrical pathways in the atrial wall tissue causing the abnormal heart rhythm.
Since receiving care at AU Health, Nichols says her energy levels have increased, and she is back to spending time with her family and doing the activities she loves.
Nichols is among the 1,200 patients the Heart Rhythm Center's EP Lab provides care to each year. The quality of the lab's staff and their ability to treat complicated heart conditions like AFib helped them receive the American Heart Association's Heart Failure Gold Plus with Honor Roll and Target Type 2 Diabetes Honor Roll Awards for its commitment to providing quality treatment to cardiac patients.
The lab is also the first facility in Georgia and the sixth in the country to be accredited by the American College of Cardiology.
"I am proud of the work we do in the EP Lab, and this accreditation speaks to how diligent we are at finding the best clinical processes to improve the quality of life for our patients," said Hreibe. "I am grateful we could provide the proper care for Donna, and we will continue doing our best to give each of our patients the support they need while under our care."
Hamilton Health Care System Joins #MaskUpGa Campaign
Hamilton Health Care System has joined #MaskUpGA, a campaign to encourage all Georgians to make the choice to wear face coverings when in public settings and to social distance when possible to slow or stop the spread of COVID-19.
The purpose of the campaign is to encourage organizations, businesses and individuals to post on social media pictures or videos of themselves wearing masks and to accompany these posts with #MaskUpGA and a message about why they "mask up."
"This campaign is about Georgians coming together to protect ourselves, our families and those around us," said Jeff Myers, CEO. "We, along with Gov. Brian Kemp, are encouraging everyone to wear a mask to stop the spread of this virus. Together, we can make a significant difference."
Research and data show that wearing face coverings helps reduce the spread of COVID-19. According to the Centers for Disease Control and Prevention (CDC), wearing masks is "a critical tool in the fight against COVID-19 that could reduce the spread of disease, particularly when used universally within communities." The CDC further states that wearing masks potentially slows the spread of the virus from one person to another.
World Patient Safety Day 
World Patient Safety Day is Sept. 17. Gather your friends and families (with social distancing and masks) to learn about how you can protect yourself as a patient, and serve as an advocate for your loved ones who are receiving medical care. The annual World Patient Safety Day will be celebrated globally to reiterate the importance of health care safety and raise global awareness.
People will be marching in countries around the world and using the color "orange" as a tee-shirt, cap or even put an orange light on their porch. A virtual event on YouTube with President Bill Clinton, a couple of senators and entertainment by Belinda Carlisle. 
2021 GHA Patient Safety & Quality Award
Deadline Extended
We know you and your teams have been extremely busy with the COVID-19 pandemic. For that reason, the submission date for the Patient Safety & Quality Award applications has been extended to Oct. 30. We look forward to receiving your application. Please contact Kathy McGowan with any questions.
Nursing Scholarship Opportunity for GHA Members
GHA awards scholarships annually to nurses pursuing their Bachelor of Science in nursing. Funded by The Marjorie G. Hogan Memorial Scholarship Endowment, the scholarships are awarded annually to employees of GHA member hospitals.
The endowment is made available at the bequest of former GHA President, the late Glenn Hogan, in honor of his wife Marjorie G. Hogan. Mr. and Mrs. Hogan had a passion for developing our Georgia health care workforce and have left us a great legacy.
Applications are available on the Marjorie G. Hogan Memorial Scholarship web page on the GHA web site.

Georgia Hospital Association
1675 Terrell Mill Road
Marietta, GA 30067
Click here to update your subscriptions.