Click here if you are having trouble viewing this message.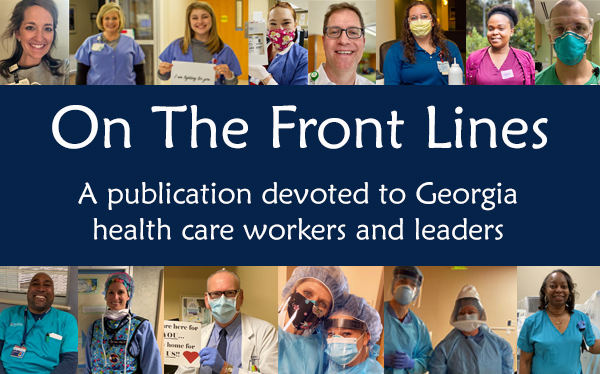 July 25, 2020
GHA Staff Thanks Our Heroes
This publication is devoted to those on the front lines. Each of you makes the world better and your commitment and dedication is not forgotten. It has been said by many that we are all in the fight against the invisible virus together. Our hospitals have stepped up and constantly delivered and for that, GHA staff thanks you, appreciates and supports you. These are difficult times, but together, we can achieve success. Each day, our health care workers and leaders are in our thoughts and prayers. Please know you are appreciated.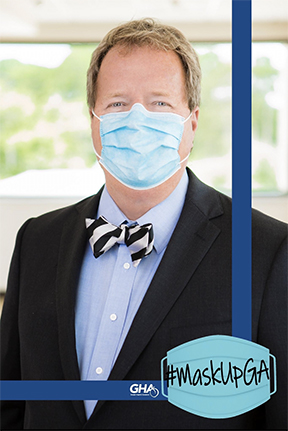 Jim Matney, CEO of Colquitt Regional Medical Center in Moultrie, supporting #MaskUpGA.
#MaskUpGA Campaign
GHA has officially launched the #MaskUpGA campaign. More information and supporting materials were sent this week to the entire membership, including a news release template and graphics for social media. If you have any questions, please contact Erin Stewart at estewart@gha.org. As always, GHA is extremely appreciative to our hospitals for everything you do.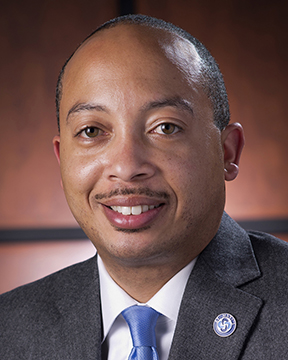 St. Mary's President and CEO Montez Carter Elected to American Hospital Association Board of Trustees
The American Hospital Association (AHA) has announced that D. Montez Carter, President and CEO of St. Mary's Health Care System, has been elected to the AHA Board of Trustees, the highest policy making body of the AHA and the organization's ultimate authority for the governance and management of its directions and finances.
The AHA is a national organization that represents and serves all types of hospitals, health care networks, and their patients and communities. 
Carter has been very active with the Georgia Hospital Association board of trustees, including serving as chair in 2018. In addition, he is co-chair of the Athens Area Chamber of Commerce board of directors, on which he has served since 2018, and is a member of the board of directors of the Georgia Alliance of Community Hospitals.
He previously served as a delegate to AHA's Regional Policy Board (RPB) 4, which covers several Southeastern states. In his new role as an AHA board member, Carter will now chair RPB 4. His three-year term will begin Jan. 1, 2021.
Carter joined St. Mary's in 2010 as vice president of operations. In 2012 he was named president of St. Mary's Good Samaritan Hospital in Greensboro, and in March 2017 became president of St. Mary's Hospital in Athens. In December 2017, he was named president and CEO of St. Mary's Health Care System, leading some 2,300 colleagues across three hospitals, a medical group, home health care/hospice agency, outpatient facilities and a retirement community.
Prior to coming to St. Mary's, Carter served at Greenwood Leflore Hospital in Greenwood, Miss., where he was director of pharmacy services and then associate director of performance improvement and patient support services. He earned his master's degree in business administration from the University of Alabama and his doctoral degree in pharmacy from the University of Mississippi.
Houston Healthcare Announces Vice President and Administrator for Perry Hospital
Charles Briscoe, president and chief executive officer for Houston Healthcare, along with the Houston Healthcare System and Houston Hospitals Boards of Trustees, proudly announce the selection of Todd Edenfield, RN, as the new vice president and administrator for Perry Hospital.
Todd has worked for Houston Healthcare for the past 30 years and has served as the director of nursing for Perry Hospital for the past 16 years, which makes him uniquely qualified for this position.
"We are all aware that, over the years, Todd has become much more than a staff member at Perry Hospital," shared Briscoe. "He has been there for those requiring expert medical care with a sympathetic ear or a helping hand. Todd is part of the heart of both Perry Hospital and the surrounding community. He has prepared himself well to take this important step forward to lead the staff of Perry Hospital to greater heights of achievement and service."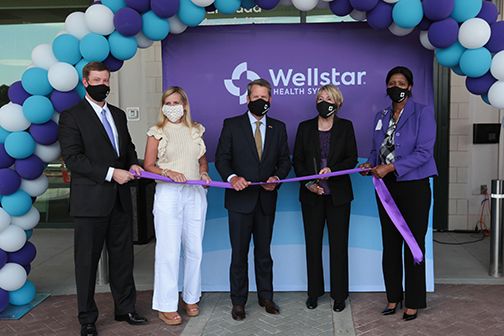 Wellstar Health System Officials are joined by Gov. Brian P. Kemp and First Lady of Georgia Marty Kemp for a ribbon-cutting ceremony at the new Wellstar Kennestone Hospital Emergency Department. (L-R): Otis Brumby III, Wellstar Health System Board of Trustees Chair; First Lady of Georgia Marty Kemp; Governor of Georgia Brian P. Kemp; Candice L. Saunders, president and CEO of Wellstar Health System; and Mary Chatman, EVP of Wellstar Health System and president of Wellstar Kennestone and Windy Hill Hospitals.
Wellstar Kennestone Hospital Cuts Ribbon for New, State-of-the-Art Emergency Department
Wellstar Health System, one of Georgia's largest and most integrated health care systems, recently held the official ribbon-cutting ceremony for its new emergency department at Wellstar Kennestone Hospital. Leaders from the health system were joined by Georgia Gov. Brian Kemp and his wife, First Lady of Georgia Marty Kemp, to celebrate the livestreamed milestone event for Wellstar, the hospital, and the communities it serves across Metro Atlanta, Georgia, and neighboring states. The Level II trauma center is part of the state's largest trauma network and is expected to be one of the largest and busiest in the nation.
"As a not-for-profit health system that provides care for communities across Georgia, our priority is the health and well-being of the people and communities we serve," said Candice Saunders, president and CEO of Wellstar Health System. "This historic moment is the result of an inspiring team and strong community partnership centered on bringing world-class healthcare to every person, every time. The new emergency department is an asset to our system and all of the people we care for."
The ribbon-cutting ceremony comes after Wellstar leaders and state officials broke ground on the Kennestone Hospital emergency department expansion project in Feb. 2018.
"The new emergency department at Wellstar Kennestone Hospital will have an immediate positive impact on our community by serving as a critical care resource to Georgians experiencing medical emergencies or trauma," said Gov. Kemp. "The State of Georgia proudly supports Wellstar Health System and the more than 24,000 team members who are on the frontlines providing outstanding and lifesaving care to Georgians."
The 263,000-square-foot facility will be one of the top two largest and busiest emergency departments in the nation, serving up to 600 patients per day and 220,000 patients each year, doubling the current trauma and emergency capacity.
"Wellstar Kennestone Hospital's new emergency department was designed to continue to provide safe and high-quality care to our community," said Mary Chatman, executive vice president for Wellstar and president of Wellstar Kennestone and Wellstar Windy Hill Hospitals. "Wellstar actively solicited feedback from our community partners and used the input to build our new facility. Our new emergency department will be the industry leader in best practices, with world-class providers, team members, and service."
South Georgia Medical Center CEO Ronnie Dean presented hospital heroes awards to Sylvia Uddyback and Don Luke.
SGMC Honors Hospital Heroes
The Hospital Authority of Valdosta Lowndes County Georgia recognized Sylvia Uddyback and Don Luke as the South Georgia Medical Center Hospital Heroes for July.
Uddyback is a registered nurse who has been with SGMC for 39 years and serves as the employee health coordinator. In this position, Uddyback leads many programs that promote health and wellness for SGMC employees and providers. With the onset of COVID-19, Uddyback plays a vital role in ensuring our staff or more than 3,000 employees and providers receive educational materials and support.  
Luke is the director of operations at the Smith Northview Campus and has been with SGMC for 33 years. He was recognized for his leadership in operationalizing the COVID-19 drive-through screening and testing station at the Smith Northview Campus in March, which provided immediate access to COVID-19 testing to members of our communities. To date, the station has screened over 10,000 and tested more than 7,000. He also facilitated the opening of inpatient beds at the Smith Northview Campus, which provided the system additional bed capacity.
Floyd Honored Again by American Heart Association
Floyd Medical Center has received the American Heart Association's Get With The Guidelines-Heart Failure Gold Plus Quality Achievement Award for 2020. It marks the fourth consecutive year the hospital has been in the Gold category.
The award recognizes the hospital's commitment to ensuring heart failure patients receive the most appropriate treatment according to nationally recognized, research-based guidelines founded in the latest scientific evidence. The goal is speeding recovery and reducing hospital readmissions for heart failure patients.
Floyd is also recognized on the association's Target: Heart Failure Honor Roll. Hospitals are required to meet specific criteria that improve medication adherence, provide early follow-up care and coordination, and enhance patient education. The goal is to reduce hospital readmissions and help patients improve their quality of life in managing this chronic condition.
Floyd earned the Get With The Guidelines award by meeting specific quality achievement measures for the diagnosis and treatment of heart failure patients at a set level for a designated period. These measures include evaluation of the proper use of medications and aggressive risk-reduction therapies. Before discharge, patients also receive education on managing their heart failure and overall health, get a follow-up visit scheduled, as well as other care transition interventions.
"Floyd is dedicated to improving the quality of care for our patients with heart failure by implementing the American Heart Association's Get With The Guidelines-HF initiative," said Lee Clevenger, Floyd's director of critical care and cardiovascular services. "The tools and resources provided help us track and measure our success in meeting evidenced-based clinical guidelines developed to improve patient outcomes."
"We are pleased to recognize Floyd Medical for their commitment to heart failure care," said Lee H. Schwamm, M.D., national chairperson of the quality oversight committee and executive vice chair of neurology, director of acute stroke services, Massachusetts General Hospital, Boston, Massachusetts. "Research has shown that hospitals adhering to clinical measures through the Get With The Guidelines quality improvement initiative can often see fewer readmissions and lower mortality rates."
Cartersville Medical Center Nationally Recognized as a Best Maternity Care Hospital by Newsweek
Cartersville Medical Center has been named to Newsweek's 2020 list of Best Maternity Care Hospitals. The distinction recognizes facilities that have excelled in providing care to mothers, newborns and their families, as verified by the 2019 Leapfrog Hospital Survey. Best Maternity Care Hospitals is part of Newsweek, powered by data from The Leapfrog Group.
"We are exceptionally proud of this national recognition of our excellent mother/baby care services," said Chris Mosley, CEO, Cartersville Medical Center. "Our physicians, midwives, perinatal nurses and techs provide incredible, personalized care while meeting and exceeding quality standards, resulting in healthier babies. It's a tremendous honor to be one of only eight facilities in Georgia named to Newsweek's 2020 List of Best Maternity Care Hospitals."
"Best Maternity Care Hospitals are an elite group of hospitals from across the country," said Nancy Cooper, editor in chief of Newsweek. "These facilities are to be commended for the care they provide to women and families, and for giving babies a strong start to life. Particularly in these uncertain times, we are honored to share this list of top-ranked facilities with Newsweek's readership."
Hospitals named as a Best Maternity Care Hospital have fully met The Leapfrog Group's standards for maternity care on evidence-based, nationally standardized metrics. The tough standards have been established by Leapfrog's national expert panel. This includes lower rates of early elective delivery, NTSV C-section, and episiotomy, as well as compliance with process measures including newborn bilirubin screening prior to discharge and blood clot prevention techniques for mothers delivering via C-section.
Cartersville Medical Center is one of fewer than 250 hospitals nationwide, one of only eight hospitals in Georgia and the only hospital in the Northwest Georgia region to receive the prestigious accolade. The full list of recipients will appeared in the July 24 edition of Newsweek, available online and at newsstands nationwide.
Coffee Regional Medical Center is Planning Ahead
To best meet the future care needs of our community and meet the global pandemic's challenges, Coffee Regional Medical Center (CRMC) was recently granted two essential requests.
After careful consideration, CRMC made two applications to the state of Georgia. One application was for additional nurses, respiratory and physical therapists, and medical and laboratory technologists. We are grateful that our request for additional staff was responded to swiftly. We have credentialed many additional nurses and technologists who are working alongside our outstanding team of caregivers as we care for our patients.
The second application was a request to increase patient care capacity by 34 beds; the state immediately granted this application. Both of these important steps are examples of the strong partnership CRMC has with the state of Georgia.
Throughout the pandemic, hospital volumes at CRMC, like all hospitals, have fluctuated daily, as patients are discharged, and additional patients arrive for care. As those volumes fluctuate, the medical staff, EMS team, and other hospitals in the region work together to make decisions about admissions and emergency transport, always keeping safe patient care at the center of every decision. 
Dr. Hiren Patel to Join Oconee Heart & Vascular Center
Hiren Patel, MD, a board-certified interventional cardiologist is joining Oconee Heart and Vascular Center (OHVC) and St. Mary's Medical Group effective Aug. 1.
Dr. Patel will provide outpatient cardiovascular care from wellness to long-term follow-up care at the main OHVC office at 2470 Daniells Bridge Road, as well as non-emergency and emergency procedures at St. Mary's Cardiac Catheterization Laboratory within St. Mary's Hospital on Baxter Street in Athens.
Dr. Patel was born in Zambia and grew up in South Carolina. He studied pre-med at Middlesex College and University of South Carolina Upstate. His interest in global health lead him to pursue medical training internationally, in Netherlands Antilles, Georgia, and Ohio through Avalon University School of Medicine. Thereafter, he completed his internal medicine residency in Baton Rouge, Louisiana at Baton Rouge General Medical Center/Tulane University School of Medicine, where he also served as Chief Resident. He then completed a cardiovascular disease fellowship and an advanced interventional cardiology and structural heart disease fellowship in Albany, New York at Albany Medical Center/Albany Medical College.
Interventional cardiology is the specialty of providing care for the heart through the use of long flexible tubes called catheters. In these procedures, a catheter is inserted into a large blood vessel in the leg or arm and guided through blood vessels to the inside of the heart. There, the catheter can be used to deploy tools to treat conditions such as heart attack, angina (chest pain) and certain kinds of irregular heart rhythm. Balloon angioplasty and stent implantation for heart attack treatment is an example of interventional cardiology. St. Mary's is certified as a chest pain center by the American College of Cardiology.
In addition to certification in cardiovascular disease and interventional cardiology, Dr. Patel is board certified in the imaging specialties of nuclear cardiology and echocardiography. He also is board-certified by the American Board of Internal Medicine.
During his work at Albany Medical College, he received the Dr. Joseph T. Doyle Endowed Cardiology Award, which is awarded to a fellow in cardiology who demonstrates outstanding passion for patient care and prevention of cardiovascular disease.
Dr. Patel is married to Charmi Patel, MD, an allergy, asthma, and immunology specialist who also is joining St. Mary's Medical Group in August.
Shiver Named Department of Emergency Medicine Vice Chair
Dr. Stephen Shiver, who led the residency program in the Department of Emergency Medicine at the Medical College of Georgia at Augusta University from 2008-2017, has been named the department's vice chair of clinical operations. 
In his new role, he is responsible for supervising all clinical care provided within the department, including the emergency rooms at Augusta University Medical Center and the Children's Hospital of Georgia, prehospital clinical care and emerging telehealth initiatives.   
Shiver, who also serves as medical director of the Augusta University Medical Center Emergency Department, succeeds Dr. Michael Hocker, who is the medical school's new senior associate dean for graduate medical education.
Shiver, a 1997 MCG graduate, completed a general surgery residency at Wake Forest University's Baptist Medical Center in Winston-Salem, North Carolina. He returned to his alma mater for residency training in emergency medicine, joining the MCG faculty after completing his emergency medicine residency in 2005.
He is a past chair of the Georgia College of Emergency Physicians' Education Committee and was the college's sponsored participant in the Medical Association of Georgia's Physician Leadership Academy in 2019. He also served for many years as a member of the Board of Directors of the Georgia College of Emergency Medicine.
An honored educator and clinician, he is a past recipient of the medical school's Exemplary Teaching Award for Medical Student Education, as well as its Outstanding Faculty Educator and Outstanding Faculty Clinician Awards. 
Health System Volunteer Services Present Scholarships to Teen Volunteers
Southeast Georgia Health System Volunteer Services recently presented $1,000 scholarship awards to six graduating high school seniors who served as volunteers at the Health System and plan to pursue degrees in the health care field.
The Brunswick Campus Volunteer Service scholarship winners included Megan Amick, Lauren Buie, Adi Parker and Kamiyah Robinson. The Camden Campus Volunteer Service scholarship winners included Camden County High School graduates Briana Gadson and Tanayja White.
Megan Amick, a graduate of Glynn Academy, plans to pursue a nursing or physical therapy career and has enrolled in the College of Coastal Georgia.

Lauren Buie, also a graduate of Glynn Academy, aspires to enter medical school and will study biological sciences at the University of Georgia.

Adi Parker, a graduate of Glynn Academy, plans to pursue a Bachelor of Science in nursing at Georgia Southern University with the goal of working in pediatrics.

Brunswick High School graduate Kamiyah Robinson has developed a passion for patient care and has enrolled in the College of Coastal Georgia nursing program.

Camden County High School graduate Briana Gadson is 

also enrolled in College of Coastal Georgia 

and plans to study radiologic science.

Tanayja White, also a graduate of Camden County High School, aspires to be a neonatal nurse and is enrolled at Augusta University.
The Teen Volunteer program is designed for students ages 16-18 who enjoy helping others and have a desire to learn more about health care and volunteerism. Graduating high school seniors who served at least 20 hours through the Teen Volunteer program and plan to pursue careers in health care were encouraged to apply for the Volunteer Services scholarships offered at the Brunswick and Camden campuses.
Augusta University Health to Offer Medication-assisted Therapy to Treat Opioid Addiction
More than 15,000 Georgians die each year from drug overdose, many involving opioids. Augusta University Health is now offering a Comprehensive Addiction Management Program (CAMP) to help patients break the addiction cycle, and part of this program includes medication-assisted treatment.
Dr. Joseph Hernandez, associate professor in the Medical College of Georgia's Department of Psychiatry and Health Behavior, has recently begun prescribing bupenorphine and naltrexone (Vivitrol). These medications are FDA-approved for treating addictions to prescription and non-prescription opiates including morphine, codeine, heroin, fentanyl, hydrocodone and oxycodone and are administered along with counseling and behavior therapies.
"Medication-assisted therapy is a big thing. Oftentimes patients don't really have access to it," Hernandez said. "One in 10 people who have addiction problems end up getting any kind of specialized treatment. There are not a lot of people actually getting treatment out there."
Buprenorphine is a partial agonist, which means it partially activates the opioid receptor. This makes it safer than full opioids because the patient is less likely to overdose. In a majority of patients and when used appropriately, there is no "high" sensation. It provides enough opioid stimulation to treat cravings and withdrawal while allowing patients to function normally. Patients must be experiencing withdrawal symptoms before the medication can be administered.
Through CAMP, AU Health is able to offer both addiction and psychiatric assessments. In addition to being able to prescribe the medications, physicians ensure patients have psychosocial support and medical access, and that they are going to group meetings or getting a sponsor — whatever pathway patients choose in order to get clean. Inpatient treatment is also an option, if necessary.
Hernandez said he is also working on a business plan with Drs. Richard Camino and Marshall Bedder to open an Intensive Outpatient Program soon. The program will be held three days a week, from 6-9 p.m. Monday, Wednesday and Friday. This program enables the patient to remain at home through treatment. Patients will deepen their understanding of addiction and learn positive reactions and behaviors to stresses that will help them maintain sobriety.

Georgia Hospital Association
1675 Terrell Mill Road
Marietta, GA 30067
Click here to update your subscriptions.