Click here if you are having trouble viewing this message.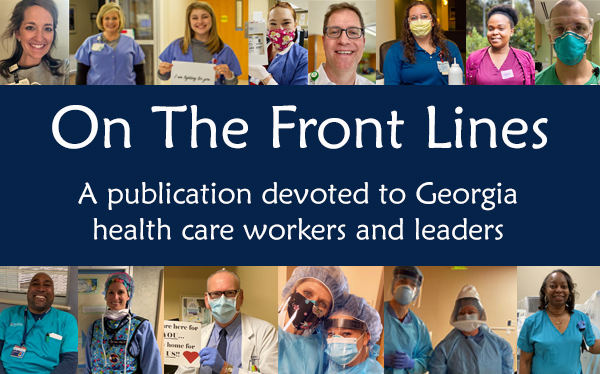 July 18, 2020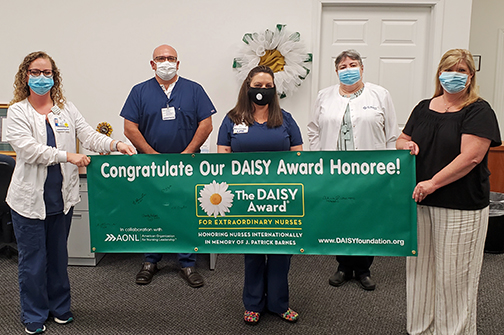 St. Mary's Home Health Care Services leaders celebrate the DAISY Award presentation to April King. Pictured (L-R): HHC Clinical Services Manager Nicole Woods, HHC Rehab Services Manager Alan Sosebee; April King; HHC Palliative Care Manager Petti-Jeanne Sheldon, and Sandra Stephenson, HHC/Hospice Services Director.
St. Mary's Presents DAISY Award to Nurse April King
April King, a licensed practical nurse with St. Mary's Home Health Care Services, recently received St. Mary's system-wide DAISY Award for nursing excellence.
"April has been as working as one of our visiting home health care nurses for the last year and a half," said Sandra Stephenson, Director of St. Mary's Home Health Care/Hospice/Home Palliative Care Services.
"She provides excellent care to our patients and is remembered for the genuine care and concerns she provides to patients and their families. She is a great person to receive the DAISY Award."
April's nomination focused on the compassionate care she delivered not only to a woman in the last weeks of her life but to the woman's family.
"She supported me in ways unimaginable," the nominator wrote. "She provided me with information, made phone calls to [the patient's] physician, and gave words of wisdom as well as hugs when I needed them most. She is truly an angel."
At St. Mary's, each DAISY Award honoree is recognized at a public ceremony on their unit. Each honoree receives a certificate, a DAISY Award pin, and a hand-carved sculpture entitled "A Healer's Touch." In addition, they and their colleagues are invited to celebrate the occasion with cinnamon rolls, a favorite of the young man whose nurses inspired the creation of the DAISY Foundation.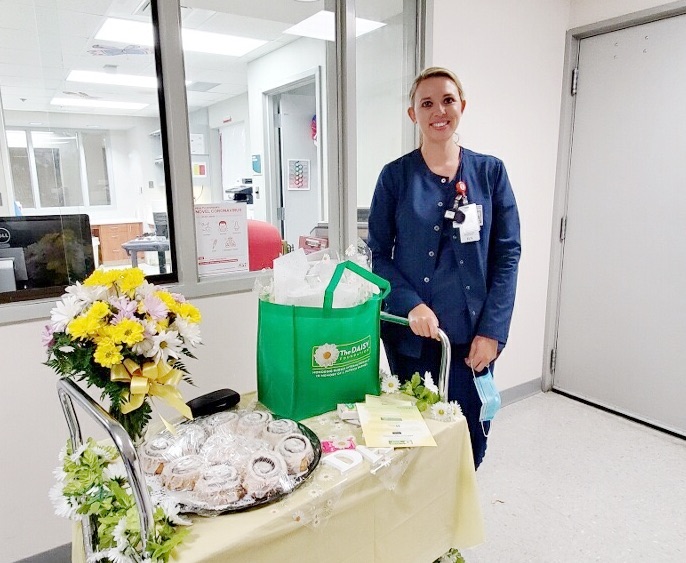 South Georgia Medical Center Outpatient Surgery Unit Senior Staff Nurse Jessica Musgrove receives July DAISY Award.
Musgrove Receives Nursing Excellence Award
Jessica Musgrove, a senior staff nurse in South Georgia Medical Center's Outpatient Surgery Unit was named the July DAISY Award Recipient for Extraordinary Nurses. The award is part of the international DAISY Foundation developed to recognize the amazing care provided by nurses every day.Jessica was nominated by a colleague who said, "Jessica is such a daisy! She greets everyone with a pleasant smile and welcomes everyone with such a beautiful persona that just puts one at ease. Not enough can be said about her work ethic and experience at SGMC." 
"I have had the pleasure of working with Jessica and have always seen her be a team player, helping with discharges and covering for nurses so that they could take a lunch break. We always know that she has the best intentions for our patients! This is invaluable! We could all learn so much from her. I cannot thank her enough for her teaching, patience and kindness."
SGMC continues to ask patients and fellow employees to honor nurses they feel go above and beyond in their care. Nominations are reviewed by a committee based on criteria that include compassion, teamwork, leadership, attitude, and skills and knowledge. DAISY awards are presented monthly in front of the nurse's colleagues, physicians, patients, and visitors. Each honoree receives a certificate commending him or her for being an "Extraordinary Nurse" and a sculpture called A Healer's Touch, hand-carved by artists of the Shona Tribe in Africa.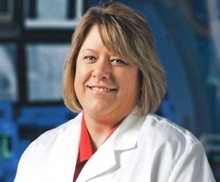 Kari Love, RN, MS
First Nurse Ever From Office of Quality Receives DAISY Award
Kari Love, RN, MS, program director of infection prevention in the Office of Quality at Emory Healthcare, has received the DAISY Foundation Nurse Leader Award, which recognizes extraordinary compassion in nurse leadership. Love is the first person from an office of quality to ever receive the award, and was nominated for her thoughtful leadership in response to the COVID-19 pandemic. 
"Kari's outstanding leadership and positivity have made a significant impact on the staff," says Victoria Jordan, PhD, MBA, MS, vice president of quality at Emory Healthcare. "Her calm demeanor reminds the nurses that they have the resources and support they need to feel safe."
During the COVID-19 pandemic, Love has adopted additional responsibilities to support the safety and preparedness of her team. She approved PPE (personal protective equipment) and disinfectant supplies for use by the clinical team and helped mobilize resources to open COVID-19 cohort units.
When the supply of face shields used by frontline workers became strained, Love worked with Georgia Institute of Technology (Georgia Tech) researchers to develop and print face shield prototypes to keep health care workers safe. Love and her team, partnering with Emory epidemiologists and nurses across the system, have also been coordinating and developing alternative methods for cleaning equipment, processes for testing and more.  
The nursing staff and infection prevention teams recognize her as a source of reassurance and mentorship.
"When the staff is feeling overwhelmed, Kari's smiling face makes a big difference. She reminds us that we are all in this together," Jordan says.
Leadership from Emory Healthcare's Office of Quality presented the award to Love in June. Emory Healthcare congratulates all of its nurses who have also received DAISY Awards for exceptional leadership during the pandemic.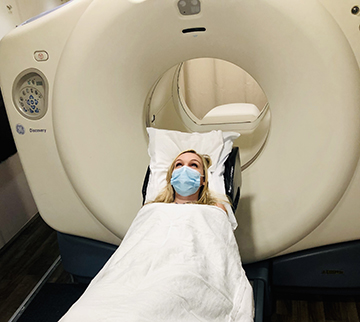 Bringing the Best Technology to Patients in the Southeast Georgia Area, Wayne Memorial begins PET/CT Usage Friday, July 24
Although Friday, July 24 marks the first day of PET/CT usage at Wayne Memorial, there are already several patient appointments on the books. In conjunction with the Nancy N. and J.C. Lewis Cancer Center at Wayne Memorial's care protocols, the hospital saw a need to offer PET scans closer to home for area residents. 
The center's oncologist, Dr. Asit Jha, shares, "We are beyond thrilled for our patients to be afforded with the opportunity to have their PET scans completed at Wayne Memorial. It is a vital part of the diagnosis and comprehensive cancer treatment to determine how they are responding to chemotherapy or immunotherapy. In addition, offering this service locally will lessen the physical and financial burden of traveling out of town during an already difficult time. Our health care team's priority includes taking the best comprehensive care of our patients. Anything that we can do to offer the best medical care, while supporting both emotional and financial needs, is our ultimate goal."
A PET/CT scan combines positron emission tomography (PET) and computed tomography (CT) images. PET images show the function of the cells in the body, while CT images show details of the body such as vessels and organs. When PET and CT scans are combined, the images help physicians evaluate whether there is an illness that may need to be treated or if current therapy is working. The scans may also reduce the need for biopsy or surgery. 
The center's practice administrator, Marcus Nesbitt, shares, "Due to its ability to detect organ function on a cellular and molecular level, the integration of PET scan services at Wayne Memorial definitely solidifies our statement of offering 'Big City Technology with Small Hometown Care.' As a patient-centered oncology program, we are overwhelmed with excitement to offer this service. This oncology service line spans over ten counties and having this new service will dramatically improve patient access. While fostering our organization's core values, we are always committed to improving health outcomes and eliminating health disparities."
Wayne Memorial Hospital, whose mission is to provide high quality health care services to all patients, built a state-of-the-art facility in 2007. It is the third largest employer in Wayne County with 500 employees, 84 beds and is a three-time winner of the Georgia Alliance of Community Hospitals Small Hospital of the Year Award.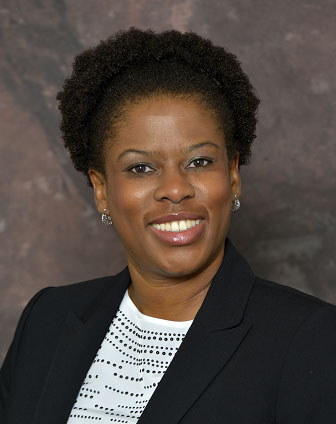 Coliseum Health System Names New Chief Medical Officer
Coliseum Health System welcomes Corbi Milligan, MD, MBA, FACP as the new Chief Medical Officer for Coliseum Health System. Dr. Milligan will be responsible for quality and patient safety, medical education, strategic vision and physician executive leadership for Coliseum Medical Centers and Coliseum Northside Hospital. She will focus on enhancing and improving processes of care and operations.
Dr. Milligan attended Prairie View A&M University where she obtained her Bachelor of Science in biology. She attended medical school at the University of Tennessee Memphis School Of Medicine and then completed her internship and residency in internal medicine and pediatrics at the Louisiana State University Health Sciences Center. Additionally, Dr. Milligan completed a Physician Executive MBA at the University of Tennessee in Knoxville, TN and she has a Lean Six Sigma Black Belt certification.
Most recently, Dr. Milligan was the Vice President, Chief Medical Officer at Methodist South Hospital and Methodist North Hospital in Memphis, TN. Prior to that, she was the Division Medical Director for EmCare Hospitalist in the Tristar Health Division of HCA Healthcare. Dr. Milligan is a member of the American College of Healthcare Executives, a member of the National Medical Association, a fellow of the American College of Physicians, and is affiliated with several other medical associations.
Coliseum Medical Centers Designated as a Level l Emergency Cardiac Care Center
Coliseum Medical Centers has been designated as a Level l Emergency Cardiac Care Center by the Georgia Department of Public Health, Office of EMS and Trauma.  This is the highest level that a hospital can earn for emergency cardiac care. Coliseum Medical Centers is the only middle Georgia hospital with an Emergency Cardiac Center designation, and there is only one other Level l Center in the state.
Linda Pender, Chest Pain Coordinator for Coliseum Medical Centers, said, "I am extremely proud of the work done by our physicians and staff to make this designation possible.  Coliseum Medical Centers has a reputation for providing fast emergency response times no matter the cause, but this designation also shows that in the event of chest pain, we are providing quality care, saving lives, and improving the quality of life for our chest pain patients."
Cardiovascular disease is responsible for approximately 2,300 deaths each day in America. To improve these outcomes, legislation was signed into law in 2017 establishing the Office of Cardiac Care within the Georgia Department of Public Health. The mission of this office is to improve survival rates in Georgia from out-of-hospital cardiac arrests and heart attacks through quality improvement, benchmarking and evidence-based guidelines, supported by standardized data collection and reporting system. Hospitals who comply with the Emergency Care Center criteria and protocols are assigned designated levels.
SGMC Welcomes Physician Network Vice President
South Georgia Medical Center welcomes James S. Zacharias, MBA, FACHE, CMPE, as the Physician Network Vice President.
Zacharias assumes responsibility for SGMC's regional physician network and its continuum of services which includes physician practice operations, a regional physician resource center and new physician recruitment.
Zacharias joins SGMC bringing more than 33 years of medical group administrative experience, having previously served as CEO of Columbus Clinic and Executive Director of MyHealth Network at Piedmont Columbus Regional. 
According to SGMC President and Chief Executive Officer Ronald E. Dean, "We are pleased to have Jim join our team. His wealth of experience in developing innovative physician relationship and service models coupled with his experience in operating a clinically integrated network will add tremendous value to SGMC, our physicians and the communities we serve."
Zacharias received his Bachelor of Science in Business Administration Finance from Auburn University and his Masters of Business Administration from James Madison University. He is a fellow of the American College of Healthcare Executives and a certified Medical Practice Executive.
Zacharias says, "I am excited to join SGMC's talented leadership team and I look forward to building relationships and ideally trust among my colleagues, physicians and the community."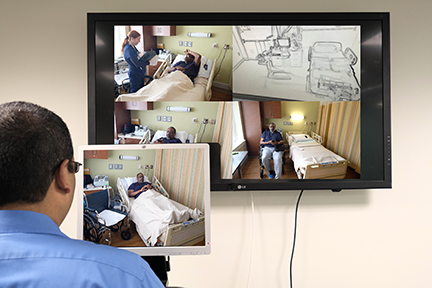 Virtual patient observation at Navicent Health Enhances patient safety and care.
Collaborative Partners Bring Virtual Care Options to Midstate
When Charlotte-based Atrium Health and Macon, Ga.-based Navicent Health announced their strategic combination in January 2019, one primary objective of the partnership was to improve the depth and breadth of services offered to health care consumers in the Georgia market, particularly in the area of virtual care.
At that time, the two health systems announced that Atrium Health would invest capital and work with Navicent Health's clinical experts to enhance services, particularly implementing innovative treatment models like virtual care and telepsychiatry to create the next generation of health care for Georgians.
Now, one year into their combination, that goal has become a reality. After announcing the implementation of their virtual critical care program earlier this year, Navicent Health and Atrium Health today announced Virtual Patient Observation (VPO), available at the following hospitals:
The Medical Center, Navicent Health (Macon, Ga.)

Navicent Health Baldwin (Milledgeville, Ga.)

Rehabilitation Hospital, Navicent Health (Macon, Ga.)
VPO incorporates trained medical staff and bedside technology to provide added protection for certain at-risk patients, particularly those who may be at risk of falling, or have cognitive conditions such as Alzheimer's disease. To date, VPO has provided monitoring services for over 400 patient days of patient monitoring.
The patient's bedside care team will assist in determining if VPO is recommended for an individual patient, depending on the level of safety concern. If VPO is recommended, a bedside monitor will be placed in the patient's room, and trained staff in Charlotte will provide an added level of comfort and care for the patient, similar to having a bedside sitter. VPO benefits patients who qualify by having someone virtually in the room to assist with needs at any given time. Patients and virtual monitoring teammates can communicate directly with one another, and virtual monitoring staff can also alert the patient's bedside care team if a need arises.
"VPO is like having a caregiver in the room at all times to ensure the highest quality of care for the patient, and provide peace of mind for their loved ones. VPO has been proven to reduce falls up to 50 percent and improve both staff and patient satisfaction. We're thrilled to implement this technology in the Georgia market," said Dr. Ninfa Saunders, president and CEO of Navicent Health.
It is important to note that while patients are being carefully monitored, they are not being recorded, and the patient's right to privacy is always respected. VPO technology can be placed into privacy mode during certain procedures or activities, such as bathing or changing.
The addition of VPO is but one of a number of virtual health initiatives that Navicent Health and Atrium Health plan to implement in order to dramatically improve access to high-quality, reasonably priced care and elevate hope and healing for health care consumers in the Georgia market.
Federal Communications Commission Awards Grant to Help Expand Augusta University Health's Telehealth Initiatives
The Federal Communications Commission has awarded a $710,316 grant to Augusta University Medical Center to support the facility's virtual care efforts. Since May, this is the second FCC grant awarded to Augusta University Health, bringing the total of funding to $824,060. 
The grant will be used to expand the medical center's telemedicine work in the ambulatory and acute care settings, as well as offer medical support to long-term care facilities, including rehabilitation centers and nursing homes. 
"Augusta University Health is honored to receive this grant from the Federal Communications Commission, and the funding provides us with the needed resources to expand our telehealth efforts to serve patients across Georgia," said Augusta University President Brooks A. Keel, PhD. "AU Health received strong support from our federal delegation in Washington, D.C., and I would like to thank U.S. Sens. David Perdue and Kelly Loeffler as well as U.S. Reps. Rick Allen, Buddy Carter and Jody Hice for their continued support and assistance with the FCC throughout the process." 
With the funding, the medical center will purchase telemedicine carts that will be connected to laptops with web cameras to reduce the number of health care workers entering the rooms of patients with COVID-19 and other acute care needs. There will also be designated carts stationed in long-term care facilities and rehabilitation centers to connect with patients unable to come to the medical center.  
Additionally, the health care facility will purchase iPads so patients can connect with family members unable to visit them, and the medical center will continue the America Well Telemedicine platform to perform outpatient virtual visits. 
"COVID-19 has changed the scope of health care, and telehealth is a vital tool in our efforts in delivering the proper treatment to our patients," said AU Health Chief Innovation Officer Mallary Myers. "As we prepare for the future, we are thankful to have this grant from the FCC because it gives us new possibilities to connect with our patients where they need services, while keeping our health care workers safe." 
In May, the FCC gave a $113,744 grant to AU Health to expanded its portable ultrasound program to screen patients for respiratory and cardiovascular symptoms related to COVID-19 before being admitted into the hospital. 
With the funding, AU Health purchased nine telemedicine ultrasound systems from Philips that can peer into the lungs and hearts of patients to check for signs of pneumonia and even heart failure. The portable, painless ultrasound devices will be part of the bedside evaluations in the emergency department, intensive care units and in the health system's EMS response vehicles.
"We are grateful to receive this grant from the FCC, because it helps us to meet the growing demand of prescreening patients for COVID-19, whether it's at the scene of an accident or in our medical center," said Dr. Matthew Lyon, director of the Center for Ultrasound Education in the Medical College of Georgia at Augusta University. "Although we have larger ultrasound machines, they are not practical to use in the field, and it takes more people to use them. With these additional telemedicine devices, we can reduce the number of health care workers in a patient's room and be even more efficient in providing quality care to our patients."
Navicent Health Improves COVID-19 Lab Testing Through Lean Six Sigma
Study Published in ISE Magazine's July Issue
ISE Magazine has included in its July issue a study entitled "Tackling COVID-19 Lab Testing Delays with Lean Six Sigma" by Casey Bedgood, certified Lean Six Sigma Black Belt and Accreditation Optimization Officer for Navicent Health. The study examines the benefits of applying the principles of Lean Six Sigma, when faced with disruptions such as a global pandemic, in order to improve efficiency while meeting consumer needs.
"Disruptions such as COVID-19 require leaders to think differently, create new ways of doing business quickly, break from old traditions without excuse and accelerate changes that usually fester for long periods of time without outside influence. At times, even negative situations can elicit positive change for the benefit of consumers," said Bedgood.
At the outset of the pandemic, testing turnaround times were an issue nationwide. By utilizing Six Sigma principles to create more efficient testing processes, by implementing innovative ideas including a system tracker and a 24/7 call center, Navicent Health was able to decrease test turnaround time delays by 30 hours per test. Navicent Health also partnered with outside labs and nonprofit organization Angel Flight Soars to fly tests to labs for testing until the health system purchased in house testing equipment dedicated to COVID-19. Through increased efficiency and innovation, Navicent Health has been able to ensure timely test results for patients, providing greater peace of mind, and faster access to treatment for positive patients. The increased efficiency has also benefited healthcare providers by reducing staff exposure to COVID-19, reducing physical risk and improving mental psyche.
"Efforts such as these are core to the work we are doing at Navicent Health, particularly as we rise to the challenges created by a global pandemic, and will be critical in helping our health system – as well as many others nationwide – prepare for future relevance and value-based care," said Michael Hajworonsky, Navicent Health's Vice President of Clinical Support Services, including laboratory services.
To view Bedgood's article, click here. ISE Magazine is a monthly publication of the Institute of Industrial and System Engineers and serves a diverse readership of professionals and students with a common interest of industrial engineering. As a leading voice in the industry, ISE Magazine strives to provide useful, timely and thought-provoking content to assist readers as they enhance their professional capabilities, improve organizational performance and develop the profession.
"Lean Six Sigma is applicable to global industries ranging from auto manufacturing and defense to health care. The unique aspect of Lean Six Sigma in health care is that process improvement directly improves people's health and wellbeing. The thought leaders at Navicent Health are continually seeking new avenues for implementation as we improve our processes," said Bedgood.
Navicent Health implemented Lean/Six Sigma, a highly disciplined, data-driven approach and methodology for eliminating waste, improving outcomes, and delivering extraordinary service, in 2014. Bedgood was the first Black Belt trained under the Navicent Health program.
SGMC Launches 10K Mask Challenge
South Georgia Medical Center's "10K Mask Challenge" fundraising appeal, led by the SGMC Foundation, started Monday, July 13. The appeal seeks to raise enough funds to purchase 10,000 reusable cloth masks and distribute them to community members in need.
According to SGMC Foundation Director Elizabeth Vickers, "With the real-time uptick of COVID-19 cases in Lowndes County and our state, it's more important than ever that we as the primary healthcare delivery system in our community do everything we can to help minimize the spread of this virus."
CDC recommends that people wear cloth face coverings in public settings and when around people who don't live in the same household, especially when other social distancing measures are difficult to maintain. 
Vickers said, "We know that there are people in our community who will follow this recommendation of wearing a mask in public places, but simply don't have access to one. Through this initiative, individuals and businesses have the opportunity to participate in a huge effort and do their part as well as help others in our community do theirs."
Donations in all amounts will be accepted via the Foundation website sgmcfoundation.org/covid19 or by contacting the Foundation at 229-433-1071.
A small donation of $15 can purchase six masks, whereas a larger donation of $500 provides 200. Our mask challenge to this community is to be able to provide 10,000 masks.
To kick-off the campaign, SGMC's Care Share program donated $5,000 to the cause which translates to the purchase of 2,000 masks. The Care Share program is an employee giving program that supports an employee benevolence fund and gives back philanthropic gifts to local charities. 
The mission of the SGMC Foundation is to engage donors in the philanthropic support of a healthier community by enhancing patient care experiences, increasing access to care, and offsetting the cost of capital expansion and technology upgrades. This is accomplished through private donations from individuals, civic groups, estate gifts and corporate partners. 
Emory to Host 14th Annual Women and Heart Disease Conference
Emory Women's Heart Center will host a virtual conference via Zoom on Saturday, Aug. 15 from 8 a.m.-1:15 p.m. The 14th Annual Women and Heart Disease Conference will have the theme of Evolving Concepts and New Therapies. Registration is available by clicking here. Click here for the conference brochure.
St. Francis to Host Virtual Lunch and Learn During National Youth Sports Week
Sports Trauma and Injury Prevention with Dr. Vishnu Potini, Orthopaedics
St. Francis Hospital-Emory Healthcare is pleased to announce that the July Virtual Lunch and Learn will feature Dr. Vishnu Potini, orthopaedics, entitled Sports Trauma and Injury Prevention. This talk comes at the beginning of National Youth Sports Week, July 20 through July 24. Join us for this live online health seminar on July 20, 2020, from noon to 12:30 p.m. on Microsoft Teams by visiting this link bit.ly/2ZUgMW9 or by phone at 1.423.680.7437 and enter conference ID: 644 077 909#. Be sure to download the Microsoft Teams app on your computer or cellphone. If you have a question you wish to send in ahead of time, please send it to communications@sfhga.com. If you miss the live event, a recorded version will be made available on MyStFrancis.com.
Dr. Vishnu Potini, MD, is a board-certified orthopaedic surgeon with St. Francis Orthopaedic Institute. Dr. Potini attended medical school at Emory University in Atlanta, Georgia, with a residency in orthopaedic surgery at Rutgers University in Newark, New Jersey.  He finished his training with an intensive fellowship in Sports Medicine at Detroit Medical Center, where he participated in the care of several professional teams and athletes. He is an active member of The American Orthopaedic Society for Sports Medicine and The American Academy of Orthopaedic Surgeons.
U.S. Army Special Operations Command Black Daggers drop in on Southeast Georgia.
U.S. Army Black Daggers Honor Southeast Georgia Health System Team Members With Parachute Demonstration
If the U.S. Army and hospital workers have anything in common, it's that they know what it means to sacrifice and serve on the front lines.
Southeast Georgia Health System Camden Campus team members recently pointed their eyes and phones to the sky as the Black Daggers, the official U.S. Army Special Operations Command Parachute Demonstration Team, jumped from a plane more than 12,000 feet above ground for a performance of intricate aerial maneuvers before deploying their parachutes as a special thank you to health care workers for their efforts to combat COVID-19.
The U.S. Army Special Operations Command Parachute Demonstration Team — the Black Daggers — is comprised entirely of volunteers from throughout the Army special operations community. They have diverse backgrounds and possess various military specialties. The team represents the professionalism and dedication of Special Operations Forces and performs aerial demonstrations in support of U.S. Army Special Operations Command community outreach and recruiting efforts.
Northeast Georgia Health System Recognizes Physicians Named to Atlanta Magazine's 2020 Top Doctors List
Northeast Georgia Health System (NGHS) is proud to recognize 35 physicians who have been named to Atlanta Magazine's 2020 Top Doctors list:
Deepak K. Aggarwal, MD,  Kidney Care Center of Georgia

Joon Ahn, MD, The Heart Center of Northeast Georgia Medical Center

Alexander D. Allaire, MD, FSMFM,  Longstreet Clinic Perinatology 

Clayton G. Blehm, MD, Gainesville Eye Associates

Marta T. Bognar, MD, Arthritis Center of North Georgia

William L. Border, MD, Sibley Heart Center Cardiology

Misty D. Caudell, MD, Georgia Skin Center

Jack M. Chapman Jr., MD, Gainesville Eye Associates

Mitchell G. Davis, MD, The Heart Center of Northeast Georgia Medical Center

Sohail Ejaz, MD, Kidney Care Center of Georgia 

Ryan N. Fogg, MD, The Prostate Center of Georgia | A Division of Gainesville Urology

Prasad S. Garimella, MD, Gwinnett Pulmonary Group

Miriam P. Gentin, MD, Kidney Care Center of Georgia

Marti R. Gibbs, MD, Longstreet Clinic Family Medicine

Ernest C. Han, MD, Kidney Care Center of Georgia

Matthey T. Harris, MD, Northeast Georgia Diagnostic Clinic

J. T

aylor Henson, MD, Northeast Georgia Physicians Group Internal Medicine 

George Baker Hubbard, III, MD, Emory Eye Center

Tracy L. Lovell, MD, Northeast Georgia Diagnostic Clinic

Holmes B. Marchman, MD, Longstreet Clinic Physical Medicine & Rehabilitation 

Thomas G. Murray, MD, Northeast Georgia Diagnostic Clinic

Khaled Nass, MD, Kidney Care Center of Georgia

Christina N. Nguyen, MD, Northeast Georgia Physicians Group Family Medicine, Bariatric Weight Loss

Susmita Rajanala, MD, Gwinnett Pulmonary Group

Michael B. Reynolds, MD, Lanier Dermatology & Skin Cancer Specialists

Mark J. Rivelles, MD, Georgia Retina

Sohail Saleem, MD, Kidney Care Center of Georgia

Salem N. Sayar, MD, The Heart Center of Northeast Georgia Medical Center

Karl D. Schultz, MD, Longstreet Clinic Neurosurgery

Timothy A. Scully, MD, The Heart Center of Northeast Georgia Medical Center

Brent A. Sharpe, MD, Georgia Urology

Neill Videlefsky, MD, Sibley Heart Center Cardiology

A. Daniel Winston, MD, Northeast Georgia Physicians Group Cardiovascular & Thoracic Surgery

J. Alan Wolfe, MD, Northeast Georgia Physicians Group Cardiovascular & Thoracic Surgery

David S Woo, MD, The Prostate Center of Georgia | A Division of Gainesville Urology
The full list is published in the magazine's July edition. Atlanta Magazine uses Castle Connolly Medical, a health care research and information company to create the list. Using their team of physicians and researchers, nominated doctors are rigorously screened and evaluated to determine if they are among the best in the region for their medical specialty.     

Georgia Hospital Association
1675 Terrell Mill Road
Marietta, GA 30067
Click here to update your subscriptions.