Click here if you are having trouble viewing this message.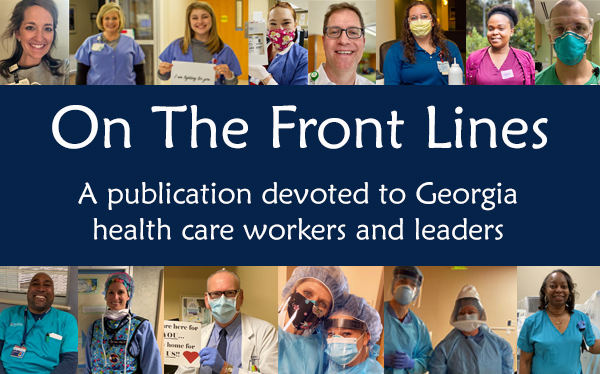 July 11, 2020
Georgia Cancer Center Among Providers Awarded Five-year Grant for Colorectal Cancer Prevention
Administered through Georgia CORE, the CDC-funded program will bring colorectal screening, navigation and colonoscopies to 15,000 people in Southeast and Southwest Georgia.
The Georgia Cancer Center at Augusta University is on a team of cancer care providers that received a five-year grant from the Centers for Disease Control and Prevention in the amount of $795,560 per year to provide colorectal screening, education, navigation and colonoscopies to 15,000 Georgians. The Georgia Center for Oncology Research and Education will provide administrative and fiscal oversight for the program, and the services will be provided by the Georgia Cancer Center and three cancer care providers in the Albany area – Albany Area Primary Care, Horizons Community Solutions, and Phoebe Putney Health System, as well as designated Federally Qualified Health Centers throughout Southeast and Southwest Georgia.
"Georgia CORE works to leverage state and federal dollars to advance cancer care for all Georgians, and data show that rural and African American residents have higher incidence and mortality rates from colorectal cancer," said Nancy M. Paris, MS, FACHE, and president and CEO of Georgia CORE. "With our national health care system currently being overtaxed, this opportunity couldn't have been more timely. The CDC grant will support essential cancer education, screening and navigation services for those Georgians who need it the most, and we will save lives."
Colorectal cancer is the second-leading cancer killer in Georgia, according to the Georgia Department of Public Health, but also one of the state's five most preventable. The defined patient population who will receive these free prevention services through the CDC grant are between the ages of 50 and 75, below the federal poverty level, ineligible for Medicaid, Medicare or ACA and receive care in one of the FQHCs. 
"With a state incidence rate that exceeds the national average, we know we have to be more aggressive with our prevention measures for colorectal cancer, particularly in rural Georgia where screening is much less common," explained Jorge Cortes, MD and Director, Georgia Cancer Center at Augusta University.
Earning the CDC award reflects the strong partnership between Georgia CORE and AU. In addition to Dr. Cortes' leadership in the colorectal screening program, AU's Dr. Sharad Ghamande and Dr. Anand Jillella are board members of Georgia CORE.
Published by Georgia CORE earlier this year, a report -- 5 Actions to Save More Lives -- cites that in the late 1990s, only half of Georgians 50 and older were screened for colorectal cancer. That rate is now 66%, while the Healthy People 2020 target goal is 85%. If Georgia were to reach this goal, a projected 8,800 lives would be saved, and health care costs would lower by $1.3 billion.
SGMC Welcomes Infectious Disease Physician
South Georgia Medical Center (SGMC) is pleased to welcome Dr. Matthew Brown in the specialty of infectious disease.  Dr. Brown will treat patients hospitalized at SGMC, as well as provide any necessary follow-up care.
Dr. Brown is board certified in internal medicine and fellowship-trained in infectious disease from the University of Maryland. Dr. Brown received his medical degree from Saba University School of Medicine and completed his internal medicine residency at Medstar Harbor Hospital in Maryland. 
According to Dr. Brown, the road to becoming a doctor wasn't a direct path. Coming from a medical family, he wanted to explore different avenues and went to school for mathematics and received his MBA in marketing. But it was his time as a pharmaceutical rep that he realized his passion was medicine.
When asked what attracted him to his specialty he said, "Infectious disease is a remarkable speciality and one of the only fields where you can actually cure the disease." The field is very broad and encompasses all ages, race, and gender. He says it's constantly evolving and a very exciting specialty to be in, especially during this COVID-19 pandemic. 
SGMC Chief Medical Officer Dr. Brian Dawson said, "We are thrilled to have Dr. Brown join our team. His expertise in the specialty of infectious disease further equips our health system to be the region's destination for high quality specialty care." 
Dr. Brown says he's excited to be a part of the treatment team and looks forward to developing the infectious disease program at SGMC. 
As to what makes Dr. Brown unique, prior to his medical career you could find him playing in many bands. Dr. Brown is heavily involved in music  and enjoys staying active and exploring new foods. 
"I come from a very broad background and have acquired an eclectic skill set that I hope makes me well rounded and relatable to my patients," said Dr. Brown. 
St. Francis-Emory Healthcare Expands Cardiac Services Capabilities
Hospital welcomes new surgeon and extends electrophysiology coverage
St. Francis-Emory Healthcare announces the expansion of its cardiac services program, which has been affiliated with Emory Clinic's Division of Cardiothoracic Surgery since 2016. The expansion is a result of an increased community need and expanded partnership with Emory Healthcare. Specifically, St. Francis is building on its existing cardiothoracic program – which currently provides the region's only open heart program – with the addition of a second highly-trained cardiothoracic and vascular surgeon, as well as extended coverage for electrophysiology procedures. 
Sorin Pusca, MD, joined St. Francis Cardiovascular and Thoracic Institute in April alongside Jacob Davtyan, MD, who has served as medical director for cardiovascular surgery at St. Francis for the last three years. Dr. Davtyan oversees cardiothoracic surgery operations, including quality management, as well as performing cardiothoracic surgery himself. Dr. Pusca, along with Dr. Davtyan, will offer patients surgical treatment of coronary artery disease, valvular disease, diseases of the aorta, and general thoracic surgical procedures, including lung and esophageal surgery.
Additionally, St. Francis' expanded partnership with Emory has enabled the hospital to extend electrophysiology (EP) coverage from two days per week to five days per week due to the arrival of Christine Tompkins, MD and Alex Chavez, NP. Dr. Tompkins will join the practice Monday, July 20, 2020, with current providers, David DeLurgio, MD and Anshul Patel, MD. Dr. Tompkins will focus on EP procedures like pacemakers, device implants, cardiac ablations, and other heart conditions.
"St. Francis is the only hospital in the region to provide EP services, and we are proud to expand these services to meet the growing demand of our community and to ensure that patients are able to stay in Columbus rather than travel elsewhere for these procedures," says Melody Trimble, chief executive officer of St. Francis. 
In an effort to further advance our capabilities as the region's only hospital with comprehensive surgical cardiac services and EP services, St. Francis Cardiovascular and Thoracic Institute and St. Francis Electrophysiology relocated to the second floor of Butler Pavilion, 2300 Manchester Expressway on July 1, 2020. The move expands the practices to a larger space to accommodate the growing cardiac service line. For more information on our cardiac services, visit MyStFrancis.com.
Winship Cancer Institute Builds New Pharmacy, Expands Infusion Services in Johns Creek
Winship Cancer Institute of Emory University (Winship) at Emory Johns Creek Hospital (EJCH) has opened a new state-of-the-art infusion pharmacy and is expanding the infusion center to better serve patients.
"The expansion of Winship at EJCH illustrates Emory Healthcare's commitment to deliver exceptional cancer care to meet the needs of our community and enhance the patient experience," says Marilyn Margolis, MN, RN, NEA-BC, CEO of EJCH.
"This new sterile compounding pharmacy will help ensure safety, sterility, and quality in all medications being prepared and dispensed to our patients," says Ryan Haumschild, PharmD, MS, MBA, director of pharmaceutical services, Emory University Hospital Midtown, Winship.
"Our renovations will add several new exam rooms and infusion chairs, and
increase our capacity to treat up to 16 patients in our exam rooms and 26 patients in our infusion treatment areas simultaneously," says Jason VanGalder, director of operations, Winship Cancer Institute at EJCH.
As Georgia's only National Cancer Institute (NCI)-designated comprehensive cancer center,  Winship connects patients to expertise and resources such as multidisciplinary care teams of sub-specialty doctors, nurses, pharmacists, dietitians, genetic counselors and social workers. Winship also offers patients access to over 300 clinical trials that test novel treatments not yet available through standard clinical practice. 
Winship at EJCH treats on average 50 patients daily in the infusion center and up to 80 patients per day in the clinic. 
"The new treatment areas and clinical space at Emory Johns Creek Hospital give patients greater access to Winship's advanced cancer treatment in their own neighborhood," says Walter J. Curran, Jr., MD, Winship's executive director. "Providing care closer to home helps us in our mission to lessen the burden of cancer for all Georgians."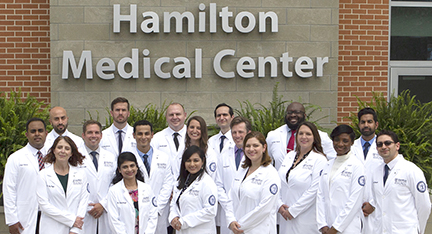 The new Hamilton Health Care System resident physicians at the recent White Coat ceremony.
Hamilton Health Care System Holds White Coat Ceremony for Residents
With 18 residents starting their internal medicine residency program on July 1, Hamilton Health Care System has added academic institution to its resume.
Hamilton recently hosted its inaugural White Coat Ceremony, a rite of passage for resident physicians to emphasize the importance of compassionate patient care at the very start of training.
"We're excited to start our internal medicine residency program," said Deidre Pierce, MD, program director. "We had more than 2,700 applications to go through to make selections. We could not have wished for a better group of physicians to start our residency program."
Eighteen resident physicians came forward during the ceremony to be "cloaked" before family and friends in the iconic white coat that signifies their status as health care professionals. Rodovaldo Rodriguez, MD, of Hamilton Physician Group – General Surgery, was the keynote speaker.
Post-graduate year (PGY)-2 resident physicians for the class of 2022 include: Laith Al Dahabreh, MD; Hisham Abu Farsak, MD; Dusty Johnston, DO; Leeja Joseph, MD; Obaid Rehman, MD; and Yousef Sweidan, MD. PGY-1 resident physicians for the class of 2023 include: Katelyn Boykin, DO; Omar Dominguez, MD; Victoria Gilbert, DO; Eily Hayes, DO; Tomislav Jagatic, MD; Purnima Kabir, MD; John Lelli, MD; David Nwasike, MD; Brad Sackfield, MD; Daniella Sankovic, MD; Kiranjit Singh, MD; and Kenette St-Gourdin, MD.
The White Coat Ceremony was initiated in 1993 at Columbia University Vagelos College of Physicians & Surgeons by Arnold P. Gold, MD, who was a professor and pediatric neurologist. Gold, a passionate advocate for humanistic health care, believed that the oath taken by new physicians at the end of medical school came too late. Through the nonprofit organization that he and his wife, Dr. Sandra Gold, started, The Arnold P. Gold Foundation has expanded the White Coat Ceremony around the globe.
Today, nearly every medical school in the United States, many residency programs, hundreds of nursing schools, and many other health profession schools around the globe participate in this tradition of humanistic care.
Click here to read more.
MCG/AU Health System Start Pediatric Anesthesiology Fellowship
A new training program for physicians who specialize in the care of infants and children under anesthesia begins this summer at the Medical College of Georgia at Augusta University and AU Health System.
The new, one-year pediatric anesthesiology fellowship, one of 60 in the country and the second in Georgia, will train one fellow per year. Pediatric anesthesia fellowship programs, open to graduates of traditional four-year anesthesiology residencies, offer specialized clinical training and knowledge in the perioperative care of patients from neonates up to 21 years old.
"That matters for optimal patient care," Dr. Ellen Basile, chief of pediatric anesthesiology at the Children's Hospital of Georgia and program director of the new fellowship, says of the additional training. "Children aren't just little adults. There is some exposure to pediatrics during a general anesthesia residency program, but additional fellowship training ensures the best possible care for our littlest patients."
Fellows are trained in issues specific to children, like how to recognize a laryngospasm — when a patient's vocal chords shut and air cannot move in or out — for instance. The condition can occur at any time, but is most common during induction or emergence from anesthesia.
"Children have much more reactive airways than adults," Basile explains. "We are well trained to recognize when a laryngospasm happens and how to intervene. While still an emergency, it's so common that we see it on a day-to-day basis."
Click here to read more.
Emory Healthcare First in State to Offer Minimally Invasive Procedure for Enlarged Prostate
Emory Healthcare is the first health system in Georgia to offer a state-of-the-art, minimally invasive procedure for prostate enlargement causing bothersome urinary symptoms.
The HoLEP (Holmium Laser Enucleation of the Prostate) procedure uses a laser to remove the vast majority of the obstructing prostate tissue and requires no incisions, which can lead to a quicker recovery and reduced need for further treatment.
"Emory's Department of Urology is the first in the state to offer this unique, minimally invasive therapy for patients with benign prostatic hyperplasia (BPH) or enlarged prostate who have troublesome urinary symptoms that are not controlled well with medication," says Brendan Browne, MD, assistant professor of urology, Emory University School of Medicine. "BPH is one of most common diagnoses in urology --- at 50 years old, 50 percent of men have the condition, while at 85 years old, almost 90 percent of men suffer from the condition."
Click here to read more.
Anil A. Dhople, MD, Named Quality Advisor of Tanner Radiation Oncology
Anil A. Dhople, MD, a board-certified radiation oncologist, is joining the Tanner patient care team at Tanner Radiation Oncology, a Tanner Medical Group practice. He has also been appointed to be the quality advisor for radiation oncology at Tanner Health System.
Dr. Dhople will lead the patient care team at Tanner's Roy Richards, Sr. Cancer Center to advance cancer services close to home for residents throughout west Georgia and east Alabama.
Click here to read more.

Georgia Hospital Association
1675 Terrell Mill Road
Marietta, GA 30067
Click here to update your subscriptions.