Click here if you are having trouble viewing this message.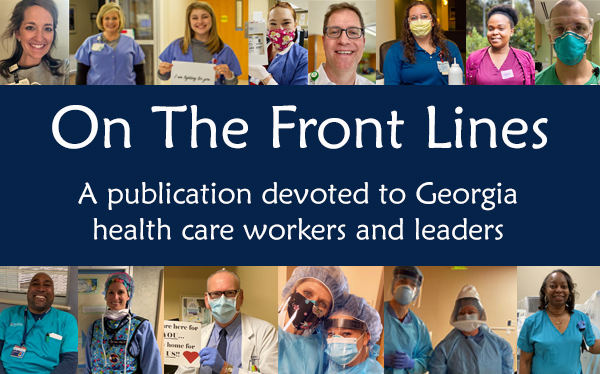 July 4, 2020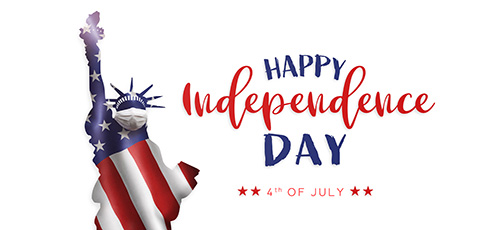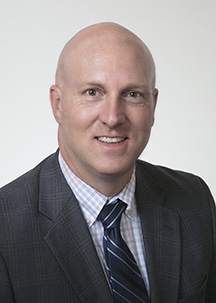 Craven to be New Archbold CEO
Following a nationwide search, Archbold Medical Center has announced Darcy Craven as the health system's next president and CEO. He will succeed Perry Mustian, who will retire after 20 years with Archbold, the last 12 as president and CEO. Craven's first day at Archbold will be August 24, 2020.
Craven, 49, currently serves as president of the northern region for Kaleida Health in Buffalo, NY. In this role he oversees several sites of care in Western New York State including Millard Fillmore Suburban Hospital, DeGraff Memorial Hospital, Millard Fillmore Surgery Center, as well as several out-patient facilities and more than 60 physician practice locations.
At Kaleida, Craven has led efforts to improve quality, employee and physician engagement, and grow volumes in a competitive market.
Archbold Medical Center board chair Mark Parker said, "Our nine-month CEO search process drew over 100 highly-qualified candidates from around the country. We are pleased to hire Darcy Craven, an experienced, high-caliber health care leader. Darcy is dynamic, personable and a great fit for Archbold and the Thomas County community. His success with building relationships, financial stewardship and attaining standards of excellence will help us continue the success we've had, address the challenges we face today, and position us well for the next chapters in our long history. We welcome Darcy and his family to Thomasville."
Click here to read more.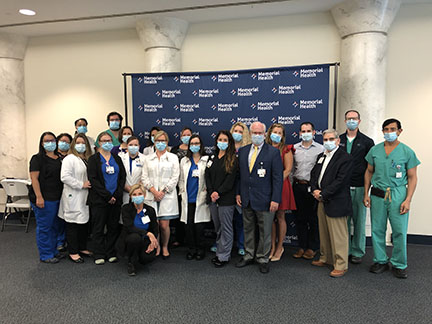 Memorial Health Stroke Team Leaders
Memorial Health Earns Comprehensive Stroke Center Certification
Memorial Health has earned certification from DNV GL - Healthcare as a Comprehensive Stroke Center, reflecting the highest level of competence for treatment of serious stroke events. Memorial Health is the only hospital in Savannah and southeast Georgia to earn this designation.
"With stroke care, you must have appropriate clinicians and resources, but also the ability to act organizationally with extreme efficiency because of the time-critical nature of these events," says Dr. Joel Greenberg, medical director for Memorial Health's stroke program. "This certification from DNV GL validates all the effort we have put into this program and to ensuring the health and safety of our patients."
The DNV GL - Healthcare Comprehensive Stroke Center Certification is based on standards set forth by the Brain Attack Coalition and the American Stroke Association, and affirms that the medical center addresses the full spectrum of stroke care - diagnosis, treatment, rehabilitation and education - and establishes clear metrics to evaluate outcomes.
"Achieving certification shows commitment to excellence," says Patrick Horine, CEO of DNV GL - Healthcare. "And it helps demonstrate to your community that you are performing at the highest level."
Comprehensive Stroke Centers typically have the resources to treat any kind of stroke or stroke complication. In a growing number of states, stroke center certification determines which facility a patient should be taken to for the most appropriate care.
SGMC Celebrates 65 Years of Service to Region
July 1, 2020 marked the 65th anniversary of South Georgia Medical Center. What opened as a 100-bed hospital in 1955 has grown into the regional health system known today with a combined licensed bed capacity of 480.
Throughout those 65 years, SGMC has expanded into four campuses located in Lowndes, Berrien and Lanier counties, serving patients in a 15-county area.
"The fundamental purpose of a health delivery system is to coordinate health care among a vast array of disciplines and services for the benefit of those residing in the communities it serves, regardless of who they are," said SGMC President and Chief Executive Officer Ronald E. Dean.
"I believe our healthcare delivery team has been doing just that, serving this mission continuously for 65 years."
SGMC has developed many centers of excellence, including the well known Dasher Heart Center and Pearlman Cancer Center.
SGMC has the region's only open-heart surgery program and Level IIB Neonatal Intensive Care Unit.
To further meet the medical needs of the communities served, SGMC developed a primary care network with offices in Valdosta, Lakeland, Nashville and Hahira.
Behind its expansion is a workforce of physicians, employees and volunteers committed to the health of this region. Today, SGMC is proud to have 2,700 employees and a medical staff that has grown from 32 to more than 400 today.
"It's because of the commitment of our remarkable physicians, employees and volunteers and the many people who have served at SGMC we find ourselves even stronger and look forward to a bright future," continued Dean.
Former Mayor Bob Young Organizes Pop-up Parade for Health Care Workers
Former Augusta mayor Bob Young has organized a pop-up parade through the medical district to show appreciation for health care workers at Augusta University Health, the VA and University hospitals. The parade will include vehicles representing WWII, Korea and Vietnam wars. Vehicles will depart Lucy Craft Laney High School and pass through the AU Health Sciences Campus, the VA Medical Center and the circular drive at University Hospital before returning to Laney Stadium. The parade is set for Monday, July 6 at 11 a.m.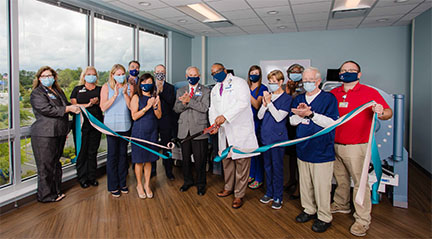 Damon Brantley, M.D., cuts ribbon to officially open Southeast Georgia Health System Camden Campus Wound Care Center.
Southeast Georgia Health System Opens New
Wound Care Center on Camden Campus
At any given time, nearly six million Americans suffer from a problem wound. The wound may be caused by diabetes, poor circulation, radiation, a pressure sore or injury. Whatever the cause, a slow-healing wound should not be ignored.
Gary Willis can vouch for that. When the St. Marys resident injured himself during a lawn mower accident, his wife insisted he see a doctor. Thinking the wound would heal on its own, Willis waited. When it became infected, Willis, a former Southeast Georgia Health System Camden Advisory Board member, sought medical help. "My surgeon performed a skin graft, then emphatically recommended the Health System's Wound Care Center," he says. For several weeks, Willis drove two hours round trip from St. Marys to the Wound Care Center on the Brunswick Campus. "The staff's professionalism was worth the trip, but the experience would have been more comfortable closer to home," Willis recalls. Local care for chronic wounds is important since healing requires close monitoring and, oftentimes, multiple treatments.
Willis's treatment included several sessions in a hyperbaric oxygen therapy (HBOT) chamber. The chamber contains 100% oxygen, which hastens healing and stimulates the growth of new blood vessels and tissue. Thanks to HBOT, Willis's wound healed. Left untreated, it might have developed more serious complications. In some patients, an untreated wound can lead to amputation.
With the opening of a new Wound Care Center on the Health System's Camden Campus, area residents now have access to the same high quality care available in Brunswick. "Our specialized treatments speed healing so that patients get back to doing the things they enjoy," says Damon Brantley, M.D., chief of the Department of Surgery at the Camden Campus and a physician at the Wound Care Center.
Click here to read more.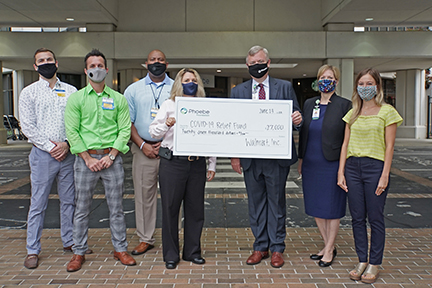 Pictured from left to right: Tyler McLaughlin, ​food ​co. manager at #588 on Ledo Road; Blake Abbott, store manager at #588 on Ledo Road; Terry McClinton, store manager at #5797 on Cordele Road; Stephanie White, market manager, Market 27; Scott Steiner, Phoebe Putney Health System CEO; Carolyn Higgins, president & chief fundraising officer, Phoebe Foundation; and Becca Miller, CMN and development coordinator, Phoebe Foundation.
Phoebe Foundation Receives $27,000 Donation from Walmart for COVID-19 Relief Fund
Phoebe Foundation recently received another generous donation to its COVID-19 Relief Fund. Walmart Inc. donated $20,000 to the fund that will help provide essential support to Phoebe Putney Health System's employees and enhance their COVID-19 response efforts to keep the community healthy and safe. Additionally, the Phoebe Foundation received $7,000 from local Walmart stores (Walmart Supercenter #588 - Albany, Ledo Rd., Walmart Neighborhood Market #2801- Albany, Westover Rd., Walmart Supercenter #7245- Sylvester, and Sam's Club #6506 – Albany) through community grants.
"As we continue to navigate through these challenging times, we are so grateful to Walmart for this generous gift," said Carolyn Higgins, president & chief fundraising officer, Phoebe Foundation. "Because of their generosity and support of our relief efforts, we will continue to meet the changing healthcare needs in our community and frontline caregivers during these unprecedented times."
As a not-for-profit hospital, Phoebe depends heavily on the generosity of Phoebe Foundation's caring donors. Phoebe Foundation's COVID-19 Relief Fund was launched to help the community during the coronavirus pandemic and to continue providing services to its patients.
CRH Pain Management Welcomes Dr. Kate Paylo
Coffee Regional Medical Center is pleased to welcome Dr. Kate Paylo, D.O., FAAPMR, to Douglas as the lead physician of their newest specialty office, CRH Pain Management.
Dr. Paylo is a double board certified, fellowship-trained interventional pain management specialist with more than 11 years of experience in her field. She completed both her anesthesia/pain management fellowship and physical medicine and rehabilitation residency at the University of Virginia, where she also served as chief resident.
Dr. Paylo's specialties include the diagnosis and treatment of pain conditions including the spine, musculoskeletal, and nerve-related disorders. She has also served as a dissertation committee clinical supervisor at Kent State University and as a clinical faculty at Ohio University. With the goal to improve each patient's level of function and quality of life, she uses non-operative and minimally invasive techniques to achieve those outcomes.
Dr. Paylo's specialties include:
- Platelet-rich plasma injections (PRP)
- Joint injections
- Genicular nerve blocks
- Lumbar transforaminal epidural injections
- Lumbar epidurals
- Lumbar medial branch nerve blocks
- Lumbar medial branch nerve radiofrequency ablations
- Sacroiliac joint injections
- Trigger point injections
- Cervical epidural injections
- Cervical medial branch blocks
- Cervical medial branch radiofrequency ablations
- Spinal cord stimulator trials
- Ultrasound-guided peripheral nerve blocks
- Ultrasound-guided peripheral nerve radiofrequency ablations
- Peripheral nerve stimulator implantations
Dr. Paylo is seeing patients by referral only.
For an appointment and to find out more about how you can treat your chronic pain, please speak with your physician and request a referral to CRH Pain Management. For referral information, please call CRH Pain Management at 912-389-2160 or visit www.CoffeeRegional.org/pain-management. CRH Pain Management is located in Douglas on the first floor of the 100 Doctors Building behind Coffee Regional Medical Center, Suite A.
Patients Benefit as Tanner Electronic Health Record Expands to Include Independent Practices
More patients in west Georgia and east Alabama will benefit from Tanner's 2019 investment in its Epic "one patient, one record" electronic health record (EHR) as independent physician practices are now invited to sign-on, too.
Through Community Connect, independent physicians can share Tanner's Epic software for their own practice, improving operations in their clinics and care for their patients.
Epic, the No. 1 platform of its kind in the United States, allows for a single, comprehensive medical record that follows the patient from the clinic to the hospital bedside, operating suite, emergency department or wherever a patient seeks care within the Tanner system.
Tanner implemented the health record platform at all its nearly 40 Tanner Medical Group practice locations and five hospitals last year.
Now, independent medical practices can join the platform, ensuring seamless care between the practice and the health system.
Click here to read more.
SGMC Welcomes Gastroenterologist
South Georgia Medical Center is pleased to welcome Dr. Saikiran "Sai" Raghavapuram, board certified gastroenterologist. 
Dr. Sai will see patients at SGMC and at his practice, SGMC Gastroenterology, which is located in the Surgery Center at 2417 North Patterson Street in Valdosta.
Dr. Sai is fellowship-trained in gastroenterology/hepatology, specializing in colon health issues, gastrointestinal bleed, pancreatic issues, Hepatitis C treatment, polyp removal, liver disorders, and stomach/digestive conditions.  
Dr. Sai received his medical education from Osmania Medical College, Hyderabad, India, and completed his internal medical residency and gastroenterology/hepatology fellowship at the University of Arkansas for the Medical Sciences in Little Rock, Arkansas.  Dr. Sai is a member of the American College of Physicians and the American Gastroenterology Association.
According to Dr. Sai, his dream to become a physician began as a child.
"I always wanted to make a difference in people's lives as a doctor as health issues matter to everyone," said Dr. Sai. "I believe God creates life and doctors repair it through His grace." 
When choosing to specialize in gastroenterology and liver disorders, Dr. Sai said it wasn't just interesting to study and diagnose disorders related to the gut but also gratifying to treat and bring smiles to people's faces who were suffering from such disorders. Dr. Sai believes patients should be treated as family members and values proper communication regarding disorders and treatment. 
"We are pleased to have Dr. Sai join our team. His skillset will allow our health system to provide a full range of GI procedures," said Chief Medical Officer Dr. Brian Dawson. "Dr. Sai's skills and capabilities serve to enhance the services provided to the communities we serve and further enable us to be the region's destination for high quality specialty care."
Dr. Sai is married to Dr. Deepthi Gandhari, a pulmonologist and critical care doctor who is also joining the SGMC team. Dr. Sai shared that he fell in love with Valdosta the first time he visited. "Valdosta has everything, including nice and friendly people. I felt it would be more gratifying for me to offer my services here. I also believe this is a place where my family can grow happily."
SGMC Family Medicine Nashville Now Serving Patients in Berrien County
South Georgia Medical Center is pleased to announce the opening of SGMC Family Medicine Nashville. 
South Georgia Medical Center operates a full range of specialty and primary care clinics in Lowndes, Berrien and Lanier counties. The SGMC Family Medicine Nashville primary care practice, led by Dr. Jacqui O'Kane, will begin seeing patients in their newly renovated office at 603 E. Dennis Street on July 15. New patient appointments are being accepted now.
Dr. Jacqui O'Kane is board certified in family medicine and accepting patients of all ages. She is a proud veteran (Major) of the United States Air Force Medical Corps. Prior to opening her practice in Nashville, Dr. O'Kane served patients at the Moody Air Force Base Family Health Clinic for four years. She graduated from the Philadelphia College of Osteopathic Medicine in Suwanee, GA and completed her residency at Spartanburg Regional Healthcare System in Spartanburg, SC. She has years of experience providing comprehensive medical care to adults and children.
Dr. O'Kane says, "Providing comprehensive, compassionate care to those in need is my passion. I am looking forward to serving the people of Nashville, Berrien County, and the surrounding area."
SGMC Family Medicine Nashville offers preventive and wellness medicine, sports physicals, pre-employment exams, immunizations, acute and chronic disease management (diabetes, hypertension, asthma, depression, etc.), women's health, minor emergencies, and counseling for weight management and smoking cessation. 
Carl Vinson VA Medical Center Surpasses 5,000 Video Visits in 2020
VA Video Connect visits increase over 1000% nationwide
during COVID-19 pandemic
The U.S. Department of Veterans Affairs (VA) recently announced that video telehealth appointments to Veterans' homes increased over 1000%, as Veterans increasingly chose virtual care through VA Video Connect during the COVID-19 pandemic. In middle Georgia, the Carl Vinson VA Medical Center (CVVAMC) conducted more than 3,200 telehealth appointments between January 2020 – June 2020.
VA Video Connect allows Veterans and their caregivers to meet virtually with their VA care teams on any computer, tablet, or mobile device with an internet connection. As in-person interactions decreased in response to the COVID-19 pandemic, VA Video Connect supported Veterans' abilities to continue care and remain safely at home. Usage of video to home services has been increasing since mid-March with peak usage reaching more than 29,000 appointments per day.
The increase at CVVAMC represents a 106% increase from January - June 2020. Other telehealth milestones from the CVVAMC since Oct. 1, 2019 include:
16.67% of veterans enrolled at Carl Vinson VAMC have received telehealth services.

1.58% of enrolled veterans have been enrolled in Carl Vinson VAMC Remote monitoring (Home Telehealth) program.

3.85% of enrolled veterans have has a VA Video Connect visit.
VA is also taking strides to bridge the digital divide for Veterans who lack the technology or broadband internet connectivity required to participate in VA telehealth services. At the national level, VA is working with strategic partners, through the VA Secretary's Center of Strategic Partnerships, to increase access to the technology that Veterans need to connect with their VA health care team virtually.
"As we near the three-year anniversary of the launch of VA Video Connect, even during these challenging times, VA has and continues to maintain access to high-quality health care for Veterans," said Medical Center Director David L. Whitmer. "As the service becomes more popular, VA remains committed to providing a seamless user experience to ensure Veterans have access to care where and when they need it. Virtual care modalities will expand at the Carl Vinson VA after COVID-19 as we've proven is an excellent way to deliver health care in a highly rural area."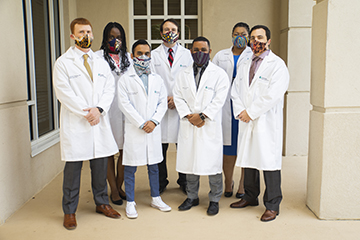 Phoebe Family Medicine Residency Class of 2020. The graduates (L to R) are Clay Hartley, MD; Nana Sarpong Mensah, MD; Nik Karsan, MD; Steve Hotz, MD; Joe Thomas, MD; Jembber Robinson, MD; and Kilby Osborn, MD.
Phoebe Celebrates Residency Program Graduation and Welcomes New Residents
The Phoebe Family Medicine Residency (PFMR) celebrated the graduation of the Class of 2020 with a virtual ceremony Saturday. Seven graduating residents and their families joined PFMR leaders and faculty for an online program. 
"We regret the COVID-19 pandemic prevented us from enjoying our typical ceremony together, but we still had a great time 'virtually' honoring our graduates. These excellent young physicians provided outstanding service to our community over the last three years and played important roles in Phoebe's COVID-19 fight during the last few months of their residency. There's no doubt what they saw and did during our COVID-19 response will stay with them for the remainder of their careers and shape the kind of physicians they will become," said William Fricks, MD, PFMR Program Director.
The seven graduates are:
Clay Hartley, MD

Steve Hotz, MD

Nik Karson, MD

Nana Sarpong Mensah, MD

Kilby Osborn, MD

Jembber Robinson, MD

Joe Thomas, MD
During the graduation ceremony, Dr. Karsan was honored as Resident of the Year. He will remain at Phoebe and join the health system's outstanding team of hospitalists. 
"This truly is an amazing class of physicians who have already accomplished a great deal.  We're happy to honor Dr. Karsan as a fine representative of this class, and we are thrilled he will remain part of the Phoebe family," Dr. Fricks said.
Click here to read more.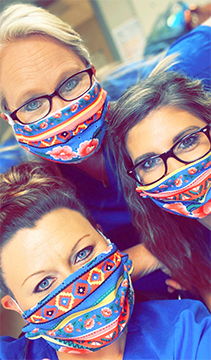 Wayne Memorial Hospital Encourages Community to Not Let Guard Down
With holiday weekend plans as well as summer vacations in full swing, Wayne Memorial reminds the community to not let its guard down to COVID-19 as its members travel, shop and work. In accordance with the Governor's latest Executive Order (06.29.20.02), hospital officials remind people: 
to social distance

not to gather in large groups

to wear face coverings while outside their homes except when eating, drinking or exercising outdoors

to practice sanitation per CDC guidelines:

washing hands often with soap and water for at least 20 seconds, or using an alcohol-based hand sanitizer that contains at least 60% alcohol until hands can be washed and cleaning and disinfecting frequently touched surfaces.  
As of (July 1, 4:30 p.m.), the Georgia Department of Public Health Covid-19 Daily Status Report shows Wayne County with 77 positive COVID-19 cases and seven hospitalizations. As Wayne Memorial draws patients from other areas of Southeast Georgia, these counties' numbers are also of note: Long (46 cases, two hospitalizations), Pierce (174 cases, 27 hospitalizations), Brantley (96 cases, seven hospitalizations), Ware (448 cases, 64 hospitalizations), Bacon (244 cases, 21 hospitalizations), Appling (260 cases, 43 hospitalizations) and Liberty (127 cases, 16 hospitalizations). https://dph.georgia.gov/covid-19-daily-status-report
"With many new testing sites opened locally in the past couple of weeks, the number of new positive cases being reported is not a complete surprise," Wayne Memorial Hospital CEO Joe Ierardi says. "We know some folks may be fatigued with precautions, but we encourage everyone to continue to do their part. With such a supportive, engaged community in Wayne and surrounding counties, we know our residents can rally and flatten the curve."  
Charmaine Thomas Named Floyd Behavioral Health Administrator
Charmaine Thomas has been named Administrator of Floyd Behavioral Health. Thomas will continue to serve as the risk management director at Floyd Medical Center while also assuming her new responsibilities at Floyd Behavioral Health.
As administrator, Thomas will be responsible for all day-to-day operations. This includes overseeing clinical quality outcomes and the patient experience, and managing the allocation of resources and staffing.
In addition to her dual leadership roles at Floyd, Thomas actively maintains her clinical skills by working as a nurse practitioner in the Floyd Primary Care Network. She has more than 30 years of nursing experience.
Thomas has been with Floyd for almost 14 years where she has served in a variety of roles including chief nursing officer at Polk Medical Center and medical surgical director and assistant chief nursing officer at Floyd Medical Center.
Thomas holds two Master of Science degrees in nursing from Kennesaw State University – one in family care nurse practitioner and the other in advanced care management and leadership. She also earned a Bachelor of Science degree in nursing from the University of North Florida in Jacksonville, Florida, and an associate of science degree in nursing from Our Lady of the Lake College in Baton Rouge, Louisiana.
"It's an honor to be working with an experienced leader such as Charmaine, who has not only managerial experience, but in-depth clinical knowledge," said Warren "Sonny" Rigas, executive vice president and chief operating officer at Floyd. "Her organizational knowledge will afford her the ability to make changes quickly and have those changes work well within Floyd's culture. I look forward to the positive changes that will be made at our behavioral health facility."
Floyd Names Chief Residents, Announces New Residents
Floyd's Family Medicine Residency Program has named Dyanna Fountain, M.D., and Lacey Johnson, D.O., chief residents for the new academic year beginning July 1. Chief residents are selected and voted on by their peers and are approved by faculty and staff. During their one-year term, they will serve in leadership roles, mentoring underclassmen and acting as liaisons between residents and faculty.
Dr. Fountain received her Doctor of Medicine from Morehouse School of Medicine in Atlanta. She earned a Master of Science in biology from University of West Georgia in Carrollton and a Bachelor of Science in biology from Georgia State University in Atlanta.
Dr. Johnson received her Doctor of Osteopathic Medicine from Alabama College of Osteopathic Medicine in Dothan, Alabama. She earned a Master of Science in counseling and psychology from Troy University in Troy, Alabama, and a Bachelor of Arts in psychology from Mississippi State University in Starkville, Mississippi.
Click here to read more.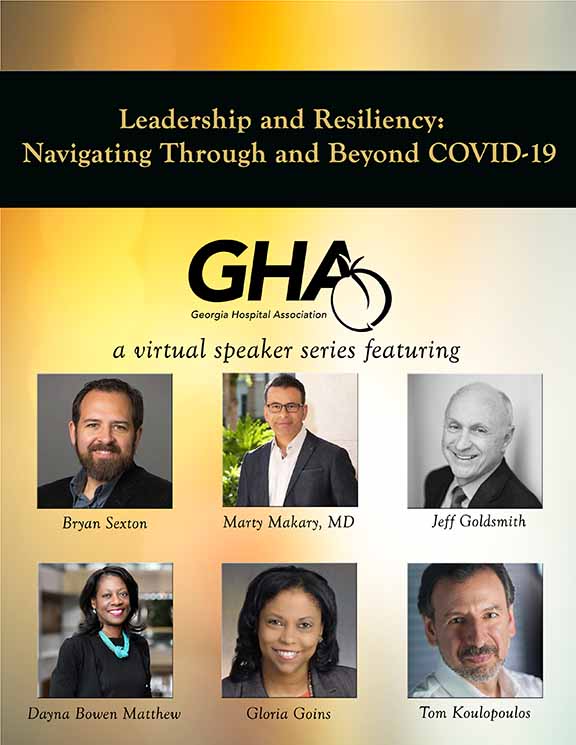 GHA has produced an Executive Leadership Series opportunity to take the place of in-person meetings this summer. An exciting lineup of professional presenters is listed below. We are able to offer this for a very low registration fee because 30 other state hospital associations accepted our invitation, which resulted in extraordinary economies of scale for everyone. I hope you and your staff will take advantage of this experience.  
Don't Miss out on This Historic Leadership Opportunity
* $75 per line, per session or $375 for the full series.  
* Limited lines available — secure your spot today!
* Registration fee includes access to the recording for two weeks to share with your organization's leadership.
* This momentous partnership among state hospital associations brings you the best speakers in the industry in lieu of face-to-face meetings.
* The Georgia Hospital Association is an approved provider of nursing home administrator credits as a professional trade association in long-term care under Ga. Comp. R. & Regs. 393-13-.02, (1) (a). Each session is approved for 1 contact hour in professional development/integrity, leadership skills and management.   
About This Series
This series consists of six sessions over a four-month period. Each session is a 40-45 minute live or pre-recorded presentation followed by a live Q&A session for all. 
Every session is scheduled from 1-2 p.m. (ET). All programs will be held on Thursdays. 
***Register for individual sessions by clicking on the name of the program below. The cost for individual programs is $75 per line, per session. This includes access to a recording of the program after its completion.
Session One (Already Occurred but Recording is Available)
June 25 "Bite-Size Coping During Times of Uncertainty" by Bryan Sexton
Session Two
July 9 "Update on Coronavirus: What's Next and How to Plan" by Marty Makary, MD
Session Three
July 23 "The Post-COVID Healthcare Landscape: Implications for Strategy" by Jeff Goldsmith
Session Four
Aug. 6 "How Hospitals and Health Systems Can Lead a 'Quiet Revolution' for Healing During a Pandemic" by Dayna Bowen Matthew
Session Five
Aug. 20 "When Good Isn't Good Enough: How Unconscious Bias Harms Patients During the COVID-19 Pandemic . . . Despite Our Good Intentions" by Gloria Goins
Session Six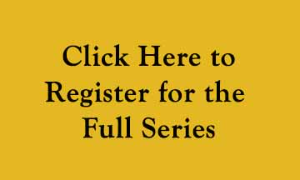 Georgia Hospital Association
1675 Terrell Mill Road
Marietta, GA 30067
Click here to update your subscriptions.