Click here if you are having trouble viewing this message.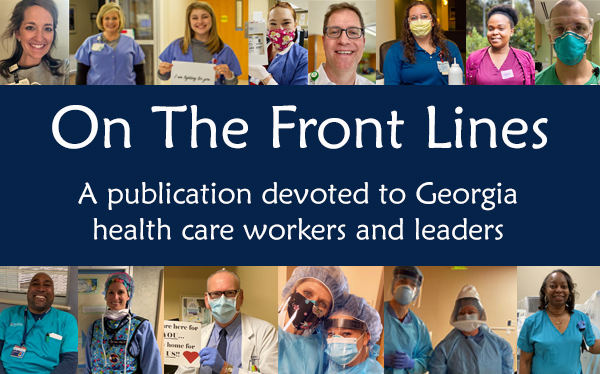 June 27, 2020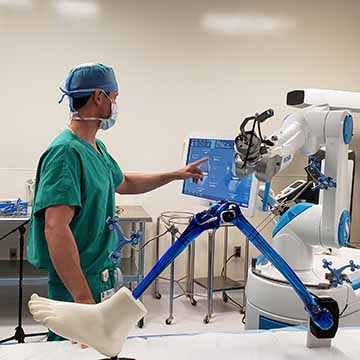 Dr. Jonathan Christy, orthopedic surgeon
Memorial Health First in Georgia to Use ROSA® Knee for Total Knee Replacement
Memorial Health is the first health care system in Georgia to use the ROSA® Knee Robotic System for total knee replacement surgeries. This new technology helps the surgeon optimize accuracy and efficiency when planning and performing total knee replacement procedures.
"The robotic technology helps to create a personalized surgery plan specific to each patient's anatomy," said Dr. Jonathan Christy, orthopedic surgeon. "We're excited to be the first in Georgia to offer the ROSA, an innovative procedure for our knee replacement patients."
The ROSA Knee uses x-rays taken prior to the surgery to create a 3D virtual image of the patient's knee. The surgeon uses the system to develop a surgical plan that can be accurately performed with guidance from the system's robotic arm. While the surgeon performs the procedure, the system assists the surgeon in implant placement; it also allows the surgeon to adjust the plan in real time based on the patient's unique knee anatomy.
"During the procedure, the robotic system adjusts to slight movements of the patient's leg. This ensures the surgery is performed precisely according to the plan," said Dr. Christy.
The ROSA Knee is the latest in Memorial Health's ongoing commitment to innovative technologies. Earlier this month, the thoracic oncology team began using robotic-assisted bronchoscopy for early detection of lung cancer. In May, Memorial celebrated the one-year anniversary of its dedicated robotics surgery center.
SGMC Partners with Mercer to Offer Residency Programs
South Georgia Medical Center (SGMC) and Mercer University School of Medicine (MUSM) announced a partnership that will bring internal medicine and emergency medicine residency programs to Valdosta.
Upon approval by the Accreditation Council for Graduate Medical Education and by the Centers for Medicare and Medicaid Services, the residency programs will begin in 2022.
"This partnership leverages the strengths of both organizations in developing a high quality graduate medical education option for physicians seeking residency training in South Georgia," said SGMC President and CEO Ronald E. Dean. "As a teaching hospital, SGMC will couple academics with some of the best-trained medical staff, nurses and health care professionals within our highly capable health delivery system to advance our ability to better serve the health care needs of Valdosta, Lowndes County and South Georgia."
Research shows that medical residents tend to stay close to their training site to work after they graduate. The new programs are intended to enhance recruitment and retention efforts at SGMC.
"The mission of the Mercer University School of Medicine is to educate physicians and health professionals to meet the primary care and health care needs of rural and medically underserved areas of Georgia," said MUSM Dean Dr. Jean Sumner. "We are proud to partner with SGMC."
Residency programs in internal medicine and emergency medicine last three to four years under the guidance of senior physician educators. Residents are students who have graduated medical school and are completing additional training in their medical specialty.
"Residency programs can provide clinical and administrative support to deliver comprehensive and coordinated community-based care," said SGMC Chief of Staff Dr. Sid Staton. "They generally provide 24-hour hospital coverage of patients and they also have been shown to produce improvement in quality outcomes."
According to Valdosta-Lowndes County Chamber of Commerce President Myrna Ballard, bringing residency programs to a community can be a boost for the economy. "Having a teaching hospital here in Valdosta enhances community standing and improves employment opportunities throughout the region," she said. "It brings young professionals and couples to the area with a potential to have them stay here."
In addition to graduate medical education, the agreement between SGMC and Mercer includes the development of rotations for third- and fourth-year medical students, which will allow them "to see the high-quality care offered in a rural hospital and the difference a physician can make in rural communities," Dr. Sumner said.
Southeast Georgia Health System Urges Community To Consider COVID-19 Precautions When Preparing Hurricane Plans
When living in coastal Georgia, it's imperative to prepare medical and emergency plans during hurricane season, which began June 1 and lasts until the end of November. Preparation is the best way to remain safe before, during and after a storm. With COVID-19 continuing to be a health threat during the hurricane season, this year's planning requires extra attention. With that in mind, Southeast Georgia Health System urges everyone to begin planning now.
It's important to be prepared for a hurricane while also remaining vigilant in your efforts to prevent the spread of coronavirus. If you must evacuate, the CDC is recommending you have additional items on hand, such as cloth face coverings, hand sanitizers and cleaning products to help prevent the spread of the virus at a shelter or while traveling to escape the path of a storm.
To prepare for hurricane season during the pandemic, follow these guidelines:
Obtain prescriptions and update disaster kits early (now) because items may be harder to get and slower to ship.

Keep COVID-19 safety measures in mind while shopping—maintain social distancing, wear face coverings and use hand sanitizers.

Add face coverings and hand sanitizers to your disaster kits.

Check on friends and family to make sure your loved ones are getting ready in advance and taking COVID-19 precautions.
During an impending hurricane:
Sheltering in place, if possible, is the safest way to prevent the spread of COVID-19. But if sheltering in place is not possible or recommended, it is essential to seek safe shelter against a hurricane.

Shelters can be crowded, but don't "not shelter" because of COVID-19 fears. The threat of a hurricane is the more immediate danger. To minimize exposure while sheltering, wear face masks and stay six feet apart as much as possible.

Shelter locations for both pets and people may be different this year due to COVID-19. Keep an eye out for those changes.
During recovery efforts:
Be aware that it may take longer for affected areas to recover after a hurricane because of COVID-19. Be patient while city and county officials prepare the city for reentry following an evacuation.

Cleaning a house from mold damage may be more difficult due to possible PPE and cleaning supply shortages, so as much as possible, take preventative measures to protect your home.
It's natural to feel anxious about a hurricane during "normal" circumstances, but add the complications presented due to COVID-19 and many people may be feeling more anxious than usual. This is normal. Consider your mental health as much as your physical health and seek professional help if necessary.
For additional information on preparing for hurricane season, visit sghs.org/hurricane.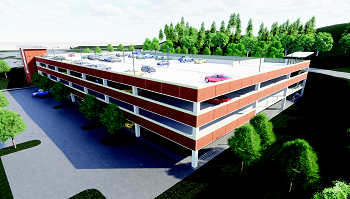 Emory Johns Creek Hospital to add three floors to Physician's Plaza and new parking deck  
Emory Johns Creek Hospital (EJCH) recently broke ground on its expansion for the medical office building at Physician's Plaza and a new parking deck. As part of the hospital's vertical expansion project, crews will build three new floors to the existing four-story building in Physician's Plaza.
"We're thrilled to expand Physician's Plaza, our hospital and build a new parking deck to better serve our growing patient population," says Marilyn Margolis, MN, RN, NEA-BC, EJCH Chief Executive Officer.
"It's our top priority that our patients receive outstanding medical care and their experience is as comfortable as possible, from the time they arrive to our campus until they leave," says Margolis.
The $30 million project will add 108,500 square feet to Physician's Plaza. The expansion will also include two new elevators and a dedicated entrance for patients at Winship Cancer Institute at Emory University in Johns Creek. Construction for Physician's Plaza is expected to be completed by May 2021.
Additionally, EJCH just broke ground on a new parking deck, which will add 640 parking spaces.
"In response to our growing patient volumes and workforce, it's essential that we're equipped with resources, such as the new parking deck to support our patients, visitors and staff," says Laurie Hansen, vice president of operations at EJCH. 
The parking deck is expected to be completed by June 2021.
Construction is also underway at EJCH to add two new floors and 40 beds to the existing 110-bed acute care hospital. The building addition will feature natural daylight with large windows, LED lighting and controls, low-emitting interior finishes, and waste and reduction efforts throughout construction. The new area is expected to open in May 2021.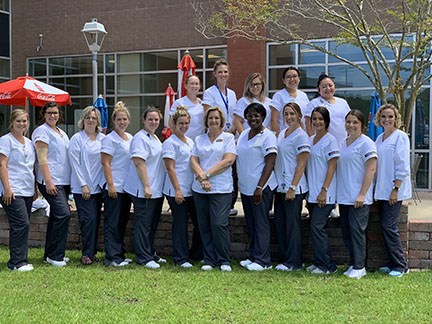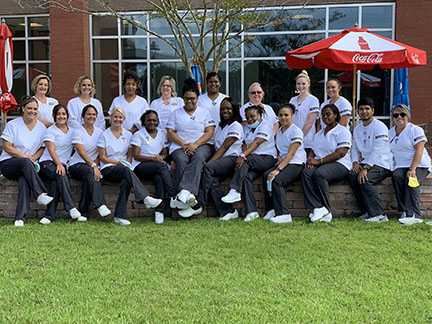 Seeing a Need, Fulfilling a Need
Local College Teams with Hospital to Address Nursing Shortage
"If you build it, they will come." Most everyone is familiar with this takeoff of the phrase used in the 1989 film Field of Dreams, starring Kevin Costner. And most likely, one has also heard of the nursing shortage countrywide. Reasons for that shortage vary from an aging Baby Boomer population (including nurses nearing retirement) to advancements in medicine lengthening life, resulting in greater care needed overall. 
Director of Hospital Education Rosa Brown shares, "According to the latest United States Registered Nurse Workforce Report Card and Shortages Forecast, Georgia will need an additional 32,868 nurses by 2030." What does that mean locally? Colleges and hospitals are seeing those numbers and collaborating to provide educational, clinical experiences to meet that challenge. In Jesup, Coastal Pines Technical College (CPTC) responded by implementing, in 2018, an Associate Degree of Nursing (ADN) program. The ADN program will complete its final phase of the accreditation process with the Accreditation Commission for Education in Nursing in 2021.
Recently in Jesup, CPTC brought their first group of students in the Associate Degree of Nursing program to Wayne Memorial for a presentation. With their instructors, 33 students attended a brief orientation of the current nursing opportunities within the organization and were given a tour of the facility. Welcomed by the administrative team, clinical managers and directors, each of the associates provided an overview of their work areas. This class of aspiring nurses graduates in May 2021.
"Wayne Memorial is a clinical training site for approximately 225-250 students in various fields including nursing, respiratory therapy, radiology and laboratory," Brown said. "Most of the students are coming to us from CPTC. We also serve as a preceptorship site for other surrounding colleges for the final semester of Nursing School. We wish all of these students a wonderful year and invite them to take a closer look at Wayne Memorial in the future."
Wayne Memorial Hospital, whose mission is to provide high quality health care services to all patients, built a state-of-the-art facility in 2007. It is the third largest employer in Wayne County with 500 employees, 84 beds and is a three-time winner of the Georgia Alliance of Community Hospitals Small Hospital of the Year Award. 
Emory Healthcare partners with Atlanta Track Club to serve athletes on the road to the Olympics
Atlanta Track Club is partnering with Emory Healthcare as the official sports medicine and physical therapy providers for its Olympic Development Team.
"Emory Sports Medicine is thrilled to partner with Atlanta Track Club Elite to provide high-quality sports medicine care to help its athletes perform at their very best, to pursue their Olympic dreams," says Scott D. Boden, MD, vice president of business innovation for Emory Healthcare and chief medical/quality officer for Emory University Orthopaedics & Spine Hospital.
The partnership provides Atlanta Track Club Elite with comprehensive, world-class sports medicine care from Emory Healthcare's orthopaedics, sports and spine doctors.
Amadeus Mason, MD, assistant professor of orthopaedics and family medicine at Emory University School of Medicine and Emory Sports Medicine physician will serve as medical director for Atlanta Track Club Elite. Emory Healthcare physicians Courtney Gleason, MD, Jonathan Kim, MD, and Sara Raiser, MD, will also provide sports medicine care.
"Our team of physicians, certified athletic trainers and physical therapists are equipped to deliver outstanding musculoskeletal care and physical therapy services to ensure athletes achieve the best possible outcome after a sports injury," says Mason.   
Atlanta Track Club Executive Director Rich Kenah says the elite athletes are training to compete against the best athletes in the world.
The athletes will have priority access to Emory Healthcare's 11 hospitals, advanced imaging equipment and physicians in more than 70 medical specialties. This may also include video telemedicine consults as a quicker first step to ensure any subsequent in-person visit has the proper diagnostics and is more efficient.
"Having access to best-in-class doctors, therapists and facilities will not only ensure they are on the start line healthy, but also go a long way toward making sure they get to the finish line first," says Kenah.
Emory Healthcare is the official team health care provider for the Atlanta Falcons, Atlanta Hawks, Atlanta Braves, and the Atlanta Dream, in addition to several collegiate and high school athletic programs.
Wife of COVID-19 Patient Grateful for Care
Josh Penson walked out of Floyd Medical Center on his own power last week, after spending nearly two months hospitalized with COVID-19. His wife, Tiffany Penson, credited Dr. Daniel Valancius with saving her husband's life and said other caregivers also played a key role in his recovery.
"Everything they have done, it works. He's proof that it works. Dr. Valancius saved his life," she said.
Penson was overcome with emotion has he left the front entrance to be greeted by a throng of friends and family wearing "Pray for Josh" T-shirts. He thanked the crowd and walked over to say a simple but emotional thank you to Floyd staff members who gathered outside on the sidewalk.
Tiffany said her husband was at Floyd for about three days when it was clear he needed more intensive treatment.
"Dr. Valancius saved his life by sending him to Piedmont, by finding him a room, by acting fast," she said. At Piedmont, Penson was hooked up to a machine that helped both his heart and lungs overcome the strain put on them by COVID-19. He spent two weeks there before returning to Floyd Medical Center.
"Then they brought him back here and started working with him," she said. "I think he was even doing rehab before he left the COVID unit. And here we are 57 days later, and we get to come out of the hospital."
Valancius, a hospitalist at Floyd, has been heavily involved with the treatment of COVID-19 patients. His recommendation that a patient be tested for the virus resulted in Floyd treating its first COVID-19 patient in March.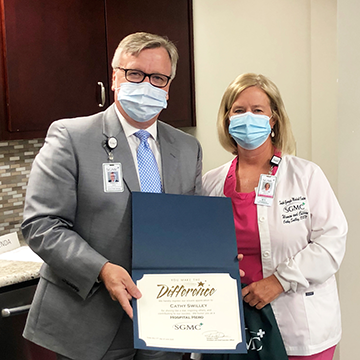 SGMC President and CEO Ronald E. Dean presents the Hospital Hero Award to Nurse Manager Cathy Swilley. 
Swilley Named Hospital Hero
The Hospital Authority of Valdosta Lowndes County, Georgia recognized Cathy Swilley as the June Hospital Hero. 
Swilley is the nurse manager for Women and Children's Services and has been with SGMC for 24 years. 
She was recognized for her recent acts of human kindness during the increase of COVID-19 positives in Echols County. Upon learning that COVID-19 had impacted the migrant farmworker community, she immediately started working to help the Migrant Farmworkers Clinic. She reached out to her friends on social media asking for possible donations. Through her outreach, Swilley was able to coordinate a significant donation to the clinic which included 100 cloth masks, 800 lbs of food, bags of toiletries and hand sanitizer, and non-touch digital thermometers. 
Swilley's dad was a farmer and she says she knows how important this community is to the agriculture industry. "God laid this on my heart. I had to help," she said. "I put one post on Facebook and that was all it took. Some mighty warriors for God heard my cry for help."
According to Assistant Chief Nursing Officer Cherise Giddens, "Cathy is known throughout the community and at SGMC for her kind and loving heart.  We are so blessed to have Cathy as part of our team. She truly represents what all of us are striving for every day at SGMC: Human kindness!"
Phoebe Joins COVID-19 Research Project
Phoebe is collaborating with the Mayo Clinic and the American Red Cross on a project to study whether the blood of recovered COVID-19 patients may help other patients survive the illness. 
"Patients who have recovered from COVID-19 have antibodies in their blood that fight coronavirus.  It's possible blood plasma from those patients could be used to successfully treat COVID-19. We know this kind of treatment has proven effective with other viruses, and we think it's critically important to study its efficacy with COVID-19," said Jose Tongol, MD, Phoebe hematologist and oncologist.
The U.S. government is supporting a national Expanded Access Program (EAP) to collect and provide convalescent plasma to COVID-19 patients across the country. The Mayo Clinic in Rochester, MN is the lead institution for the program, but hospitals across the country can participate. Dr. Tongol is the principle investigator at Phoebe Putney Memorial Hospital. Other physicians participating in the study include Kumud Rangaraj, MD, Phoebe hematologist and oncologist; Ramana Rao, MD, Phoebe critical care intensivist; Temitope Olarewaju, MD, Phoebe family medicine physician; and Teri Bohlmeyer, MD, pathologist.
"Unfortunately, the Albany area was one of the early hotspots for COVID-19 in the country, and we have treated more COVID patients at Phoebe than any other individual hospital in Georgia. The virus is still prevalent in our area, and we want to be at the center of efforts to develop effective treatments for our patients and others around the country," said Steven Kitchen, MD, Phoebe Putney Memorial Hospital chief medical officer.
Phoebe registered with the Mayo Clinic to participate in the EAP on April 9. When COVID-19 patients are released from Phoebe, physicians may discuss with those patients the opportunity for them to donate plasma that could potentially help current or future COVID patients. 
"We are working diligently to identify eligible patients our care teams deem appropriate for this treatment. By the middle of June, we had completed 12 infusions on COVID-19 patients and had received consent from nine others who could receive transfusions based on plasma availability. We are hopeful this convalescent plasma protocol will show positive results for our patients," Dr. Tongol said.
According to a Mayo Clinic website about the project, "The protocol requires the patient or family member to consent to receiving plasma from someone who has recovered from COVID-19. Their plasma has substances that could improve chances of recovery. Only hospitalized patients referred by their health care provider will participate in this protocol. Hospitalized patients are eligible to receive convalescent plasma if:
They are 18+ years of age

They have laboratory-confirmed diagnosis of infection with severe acute respiratory syndrome coronavirus 2 (SARS-CoV-2), the virus that causes COVID-19

They are admitted to an acute care facility for the treatment of COVID-19 complications

They have severe or life-threatening COVID-19, or judged by the treating provider to be at high risk of progression to severe or life-threatening disease

There is informed consent provided by the patient or healthcare proxy"
According to the website, nearly 24,000 patients nationwide had received infusions through the project as of June 18.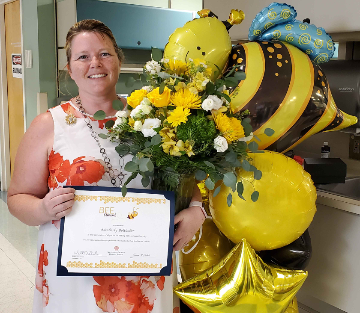 Southeast Georgia Health System Presents Bee Award To Kimberly Boltiador
Southeast Georgia Health System recently presented the BEE Award to Kimberly (Kim) Boltiador in recognition of her willingness to go the extra mile for her team members.
A department support coordinator in the Health System's Brunswick Campus Laboratory Services, Boltiador was nominated for the BEE Award by a fellow team member. The BEE Award honors and recognizes team members outside of nursing who go Beyond Exceptional Expectations.
Excerpts from the nomination included, "Ms. Kim is an amazing person to work with and is always the first to volunteer where help is needed. She is our team's go-to person when there is a problem or if we just need help. Just watching her work is awesome. She's the first to offer assistance for patient lab draws, fill in process or receiving, go to the Outpatient Care Center to cover when needed or volunteer her time at our annual health fair. When the new phlebotomist computer carts arrived, Kim immediately jumped at the opportunity to learn about the new programs so she could help when needed and volunteered to assist the phlebotomists the first few days of use. If Kim runs across errors, she's quick to say 'this is only a learning lesson' rather than putting the blame on anyone. She encourages everyone and creates a delightful working atmosphere with her positive mindset."
Boltiador was presented with a BEE Award plaque and certificate by Brendon Winstead, MBA, MT(ASCP), FACHE, director, laboratory services, in front of her peers and health system leadership. She also received a BEE pin, balloons, honey Danishes to share with her team, and a beautiful bouquet of flowers.
Those eligible for the BEE Award include all health system team members and volunteers outside of nurses (RNs and LPNs may receive the DAISY Award). These team members provide extraordinary experiences for health system patients, their families and visitors by exemplifying quality service and extraordinary care.
Anyone may nominate a deserving team member for a BEE Award online at sghs.org/bee-award, or nominations may be placed in BEE boxes located throughout the health system's Brunswick and Camden campuses. A committee of health system team members review the nominations and determine the BEE Award recipient(s).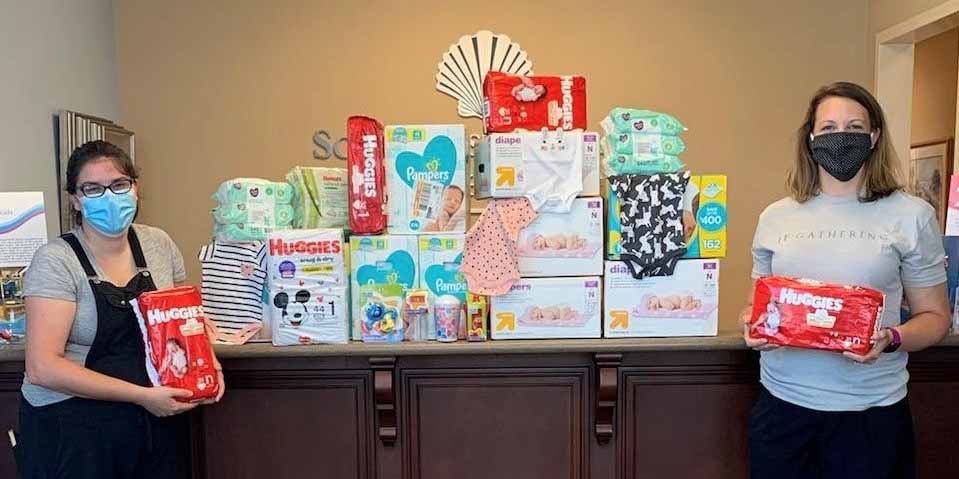 First United Methodist Church Donates Newborn Items to Southeast Georgia Health System Miriam & Hugh Nunnally Maternity Care Center
In early March, First United Methodist Church held a women's conference called IF:Gathering. As part of the conference, church organizers developed a female-centric service project. They collected items for new mothers from the church family to donate to the Southeast Georgia Health System Miriam & Hugh Nunnally Maternity Care Center. Presenting the supplies, consisting of diapers, bottles, sippy cups, wipes, nursing pads, toiletries and onesies, are Alexandria Dickey Tipton and Kathryn Schiliro.
College of Coastal Georgia Shares Inspirational Video Featuring Alumni Working During COVID-19 Pandemic
Alumni from the College of Coastal Georgia have been essential in helping many hospitals, including those in Georgia, fight the COVID-19 pandemic. The college shared this video with GHA that shows several of these workers at our hospitals. We thank all front line workers for their dedication, hard work, and commitment to treating patients.
Online Education
Emergency and Outpatient Services CoPs
Tuesday, June 30
10 a.m.-noon
This webinar, presented by Sue Dill Calloway, covers the Centers for Medicare and Medicaid Services (CMS) hospital Conditions of Participation that affect the emergency and outpatient services departments. Any hospital that accepts Medicare must follow the CMS CoPs for all patients.
The webinar will review staffing requirements, provision of services both on and off-campus, EMTALA, required policies and procedures, training requirements, medical director requirement, and compliance with standards of care. It will also discuss the requirements for restraint and seclusion, grievances, and protocols.This program will also cover the final changes to the outpatient section, published in the Hospital Improvement Rule that went into effect Nov. 29, 2019. The hospital will be required to have a policy and designate which outpatient departments will require a registered nurse, and additional changes will be discussed.
The fee for this webinar is $225 for GHA members, $195 for members of any affiliated GHA Society, and $295 for non-members. Click here to register.
EMTALA Three-Part Regulation Series
Presented in partnership with the Iowa Hospital Association
Medicare-certified hospitals and critical-access hospitals with emergency departments must follow the federal law and Centers for Medicare and Medicaid Services (CMS) regulations and interpretative guidelines for the Emergency Medical Treatment and Labor Act (EMTALA). This three-part series will focus on problematic areas of EMTALA concepts, adequacy of medical screening and on-call physician issues. Fines have more than doubled since 2015 when CMS implemented the inflationary adjustment retroactive to the implementation of the EMTALA regulations.
The fee for each webinar in this series is $225 for GHA members, $195 for members of any affiliated GHA Society, and $295 for non-members. There will be no charge for additional lines for each facility or system. Please contact us at Presented in partnership with the Iowa Hospital Association. if you'd like to have multiple lines.
You can register for each program by clicking on the corresponding links:

Georgia Hospital Association
1675 Terrell Mill Road
Marietta, GA 30067
Click here to update your subscriptions.