Click here if you are having trouble viewing this message.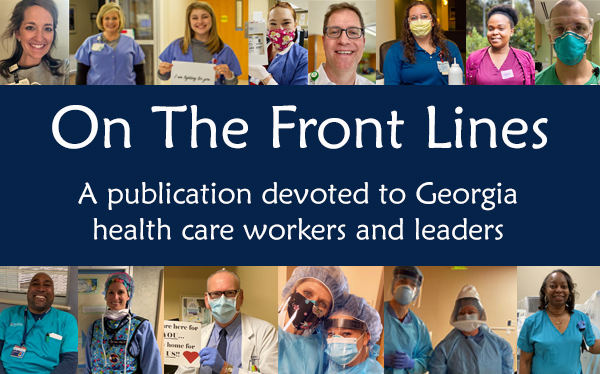 June 13, 2020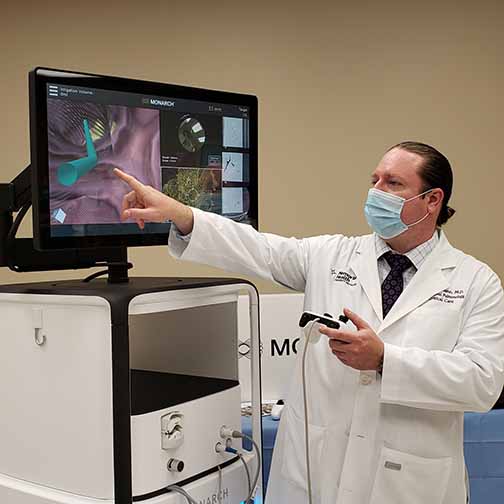 Dr. Jason McClune, interventional pulmonologist
Memorial Health First in Georgia to Use Innovative Technology for Lung Cancer Diagnosis
Robotic Bronchoscopy Could Enable Earlier and More Accurate Diagnosis of Lung Nodules
Memorial Health is the first health care system in Georgia and among the first hospitals in the United States to offer robotic-assisted bronchoscopy for patients with lung nodules utilizing Auris Health's Monarch™ Platform. There are currently only 52 of these in use in the US.
"Lung cancer is the leading cause of cancer deaths in the US, in part because it has no symptoms in its early stages," said Dr. Jason McClune, interventional pulmonologist. "This new technology has the potential to help us to make a diagnosis earlier while also providing a safer biopsy procedure. We're excited to bring robotic-assisted bronchoscopy to Memorial Health as we believe it offers a more hopeful future for patients with lung cancer."
More than 90 percent of people diagnosed with lung cancer do not survive the disease, because it is often found at an advanced stage. There are a variety of diagnostic options currently available for lung cancer, but all have limitations in accuracy, safety, or invasiveness. Robotic-assisted bronchoscopy is a new technology that allows for earlier detection of lung cancer with greater accuracy. This minimally invasive procedure is safer than CT-guided lung biopsy and unlike a traditional bronchoscopy, the robotic platform gives the physician the ability to reach the entire lung safely and obtain tissue samples of small and hard-to-reach nodules in the periphery of the lung. It also has a lower risk for complications than traditional biopsy techniques.
A timely benefit of robotic-assisted bronchoscopy is that it requires minimal interaction at the head of the table. Because the scope is guided using a controller, the physician and clinical staff are able to socially distance during the procedure, creating a safer experience for both the patient and care team.
Thomas Manning Named Executive Vice President at Floyd
Thomas "Tommy" Manning has been named executive vice president and chief legal officer, according to Kurt Stuenkel, president and CEO.
Manning has served as Floyd's Corporate Counsel since 2015. While he will still have oversite of Floyd's legal matters, Manning will also assume leadership of human resources, real estate and government relations.
"Tommy has done an outstanding job for us," said Stuenkel. "I know that he will continue to excel as a member of our executive team with these additional responsibilities."
Prior to joining Floyd, Manning practiced law with the firm McRae, Stegall, Peek, Harman, Smith ​& Manning for 24 years. While in private practice, he performed work for the Floyd health care organization. He also served as Floyd County Attorney for 12 years.
He obtained his undergraduate degree with distinction from the Virginia Military Institute, Lexington, Virginia. He obtained his law degree from the University of Georgia, Athens. Manning is a past president of the Floyd Healthcare Foundation. He is member of the Rotary Club of Rome. He is also a past member of the Berry College Campbell School of Business Executive Roundtable and the Advisory Board for Rome SunTrust Bank. In addition, Manning is an elder at First Presbyterian Church of Rome.​
Bringing Intensive Care to Rural Areas . . . Virtually
New Program Brings Virtual ICUs to Hospitals in Baldwin, Monroe, Peach Counties
Access to health services is difficult for many Georgians, particularly those in rural areas of the state. Many Georgians have to travel long distances from home to access basic medical services. When the need is critical, accessing the proper level of care can become even more challenging.
Navicent Health understands that accessing appropriate care close to home is an essential need for all Georgians. Over the past seven years, Navicent Health has worked closely with hospitals and hospital authorities in Baldwin, Monroe and Peach Counties to ensure local residents maintain access to local care. Now, through its collaboration with Atrium Health, Navicent Health is bringing intensive care services to those same counties through Atrium Health's Virtual Critical Care (VCC) platform. Through VCC, intensive care services will be expanded at Navicent Health Baldwin and will be offered at Medical Center of Peach County and Monroe County Hospital for the very first time.
Prior to the COVID-19 pandemic, Navicent Health and Atrium Health anticipated the launch of VCC in central Georgia in 2021. However, due to the anticipated need of ICU beds for COVID-19 care, the two collaborative partners chose to move forward with the launch.
"Now more than ever, our ability to deliver high-quality health care in each community we serve is critical. Our ability to provide the safest therapies through leading technologies will allow us to fully support the health care needs of the region during, and long after, the COVID-19 pandemic," said Tom Oliver, MD, president of hospitals and clinics, Navicent Health.
Click here to read more.
Memorial Health Gets Approval to Build Two
Freestanding Emergency Rooms
Medical care to be provided by board-certified ER physicians
Memorial Health received approval from the Georgia Department of Community Health to build two freestanding emergency rooms: one in Richmond Hill, Bryan County and one in Pooler, Chatham County. These facilities will be among the first freestanding emergency rooms in the state of Georgia.
"If your loved one needs emergency care, you want high-quality care in a facility that is convenient and close to home," said Shayne George, Memorial Health CEO. "Our freestanding ERs will provide the same high-level of care we offer in our main hospital emergency room that provides fast, easy access for this growing community."
Both locations will have 12 beds in 12,760 square foot facilities with approximately 25 staff members at each location adding to the Memorial Health system and local economy. The Pooler ER will be located off Pooler Parkway and Blue Moon Crossing. The Richmond Hill ER will be located at Port Royal Road and Hwy 144.
"Our freestanding ERs will always be open to provide care that is easily accessible for our patients. The physicians who will provide care at our new ERs in Pooler and Richmond Hill are all board-certified in emergency medicine and all of our nurses will be experienced in emergency care," said Dr. Jay Goldstein, medical director of emergency services at Memorial Health.
The ERs will be open 24 hours a day, offering around-the-clock emergency medical services. They will also offer full lab, radiology, imaging, and telemedicine services.
In 2019, Memorial Health's emergency department and Level I Trauma Center teams provided care for more than 114,000 ER visits.
"Many of our friends in Pooler and Richmond Hill already choose us for their ER care," said Dr. James Dunne, chief of trauma and surgical critical care at Memorial Health. "Now, we'll be able to provide expert care for them in their own community."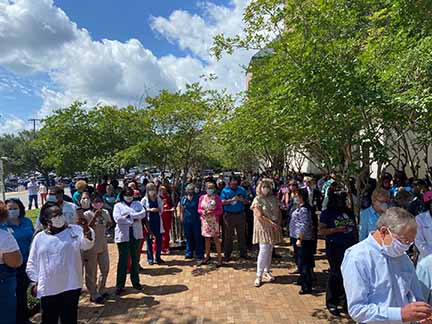 Moment of Solidarity gathering on June 11 at Phoebe's main campus that included remarks by Marvin Laster, Phoebe Putney Memorial Hospital Board Member; Scott Steiner, President & CEO of Phoebe Putney Health System; and Joe Austin, CEO of Phoebe Putney Memorial Hospital.
Phoebe Holds Moment of Solidarity
"This morning (Thursday, June 11), at all our hospitals and other locations throughout our health system, members of the Phoebe Family gathered for a moment of solidarity. Recently, our country has been forced to confront inequities that unfortunately still exist in our society. It's a reckoning that is certainly long overdue. Equality is one of Phoebe's founding principles. Over a century ago, Judge Francis Flagg Putney made a donation that paid for the construction of our original hospital with a mandate that the hospital serve everyone in need of health care, no matter their race or ability to pay. That was a radical idea in the deep South in the early 1900s, but it is a value to which Phoebe has always been committed. Now, more than ever, it's important for us to remember that founding principle. I was moved today to see so many members of the Phoebe Family of all races come together to support each other, to express our solidarity and to pledge to fight for those who are overlooked, underserved and mistreated. At Phoebe, we will support advancement opportunities for minority employees and will work to recognize and eliminate intentional and unconscious bias in our organization and our community. We are proud that Phoebe has taken care of everyone in need of health care in our community for 109 years, and we believe – with renewed focus and commitment to opportunity and justice for all – our best is yet to come," said Scott Steiner, Phoebe Putney Health System chief executive officer.  
St. Mary's Resuming Services With Focus on Safety
Due to the success of preventive measures to slow the spread of COVID-19 in our region, all hospitals, outpatient centers and physician offices in the St. Mary's system are taking steps to safely accommodate ongoing patient needs, including elective surgeries, tests and procedures, and patient visitation.
"We are prepared so that our patients are protected," said President and CEO Montez Carter. "We have adequate personal protective equipment and are taking a phased approach to resuming services. As we do so, the safety of our patients, colleagues, providers, and community is our top priority."
Carter said the decision to resume services is based on the reality that many patients need care that has been postponed. "We want patients to have confidence to not delay care they need and certainly don't want them to wait until their disease progresses to the point of a crisis state," he said.
"At the same time, we realize there are some who want to continue to postpone their procedures for the time being. We urge them to talk with their doctor to assess their individual needs and how long it is safe for them to postpone care. We are committed to providing a safe environment for those who choose to move forward with their procedure."
Click here to read more.
Renowned Oncologist Joins Southeast Georgia Health System
Southeast Georgia Health System is pleased to welcome internationally recognized oncology and hematology specialist Robert K. Oldham, M.D., to Southeast Georgia Physician Associates-Hematology & Oncology and the Brunswick and Camden Campus medical staff. Oldham is regarded as a leading pioneer in the development and use of immunotherapy, which uses a patient's immune system to attack cancer.
Oldham's research and development led him to work at renowned institutions in the U.S. and Europe. Positions he has held include associate professor of medicine and associate director of the Vanderbilt Cancer Center, where he also founded and directed the Division of Oncology. He has worked at the National Cancer Institute (NCI) as an associate director of the Division of Cancer Treatment and as a founding director of the Biological Response Modifers Program.
His expertise with difficult oncology cases made him highly sought after as a consultant at medical centers throughout the country. Oldham has been listed among "The Best Doctors of America" since Woodward/White began publishing the list.
"Dr. Oldham's expertise is in high demand and having a physician of his caliber allows us to provide a level of sophistication in cancer treatment that patients would find at the nation's most recognized cancer centers. We are extremely fortunate that he chose our health system," said Michael D. Scherneck, president & CEO, Southeast Georgia Health System.
For his part, Oldham believes that a community hospital can be as effective as facilities located in a major metropolis for most cancer patients. "I've worked at 100-bed and 1,000-bed hospitals. When it comes to quality of care, just because a hospital is smaller doesn't mean it's not excellent."
Oldham considered several community hospitals before choosing the Health System. "I needed a good partner, a hospital that was supportive of me, where I would feel at home and be productive and helpful. I also wanted a location I liked and where my family and I had access to good health care."
Click here to read more.
SGMC Welcomes Neurosurgeon
South Georgia Medical Center is pleased to welcome Dr. Kimberly Mackey, board certified adult and pediatric neurosurgeon. 
Dr. Mackey will see patients at SGMC and at her practice, SGMC Neurosurgery, which is located in the Professional Building at 2409 N. Patterson Street in Valdosta. 
Dr. Mackey received her medical degree from the University of Chicago, then completed her residency in neurological surgery at the University of Pittsburgh Medical Center. Additionally, she completed her fellowship in tumors and pediatric neurosurgery at St. Jude Children's Research Hospital in Memphis, and joins SGMC from her practice in Norfolk, Virginia.
Neurosurgery is the medical specialty that focuses on the diagnosis and treatment of disorders of the brain, spine, spinal cord, and peripheral nerves. Although it is fundamentally a surgical discipline, neurosurgery requires knowledge of neurology, critical care, trauma care, and radiology. A significant number of patients seen by a neurosurgeon are managed with nonsurgical options that may include medical, physical, or minimally invasive interventional therapies.
Dr. Mackey is married to Ben, a director of operations, helicopter pilot, and member of the Air Force rescue community at Moody Air Force Base. They have one son, Michael.
"We are excited to join SGMC and have the opportunity to serve our new Georgia community," said Dr. Mackey. "While God blessed our family with the option to move other places, we felt Valdosta and SGMC were the best fit for us."
Click here to read more.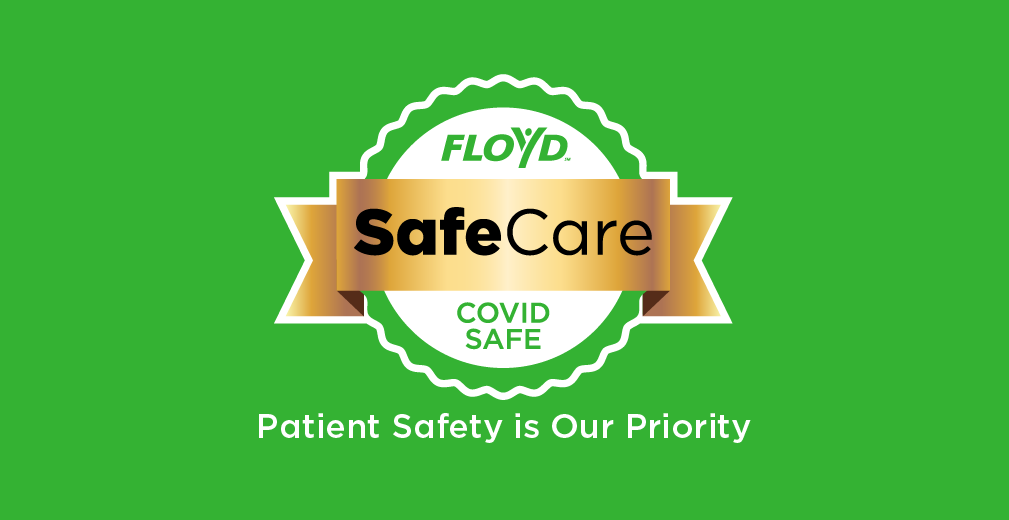 Floyd Moving Forward With Safe Care
Floyd has taken enhanced steps to ensure the continuation of providing quality, safe care in a timely manner for the community it serves.
In the days and weeks beyond the peak of the COVID-19 pandemic, patients receiving care from Floyd's health care facilities have every reason to feel safe and confident about the services they are receiving, said Dr. Sheila Bennett, executive vice president and chief of patient services.
With safety measures and screenings in place at all locations, Floyd is again scheduling outpatient appointments and surgical procedures. Now is the time to seek care if you have hesitated because of COVID-19.
"Whether you are injured or feeling sick, need to rehab an injury, or it is time for your annual mammogram, you can rest assured that we are going well beyond expectations to keep our patients, their loved ones and our caregivers safe," Bennett said. "The hazards associated with not receiving treatment when you need it are significant and dangerous."
Floyd's Safe Care initiative to move forward is in step with best practices at Atrium Health with whom Floyd announced a combination last fall, said Floyd President and CEO Kurt Stuenkel.
Although that relationship has not yet been given final approval by state and federal officials, both health care organizations have already begun sharing knowledge and resources. Atrium Health includes more than 40 hospitals and 900 care locations ranging from doctors' offices to behavioral health centers to nursing homes.
"I am proud of the way Floyd mobilized effectively in response to COVID-19 in our community," Stuenkel said. "We are now focused on leading the way forward in providing the safe, effective care that our patients have come to expect."
Click here to read more.
AU Health, Gold Cross Partner to Improve Patient Transport Services
Augusta University Health has signed an agreement with Gold Cross EMS to improve medical ground transportation for patients who need the highest levels of care at Georgia's only public academic health center. The partnership, effective June 15, designates Gold Cross as the preferred vendor of all non-emergent, NICU/PICU, mental health and specialty ground transports.
This collaboration will equip the health system with expert EMS teams from Gold Cross to operate five AU Health-branded ambulances, two branded wheelchair/stretcher vans, one branded police interceptor for mental health transports, and two branded quad cab ambulances for NICU/PICU teams. The agreement also includes non-emergency patient transport between facilities.
"We are bringing an entirely new fleet of ambulances and equipment to the hospital," said Vince Brogdon, president and CEO of Gold Cross EMS. "We have also ordered a second state-of-the-art Quad Cab Neonatal Transport ambulance that will provide greater safety and comfort for both the patient and AU Health staff."
"We are proud to partner with Gold Cross, a locally owned and operated company well versed on the needs of our patients and the communities we serve," said Katrina Keefer, AU Health CEO. "By leveraging their expertise and community footprint, patients will have ready access to care right when they need it most."
Gold Cross will work with AU Health to develop an enhanced mobile integrated health care program for pre-hospital care, reducing hospital trips.
Click here to read more.
NGHS Foundation Announces New Board Members
The Northeast Georgia Health System (NGHS) Foundation is pleased to welcome eight new members to their Board of Trustees. They are:
Karen Baston – Gainesville, Georgia
Neal Booth Sr. – Gainesville, Georgia
Gary Dalley, M.D. – Gainesville, Georgia
Debbie Davis – Gainesville, Georgia
Rhonda Rogers – Lula, Georgia
Russell Smith – Braselton, Georgia
Chauntelle Steines – Braselton, Georgia
Zack Tumlin – Dahlonega, Georgia
As members of the NGHS Foundation Board of Trustees, these individuals serve as ambassadors for the NGHS Foundation by educating others about the most critical health care needs of NGHS and our community. They also help connect the NGHS Foundation with community leaders and potential supporters to aid in funding the needs of the system. 
Peeples Cancer Institute Treating Patients, Providing Hope
When guests enter Peeples Cancer Institute (PCI), they are welcomed by a greeter who is equipped to answer questions and escort them where needed. The institute has a spacious lobby that was specifically designed to provide a calm, relaxing atmosphere. 
"First impressions are important and our intent is to clearly convey confidence, tranquility and healing," says Ernie Elemento, vice president.
The 46,000-square-foot facility opened in January. Accredited by the Commission on Cancer (CoC), the institute centralizes patient-centered care and outpatient cancer services in one convenient location. Patient experience is a significant focus of the institute.
"Every aspect of Peeples Cancer Institute is focused on the needs of our patients and families so that we provide an outstanding patient experience and the best clinical outcomes," says Jeff Myers, president and CEO of Hamilton Health Care System. "Our goal is to foster collaboration, communication and education among physicians and our medical teams to advance and enhance our care for patients. They are our number one priority."
Click here to read more.
Children's Institute Announces Autism Conference, Requesting Presentation Proposals
The Anna Shaw Children's Institute (ASCI) will host the sixth annual North Georgia Autism Conference on Friday, Oct. 9 at the Dalton Convention Center. ASCI follows social distancing and CDC guidelines.
Temple Grandin, internationally known spokesperson with autism, will be the keynote speaker. Grandin's story was featured in "Temple Grandin," a movie about living with autism and using her unique talents to revolutionize practices for the humane handling of livestock.
"It is a wonderful opportunity to have Dr. Temple Grandin address our community on living with autism and using unique skill sets to overcome challenges," said Lindsey Coker, ASCI educational resource coordinator. "Dr. Grandin is a leader in both the animal welfare and autism advocacy movements, and we are thrilled to have her."
The event is intended for parents, caregivers, educators, professionals, medical providers, young adults on the autism spectrum, self-advocates and other interested individuals.
The planning committee is requesting presentation proposals from professionals to be presented in one of the conference tracks: parents, educators, young adults with autism, Spanish speakers and health care providers. Submissions are due by 5 p.m. on Friday, Aug. 7. The submission deadline may be closed early if all presentation slots are filled.
Limited stipends may be available on a case-by-case basis. Interested individuals may click here. For more information, please contact Coker at lcoker@hhcs.org.
Southeast Georgia Health System Welcomes Trullinger as New Senior Care Center Administrator
Southeast Georgia Health System is pleased to welcome Gary M. Trullinger, NHA as the new administrator for the Senior Care Center-Brunswick.
Prior to joining the health system, Trullinger was a regional vice president of operations for Accordius Health based in Charlotte, North Carolina. In this role, he provided support to 13 skilled nursing facilities in Virgina and Maryland. His career began as a licensed physical therapist assistant and director of rehabilitation before he became a licensed nursing home administrator. He has also served in leadership roles for Sava Senior Care, Beacon Health Management, Ethica Health and Retirement Communities and Mariner Health Care.
"Gary's diverse background and many years of experience in long-term care will be an asset to the senior residents in our community and I am very pleased he has joined our team," said Judi Henson, R.N., BSN, MSA, vice president, patient care services.
Trullinger holds an associate of science degree in Applied Sciences in the Physical Therapist Assistant Program and a bachelor degree in health care administration. In addition to being a licensed nursing home administrator, he is a certified administrator with the American College of Healthcare Administrators (ACHCA) and a licensed physical therapy assistant.
"As a clinician, I believe if you provide quality care with a patient-centered approach, all other aspects of the business succeed. I applied this philosophy when working as an administrator based at a senior care center, as well as in my regional roles, to successfully lead my teams to achieve 26 deficiency-free surveys," Trullinger said. State licensing boards and Medicare conduct the surveys. Known for creating purpose-driven cultures and cross-functional teams within post-acute care settings, Trullinger brings a diverse skill set to his new post.
He is a current member of the Georgia Chapter of the ACHCA, the Georgia Health Care Association (GHCA) and the Agency for Health Care Administration (AHCA).
Trullinger has served with the U.S. Marine Corps in Saudi Arabia, Kuwait and Iraq. Originally from Cedar Rapids, Iowa, he has called St. Simons Island home since 2014, where he enjoys spending time with friends and fostering shelter pets. His passion for endurance sports led him to complete four Ironman distance triathlons, three 12-hour bike races, one 50-mile Ultra distance marathon and dozens of other marathons and half Ironman triathlons.
Online Education
CMS Hospital Restraint and Seclusion: Navigating the Most Problematic CMS Standards
Tuesday, June 23
10 a.m.-noon
Did you know that the number one area of deficiencies in the Centers for Medicare & Medicaid Services (CMS) Conditions of Participation (CoP) is regarding restraints? This program, presented by Sue Dill Calloway, will discuss the most problematic standards in the restraint section and simplify the 50-page restraint and seclusion interpretive guidelines. It will also provide a crosswalk to the Joint Commission standards, but note that every hospital that accepts Medicare patients must comply with the interpretive guidelines regardless of the accrediting body.
Topics covered include:
• Right to be free from restraint
• Definition of restraint and seclusion
• Restraint protocols
• Final changes in the hospital improvement rule
• CMS deficiency reports
• Manual holds of patients
• Leadership responsibilities
• Culture of safety
• Drugs used as a restraint
• Standard treatment
• Documentation requirements
• Least restrictive requirements
• Alternatives
• RNs and one-hour face-to-face assessment
• Violent and self-destructive behavior
• New training requirements
• Revisions to the plan of care
• Time limited orders
• Renewing orders
The fee for this webinar is $225 for GHA members, $195 for members of any affiliated GHA Society, and $295 for non-members. Click here to register.
Grievances and Complaints: Ensuring Hospital Compliance
Thursday, June 25
10 a.m.-noon
Every hospital in the United States that accepts Medicare or Medicaid reimbursement must be in compliance with the Centers for Medicare & Medicaid Services (CMS) Conditions of Participation (CoPs). This program, presented by Sue Dill Calloway, will cover the CMS grievance requirements, which have been identified as the third most common problematic standard for hospitals and a frequent cause of investigation. This webinar will review the nondiscriminatory provision of the Affordable Care Act (Section 1557) which is enforced by the Office of Civil Rights (OCR). Section 1557 requires a hospital to have a grievance procedure; a compliance coordinator to investigate any alleged noncompliance, including discrimination; and a process to promptly resolve grievances. This program will also discuss the Joint Commission standards on complaints and DNV Healthcare on grievances and how they interface with the CMS interpretive guidelines.
The fee for this webinar is $225 for GHA members, $195 for members of any affiliated GHA Society, and $295 for non-members. Click here to register.
Emergency and Outpatient Services CoPs
Tuesday, June 30
10 a.m.-noon
This webinar, presented by Sue Dill Calloway, covers the Centers for Medicare and Medicaid Services (CMS) hospital Conditions of Participation that affect the emergency and outpatient services departments. Any hospital that accepts Medicare must follow the CMS CoPs for all patients.
The webinar will review staffing requirements, provision of services both on and off-campus, EMTALA, required policies and procedures, training requirements, medical director requirement, and compliance with standards of care. It will also discuss the requirements for restraint and seclusion, grievances, and protocols.This program will also cover the final changes to the outpatient section, published in the Hospital Improvement Rule that went into effect Nov. 29, 2019. The hospital will be required to have a policy and designate which outpatient departments will require a registered nurse, and additional changes will be discussed.
The fee for this webinar is $225 for GHA members, $195 for members of any affiliated GHA Society, and $295 for non-members. Click here to register.
EMTALA Three-Part Regulation Series
Presented in partnership with the Iowa Hospital Association
Medicare-certified hospitals and critical-access hospitals with emergency departments must follow the federal law and Centers for Medicare and Medicaid Services (CMS) regulations and interpretative guidelines for the Emergency Medical Treatment and Labor Act (EMTALA). This three-part series will focus on problematic areas of EMTALA concepts, adequacy of medical screening and on-call physician issues. Fines have more than doubled since 2015 when CMS implemented the inflationary adjustment retroactive to the implementation of the EMTALA regulations.
The fee for each webinar in this series is $225 for GHA members, $195 for members of any affiliated GHA Society, and $295 for non-members. There will be no charge for additional lines for each facility or system. Please contact us at Presented in partnership with the Iowa Hospital Association. if you'd like to have multiple lines.
You can register for each program by clicking on the corresponding links:

Georgia Hospital Association
1675 Terrell Mill Road
Marietta, GA 30067
Click here to update your subscriptions.