Click here if you are having trouble viewing this message.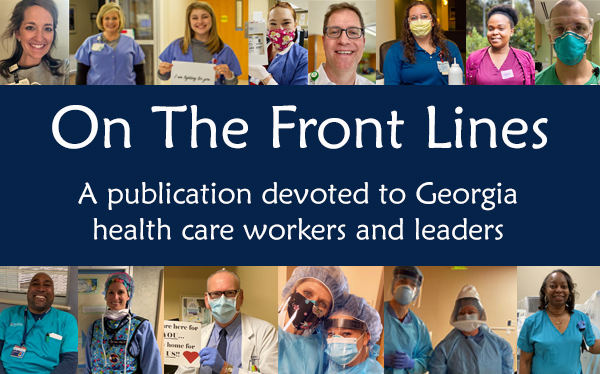 June 6, 2020
To All on the Front Line:
Everyone recognizes and stands in awe of the extraordinary 24/7 job you have performed under extreme conditions for COVID-19 patients while also continuing to deliver exceptional care to those stricken with various conditions outside of the virus. Each of you deserves a medal. I urge you to record these experiences in your personal journal for your children and future generations may someday read a first hand account of "what my Mom/Dad/Grandmama/Grandad did during the pandemic of the 2020s."
The rest of us ordinary citizens can never thank you enough for saving scores of lives while protecting us and our communities. We've learned and employed proper social distancing, masking, and proper hygiene behaviors. Combined with the heat of summer, the spread has slowed. People have become more confident about getting out, returning to regular work locations, businesses, restaurants, and recreational areas. This is good for our personal sense of well being, good for business, and good for the economy. 
However, each of you understands better than most that until an effective vaccine is widely available, everyone must remain vigilant to avoid a second wave. You represent our hope. Weary as you are, we know you are making preparations and will remain resolute in the event of a second wave that we pray will never come.
We at the Georgia Hospital Association have never been more proud to represent and to serve you, true heroes all. You have distinguished yourselves in ways some thought not possible. Georgians have come to recognize that our hospitals are clean and safe and they will be cared for by professionals who have dedicated their lives to heal the sick and injured while saving others.
GHA exists because of you, so never hesitate to reach out to us. We're available 7/365. Include my mobile number 404-226-9102 in your contacts list and call me if you don't have contact information for GHA staff members you may need.
In closing, thank you and thank you again. Each of you deserves a medal. We can't say it enough.
God bless you. 
Earl
Earl V. Rogers
President and CEO
Georgia Hospital Association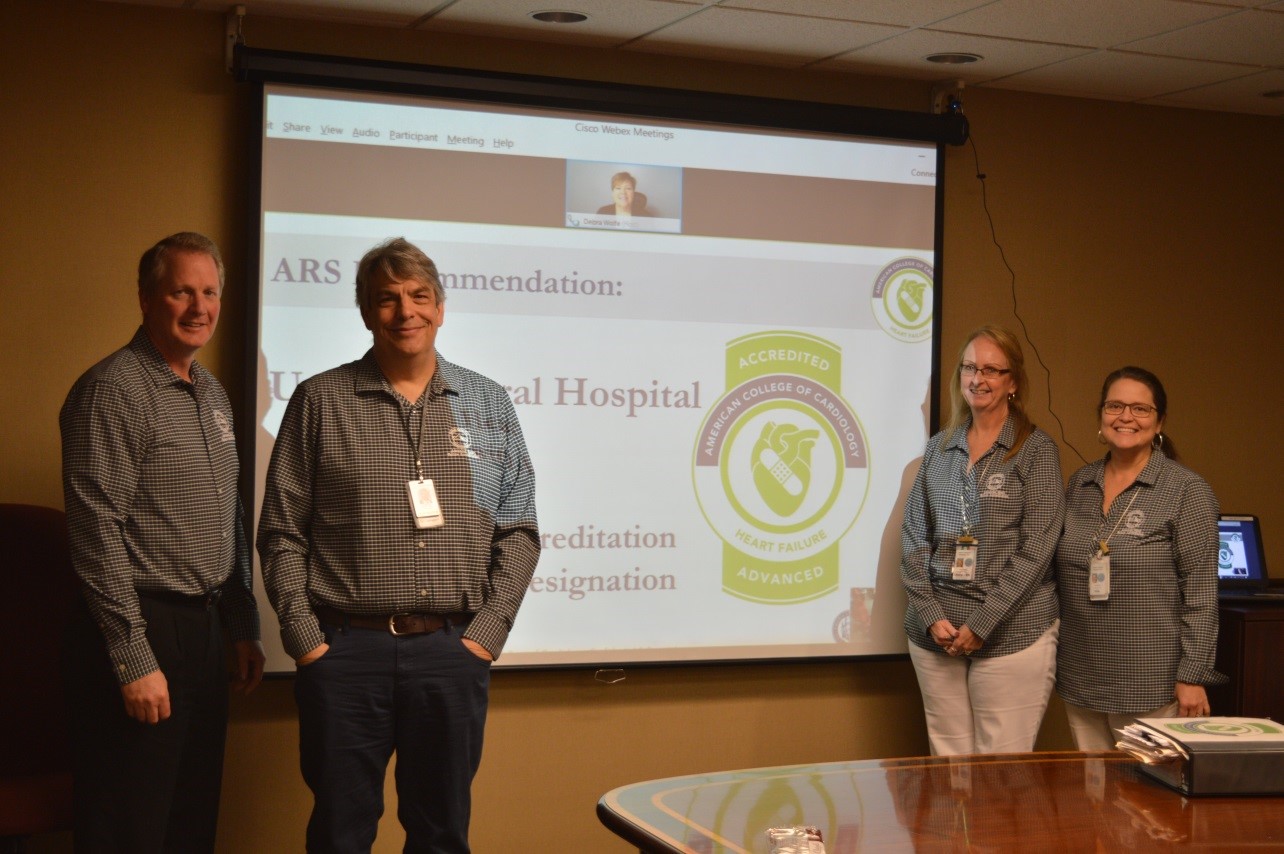 (L to R): Chief Executive Officer Kevin Bierschenk; Cardiologist Charles Campbell; Chief Quality Officer Cheryl Curtis and Chief Nursing Officer Julia Barnett
Union General Hospital Receives ACC Advanced Heart Failure Accreditation
The American College of Cardiology (ACC) has recognized Union General Hospital for its demonstrated expertise and commitment in treating patients with heart failure. Union General Hospital was awarded Advanced Heart Failure Accreditation in April based on rigorous onsite review of the staff's ability to evaluate, diagnose and treat patients with heart failure through pre-hospital care, early stabilization, acute care, transitional care, clinical quality measures and more. Union General is the only hospital in the state of Georgia to receive this exceptional accreditation and the third in the nation.
Heart failure is a condition where the heart is unable to pump enough blood to meet the body's needs for blood and oxygen. Facilities earning Advanced Heart Failure Accreditation not only demonstrate management of advanced heart failure, but also provide heart transplant and mechanical circulatory support and meet other specific criteria for the Advanced designation.
Hospitals that employ an evidence-based, protocol-driven and systematic approach to managing heart failure have been able to reduce time to treatment, and are able to identify and predict high-risk patients while also reducing length-of-stay and hospital readmissions.
"Union General Hospital has demonstrated its commitment to providing Union County and surrounding counties with excellent heart care," said Phillip D. Levy, MD, FACC, chair of the ACC Accreditation Management Board. "ACC Accreditation Services is proud to award Union General Hospital with Advanced Heart Failure Accreditation."
Hospitals receiving Advanced Heart Failure Accreditation from the ACC must take part in a multi-faceted clinical process that involves completing a gap analysis; examining variances of care; developing an action plan and rigorous onsite review; and monitoring for sustained success. Improved methods and strategies of caring for patients include streamlining processes, implementing guidelines and standards, and adopting best practices in the precise care of heart failure patients. Facilities that achieve accreditation meet or exceed an array of stringent criteria and have organized a team of doctors, nurses, clinicians, and other administrative staff that earnestly support the efforts leading to better patient education, improved patient outcomes, and more effective and efficient disease control.
"We are excited to have our team's efforts recognized for advanced excellence," Julia Barnett, Union General chief nursing officer said. "Not only does our staff provide quality care for heart failure patients in the hospital, but we've made it a priority to help educate these patients and our community on how to manage their symptoms in order to reduce the need for them to be admitted to the hospital for care."
Click here to read more.
Telescope Health Expands Telehealth Services Into Georgia in Collaboration with Southeast Georgia Health System
Telescope Health is bringing its virtual health care services to Georgia through a collaboration with Brunswick, Georgia-based Southeast Georgia Health System to provide COVID-19 testing to residents across the health system's six-county service area. Telescope Health will also introduce widespread serology testing, also known as antibody testing, to residents across Georgia and provide return-to work-guidance for individuals re-entering the workforce.
"Patients throughout our service areas in Glynn, Camden, Brantley, Charlton, McIntosh and Wayne counties are seeking flexible health care options," said Michael D. Scherneck, president and CEO of Southeast Georgia Health System. "We are pleased to work in partnership with Telescope Health to expand COVID-19 testing in our community through this virtual service offering to support our mission to provide safe, quality, accessible and cost-effective care to meet the health needs of our residents."
Telescope Health also offers patients across the state with affordable telehealth services to include live video chats with board-certified physicians for both acute and urgent health care needs:
Symptoms evaluation (COVID and non-COVID-related)

Follow-up care

Medication refills, ePrescribing

Lab and imaging results discussion

Appointments to see a health care specialist

Health care navigation
"Providing quality access to health care is more important than ever and by using Telescope Health, patients not only have access to a physician, but Telescope Health also provides many health care navigation services that patients come to rely on more and more, " said Matthew Rill, M.D., co-founder and CEO of Telescope Health. "As our communities continue to combat the spread of COVID-19, telehealth is an important asset that can help us flatten the curve, ensure all patients stay up-to-date on their health care visits and return back to work in a responsible manner."
To access the telehealth platform, patients can download the Telescope Health app or visit www.TelescopeHealth.com. Patients wishing to see a virtual provider for COVID-19-related health care concerns may be eligible for a discount. To learn more about how you can protect yourself, your family and your community from getting and spreading respiratory illnesses like coronavirus 2019, visit cdc.gov.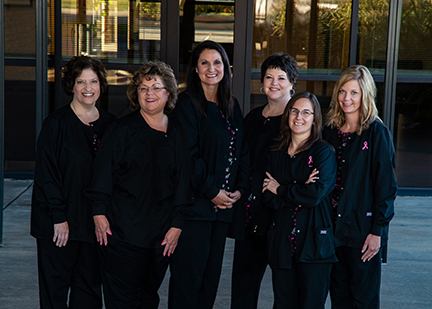 Mammography technologists at The Breast Imaging Center at Cartersville Medical Center.
The Breast Imaging Center at Cartersville Medical Center Now Offering State-of-the-Art 3D Mammography With Added Comfort Feature
The Breast Imaging Center at Cartersville Medical Center is excited to now offer 3D mammography. Utilizing advanced breast tomosynthesis technology, 3D mammography exams are clinically proven to significantly increase the detection of breast cancers and decrease the number of women asked to return for additional testing. Also, a breast stabilization system, which is clinically proven to deliver a more comfortable mammogram without compromising image quality, workflow or dose, is an added feature of the new system now available to patients at The Breast Imaging Center.
The technology increases diagnostic confidence with its exceptional images and has the potential to increase compliance for the countless women who have reported avoiding regular mammograms due in large part to the fear of discomfort associated with breast compression.
"This new system not only enables us to improve the experience for our patients by providing them with a more comfortable mammogram they've been waiting for, but, more importantly, allows us to do so while maintaining clinical accuracy by providing our physicians with the industry's fastest, highest resolution 3D images to accelerate screening and analysis," said Chris Mosley, CEO at Cartersville Medical Center. "Being able to arm our doctors with the advanced ability to identify subtle lesions and fine calcifications and help pinpoint cancers in early stages, while also keeping patients more comfortable than ever before, is priceless," Mosley added.
Overlapping tissue is a leading reason why small breast cancers may be missed and normal tissue may appear abnormal, leading to unnecessary callbacks. A 3D exam includes a three-dimensional method of imaging that can greatly reduce the tissue overlap effect.
The 3D exam includes both 2D images and tomosynthesis scans. During the tomosynthesis-dimensional portion of the exam, an X-ray arm sweeps in a slight arc over the breast, taking multiple images. A computer then converts the images into a stack of thin layers, allowing the radiologist to review the breast tissue one layer at a time. The exam requires no additional compression and takes just a few seconds longer than a conventional 2D breast cancer screening exam.
The Breast Imaging Center at Cartersville Medical Center is committed to the fight against breast cancer. In offering the 3D exam, the Center provides an additional tool for the detection of breast cancer.
Leslie Thompkins Named Director of Emergency Services of St. Francis-Emory Healthcare
St. Francis-Emory Healthcare announced that Leslie Thompkins had been named the director of emergency services at St. Francis. Thompkins has been serving as the interim emergency department director since March 30, 2020. She previously served as the manager of emergency services at St. Francis.
"Leslie's background serving as interim director of emergency services has set her up well to take on the role as director," said Verno Davidson, chief nursing officer of St. Francis. "We are fortunate to have had her as interim during the COVID-19 crisis, and she has handled it beautifully. Her commitment to patient care is evident in all that she does, and I know that she will help us further advance our mission of Making Communities Healthier."
Prior to her role as manager of emergency services at St. Francis, Thompkins served as the director of emergency services for three years and the clinical manager of emergency services for two years at Piedmont Newnan Hospital in Newnan, Georgia. 
"St. Francis is such an important part of the Chattahoochee Valley. I am excited for the opportunity to strengthen the emergency department at St. Francis and to continue to build upon the foundation that already exists," said Thompkins. 
Thompkins holds a Master of Business Administration from the University of West Georgia, a Bachelor of Science in Nursing from Valdosta State University, an Associate Degree in Nursing from Abraham Baldwin Agricultural College, and an Associate of Science Respiratory Care from Darton College. She is credentialed as a Registered Professional Nurse, Respiratory Care Professional, BLS, ACLS, PALS, TNCC, and ENPC.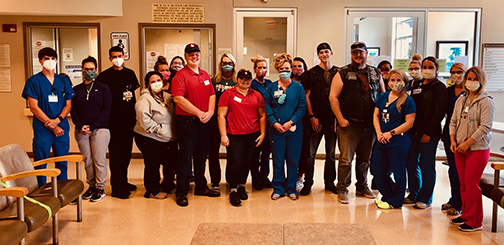 The 'Saturday Crew' at Wills Memorial.
Hundreds of Meals Provided in Appreciation to Hospital Staff by Jesup Charter of the Iron Order Motorcycle Club and Other Local Organizations
W. Clement Stone is credited with saying, "If you are really thankful, what do you do? You share." That is exactly the philosophy exhibited by the Jesup Charter of the Iron Order Motorcycle Club, and hundreds of people experienced it firsthand last week.
The club spearheaded an effort of providing 370 meals to hospital workers using their club members and local sponsors. Joining in the club's efforts were Zaxby's, Tri-Care Ambulance Service, Sheffield's, Vann's Barbecue and Absolute Precision Chiropractic. The appreciation lunches for employees were provided during the week and weekend shifts. Any leftovers were donated to Tabitha's Place in Jesup, where the Iron Order also volunteers through preparing, serving or delivering meals. Their club members are also handy in helping maintain the delivery vehicles of Tabitha's Place.
Tom Biele, Sr., of the club said, "As the President of the Jesup charter, I can tell you each of us is extremely honored and excited to get the opportunity to show our support and express our gratitude for all that the hospital staff does, on a daily basis, to care for the citizens of our community. Serving a meal is just a small token of our appreciation for all the strenuous shift hours, lack of sleep and stress that is endured for all of us, which is inherent in their chosen profession." Club Vice President Dave Moody added, "We have the opportunity to give back to the people that make a difference in our community like the folks working at the hospital. Life has slowed down for most people, but not for the employees at the hospital, as they continue to work through the COVID-19 pandemic."
Hospital CEO Joe Ierardi shared, "We are grateful to the club, Zaxby's and all the sponsors for seeing to it that our employees were treated to a meal. It's a big undertaking and we certainly appreciate it."
An appreciation lunch was provided by club members and sponsors for the Thursday day shift, while Zaxby's provided lunches for the Saturday crew. Meals for area groups like the hospital and other first responders are just one way in which club members serve in the community. In the past year, the club also conducted a poker run to help a citizen with medical expenses, hosted events to raise money for Mission 22 (an organization that combats veteran suicide) and look forward to supporting the Wayne County Toy Drive in the near future. To learn more about the Iron Order, log on to ironordermc.com.
Georgia Governor Brian Kemp Tours Temporary Medical Unit at Navicent Health
On Wednesday, May 27, Gov. Brian Kemp visited Macon-Bibb County to tour the temporary medical unit (TMU) at The Medical Center, Navicent Health. At the request of the Georgia Emergency Management Agency (GEMA), Macon-Bibb County and Navicent Health worked closely with the state to stand up a temporary medical unit in Macon-Bibb County. 
"Constructing the TMU was a precautionary measure in the event that extra capacity is needed due to a patient peak in COVID-19 activity. At this time, The Medical Center has ample capacity to care for all patients, including those with COVID-19, but the TMU provides additional resources if needed. As a regional tertiary teaching hospital, The Medical Center Navicent Health must stand ready to take all patients, regardless of their ability to pay, from over 55 counties in central and south Georgia," said Dr. Ninfa M. Saunders, president and CEO of Navicent Health. 
The 24-bed TMU will provide patients with the same level of care they would expect to find within the hospital. Patients in need of care should report to the hospital, and a triage team will determine which patients are directed to the TMU based on the patient needs and hospital volumes at the time. The TMU, staffed by Jackson Health and supported by Navicent Health clinicians, will be used solely to care for patients with confirmed or suspected cases of COVID-19. 
On his visit, Kemp toured the TMU and praised hospital and county officials for the measures they have taken to protect Georgians from the virus. He also reminded Georgians to continue to take proper precautions as the state begins its limited reopening, encouraging citizens to act responsibly by social distancing, masking, and using proper hand sanitization. 
The TMU was constructed in partnership between number of agencies, including GEMA, Macon-Bibb County Emergency Management Agency, BMarko Structures, Salas O'Brien Engineers, DES Engineering, Choate Construction, CertainTeed Ceilings and Navicent Health. 
As the state of Georgia has begun its limited, phased reopening process, Navicent Health has begun to see a return to pre-COVID patient volumes across its health system. In order to ensure the safety of each person seeking care at Navicent Health, the health system has taken measures to ensure each of its hospitals, clinics and physician practices are COVID Safe. 
Southwell Announces Second Phase of Name Change
The second phase of Southwell's name conversion will take place in June and will include the system's newly designated Rural Health Clinics (RHCs).
Certified by Medicare and Medicaid, an RHC is a special clinic designed to increase access to primary care services for patients in rural communities. The following RHC clinics will receive a name change in June 2020:
• Affinity Clinic – changing to Southwell Medical Clinic
• Tift Community Health Center—changing to Southwell Medical Community Health Center
• Sylvester Family Practice – changing to Southwell Medical Sylvester Primary Care
• Ashburn Primary Care – changing to Southwell Medical Ashburn Primary Care
• Nashville Primary Care – changing to Southwell Medical Nashville Primary Care
The nephrology practice will also be changing its name to Southwell Nephrology and moving to 39 Kent Road, Suite 1, in Cypress Pointe Professional Park in Tifton.
"Although the names of these clinics are changing, you can still expect to see the same great care and the same great people at each of these facilities," said Southwell President and CEO Chris Dorman. "We have not been acquired, and we remain a locally operated health care institution dedicated to providing exceptional care."
Tift Regional Health System (TRHS) announced Southwell as the new name for its overall system of care on June 20, 2019. The name Southwell is meant to promote healthy living in the south, and it is also a reference to B.L. Southwell, the first and longest serving chairman of the Hospital Authority of Tift County. Mr. Southwell was an animal research scientist at the Coastal Plain Experiment Station in Tifton, and he served as chairman of the Hospital Authority of Tift County from 1947-1993.
"Our progressive health care institution is what it is today by the virtue of Mr. Southwell's vision and leadership," said Dorman. "He volunteered his time, knowledge, and skills to enhance the community, and we wanted to honor his leadership and his many contributions in a big way."
Prior to announcing the system name change, TRHS had restructured as a non-for-profit entity in order to grow their services and expand their geographic footprint.
"Our modern healthcare institution is what it is today by the virtue of Mr. Southwell's vision and leadership," said Dorman. "He volunteered his time, knowledge, and skills to enhance the community, and we wanted to honor his leadership and his many contributions."
The first phase of the system name change happened with Southwell's facilities in Cook County. In October 2019, Southwell Medical in Adel opened. This new, acute care facility replaced the former Cook Medical Center. Future renaming phases are planned, which will conclude with the Southwell branding of Tift Regional Medical Center and its surrounding campus. This will coincide with the opening of Tift Regional's $152 million expansion project, which includes a new hospital entrance, emergency center, and three floors of new inpatient units.
"We are very excited about what our future holds," Dorman said.
2021 GHA Patient Safety and Quality Award
The Georgia Hospital Association Patient Safety and Quality Award Application has been updated. 
Hospital/Health Systems category has been added

Specialty Hospitals category (Long-Term Acute Care, Rehabilitation, Psychiatric/Behavioral, and Other Specialty Hospital) has been added
Information on preparing applications for submission has been included, as well as information on the FOCUS structure to help plan and organize thoughts. Please note that the FOCUS section does not require answers; it has been included to help in completion of the application process. The Application Components start on page 4. These are the questions that must be answered in the application. Please be sure to answer all the questions. 
Application Instructions and Helpful Tips for Completing This Application are on page 5.
The Demographic Sheet is on page 7. This is an editable page in which information can be typed directly onto the page.
Access the application here: 2021 GHA Patient Safety & Quality Award Application
The deadline to submit applications is Friday, Aug. 31, 2020 at noon. The winners will be announced at the Georgia Hospital Association Patient Safety Summit on January 6-7, 2021 at the Ritz-Carlton Reynolds, Lake Oconee. Please let Kathy McGowan know if you have any questions regarding the application process. We look forward to seeing you in January.
Online Education
CMS Hospital CoP and TJC Telemedicine Standards: Credentialing and Privileging
Tuesday, June 9
10 a.m.-noon
With the recent heightened activity in the area of telemedicine, are you sure your hospital is compliant with the regulatory standards? The Centers for Medicare and Medicaid Services (CMS) have conditions of participation (CoP) interpretive guidelines for all hospitals regarding their telemedicine standards. The regulations cover the revised credentialing and privileging process for practitioners who provide telemedicine services.
The new process is less burdensome and allows hospitals to provide credentialing by proxy. CMS has been issuing quarterly reports on the number of hospital deficiencies. This webinar, presented by Sue Dill Calloway, will discuss the most problematic standards in the telemedicine interpretive guidelines, including what provisions should be in the telemedicine contract and the new tag numbers for critical access hospitals in 2020. Come learn about regulations, interpretive guidelines and the responsibilities of the board, medical staff and hospital administration to ensure compliance.
The fee for this webinar is $225 for GHA members, $195 for members of any affiliated GHA Society, and $295 for non-members. Click here to register.
CMS Infection Control Worksheet and Antibiotic Stewardship Program
Thursday, June 11
10 a.m.-noon
This program will discuss the final changes to the Centers for Medicare and Medicaid Services (CMS) infection control standards that went into effect Nov. 29, 2019, and the corresponding 49-page Hospital Infection Control Worksheet. The changes include a requirement to have an antibiotic stewardship program and specific guidance on the selection and role of an infection preventionist.
This webinar will review important memos on infection control issues from CMS.
The fee for each webinar in this series is $225 for GHA members, $195 for members of any affiliated GHA Society, and $295 for non-members. There will be no charge for additional lines for each facility or system. Click here to register.
CMS Hospital Restraint and Seclusion: Navigating the Most Problematic CMS Standards
Tuesday, June 23
10 a.m.-noon
Did you know that the number one area of deficiencies in the Centers for Medicare & Medicaid Services (CMS) Conditions of Participation (CoP) is regarding restraints? This program, presented by Sue Dill Calloway, will discuss the most problematic standards in the restraint section and simplify the 50-page restraint and seclusion interpretive guidelines. It will also provide a crosswalk to the Joint Commission standards, but note that every hospital that accepts Medicare patients must comply with the interpretive guidelines regardless of the accrediting body.
Topics covered include:
• Right to be free from restraint
• Definition of restraint and seclusion
• Restraint protocols
• Final changes in the hospital improvement rule
• CMS deficiency reports
• Manual holds of patients
• Leadership responsibilities
• Culture of safety
• Drugs used as a restraint
• Standard treatment
• Documentation requirements
• Least restrictive requirements
• Alternatives
• RNs and one-hour face-to-face assessment
• Violent and self-destructive behavior
• New training requirements
• Revisions to the plan of care
• Time limited orders
• Renewing orders
The fee for this webinar is $225 for GHA members, $195 for members of any affiliated GHA Society, and $295 for non-members. Click here to register.
Grievances and Complaints: Ensuring Hospital Compliance
Thursday, June 25
10 a.m.-noon
Every hospital in the United States that accepts Medicare or Medicaid reimbursement must be in compliance with the Centers for Medicare & Medicaid Services (CMS) Conditions of Participation (CoPs). This program, presented by Sue Dill Calloway, will cover the CMS grievance requirements, which have been identified as the third most common problematic standard for hospitals and a frequent cause of investigation. This webinar will review the nondiscriminatory provision of the Affordable Care Act (Section 1557) which is enforced by the Office of Civil Rights (OCR). Section 1557 requires a hospital to have a grievance procedure; a compliance coordinator to investigate any alleged noncompliance, including discrimination; and a process to promptly resolve grievances. This program will also discuss the Joint Commission standards on complaints and DNV Healthcare on grievances and how they interface with the CMS interpretive guidelines.
The fee for this webinar is $225 for GHA members, $195 for members of any affiliated GHA Society, and $295 for non-members. Click here to register.
Emergency and Outpatient Services CoPs
Tuesday, June 30
10 a.m.-noon
This webinar, presented by Sue Dill Calloway, covers the Centers for Medicare and Medicaid Services (CMS) hospital Conditions of Participation that affect the emergency and outpatient services departments. Any hospital that accepts Medicare must follow the CMS CoPs for all patients.
The webinar will review staffing requirements, provision of services both on and off-campus, EMTALA, required policies and procedures, training requirements, medical director requirement, and compliance with standards of care. It will also discuss the requirements for restraint and seclusion, grievances, and protocols.This program will also cover the final changes to the outpatient section, published in the Hospital Improvement Rule that went into effect Nov. 29, 2019. The hospital will be required to have a policy and designate which outpatient departments will require a registered nurse, and additional changes will be discussed.
The fee for this webinar is $225 for GHA members, $195 for members of any affiliated GHA Society, and $295 for non-members. Click here to register.
EMTALA Three-Part Regulation Series
Presented in partnership with the Iowa Hospital Association
Medicare-certified hospitals and critical-access hospitals with emergency departments must follow the federal law and Centers for Medicare and Medicaid Services (CMS) regulations and interpretative guidelines for the Emergency Medical Treatment and Labor Act (EMTALA). This three-part series will focus on problematic areas of EMTALA concepts, adequacy of medical screening and on-call physician issues. Fines have more than doubled since 2015 when CMS implemented the inflationary adjustment retroactive to the implementation of the EMTALA regulations.
The fee for each webinar in this series is $225 for GHA members, $195 for members of any affiliated GHA Society, and $295 for non-members. There will be no charge for additional lines for each facility or system. Please contact us at Presented in partnership with the Iowa Hospital Association. if you'd like to have multiple lines.
You can register for each program by clicking on the corresponding links:

Georgia Hospital Association
1675 Terrell Mill Road
Marietta, GA 30067
Click here to update your subscriptions.