Click here if you are having trouble viewing this message.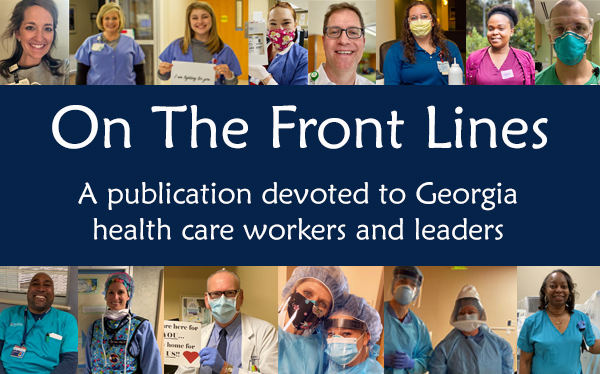 May 30, 2020
Thank You to Our Hospitals
Communities all over the nation are seeing the importance of their hospitals, and Georgia's hospitals are no exception. GHA published "Working Together to Defeat COVID-19: A Tribute to Our Heroes," to honor and thank the thousands of health care workers in our state who are risking their lives to save the lives of so many.
SGMC Earns Echocardiography Reaccreditation
South Georgia Medical Center's Dasher Heart Center recently received reaccreditation by the Intersocietal Accreditation Commission in Echocardiography. Echocardiography is used to assess different areas of the heart and can detect heart disease or signs of serious conditions. Heart disease is the leading cause of death in the United States, followed closely by stroke as the fourth highest cause of death. 
According to the American Heart Association, more than 2,150 Americans die each day from cardiovascular disease which amounts to about one every 40 seconds.There are many factors that contribute to an accurate diagnosis based on echocardiography. 
"The training and experience of the sonographer performing the procedure, the type of equipment used and the quality assessment metrics each facility is required to measure, all contribute to a positive patient outcome," said SGMC cardiologist Dr.  Doug Luke.
According to IAC, this accreditation is a "seal of approval" that patients can rely on as an indicator of consistent quality care and a dedication to continuous improvement. 
Dasher Heart Center located in Valdosta, GA has been granted a three-year term of accreditation by the IAC  in the area of Adult Transthoracic.  
Accreditation by the IAC means that Dasher Heart Center has undergone an intensive application and review process and is found to be compliant with the published Standards thus demonstrating a commitment to quality patient care in echocardiography. Comprised of a detailed self-evaluation followed by a thorough review by a panel of medical experts, the IAC accreditation process enables both the critical operational and technical components of the applicant facility to be assessed, including representative case studies and their corresponding final reports. 
For more information on the Dasher Heart Center, visit sgmc.org.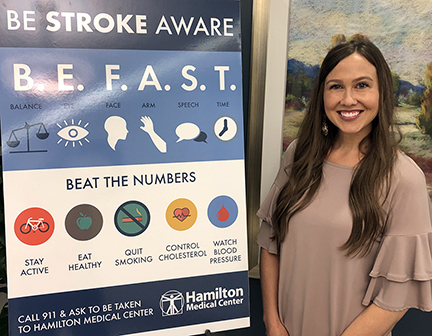 Meagan Darnell is Hamilton Medical Center's stroke program coordinator
Hamilton Medical Center Reminding Community Members to B.E. F.A.S.T.
Hamilton Medical Center (HMC) is encouraging community members to be aware about the dangers of stroke and steps to take to avoid stroke. May is National Stroke Awareness Month.
A stroke occurs when a blood vessel that carries oxygen and nutrients to the brain is either blocked by a clot or ruptures. When that happens, part of the brain cannot get the blood (and oxygen) it needs, causing brain cells to die.
"It's so important to be treated quickly to minimize the effects of a stroke," said Meagan Darnell, HMC stroke program coordinator. "Knowing the signs of stroke could save your life or the life of a family member or friend. A stroke is definitely an emergency."
The B.E. F.A.S.T. acronym is a valuable tool to help identify a possible stroke. The letters stand for balance, eyes, face, arms, speech and time – all factors in identifying and getting treated for stroke.
"When experiencing the symptoms of stroke, every second counts," said Darnell. "So does getting the right level of care as quickly as possible.
HMC has a nationally ranked, highly trained Rapid Stroke Team on staff.
To avoid stroke, it is recommended to stay active, eat healthy, quit smoking, control cholesterol and watch your blood pressure.
B.E. F.A.S.T.
Balance – Is there a sudden loss of balance or coordination?
Eyes – Is there sudden blurred or double vision or sudden, persistent vision trouble?
Face – Ask the person to smile. Is one or both sides of the face drooping?
Arms – Ask the person to raise both arms. Does one side drift downward? Is there weakness or numbness on one side?
Speech – Does the person have slurred or garbled speech? Can he/she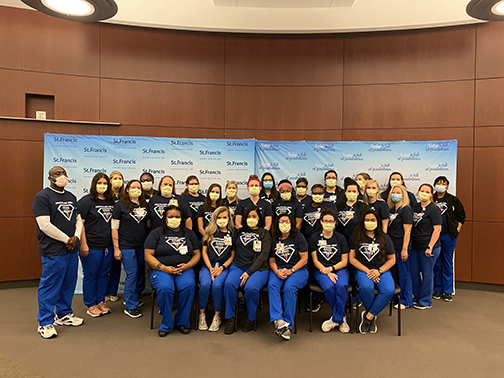 St. Francis Holds Graduation for Cohort 22 Spring Nurse Residents
St. Francis-Emory Healthcare held its Cohort 22 Nurse Residency Graduation on Tuesday, May 26. A total of 29 nurse residents graduated from the 14-week program. The outstanding resident award was presented to Allison Gooden. The speaker was former nurse resident Vanessa Wilcoxen, RN, who works in the St. Francis Emergency Department. 
"I am so proud of Cohort 22 Nurse Residency class. They had to endure most of the program during the COVID-19 Pandemic. Their graduation was even different, with no guests present, wearing masks, socially distanced, and no hugging. This class is special, and they will all make wonderful nurses," says Tricia Hamid, BSN, RN, Nurse Residency Manager.
The St. Francis Nurse Residency Program utilizes Patricia Benner's "Novice to Expert" model to assist new graduate nurses in moving from the classroom to an acute care setting. Residents are trained to provide patient-focused care, centered on Clinical Excellence.
To become a St. Francis nurse resident, a student must:
Have graduated from an accredited school of nursing with an associate's degree in nursing (ADN) or bachelor's degree in nursing (BSN).

Be a registered nurse in the state of Georgia prior to employment.

Have less than six months of hospital-based experience as a registered nurse.

Be certified through the American Heart Association to provide cardiopulmonary resuscitation (CPR).
Participation in the St. Francis Nurse Residency Program requires a 14-week commitment to the program as a full-time associate. During the program, residents will work 32 hours alongside a preceptor and attend one professional development class per week. The clinical and classroom experience residents receive provides the confidence and education needed to deliver high quality and patient-centered care, preparing them for a challenging and rewarding career as a St. Francis nurse!
Active attendance and participation in professional development classes are required. Competency assignments, progress reports, and evaluation tools are utilized to demonstrate the learning outcomes that have been achieved. To be a St. Francis nurse resident requires compassion and an unyielding passion to provide the best care for the members of our community.
Federal Communications Commission Awards
Grant to Help Augusta University Fight COVID-19
The Federal Communications Commission's Wireline Competition Bureau has awarded a $113,744 grant to Augusta University Health to aid in the COVID-19 response.
The grant will be used to expand AU Health's portable ultrasound program to screen patients for respiratory and cardiovascular symptoms related to COVID-19 before being admitted into the hospital.
"Augusta University Health is honored to receive this grant from the Federal Communications Commission, and the funding provides us with the needed resources to expand our COVID-19 screening and testing efforts," said Augusta University President Brooks A. Keel, PhD.
With the funding, AU Health will purchase nine telemedicine ultrasound systems from Philips that can peer into the lungs and hearts of patients to check for signs of pneumonia and even heart failure. The portable, painless ultrasound devices will be part of the bedside evaluations in the emergency department, intensive care units and in the health system's EMS response vehicles.
"We are grateful to receive this grant from the FCC, because it helps us to meet the growing demand of prescreening patients for COVID-19, whether it's at the scene of an accident or in our medical center," said Dr. Matthew Lyon, director of the Center for Ultrasound Education in the Medical College of Georgia at Augusta University. "Although we have larger ultrasound machines, they are not practical to use in the field, and it takes more people to use them. With these additional telemedicine devices, we can reduce the number of health care workers in a patient's room and be even more efficient in providing quality care to our patients."
As a state leader in the pandemic response, AU Health has made strides in using telemedicine to treat patients with COVID-19. AU Health's Express Care app has been made available to all of Georgia and parts of South Carolina free of charge, 24 hours a day, seven days a week. Patients who receive a positive screening are referred to a specimen collection site near their home. AU Health operates 11 of these drive-thru locations, which have performed more than 20,000 tests.
AU Health needs additional equipment and supplies to greatly increase screening and testing capacity within onsite labs, with a projected goal of performing 1,000-1,500 tests a day to meet the significant demand.
Memorial Health Now Offering Health Insurance Hotline
Over the last few months, we know many of our friends and neighbors have lost their health insurance. This can cause a lot of stress.
As a member of the HCA Healthcare family, Memorial Health is now offering an insurance hotline. If you need insurance coverage option assistance, call (833) 867-8771 from 8 a.m.-6 p.m. - Monday through Friday.
"Just as we set up a COVID-19 hotline at the start of the crisis, we want to make sure we're there to help our community as we move forward," says Shayne George, CEO.
Hotline advisors can discuss eligibility and advocacy services appropriate for a variety of scenarios, such as:
Continuing your employer's existing plan if you have recently lost your job (COBRA and other options) 

Applying for coverage via a spouse's benefit program

Resources that may help offset the costs of health insurance

Medicaid: Government healthcare for those that meet certain criteria

State and federal health insurance exchanges (such as the Affordable Care Act), and how to enroll due to a changing life event
Memorial Health is not representing any other company or selling insurance plans—our goal is simply to help you get the information you need so you can confidently manage your health needs. There is no cost for this service.
Local Martial Artist, Personal Trainer Back to Normal After Stroke
Greg and Jeri Mansur were away for a little bit of a staycation when a stroke struck.
Greg was out buying some medicine for Jeri's headache. They exchanged a few texts. But, when he returned to the hotel, he found Jeri, her face against the ground.
"He came back, and he saw me on the floor," Jeri, now 63, said.
She couldn't stand. She couldn't give her husband any answers. She wasn't sure how she ended up on the floor and couldn't figure out why she wasn't able to get up. Greg knew something was wrong.
In the 11 minutes between the last text Greg exchanged with his wife and the time he called 911, Greg realized Jeri had suffered a stroke. He was able to tell the operator on the phone, and Jeri was taken to Northeast Georgia Medical Center (NGMC) in Gainesville, the area's designated primary stroke center, for rapid treatment. The staff at NGMC were prepared for Jeri's arrival and able to administer alteplase, a blood clot-busting drug.
When a stroke occurs, time is everything.
"Her arm, her whole left side, was gone," Greg said. "She had no movement, no feeling, no strength, no anything. She was looking the wrong way when I called her, and I said, 'Baby, something's wrong.' So, I called 911 right away."
Jeri is an otherwise healthy person. She's likely healthier than most her age – or even younger. She's a martial artist with a third-degree black belt and a personal trainer. Greg said she's worked out at least five days a week, every week, since her 20s. She doesn't have a history of strokes in her family.
"I would have never thought in a million years that I'd have a stroke," Jeri said. "I've been healthy all my life."
But a stroke can affect anybody.
Click here to read more.
Online Education Opportunity:
Swing-Bed Fundamentals
Wednesday, June 3
11 a.m.-1 p.m.
The price for this webinar is $255 for members
Course Overview
Hospitals with 100 or fewer licensed hospital beds are eligible to participate in the swing-bed program. Hospital beds can be used for either an acute-care patient or a post-acute (skilled-nursing) patient. This webinar describes the basic Medicare regulations to participate in the swing-bed program and explains the differences between the requirements for critical-access and other rural hospitals. Nancy Ruzicka is the featured speaker.
Click here to register.
Online Education -
CMS Infection Control Worksheet and Antibiotic Stewardship Program
Thursday, June 11
10 a.m.-noon
This program will discuss the final changes to the Centers for Medicare and Medicaid Services (CMS) infection control standards that went into effect Nov. 29, 2019, and the corresponding 49-page Hospital Infection Control Worksheet. The changes include a requirement to have an antibiotic stewardship program and specific guidance on the selection and role of an infection preventionist.
This webinar will review important memos on infection control issues from CMS.
The fee for each webinar in this series is $225 for GHA members, $195 for members of any affiliated GHA Society, and $295 for non-members. There will be no charge for additional lines for each facility or system. Click here to register.
Wills for Nurses With Atlanta Legal Aid
Atlanta Legal Aid has created a new project that offers new Wills for Nurses. An Atlanta-based front line nurse can visit their webpage and complete a short screening process. The nurse will be matched with a Nelson Mullins lawyer for a remote simple will and/or health care directive.
This legal service is offered to Atlanta-based front line nurses and nurse techs providing critical medical services to COVID patients. This program is all explained in the attached flyer to be shared with nurses/techs.
This project will eliminate the need for the hospital's involvement at this time given they are so busy providing care to patients with the virus. It is our understanding that many nurses dealing with the high-risk patient population across the country are looking for this estate planning service. The Atlanta Legal Aid Wills for Nurses Project is the perfect solution for them and provides a way for our legal response and to say thank you.
Phoebe Honors Nurses
Scott Steiner, Phoebe Putney Health System chief executive officer said, "I am extremely proud of how the entire Phoebe family has worked together to provide the care and service our community needs throughout the COVID-19 pandemic. From environmental services workers to respiratory therapists, from surgeons to our supply team – every person continues to play a vital role. Of course, that includes our outstanding team of nurses. The World Health Organization designated 2020 as the Year of the Nurse and Midwife, and the American Nurses Association declared May as Nurses Month.  Unfortunately, our COVID-19 response has pre-empted some of the recognition activities we had planned for our nurses. As May winds down, we want to make sure every nurse understands how much we appreciate them, and how grateful our patients are for the quality, compassionate care they provide every day. Our nurses are true warriors, and they help keep us Phoebe Strong."
Normally, Phoebe honors nurses monthly with DAISY Awards for outstanding care provided to patients. The DAISY Foundation is committed to recognizing extraordinary nurses and fostering relationships between nurses, patients and families. Since DAISY ceremonies have been postponed, Phoebe honored all nurses as a group as DAISY nurses Thursday and distributed cupcakes to all nurses at its main and north campuses.
American Red Cross Experiences Urgent Need For Blood Donations
The American Red Cross has an urgent need for blood donations to prevent another blood shortage as hospitals resume surgical procedures and patient treatments that were temporarily paused earlier this spring in response to the COVID-19 pandemic.
In recent weeks, hospital demand for blood products has grown by 30% after sharply declining in early April amid this rapidly changing and complex public health crisis. At the same time, blood drives continue to be canceled as many businesses and community organizations remain closed. Healthy donors are needed to make and keep scheduled appointments to help meet the current need.
In response to the urgent need, College Place United Methodist Church, 3890 Altama Avenue, Brunswick, will host a blood drive on Monday, June 1, 1-6 p.m.
Social distancing protocols will be implemented. There is no data or evidence that the coronavirus can be transmitted by blood transfusion, and there have been no reported cases of transfusion transmission for any respiratory virus including this coronavirus worldwide.

Georgia Hospital Association
1675 Terrell Mill Road
Marietta, GA 30067
Click here to update your subscriptions.