Click here if you are having trouble viewing this message.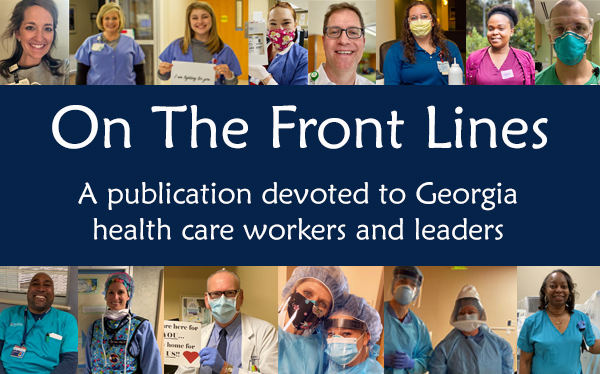 May 16, 2020
Georgia Speaker of the House Addresses GHA CEOs
On Tuesday, May 12, Speaker of the Georgia House of Representatives David Ralston spoke to GHA hospital CEOs on a conference call. Speaker Ralston noted the legislature is set to return on June 11 with the Georgia budget at the forefront. The Speaker was very appreciative of all the workers in our hospitals.
"The people on the front lines, our doctors and nurses in our hospitals have worked so hard with such a commitment. It has been an awesome thing to watch. You all should be proud. I am certainly proud, and you made Georgia proud," Ralston said.
Georgia on Our Minds
The COVID-19 pandemic has produced many heroes from our hospitals. Day in and day out, our health care workers have stepped up. I believe most would agree that, now more than ever, Georgia's health care workers are on our minds.
On that premise, the song "Georgia on My Mind" is well known and loved by people of all ages across the nation. I am proud to introduce GHA Member Frontline Staff sing Georgia On My Mind produced by GHA to recognize the commitment and dedication of these hospital heroes.  
As I think of the thousands of patients treated by each of these volunteer singers and the people featured in the pictures in the video, I'm inspired by the courage, generosity, and dedication of these workers. It makes us very happy to hear these wonderful voices and see their smiling faces, displaying tremendous pride in their profession.
We salute you!  
Earl Rogers
GHA President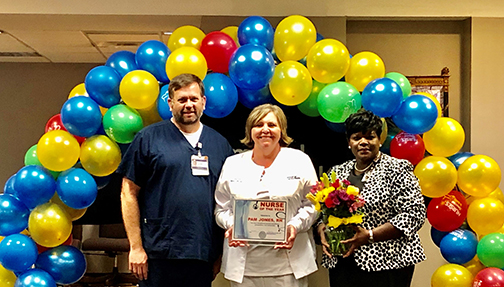 (L-R): Carl Wilson, critical care manager; Pam Jones, RN, Memorial Satilla Health's Nurse of the Year; and Margaret Refour, CNO.
Pam Jones, RN, Named Nurse of the Year at Memorial Satilla Health 
Critical Care Nurse Pam Jones, RN, was named Memorial Satilla Health's first Nurse of the Year on Friday, May 8 in a ceremony recorded on Facebook Live. Honorable mentions went to Teresa Lavender, RN – medical/surgical, and Haley Wright, RN, interim women's and children's services director.
The criteria for the award includes putting the patient first, critical thinking, interpersonal skills, compassion, and ownership in providing safe patient care, along with mentoring, positive attitude, exceeding patient expectations and community participation.
Carl Wilson, critical care manager, said Jones provided an outstanding level of care and comfort to his aunt after she suffered a severe stroke. "Even though Aunt Mildred was nonresponsive, Pam took the time to talk with her and narrate her care. She spoke words of comfort to my uncle and the rest of my family," he said. "She eased our suffering. Today, five years later, Pam continues to be mentioned by my uncle as his angel. Pam Jones, RN will always be the nurse to which other nurses are compared by my family." 
Dr. Sigismund Lee, chief of medical staff added, "We wanted to take the time to recognize exemplary work and someone who really sets a diamond standard for the profession." He added that Jones has been a strong rock for the entire ICU team and commended her for taking on and defusing tense situations, while calming and guiding patients, family and physicians.
Dr. Roberto Lopez-Vega, medical director, hospitalist program, praised the nursing team at Memorial Satilla, along with Jones. "It's been very clear from the past several years I've been here, but more so over the past few months, how really there's no hesitancy from you to go and do what has to be done to take care of patients. That's something that's invaluable. As much as we put ourselves at risk, so be it. That's what we're here for," he said. "You perform what they need to have done every single day, every hour of the day. No doctor is ever going to be able to match what you all provide for our patients. Pam – I cannot thank you enough."
Jones received a "Nurse of the Year" jacket, a dedicated parking space and a $500 gift card sponsored by members of the medical staff at Memorial Satilla Health.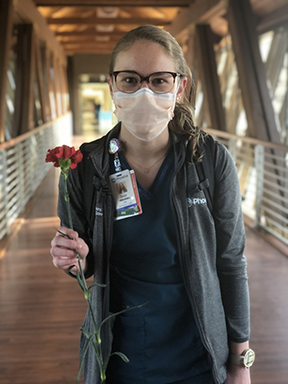 Donor Gives a Flower to Each Phoebe Nurse in Albany
In recognition of National Nurses Week, Phoebe nurses in Albany received carnations as a token of appreciation for their dedication to the profession and their commitment to compassionate patient care. 
The flowers were donated by Rev. Larry Roberts, 83, of Lake Junaluska, NC. 
"I read an article about all the work Phoebe nurses have been doing caring for coronavirus patients, and I was really moved by how they've put concern for their patients even over concern for their own wellbeing. I had been looking for something to do with my federal stimulus money to help someone else. I checked with my children and grandchildren, and they didn't really need it, so I thought about doing something special for the nurses.  Hopefully, they'll see this simple flower as an expression of the love and appreciation so many people feel for them," Rev. Roberts said.
The carnations were handed out to nurses as they left work at Phoebe's main and north hospital campuses. They were also delivered to other Phoebe facilities in Albany. 
"Tuesday is the 200th anniversary of the birth of Florence Nightingale, the founder of modern nursing.  Even today, her commitment to professionalism and compassion remains a shining example that every Phoebe nurse follows.  It's so meaningful to all of us that Rev. Roberts would want to recognize our amazing nursing staff in this way on this special day," said Evelyn Olenick, DNP, RN, Phoebe Putney Memorial Hospital Chief Nursing Officer.
Rev. Roberts served churches throughout the South Georgia Conference of the United Methodist Church for 40 years before retiring and moving to North Carolina. His son, Ben, is Phoebe's Director of Public Relations and Communications.
"Our family never lived in Albany, but I did have the pleasure of serving churches in several towns in southwest Georgia.  I visited church members hospitalized at Phoebe many times over the years, and I'm thankful for what the staff there does for folks in that part of the state," Rev. Roberts said.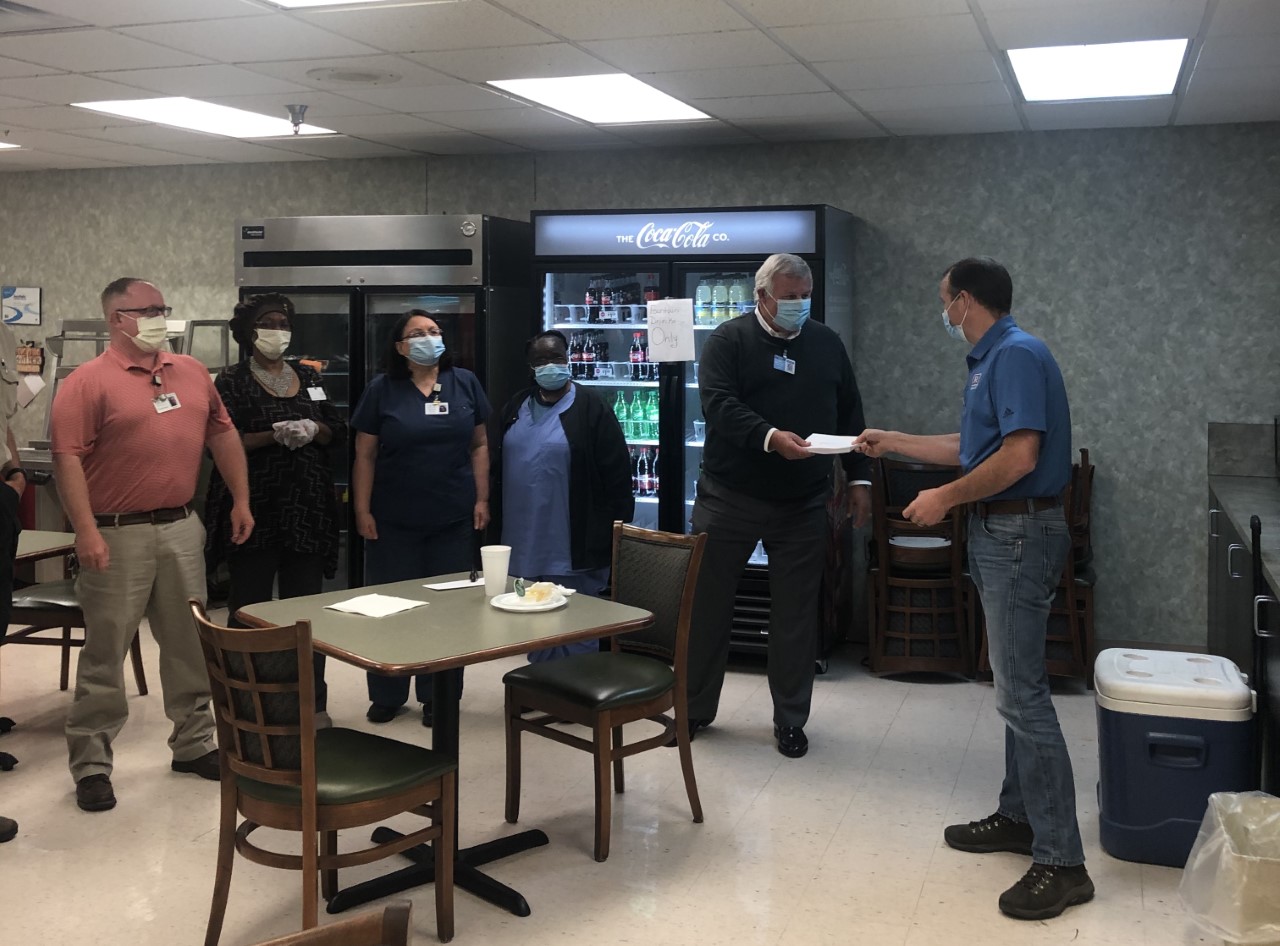 Cooper Rainey (R) from Rossee Oil presented gas vouchers to Alan Horton, CEO of Putnam General Hospital. 
Rossee Oil Shows Putnam General Appreciation
The staff at Putnam General Hospital have been so appreciative of all the meals, snacks, and prayers from the community during this pandemic. This week is National Hospital Week. Of course, it is not the same as it has been in the past years with social guidelines in place. On Wednesday, Rossee Oil gave each of the 141 employees a voucher to fill up their personal vehicle to thank hospital workers and "do something for them."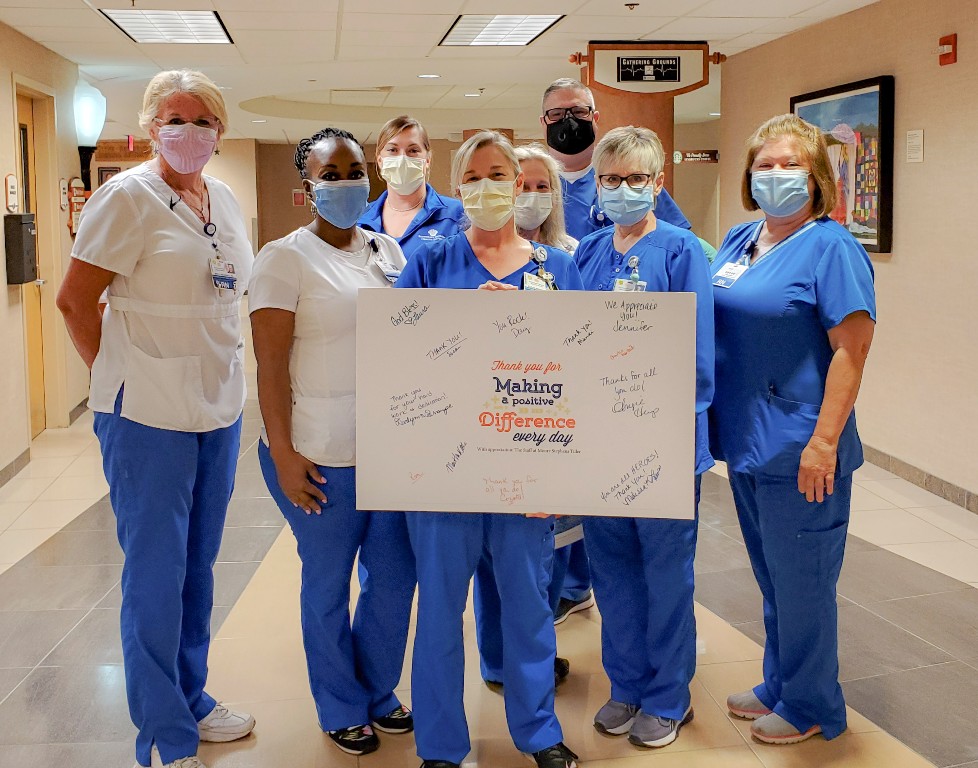 Southeast Georgia Health System Team Members Make a Positive Difference Every Day
It's been several months since Southeast Georgia Health System, along with many Americans, began adjusting to the new normal brought on by coronavirus. However, one thing that has not changed is the love and support that the community continues to offer during this pandemic. Recently, the staff at Moore Stephens Tiller, LLC raised money, and then matched it, to purchase gift cards from local restaurants which they then donated to Health System team members.
"We just wanted to help our local community and medical staff in some way during the COVID-19 pandemic," reads a letter from the staff at Moore Stephens Tiller, LLC. "We truly appreciate all that your staff does on the front lines of this virus and hope that with this small gesture you know that we are all behind you, praying and sending positive thoughts your way."
The gift cards were accompanied with a flyer that read, "Thank you for making a positive difference every day."
"We are very thankful to the staff of Moore Stephens Tiller and their thoughtful generosity in recognizing our caregivers," says Michael D. Scherneck, president & CEO, Southeast Georgia Health System.
To learn more about supporting Southeast Georgia Health System or expressing a gesture of gratitude for their team members, call 912-466-3360 or visit wearethefoundation.org.
South State Bank Makes Donation to Aid Augusta University Health's COVID-19 Relief Efforts
As Augusta University Health works to flatten the curve of the COVID-19 pandemic, South State Bank has donated $25,000 to AU Health's Emergency Response Fund for relief efforts.
The funding will be used to help AU Health address the growing demands of the COVID-19 outbreak, including pre-screening, testing and treatment of patients who require isolation and complex care.
"These are challenging times we are facing, and we are grateful for the financial support of South State Bank as we work to provide high-quality care to those impacted by this health crisis," said Augusta University President Brooks A. Keel, PhD. "
South State Bank Division President Jay Forrester says the bank feels a sense of responsibility to help keep the community safe and healthy.
"We appreciate the assistance Augusta University Health System is providing to our community, and we are especially grateful for the talented medical professionals who are caring for the sick," said Forrester. "We are pleased to support the work the hospital and its staff are doing for our region during these unprecedented times."
Since March, when Augusta University began its COVID-19 response efforts, over 16,000 hotline calls have been answered, more than 16,000 telemedicine screenings have been completed through the AU Health ExpressCare app and over 8,000 specimen collections have been made at drive-thru locations around the state.
A major challenge with expanding testing in Georgia has been a shortage of reagents, or testing supplies. The Dental College of Georgia at Augusta University is providing 3D printed nasal swabs to support the expansion.
"We are thankful to South State Bank for giving during this time of crisis and helping Augusta University Health secure the resources needed to combat the COVID-19 pandemic," said Deborah Vaughn, vice president for Philanthropy & Alumni Engagement at Augusta University. "AU Health is a leader in Georgia's response to the coronavirus outbreak, and the generosity of our community partners will help us overcome this public health challenge."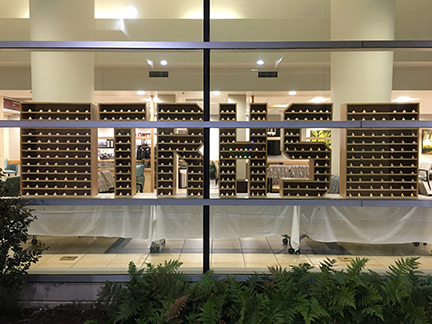 Since late April, there has been a light shining for each of Southwell's COVID-19 patients at Tift Regional Medical Center's 20th Street Lobby in a custom-built display.
Southwell Salutes Health Care Heroes During National Hospital Week 
Southwell is proud and extremely grateful for health care providers and all our compassionate employees during this COVID-19 crisis. So, this year's National Week Hospital Week (May 10-16) has extra meaning.
Most big sports events in the U.S. now feature a "Salute to the Troops" moment, when fans stand to honor a returned service-member. But when the coronavirus pandemic is over and stadiums eventually re-open, troops may have to share the spotlight with new heroes: the doctors, nurses and support staff on the frontlines of a new kind of war.
Even beyond the COVID-19 crisis, health care workers are every day heroes who protect, inspire and enable our community to thrive. Due to COVID-19 precautions, we are limiting our usual Hospital Week special events and relying more on virtual activities to celebrate. Thanks again to our dedicated team for all you do for our patients and community!
The Heart Center of Northeast Georgia Medical Center Welcomes New Interventional Cardiologist 
To continue providing exceptional cardiovascular care, The Heart Center of Northeast Georgia Medical Center (NGMC) welcomes a new interventional cardiologist to their team of experts. Khaja Mohammed, MD, FACC, MRCP (UK), has just started with The Heart Center of NGMC and is accepting new patients at the Braselton and Gainesville locations.  
Dr. Mohammed brings ample expertise in the diagnosis and treatment of vascular and structural heart diseases. He specializes in device implantation and minimally-invasive treatments including atherectomy and stenting of coronary arteries, percutaneous left ventricular assist devices and percutaneous valve procedures.
"I am truly excited to join The Heart Center of NGMC," said Dr. Mohammed, "providing first rate care to all of my patients has always been my top priority. The Heart Center of NGMC has a distinguished reputation, and I look forward to utilizing their extensive resources and collaborating with the care team to ensure the best possible health outcomes." 
Dr. Mohammed received his medical degree from Osmania Medical School in Hyderabad, India. He then went on to complete two internal medicine residencies, one at Scarborough and North Yorkshire Healthcare in the United Kingdom and one at Lankenau Medical Center in Wynnewood, Pennsylvania. Dr. Mohammed also completed his cardiovascular disease and interventional cardiology fellowships at Lankenau Medical Center.
Dr. Mohammed is board certified in Internal Medicine, Cardiovascular Disease, Interventional Cardiology and Nuclear Cardiology.
Phoebe Prepares to Open New Simulation Center
With Specialized Training for New Nurses
Despite the COVID-19 pandemic, construction has continued on the new Phoebe Simulation and Innovation Center. Equipment is being installed in the 22,000 square foot, state-of-the-art center on the fifth floor of Medical Tower II on Phoebe's main campus, and the center will open soon. 
"This center is an incredible investment in patient safety and workforce development. Staff throughout our health system will utilize the center year-round for realistic training that will enhance the quality of care we are able to provide," said Tracy Suber, Ed.D., RN, Phoebe Assistant Vice President of Nursing Education. "It will also be a great benefit for our employees and will help us recruit and retain outstanding workers."
The center will be the hub for a one-of-a-kind Nursing Simulation and Training Education Program (NSTEP) Phoebe developed to support new graduate nurses. "Unfortunately, the COVID-19 pandemic limited clinical rotations for spring and summer nursing graduates, and they were unable to get all the hands-on training they need. Our new center is ideal for cultivating supplemental learning.  Through NSTEP, new graduate nurses will begin their nursing career within a Dedicated Education Unit (DEU) that will provide hands-on simulation, didactic training and skills assessments on high-fidelity mannequins while engaging in observation and progressive unit assignments through preceptorship training," Dr. Suber said.
To be eligible for NSTEP, nurses must graduate this spring or summer from a board-approved nursing education program, have a valid Georgia temporary permit to practice as a graduate nurse pending licensing exam results or Georgia RN license, officially accept an offer on a specific floor/unit with Phoebe Putney Health System and pass the NCLEX-RN within 90 days of NSTEP hire date. "This really is an extraordinary step Phoebe is taking to ensure these young nurses have the skills and confidence they need to succeed. The program will greatly benefit each nurse who takes part and will also certainly benefit our patients by ensuring they receive the quality care they expect and deserve," said Evelyn Olenick, DNP, RN, Phoebe Putney Memorial Hospital Chief Nursing Officer.
Phoebe recently hired Larecia Gill, PHD, RN, as the Phoebe Simulation and Innovation Center manager. "Dr. Gill is uniquely qualified to lead this project and sustain excellent training programs. She will focus on developing, delivering and evaluating best practices in simulation education for the Phoebe Family," Dr. Suber said.
Dr. Gill is a former Phoebe nurse who returns to Phoebe after more than a decade in academia. She holds a master's degree in nursing education and completed her PhD in nursing last year. Most recently, she served as the Associate Nursing Programs Director and Associate Professor of Nursing at Albany State University. "I am thrilled to return to Phoebe, and I am especially excited for the unique opportunity to develop education programs at what will be one of the finest medical simulation centers in Georgia. We are committed to enhancing the diagnostic and communication skills of our participants to ensure the safe delivery of care to patients at Phoebe, and we look forward to beginning our training classes in June," Dr. Gill said.
The simulation center will employ the latest technology in high-fidelity medical mannequins. It will contain multiple training rooms – including an operating/trauma room, a traditional hospital room, an intensive care unit room, and a labor and delivery suite which contains a neonatal intensive care unit – all set up to emulate the actual facilities in which Phoebe staff work. "We'll be able to do everything from allowing a novice nurse to practice inserting a peripheral intravenous line to simulating a difficult premature birth for an entire labor and delivery and NICU team. By allowing our staff to train using simulation, they are in a 'safe' environment that will help improve their clinical competency and confidence in delivering safe, quality healthcare which will improve patient safety and reduce healthcare costs," Gill said.
The $5.3 million investment is an important part of the health system's Phoebe Focus initiatives designed to enhance patient safety, facilities and customer service.  
St. Francis-Emory Healthcare Marks National Hospital Week, Honors Healthcare Heroes
St. Francis-Emory Healthcare is proud to join the American Hospital Association and healthcare organizations around the country in celebrating National Hospital Week, which is observed May 10-15. Each May, National Hospital Week provides an opportunity to pause and honor the millions of healthcare professionals who dedicate their lives to taking care of people in their greatest times of need, and to recognize the positive difference hospitals and healthcare organizations make in the communities they serve.
"As our community continues the fight against COVID-19, the pivotal role our healthcare workers play in the well-being of society is clearer than ever," said Melody Trimble, chief executive officer (CEO) of St. Francis. "Their tireless efforts on the front lines of this disease and their commitment to quality care and patient safety year-round are critical to our mission of Making Communities Healthier. We proudly honor these heroes during National Hospital Week and commend their inspiring efforts to serve others."
St. Francis will be marking the national observance with social media posts honoring our healthcare heroes and giving out hero t-shirts and hero badge pins. Community members are encouraged to leave a special note of thanks for hospital employees at www.thankahealthcarehero.com.
The hospital plays an important role in supporting the health and vitality of the Chattahoochee Valley all year long. From welcoming 82 new providers and expanding services, to investing more than $9.3 million in new clinical technology and facility improvements, St. Francis is committed to meeting the evolving health needs of the community and enhancing access to high quality care close to home.
As one of the region's economic leaders, the organization employs more than 2,300 staff and contributed more than $16 million in taxes to the local and state economies last year. Additionally, St. Francis is proud to sponsor a number of local community organizations and non-profits, including the American Heart Association, Miracle Riders, Mercy Med, Alzheimer's Association, American Cancer Society to name a few. Ensuring that everyone has access to the high-quality and compassionate care they need is a top priority for the organization and fundamental to its mission. In 2019 alone, St. Francis provided more than $69 million of charity and other uncompensated care, regardless of patients' ability to pay.
"The Chattahoochee Valley is a wonderful place to call home, and we are privileged to have a significant impact on its health and economic well-being," said Philip Thayer, chair of St. Francis' board of trustees. "As we celebrate National Hospital Week amid unprecedented challenges this year and begin to look to the future, we are aware that healthcare – like other aspects of life – might look a little different. What will not change, though, is our mission and our commitment to this community. We will continue to put the health and well-being of our neighbors first, ensuring safe places of care and a healthier community for us all."
Celebrate Cancer Survivors with an Online Castoff Event
Cancer Navigators is not going to let COVID-19 prevent the community from celebrating cancer survivors. While the live Cast Off Against Cancer event that was scheduled for May 17 won't take place, a virtual event planned for June 7 will mark National Cancer Survivors Day.
The virtual celebration will take place that day at 3 p.m. on the Cancer Navigators Facebook page. The Daisy Drop, bagpipes and other elements of Cast Off Against Cancer will be captured on video.
"Although we are disappointed to not be able to hold our walk and daisy drop as scheduled, we are grateful to have a virtual option and a special way to celebrate National Cancer Survivors Day," said Sarah Husser, Fundraising and Outreach Coordinator for Cancer Navigators. 
"We appreciate our Cast Off sponsors and teams for their continued support: Floyd Medical Center, Polk Medical Center, MSP Attorneys, State Mutual Insurance Company, Heritage First Bank, The UPS Store, Clean Air America, Inc., Harbin Clinic Radiation Oncology and Chattooga County Cancer Support Group," Husser said.
Cancer Navigators has also organized the inaugural Cast Off Against Cancer Virtual 5K Race. Participants can run or walk the 5K event anytime or anywhere they want. They don't even have to do it all at once. The $25 entrance fee guarantees a medal to those who sign up. Visit https://bit.ly/2zsYEtc to register.
Cancer Navigators, a community-based nonprofit organization established in 2006, guides those affected by cancer toward a better understanding of diagnosis and care and connects them with needed resources in their journey – free of charge.
"We served 1,789 cancer patients in 2019 and provided a total of 4,390 social support and complementary care services," said Husser. "This would not be possible without the community's support."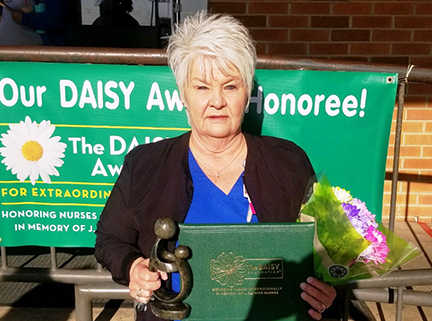 Memorial Hospital and Manor Names May DAISY Award Winner
Melody Butler, Med/Surg LPN, was the recipient of the May DAISY Award. Butler was nominated by her patient who wrote: Mel "went beyond her duty…she always followed up what was expected of her…she did it with a good attitude…and made you feel that you were the only patient." 
Operation Sanitization: Robots Help Keep Tanner Patients, Visitors Safe
When you think of robots, you're likely to picture the cyborg from the "The Terminator" movie franchise or the ever-helpful Rosie from the beloved cartoon "The Jetsons."
At Tanner, two real-life germ-zapping robots — aptly named Rosie and The Germinator — help the health system ensure patients' safety by killing germs in patient care environments and common areas.
In use since 2017, the LightStrike™ Germ-Zapping™ Robots by Xenex — medical-grade UV light cleaning machines — give patients and visitors an added layer of comfort at the health system's flagship hospital.
Despite their amusing names, the robots have proven extremely efficient at eliminating viruses and dozens of other harmful germs that may remain on surfaces in patient environments even after manual cleaning is done.
"The UV light can reach places our disinfectant can't," said Missie Robertson, RN, vice president of institutional performance at Tanner. "We clean and sanitize these spaces, but then we bring in the robot to kill any germs we couldn't reach. The light is so intense that no one can be around it while it's running. These are very powerful devices, and we're lucky as a hospital to have them."
Click here to read more.
Augusta University College of Nursing Ranks
Among the Best in the Nation
As health care systems work overtime under the strain of the COVID-19 pandemic, reports show there are not enough nurses to meet the demands of the health care crisis.
Augusta University's College of Nursing is working to fill that gap by producing high-quality nurses, and their efforts have landed them in the top 150 of U.S. News & World Report's 2021 best nursing schools.
The college's Master of Science in Nursing and Doctor of Nursing Practice degree programs were both ranked in the top 100 in the nation in their respective categories.
"Nurses are needed more than ever now, and these rankings reflect a growing awareness of the College of Nursing's excellence in advanced nursing education," said Dr. Tanya Sudia, dean of the College of Nursing. "We will continue bringing in world-class faculty while investing in research, technologies, partnerships, innovative degree programs, and of course, new cohorts of bright and motivated students."
U.S. News and World Report based their ranking on a number of factors, including student engagement, faculty credentials and training, student services and technology, peer reputation, and admissions selectivity.
For a complete list of the nation's top nursing schools, view the U.S. News & World Report's 2021 best nursing schools.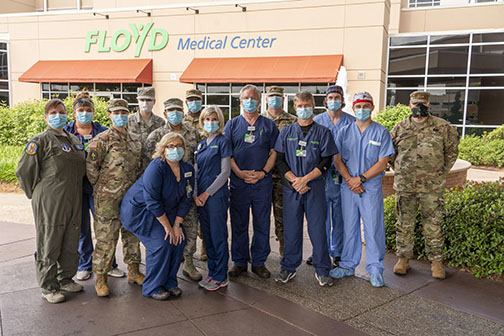 Floyd Finds National Guard Assistance Invaluable
If you talk to the group of National Guardsmen who came to Floyd Medical Center at the end of March to provide medical assistance, you can't help but come away with the impression that they were enriched by the experience.
Their last day at the hospital was Thursday, but they will continue serving in the region during the COVID-10 pandemic. Their next mission will be to assist at various testing sites.
"We were truly blessed to come here," said Capt. Frances Burress. "The leadership here was proactive. The community totally took care of us; the hospital took care of us. We couldn't have asked for a better place to walk into not knowing anybody. And now we are walking away with a new family."
Sgt. Christina Tomassini said she would be willing to come back and work at Floyd.
"I absolutely loved it," she said. "I learned a whole lot from these guys. The Infectious Disease Unit was really well put together and they were a great team to work with."
One member of the unit will definitely be back. When he is not serving with the National Guard, Maj, Danny Rogers is physician's assistant at the hospital's Emergency Care Center.
Other members included A1C Abigail Lang, TSgt. Ivon Denman, Sgt. Joshua Compton, ​SSgt. Marc Etienne, Sgt. Duanno Johnson, A1C Hayden McA​lister and Capt. Sarah Kathe.
Shannon Cooke, Clinical Manager of the Intensive Care Unit, repeated one word several times when discussing the citizen-soldiers: invaluable.
"I really can't say enough about them," Cooke said. "They just jumped right in there. I didn't have to ask them to do anything. From Day 1 they were part of our team."
Recording Available for Caring for Self in a Public Health Pandemic Program
Presented by Rev. Ann Sidney Charlescraft, DMin, BCC, this May 14 webinar focused on self care for all health care professionals and staff, from housekeepers to physicians serving on the front lines. View the recording to learn practical steps for caring for self, including your  mental and emotional health, as well as ways to strengthen resilience and encouragement among the health care team. Click here for the recording
Complimentary Webinar
from GHHS Vendor Parter Merritt Hawkins:
Physician Recruiting and Retention During and Post-COVID-19
Tuesday, May 26
12-1 p.m.
The COVID-19 pandemic has profoundly altered the health care industry and nearly every aspect of the economy and life in the US. And yet, many of the underlying dynamics fundamental to health care remain.
One of these is the time-honored fact that health care is provided by people, for people. The emergence of COVID-19 has made this more apparent. This presentation will review the emerging methods that hospitals, medical groups and other health care facilities are using to retain and recruit medical staff during COVID-19 as well as factors that should be considered as we emerge from the crisis.
The program includes original data from a physician survey conducted by Merritt Hawkins in collaboration with The Physicians Foundation that tracks how physicians are being affected by and are responding to COVID-19. An engaging and instructive look at physician recruiting and retention during a unique time, this presentation is a must for anyone who follows today's evolving health care trends.
Click here to register.
Online Education Opportunity:
Swing-Bed Fundamentals
Wednesday, June 3
11 a.m.-1 p.m.
The price for this webinar is $255 for membersCourse Overview
Hospitals with 100 or fewer licensed hospital beds are eligible to participate in the swing-bed program. Hospital beds can be used for either an acute-care patient or a post-acute (skilled-nursing) patient. This webinar describes the basic Medicare regulations to participate in the swing-bed program and explains the differences between the requirements for critical-access and other rural hospitals. Nancy Ruzicka is the featured speaker.
Click here to register.
Online Doctor of Nursing Practice Nurse Executive Program Opportunity
The College of Nursing at Augusta University invites you to join their interactive online Doctor of Nursing Practice Nurse Executive Program (DNP-NEP). Applications are open until Monday, June 1. This program is designed for chief nursing officers, other executive-level nurse leaders and aspiring nurse leaders. Click here to learn more. 

Georgia Hospital Association
1675 Terrell Mill Road
Marietta, GA 30067
Click here to update your subscriptions.