Click here if you are having trouble viewing this message.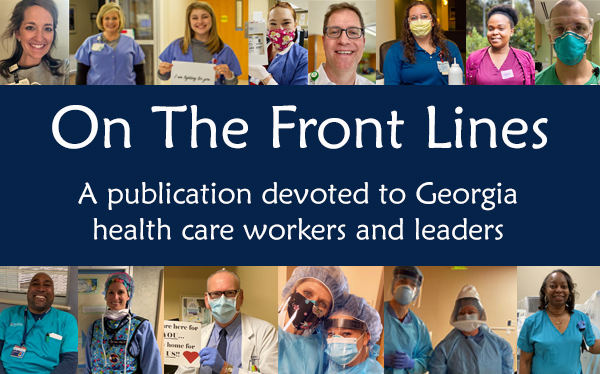 May 9, 2020
New Name. New Vision. Same Commitment.
The COVID-19 pandemic has caused challenges we, as a state, nation and world, never imagined we would see. During a crisis like this, heroes come to the forefront, and we have seen light come from darkness through many positive and heartwarming stories. Our hospital workers on the front lines have led the way with dedication, commitment, and excellence. GHA salutes all the lab techs, nurses, doctors, security officers, pharmacy directors, administrators, volunteers, paramedics, therapists and all workers in our hospitals who have played pivotal roles in defeating COVID-19. In light of that, GHA has decided to rebrand the Workforceline publication with a new name and vision. "On the Front Lines" is a name we are dedicating to Georgia's health care workers -- our true heroes. This publication will highlight the great stories of our hospitals. On the front line is where lives are saved, and GHA dedicates this publication to you.
Northeast Georgia Health System First in State to Receive Emergency Cardiac Care Center Designation
Northeast Georgia Health System (NGHS) continues to lead the way in life-saving heart and vascular care by becoming the first health system in the state with hospitals designated as Emergency Cardiac Care Centers (ECCC). This new designation from the Georgia Department of Public Health (DPH) means that when you or someone you know has a heart attack, you can trust Northeast Georgia Medical Center (NGMC) to provide fast and effective treatment.
"Receiving the ECCC designation is such a tremendous accomplishment for our team," says Jason Grady, NGMC regional STEMI coordinator. "But this achievement extends far beyond the walls of our system – connecting first responders, emergency departments and cardiologists throughout the regions to ensure each patient receives the level of care they need."
Health care organizations seeking ECCC designation by the Georgia DPH undergo a thorough evaluation process, including a site inspection and an assessment of emergency cardiac care processes and equipment. Once these steps are complete, the Georgia DPH uses a three-level designation system to rank the capabilities of each facility:
Level 1 hospitals perform open heart surgery and interventional cardiac catheterizations

Level 2 hospitals perform interventional cardiac catheterizations

Level 3 hospitals stabilize patients until they are transported to a Level 1 or Level 2 center.
Based on these specifications, NGMC Gainesville received Level 1 designation, NGMC Braselton received Level 2 designation and NGMC Barrow and NGMC Lumpkin both received Level 3 designation.
"Receiving ECCC designation speaks volumes about the level of cardiac care NGHS provides," says Ryan T. Whitney, MD, FACC, interventional cardiologist and chairman of The Heart Center of NGMC. "Our continued dedication to excellent heart and vascular care – both routine and in emergency situations – is saving lives throughout our community and beyond."
The designation comes almost three years after legislation that created the concept of Emergency Cardiac Care Centers in Georgia was signed into law at NGMC Gainesville on May 3, 2017.
"Jason, our cardiologists and our entire team worked tirelessly for this designation to become a reality – and we had strong support from Gov. Nathan Deal, Sen. Butch Miller, Sen. Renee Unterman and Rep. Lee Hawkins," says Carol Burrell, president and CEO of Northeast Georgia Health System. "NGHS has a rich history of being the leader in cardiac care, and that legacy continues today."
Cardiologists with The Heart Center of NGMC continue to provide routine heart care during the COVID-19 pandemic. You can even schedule an appointment via video chat, so you don't have to come to the office. Schedule your video visit today by calling 770-534-2020 or request an appointment at heartNGMC.org.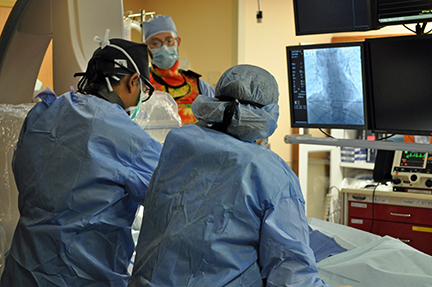 St. Mary's First Hospital in Georgia
to Implant Revolutionary New Pacemaker
In a marching band, every musician knows when to play because the drum major signals the beat. Fast or slow, excited or calm, the musicians can stay together. But if the musicians can't see or hear the drum major, their timing can drift apart. They get out of synch. The rhythm – and the music that depends on it – can fall apart.
Your heart is like that band. The chambers must contract in synch with each other so that your heart pumps blood with that familiar "ba-BUMP, ba-BUMP" rhythm. But in a common condition called AV block, the signals can't travel from one part of the heart to another the way they should. And when the heart's chambers don't beat in synch, the patient can feel fatigued, dizzy, confused and could lose consciousness. It can even be life-threatening.
On March 6, St. Mary's implanted a new kind of miniature pacemaker that restores the heart's synchronization without wires or the need to create a pouch under the skin of the chest. In the first procedure of its kind in Georgia, electrophysiologist Amit Shah, MD, and his team at St. Mary's implanted a Medtronic Micra AV pacemaker directly inside a patient's heart, just weeks after the federal Food and Drug Administration approved use of the device on Jan. 21.
The Micra AV functions in a radical new way. In a standard pacemaker, wires called leads pick up the electrical signals when the heart's weak chambers – the atria – contract.  The information goes to a unit about the size of a pack of cards implanted under the skin of the chest. That unit then sends a signal through different leads to the heart's strong pumping chambers – the ventricles – that causes them to contract and pump blood throughout the body.
The Micra AV is different because it needs no leads embedded in the heart and chest and no pouch under the skin. Instead, the device, which is about the size of a large vitamin pill, is attached to the inside of one of the ventricles. It works by sensing the motion of the atria when they contract and then telling the ventricles they need to contract, too.
"The Micra AV is the latest technology for patients with AV block and presents an excellent alternative to traditional pacemakers," said Dr. Shah, a cardiologist with Oconee Heart and Vascular Center and medical director of St. Mary's Electrophysiology Laboratory. "Traditional pacemakers are implanted in the upper chest and connected to the heart using leads. This restores electrical synchrony leading to mechanical synchrony between atria and ventricles. Micra AV, on the other hand, uses special sensing algorithms to detect cardiac movement, and restores electrical and mechanical synchrony without the use of any leads. Leadless pacemakers therefore reduce potential complications such as infections and improve quality of life."
The first procedure at St. Mary's took only a few minutes. Dr. Shah performed the implantation through a single small incision in the patient's upper leg. Guided by advanced imaging technology, he navigated the device into the heart through the inside of blood vessels while the patient was under a mild sedative. The patient's outcome was excellent, and she was able to go home the next day.
"We are now able to achieve AV synchrony with a device the size of a pill, placed in the ventricular apex without [large] incisions, without leads, and a 63 percent lower incidence of complications," Medtronic quotes Dr. Larry Chinitz, Director of the Heart Rhythm Center at New York University Langone Health. "If this is not a game-changer, if this is not the future of cardiac pacing, I have never witnessed such an event in my career."
Leadless pacemakers like the Micra AV provide a range of benefits over pacemakers that implant outside the chest wall, Dr. Shah said:
No "pouch" is needed under the skin of the chest to hold the pacemaker unit.

No leads need to be implanted to connect the unit to the heart.

The device is cosmetically invisible, unlike a traditional pacemaker, where the pouch is visible.

Because implantation does not require the creation of a pouch or embedding leads, the procedure is simpler and less invasive than a traditional pacemaker.
During the COVID-19 pandemic, St. Mary's continues to perform procedures that are important to the health and wellbeing of our patients, such as the implantation of pacemakers and other cardiac devices. Strong infection control measures are in place as recommended by federal and state authorities to help ensure the safety of our patients, providers and colleagues.
For more information about the Micra AV, see https://www.medtronic.com/us-en/about/news/micra-av-fda-approval.html. For more information about St. Mary's cardiac services, Dr. Shah, and Oconee Heart and Vascular Center, please visit www.stmaryshealthcaresystem.org.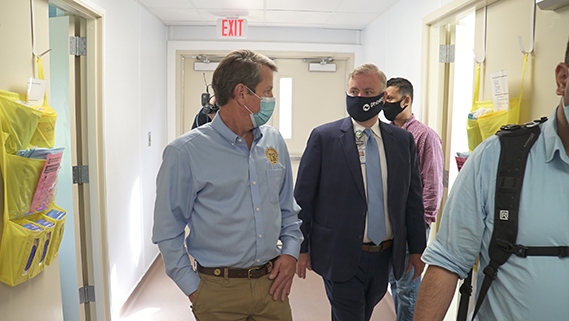 Gov. Kemp Visits Phoebe
Phoebe hosted Gov. Brian Kemp for a tour of the modular COVID-19 unit the state constructed on the Phoebe North campus. The Governor thanked the Phoebe Family for their response to the COVID-19 crisis.
"These are today's heroes, and I know Georgians appreciate that. I know that I do. My wife Marty and my family does as well because we know how hard this has been on everybody, no matter what part of the state you're in, and it's certainly been harder than most right here in Albany and southwest Georgia," Gov. Kemp said.
The Georgia Emergency Management and Homeland Security Agency (GEMA) oversaw the project to build the 24-bed modular hospital at Phoebe North as part of the state's effort to increase capacity to care for COVID-19 patients. The shipping containers used to construct the facility were delivered on April 15, and the unit will be ready to accept patients on May 6.
"It's amazing how quickly this project came together. When you're inside the facility, you have no idea that it's not a typical hospital. We appreciate the state's support throughout our COVID-19 response, particularly their assistance with staffing increases that will allow us to bring this facility online. We are proud to partner with Gov. Kemp and state agencies, not only on this modular hospital project, but with other efforts to expand our region's COVID-19 treatment capabilities," said Scott Steiner, Phoebe Putney Health System chief executive officer. 
Georgia Trend Names State's 2020 Top Doctors
28 Physicians Practicing at Navicent Health Named Top In State
Georgia Trend, a regional business publication offering business analysis to more than 50,000 subscribers, recently released its "Georgia Trend 2020 Top Doctors" listing, including almost 30 midstate physicians among the best in the state of Georgia.
Georgia Trend included the following physicians who practice at Navicent Health in its 2020 listing:
Richard Ackermann, MD, gerontologist

Dennis Ashley, MD, general surgeon, trauma & critical care surgeon

Tarek Bisat, MD, pediatric endocrinologist

Wesley Blackwood, MD, pediatric cardiologist

Benjie Christie, MD, general surgeon, trauma & critical care surgeon

Sarah Choo-Yick, MD, family medicine physician

Nanette Crowley, MD, rheumatologist

Robert Jonathan Dean, MD, pulmonologist

Sanford Duke, MD, otolaryngologist

Reuben Ellis, MD, nephrologist

Rosegenee Ellis, MD, hospice & palliative physician

Wendell Ellis, MD, invasive cardiologist

Yameika Head, MD, forensic pediatrician

Mark Hendricks, MD, pulmonologist

Brian Geary, MD, urologist

Raj Gupta, MD, hematology oncologist

Azmi Kabbani, MD, nephrologist

Harold Katner, MD, infectious disease specialist

MaLourdes Mina Katner, MD, obstetrics/gynecologist

David Kent, MD dermatologist

Ritu Kumar, MD, infectious disease specialist

James Lennon, MD, hematology oncologist

John Mix, MD, vascular surgeon

Candi Nobles-James, MD, endocrinologist

Samuel Robinson, MD, urologist

Jeffrey Stephens, MD, infectious disease specialist

Brad Stevens, MD, internal medicine physician

John Wood, MD, emergency medicine physician
"We are honored to have so many of our world class physicians recognized by Georgia Trend. These physicians are not only impacting patient care directly, but many have leadership roles within our health system, and many are educating and training the next generation through our residency and fellowship programs. At Navicent Health, our goal is to ensure central Georgia is a healthcare hub, providing hope and healing for Georgians regardless of where they live. This recognition by Georgia Trend is evidence that we are achieving this goal," said Dr. Ninfa M. Saunders, President and CEO of Navicent Health.
To view Georgia Trend's complete list of "2020 Top Doctors," please click here.
St. Francis-Emory Healthcare Marks National Nurses Month, Celebrates the Year of the Nurse
St. Francis-Emory Healthcare is proud to join the American Nurses Association (ANA) in celebrating National Nurses Month this May, in an expanded recognition of the positive impact our nurses have on the health and well-being of our community. National Nurses Week – observed annually May 6-12 – honors the men and women around the country who have dedicated their lives to caring for those who are at their most vulnerable and in need. This year, as the invaluable contributions of nurses have gained increased awareness amid the fight against COVID-19, that celebration is being extended into a National Nurses Month.
"Our heroic nurses are always on the front lines of caring for the sick and injured," said Verno Davidson, chief nursing officer of St. Francis. "Their compassion, clinical expertise and servant leadership are fundamental to our ability to provide the high-quality care our patients have come to rely on. I am so proud to celebrate and honor their hard work – and not just during Nurses Month, but year-round. Their impact is an essential part of our mission of Making Communities Healthier."
The roots of National Nurses Week can be traced back to 1953, when U.S. Department of Health, Education and Welfare employee Dorothy Sutherland suggested a national day of recognition for nurses. After a series of proclamations and resolutions through the decades, the American Nurses Association affirmed a joint resolution of the U.S. Congress by establishing May 6 as National Nurses Day in 1982. The ANA expanded the celebration to a week in 1991 and, in 1993, designated May 6-12 as the permanent annual dates to mark National Nurses Week.
In addition to this year's expanded, month-long observance, the World Health Organization (WHO) has also declared 2020 as the Year of the Nurse. It is another well-deserved recognition for a group of professionals that could not have come at a more appropriate time.
"By their very nature, nurses are special people who are committed to selflessly serving and caring for others no matter the circumstance," Melody Trimble, chief executive officer of St. Francis says. "During our fight against COVID-19, our nurses have truly stepped up and are making countless sacrifices daily to ensure the safety of patients and each other, and to help protect our community. They are heroes in every sense of the word."
St. Francis will be marking this special occasion with recognizing nurses on social media as heroes, giving nurse scrub caps with a hero design, and hand delivering cinnamon rolls from Columbus Corner Bakery. Community members are encouraged to leave their own special note of thanks at www.thankahealthcarehero.com.
Southwell Celebrates Nurses Week, Hospital Week
While celebrations will look different this year without large gatherings, Southwell is observing National Nurses Week (May 6-12) and National Hospital Week (May 10-16) with creative ways to show their appreciation to their nurses and other staff during this time.
Nurses and nurse extenders will all receive a gift and a personalized message thanking them for their hard work, and each day during the week will have themes like "Chill Out Monday" and "Fun Filled Friday" with different treats and snacks for nursing staff to enjoy on their own or in small groups. Southwell will also be publishing several videos featuring interviews with nurses on social media, and members of the public are encouraged to share their stories of a nurse that has inspired or impacted them by emailing it to info@mysouthwell.com.
"While our activities look different this year, we still wanted to make sure our nursing staff understands how much we appreciate them," said Carol Smith, Southwell Senior Vice President, Chief Nursing Executive.  "It is even more important than ever to recognize their work this year as they continue to come into work, rising to the occasion, and providing excellent care to our patients despite the threat of this terrible virus."
For this year's celebration of National Hospital Week, hospital employees will have designated days for enjoying ice cream and breakfast. There will also be virtual games for employees to participate in, rather than the live games that are generally present at their family night event, such as "Who's behind the mask?" and Jib Jab fun. Employees will also receive a special gift.
"We recognize that this is a difficult time for our employees," said Lori Folsom, Assistant Vice President of Human Resources. "It is important now more than ever to share some positive experiences with our team. We think everyone will really enjoy some of the things we have come up with, and we look forward to showing all our staff members how much we appreciate them."
Letter to the Editor: Year of the Nurse
Dear Editor:
In 2019, the World Health Organization declared 2020 as the "Year of the Nurse" to celebrate the 200th year anniversary of the birth of Florence Nightingale, the founder of modern nursing.  At that time, no one could have predicted a world pandemic due to an unknown virus and the contributions front line nurses would play in caring for the millions of people affected.
In my 42 years as a Professional Registered Nurse, I have never faced a challenge as large as COVID-19, nor have I been as proud to be a member of the nursing profession.  Those who choose the nursing field answer a calling to care for people and to make a difference in the lives of others. I can truly say that Southwell nurses answer this call with a passion; tirelessly caring for others at home, work and in our community.  They are energized by the Southwell mission – to deliver a lifetime of quality and compassionate care for each patient we serve.  This encompasses everything they do: from helping a patient walk after surgery, holding a hand, bringing a smile to a patient's face, answering the phone and being a resource to friends and family about healthcare issues, taking a blood pressure, teaching in our schools and churches, helping a mother hear her baby's first cry, or helping to mend broken spirits.
Nurses have been the most trusted profession for over 200 years and I can truly say that the over 900 nurses employed at Southwell truly earned this distinction. While the majority of the world has stayed in the safety of their homes during this pandemic, nurses leave their families, put on their armor and willingly go into battle to save the precious lives of the ill in our communities.  In the face of this terrible enemy, nurses have risen to the occasion by selflessly and willingly coming to work each day to be here for our patients. Their bravery, steadfastness, and selflessness is to be commended and admired. Day after day, these professionals are not only performing their usual nursing skills but also filling in the gap for families who cannot be with their loved ones during a hospital stay or while receiving any kind of medical care. I have seen the passionate commitment each has made to be there encourage and care for their patients in the absence of family and friends. I have witnessed the emotional toll they pay for being the only one present to comfort patients in their final moments. 
Southwell is celebrating "The Year of the Nurse" and National Nurses Week (May 6-12) by honoring the dedicated men and women of the nursing profession. On behalf of the administration of Southwell and myself, I want to thank our nursing heroes and the staff that support them for their continued dedication to serving our patients, and nurses everywhere for their willingness to continue make a difference in the lives of others. Their work is truly indispensable. 
During this pandemic, our community has shown amazing support for our nurses through sewing masks and gowns, providing prayers, donating food and drinks, and countless other ways. You have no idea how much this has encouraged and strengthened our staff. We cannot thank you enough. Please continue to support us by washing your hands often, wearing your masks and observing social distancing. Join me in paying tribute to the most trusted profession: nursing. Feel free to thank a nurse that has touched your life on our social media outlets, or by sending an e-mail to info@mysouthwell.com.  
Sincerely,
Carol M. Smith, MBA, BSN, RN, NEA-BC
Senior Vice President, Chief Nursing Executive
Southwell
AU/UGA Medical Partnership, St. Mary's Fill All Positions in Internal Medicine Residency Program Amid COVID-19
In the midst of the COVID-19 pandemic, the Augusta University/University of Georgia Medical Partnership Internal Medicine Residency Program at St. Mary's has filled all openings for its new class of medical residents for the sixth time in its six-year history.
The new residents will begin practicing at St. Mary's Health Care System on July 1 under the supervision of advanced resident physicians and physician faculty from the Medical College of Georgia at Augusta University, as well as area community-based teaching faculty.
"This is a unique time to be entering the practice of medicine as a new physician," said Jason Smith, M.D., St. Mary's Chief Medical Officer. "Residency is the final step before becoming a fully licensed and independent practitioner. Because of the COVID-19 pandemic, these new physicians, and our Class of 2020 who will be graduating in June, will have a unique perspective that will be with them for their entire career."
Click here to read more.
Southeast Georgia Health System Honors the "Most Trusted Profession" During Nurses Week
Last winter, an elderly couple was five hours into a trip down I-95 when the unthinkable happened. The husband had a heart attack and died, leaving his wife alone and far from home. In her darkest hour, human kindness intervened.
"Our Emergency Care Center nurses stayed with her for five hours while her family traveled here. The nurses brought her meals, communicated with the family and held her hand as she sat with her husband," says Lisa Dickerson, MBA, BSN, assistant administrator at the Southeast Georgia Health System Camden Campus. "When I heard that, I thought, 'This is what we do'."
Judith Henson, R.N., BSN, MSA, vice president of Patient Care Services at the Health System agrees. "We see people at their best and worst. We get to be part of major life events – from birth to the end of life. And it's our honor and privilege to see them through those times."
Nurses Week is May 6-12, but the American Nurses Association declared all of 2020 the "Year of the Nurse" to honor the 200th anniversary of Florence Nightingale's birth. This recognition seems especially appropriate now with the COVID-19 pandemic.
If anything sums up nursing, Henson says it's a Gallup poll, ranking nurses highest among 22 professions for honesty and ethics. Gallup, an American analytics and advisory company known for its public opinion polls conducted worldwide, reported in its poll for 18 consecutive years that nursing is the most trusted profession in the United States.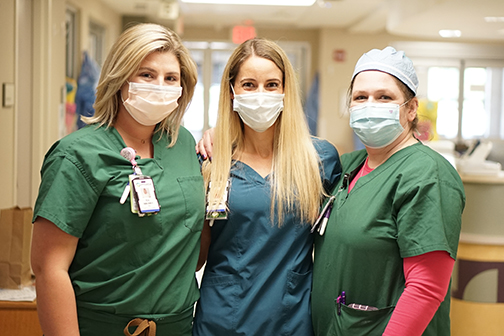 (From L-R) Elli Gahman, RN, who has been an emergency and critical care nurse at Phoebe for four years; Lauren Hixon, RN, a critical care nurse who is currently in school to become a nurse practitioner; and Virginia Williamson, RN, emergency and critical care nurse with 20 years experience.
During National Nurses Week, Phoebe Recognizes Nurses Who Put Their Health at Risk to Care for COVID-19 Patients
Several weeks into Phoebe's response to the COVID-19 crisis, when intensive care beds were filled with critically ill COVID-19 patients and before reinforcements arrived in the form of dozens of additional critical care nurses and physicians, one Phoebe care team faced a life or death decision.  Not only would their choice determine whether a patient survived, it could also put their own lives at risk.  "It wasn't a question of are we going to do this.  It was just, we ARE going to do this and give this man a fighting chance to live.  No matter the COVID status of these patients, they all deserve the same care," said Phoebe critical care nurse Elli Gahman.
Gahman and fellow RN Lauren Hixon were at the end of another long shift in the medical intensive care unit at Phoebe Putney Memorial Hospital, a unit that had long since been transformed into an ICU specifically for COVID-19 patients struggling to survive.  They were bathing a ventilated patient when they noticed something was wrong.  "I remember hearing this really weird gurgling noise.  We looked at the endotracheal tube and realized it was no longer inflated.  The cuff on the tube was blown.  It's no longer good, and we can no longer oxygenate this man," Gahman said.
The two nurses quickly notified critical care intensivist Dr. Enrique Lopez, and the three gathered outside the patient's room to formulate a plan.  "He was dying.  He didn't have a lot of time," Dr. Lopez said.  "We had to replace the tube."  But doing so would put anyone who walked in the patient's room at risk.  "All the air that was in his lungs – lungs being attacked by coronavirus – was just being expelled and was filling the room with the virus."
Dr. Lopez suited up in a powered air purifying respirator (PAPR), something akin to a space suit that provided him clean oxygen to breathe.  The nurses didn't have PAPRs, so Dr. Lopez insisted he would replace the tube by himself.  "He said he was going to change the tube, and I said 'okay,' and he looked like he expected me to say 'good luck.'  But it was my patient, and I wasn't going to let him go by himself.  No doubt," Hixon said.  Gahman felt the same way.  "He (Dr. Lopez) said, 'you guys don't have to do this,' but we're a team.  We're in this together.  We do this together," she said.
Seemingly out of nowhere, a third nurse – Virginia Williamson – joined the group.  "Dr. Lopez ran past me and said the patient had a cuff leak.  I jumped up and went with him because I knew what he was about to do," Williamson said.  Just moments away from heading home, she could easily have left the task to others.  "I could have, but I wouldn't have been able to look myself in the mirror the next day."
"The nurses helped me put on my PAPR, and as I walk in completely protected, there come these three nurses with just their masks and typical PPE (personal protective equipment)," Dr. Lopez recalled.  "I said, 'you don't have to be in here.'  They said, 'we're staying.  We're doing this. Let's get it done.'  They're moms and wives with everything to lose.  There was no fear.  They had a warrior's attitude.  It was bravery manifested."
The trio of nurses admit they thought about the danger, but they never considered letting Dr. Lopez go in that room alone.  "He had to do a tube exchange that required more than just his two hands.  I felt like God chose me to be that patient's nurse today, so I'm going to step in and do what has to be done," Hixon said.
"I did think about it, but it didn't matter.  It had to be done, and once Dr. Lopez got his PAPR on, he was very clear that anybody could step out, but we take care of patients.  It's what we do," Williamson said.
"The danger was definitely there.  I have a husband at home and a 3 year-old.  I know what this virus can do.  In the back of my mind I was thinking of it, but we took an oath to help people, to heal people, to be right alongside them in their darkest hours.  I would not have done it if I felt like I didn't have adequate PPE and adequate preparation," Gahman said.
"They very well knew every breath they took put them at risk, but they did it with no hesitation," Dr. Lopez said.
Dr. Lopez says he sees that kind of bravery and commitment to patients from Phoebe's nurses every day.  "I've got a ton of stories like that.  Every single day, the nurses walk into those rooms, and they know something could wrong and expose them.  You never see them saying, 'woe is me.'  They just do it.  You would think they would walk around with this look of fear and emotional exhaustion, and you just don't see it.  You can see the damage that the masks do to their face, but if you look into their eyes you don't see it.  They do what they pledge to do which is to give everything they have to each patient.  And it's an amazing thing to see," he said.
May 6 – 12 is National Nurses Week.  The hospital's chief nursing officer, Dr. Evelyn Olenick, hopes it is a time when people will acknowledge the vital role nurses play in our community and our country.  "Nurses really are the heart and soul of our healthcare system.  They are here for us every day, providing compassionate care in our greatest times of need.  At Phoebe, our nurses are truly vital members of an incredible team, and they have risen to meet every challenge during this COVID-19 crisis.  I could not be more proud of them, and I hope people in our community appreciate what they've done.  If you know a nurse, send them a card or give them a call this week.  Little gestures like that mean so much and give our nurses the inspiration and validation they need," Dr. Olenick said.
Elli and Lauren and Virginia are proud to be part of that team at Phoebe, and they're grateful for the opportunity to serve the people of southwest Georgia during this unprecedented health crisis.  "I think the community just rallying behind us and giving us all this love has been a huge part of what's gotten us through this difficult time.  I can definitely say I'm very proud to live in Albany and super proud to be part of the Phoebe Family.  I'm very proud of what our employees and our hospital have done to pull together during this time," Gahman said.
"We're putting our all in it.  We're busting our butts every day and trying our hardest.  I just hope everyone realizes we are doing our best, even though frequently the outcomes aren't what we want.  We're doing our best to treat them like they're our own.  I treat all my patients like they're my family member because I would want somebody to do that for me," Hixon said.
Virginia Williamson is a contract nurse from Alabama who came to work at Phoebe in February, just before COVID-19 hit, but she already feels like part of the Phoebe Family.  She recently saw her actual family for the first time since arriving in Albany.  She spoke from her home where she was enjoying a full week off for what was supposed to be a celebration of her son's graduation from college.  As much as she relished the rare down time with her family, her thoughts were with her new work family at Phoebe.  "I almost feel guilty for not being there.  We've all given blood, sweat and tears and to kick back at home, it feels like I should still be there trying to help.  I'm not dreading going back at all," she said.
Williamson is back now.  She returned to work Wednesday, the first day of National Nurses Week.  She's back in a Phoebe COVID-19 ICU, back on the front lines of a battle nurses continue to fight every day in hospitals across the country.  "This is the time where people can see the sacrifices that the nurses at Phoebe Putney make to serve this community," Dr. Lopez said.  "They're coming in here and getting it done.  No fear.  So brave.  They really are heroes, and I want everyone to know it."
Fulfilling the "Care" in Health Care
Hospice of Golden Isles Recognizes Health Care Workers
During the last several months, Americans have practiced social distancing and self-isolation in the attempt to help prevent the spread of coronavirus, especially to those who have underlying health conditions that put them most at risk. A testament to our community, however, is the ability to demonstrate gratitude and grace even under tremendous stress, such as we have endured the latter half of 2020. Hospice of the Golden Isles is one such community organization putting the "care" in health care.
A health care organization themselves, Hospice of the Golden Isles appreciates the sacrifice that health care workers make everyday, putting their own lives at risk for the privilege of helping to improve the health of the community. In honor of that appreciation, they donated four banners to Southeast Georgia Health System to be displayed at their Brunswick and Camden campuses and Senior Care Centers in Brunswick and St. Marys. 
"Hospice of the Golden Isles greatly values our longstanding strategic partnership with Southeast Georgia Health System," says Karen Miller, CEO, Hospice of the Golden Isles. "During the COVID-19 crisis, our Board of Directors and team are especially grateful for the Health System's leadership and for the dedication of their team members that demonstrates what it means to be healthcare heroes in the midst of unprecedented challenges and uncertainty."
Hospice of the Golden Isles provides expert, compassionate care for patients with advanced illnesses and their families in Glynn, McIntosh, Camden, Brantley and Charlton counties. They work in coordination with Southeast Georgia Health System to provide a seamless continuum of care.
"We so appreciate Karen's gesture and kind words. Hospice of the Golden Isles is fighting on the front lines as well, providing expert care for our community's hospice population during this health crisis," says Michael D. Scherneck, President & CEO, Southeast Georgia Health System. "And we thank all of our health care workers, at our facilities and throughout the community, for their dedication and sacrifice."
Craig Coopersmith Named Director of the Emory Critical Care Center
Craig Coopersmith, MD, MCCM, has been named director of the Emory Critical Care Center (ECCC) following his service as interim director of the ECCC since 2018. Coopersmith is also professor of surgery and vice chair of research in the Department of Surgery, program director of the Emory Surgical Critical Care Fellowship and director of the Surgical/Transplant Intensive Care Unit at Emory University Hospital.
"Craig Coopersmith is an accomplished and innovative leader in critical care medicine, with a dedication to provide expert and compassionate care to our patients who need critical care services at Emory Healthcare," says Jonathan S. Lewin, MD, president, CEO and chairman of the board of Emory Healthcare. "The Emory Critical Care Center has cared for many patients during the COVID-19 pandemic. Craig's leadership has been instrumental during this crisis, and we will look to his guidance in this new role as we continue to battle COVID-19 and moving forward."
The ECCC is a national leader in designing, testing and implementing innovations in critical care. The center was created in 2009 to ensure the highest quality critical care for patients in intensive care units throughout the Emory Healthcare system, and to integrate patient- and family-centered care with research, education and training across the health sciences.
The ECCC, staffed by practitioners from multiple disciplines, currently provides services at five Emory Healthcare locations: Emory University Hospital, Emory University Hospital Midtown, Emory Saint Joseph's Hospital, Emory Johns Creek Hospital and Emory Decatur Hospital.
As the world grapples with the COVID-19 pandemic, Coopersmith's cardinal position on the clinical and research frontlines has placed him in the national gallery of experts consistently cited for their work to understand the mechanics of the virus and devise more successful treatment methods. Coopersmith is one of 29 experts from across the country who led efforts to establish the National Institutes of Health's recently released Coronavirus Disease 2019 (COVID-19) Treatment Guidelines. 
Coopersmith is also considered one of the top investigators of sepsis and shock in the country, and was a member of an international task force of experts that redefined the terms "sepsis" and "septic shock" in 2016. The resulting publication in the Journal of the American Medical Association was named one of its Top Articles of the Decade. His current research activity includes an NIH T32 training grant and three NIH R01 grants, two of which are collaborative studies with accomplished Emory transplant immunologist Mandy Ford, PhD, that are investigating aspects of the immunological host response in sepsis.
Coopersmith served as president of the Society of Critical Care Medicine from 2015 to 2016, and is a member of the American Society for Clinical Investigation, which requires its members to have an outstanding record of scholarly achievement in biomedical research.
In 2020, he was inducted as a Master of Critical Care Medicine (MCCM) of the American College of Critical Care Medicine, considered the highest designation one can have in critical care.
Complimentary Educational Opportunity:
Caring for Self in a Public Health Pandemic Thursday, May 14, Noon-1 p.m. 
This webinar will focus on self care for all health care professionals and staff, from housekeepers to physicians serving on the front lines. Practical steps for caring for self during a public health pandemic requires intentional planning on part of the health care staff members. The primary focus of the webinar will include mental and emotional health, as well as ways to strengthen resilience and encouragement among the health care team.
The featured speaker is Rev. Ann Sidney Charlescraft, DMin, BCC. Dr. Charlescraft is an adjunct faculty member and director of development and alumni relations in the College of Health Professions, Department of Patient Counseling at Virginia Commonwealth University, Richmond, Virginia. She is a local, regional, national, and international speaker on "Caring for the Caregivers." Her passion remains with health care staff, families, and children. 
Click here to register.
Hospitals Recognized
(Please note: The following hospitals submitted press releases to GHA on their rating. For a complete list of ratings, click here.)
University Hospital Receives 'A' Safety Rating from Leapfrog
University Hospital is proud to announce its "A" rating in theSpring 2020 Hospital Safety Score, which rates how well hospitals protect patients from errors, injuries and infections.
University Hospital's mission is "to improve the health of those we serve," said James R. Davis,President and CEO of University Health Care System, "and that mission starts first and foremostwith patient safety."
The Hospital Safety Score is compiled under the guidance of the nation's leading experts onpatient safety and is administered by The Leapfrog Group (Leapfrog), an independent industrywatchdog. The first and only hospital safety rating to be peer-reviewed in the Journal of Patient Safety, the Score is free to the public and designed to give consumers information they can use toprotect themselves and their families when facing a hospital stay.
Developed under the guidance of Leapfrog's Blue Ribbon Expert Panel, the Hospital SafetyScore uses 28 measures of publicly available hospital safety data to produce a single "A," "B,""C," "D," or "F" score representing a hospital's overall capacity to keep patients safe from preventable harm The Hospital Safety Score is fully transparent, with a full analysis of the dataand methodology used in determining grades available online.
Phoebe Earns Another 'A' Leapfrog Hospital Safety Grade
Phoebe Putney Memorial Hospital was awarded an 'A' in the Spring 2020 Leapfrog Hospital Safety Grade, a national distinction recognizing Phoebe's achievements providing safer healthcare.  
"Our second consecutive Leapfrog 'A' is validation of the Phoebe Family's commitment to putting safety first every day.  This recognition comes at a particularly meaningful time.  I am incredibly proud of our staff's response to the COVID-19 pandemic.  Our teams have gone to extraordinary lengths to provide safe, quality care while overcoming unprecedented challenges.  It has truly been amazing to see the Phoebe Family in action during this crisis.  Earning this prestigious distinction is a great pat on the back and will only further our determination to provide the best possible care to every patient we serve," said Joe Austin, Phoebe Putney Memorial Hospital Chief Executive Officer. 
The Safety Grade is a letter grade assigned to all general hospitals across the country.  It is updated every six months, assessing how well the hospital prevents medical errors and other harms to patients. 
"Our Leapfrog 'A' speaks volumes about our organization's commitment to patient safety and the individual work being conducted every day to move us toward our goal of zero patient harm.  We have the hard data to prove the success of our focused safety teams and our efforts to create evidenced-based protocols and care pathways to ensure every patient receives safe, quality care," said Steven Kitchen, MD, Phoebe Putney Memorial Hospital Chief Medical Officer. 
"Throughout our COVID-19 response, safety has remained our top priority.  Despite overwhelming demand, we never ran out of any personal protective equipment needed to keep our staff and patients safe.  And as we transition back to more normal operations, we are going above and beyond CDC guidelines as we clean and sanitize facilities.  The safety of our patients and the Phoebe Family will continue to guide every decision we make," Dr. Kitchen added.
The Leapfrog Group is an independent national watchdog organization committed to healthcare quality and safety.  "As the Nation copes with a challenging pandemic, our gratitude extends to hospital leadership and healthcare workers everywhere for their tremendous dedication," said Leah Binder, The Leapfrog Group President and CEO.  "We hope this 'A' helps to thank the people who work and volunteer for Phoebe.  They are role models in putting patients first, and their service has been extraordinary in our country's time of need."
Developed under the guidance of a national expert panel, the Leapfrog Hospital Safety Grade uses up to 28 measures of publicly available hospital safety data to assign grades to more than 2,600 U.S. acute-care hospitals twice per year. The Hospital Safety Grade's methodology is peer-reviewed and fully transparent, and the results are free to the public.
Phoebe Putney Memorial Hospital was awarded an 'A' grade when Leapfrog updated grades for spring 2020. To see Phoebe's full grade details and access patient tips for staying safe in the hospital, visit hospitalsafetygrade.org.
Online Doctor of Nursing Practice Nurse Executive Program Opportunity
The College of Nursing at Augusta University invites you to join their interactive online Doctor of Nursing Practice Nurse Executive Program (DNP-NEP). Applications are open until Monday, June 1. This program is designed for chief nursing officers, other executive-level nurse leaders and aspiring nurse leaders. Click here to learn more. 
National Hospital Week May 10-16
Hospitals are important, now more than ever, and each has risen to the top in answering the call to care for COVID-19 patients. National Hospital Week 2020 highlights the adage of every hospital, health system and person involved in keeping our communities healthy – that health comes first. 
This important week gives us all the opportunity to highlight our hospitals, health systems and health care providers and the innovative ways they support the needs of their community members. We hope you will use this week to thank your care providers and share some of the programs or services they provide that put health first.
Enhance Patient Care: Access PULSE-COVID Web Portal
GA Notify and Audacious Inquiry (the company supporting GA Notify) will provide complimentary access to PULSE-COVID, a web portal that allows verified users to view clinical care documents. It helps augment clinical care and fill in gaps related to patient health or demographic data. See the potential use cases for PULSE-COVID. If you would like access to this tool, please email ganotify@gha.org.
Georgia Staffing with Furloughed Georgians
The GHA Resource Pool, powered by Aya Healthcare, will help match qualified furloughed clinicians with facilities that need additional local staffing. This program is designed for local clinicians and local health care facilities for the duration of the COVID-19 crisis.
Clinicians looking to participate in the Resource Pool should

go here

to complete a short form about profession and specialty. 
Health care facilities needing more information should email

staffing@ayahealthcare.com

or GHA Senior Vice President of Business Operations

Bill Wylie

.
Marjorie G. Hogan Scholarship Deadline Extended
We have extended the application date for the Marjorie G. Hogan youth and BSN scholarships to July 15. We know your immediate priority is meeting the needs of our communities and we want to give you adequate time to apply. Please let Rhett Partin know if you have any questions.
Organizing Donation Offers and Collection
Our friends at Health Connect South have reached out to GHA in hopes of assisting our hospitals with organizing donation offers and collections. Health Connect South's network reaches thousands of individuals and partners who may be able to help. Currently, they are building a list of hospital websites with specific needs for each hospital's community. Several GHA members, including Emory, St. Joseph's/Candler, and Wellstar, have already successfully collaborated with Health Connect South. If your hospital has a website or link for donations, please let GHA Senior Director of Communications Jeff Sunderland know and we will coordinate. Thanks for your hard work and commitment. 

Georgia Hospital Association
1675 Terrell Mill Road
Marietta, GA 30067
Click here to update your subscriptions.