A Newsletter for the Members of the Iowa Chapter - Fall 2019 

Kathryn K. Dierks, DO, FACEP
President
Chapter Executive
Table of Contents
IMS Committee on Medical Services - Update
Take Action to Prevent Reimbursement Cut
CMS Releases Final 2020 Medicare Physician Fee Schedule
Do You Give-A-Shift?
New Member Benefit for Physician Wellness & Assistance
ACEP Introduces Citizen First Responder Program
New Resources to Help Small Groups
ACEP and ENA Team Up to Tackle Violence in the ED
Nominate an Outstanding Medical Student
New online course on opioid use disorder is approved by ABEM for "Part IV"—and it's free
ACEP seeks task force members for a new Point of Care App: emPOC 
Now is your chance to get involved!
EMF Announces 2020/2021 Grant Opportunities
Psych Coalition to Host Behavioral Emergencies Workshops 
Geriatric Emergency Department Accreditation: Delivering Geriatric Care Standardization
Is your ED Pediatric Ready?
Kathryn K. Dierks, DO, FACEP
As I write this, I am curled up with a warm blanket and cup of coffee watching all the cardinals systematically eat sunflower seeds and wood peckers pound away at suet cakes.  Their rich red tones and black spotted wings shine bright against the glistening white snow.  It's -6 degrees today - a near record for November in Iowa! The farmer's almanac predicted that we should expect a "polar coaster" with ups and downs all season, noting colder than average temperatures. So, get your fluid warmers and Bair huggers warmed up to help all our patients in the emergency department this winter!  No doubt we will be facing a higher patient census this year.  Our patients are lucky to have some of the most well-trained emergency physicians in Iowa caring for them!  I hope you are all enjoying your winter so far and can enjoy traveling to warmer locations during the artic chill.
Recap of ACEP Scientific Assembly Council Meeting - Denver
We had another successful year at the ACEP council meeting in Denver held, two days before scientific assembly.  Our board was represented by Drs. Marlow-Fisher, Sokol, Douglas, Benzoni, Hoper, Espelund and Nugent.  While there was endless snow and cold outside, the council discussion inside was hot!
The ACEP Council consists of members representing ACEP's 53 chartered chapters its sections of membership, the Association of Academic Chairs in Emergency Medicine (AACEM), the Council of Emergency Medicine Residency Directors (CORD), the Emergency Medicine Residents' Association (EMRA) and the Society for Academic Emergency Medicine (SAEM).  Each year the Council elects' members to the Board of Directors and ensures "grassroots" involvement in the democratic decision-making process pertaining to the practice of emergency medicine. The Council is a deliberative body that meets once a year for two days in conjunction with our annual Scientific Assembly. The Council votes on resolutions which may be introduced by any member The Council is also the body that votes on proposed changes to the Bylaws.  Whether it is a resolution or a Bylaws amendment, actions of the Council are also voted on by the Board of Directors (Board).  
Some of the resolutions presented this year pertained to working with CMS and implementing change with fluid management in the current sepsis bundle set; EMTALA professional liability coverage; national medical tort reform as a "CMS best practice"; and standards to insurance denial, to name a few.  Your state and national boards continue to work diligently at addressing the most important issues that affect the way that we practice medicine and how our patients receive care.
If you are interested in writing a resolution or are interested in working with the board to participate in writing a resolution, please contact me.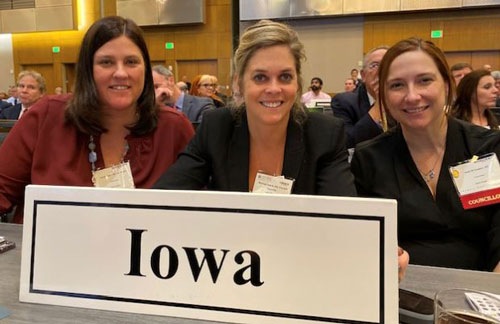 Left to Right: Dr. Hoper, Dr. Sokol, Dr. Douglas at the Council Meeting.
Iowa Chapter Reception - ACEP19 Denver
To date, we had the largest turnout of emergency providers at our Iowa ACEP reception in Denver!  From residents, to new attendings, to seasoned veterans of emergency medicine, our chapter members enjoyed delicious hors d'oeuvres and stimulating conversation. Special thanks to Allen Hospital in Waterloo and University of Iowa emergency departments for their generous donations. Thanks to you, we were able to enjoy the evening!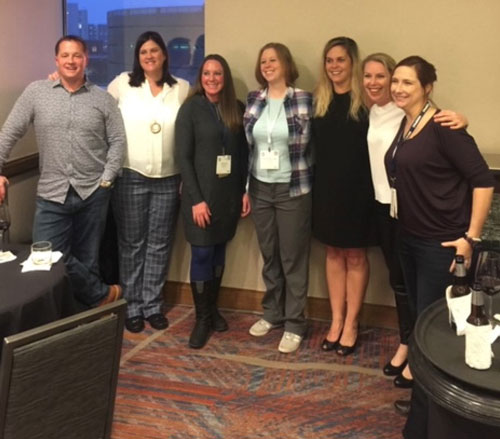 Left to Right: Dr. Dowden, Dr. Hoper, Dr. Marlow, Dr. Kitchen, Dr. Sokol, Dr. Dierks, Dr. Douglas at the reception.
SAVE THE DATE - Physician Day on the Hill - DesMoines
It is with great pleasure that I am excited to announce that Iowa ACEP will be working with the Iowa Medical Society (IMS) to participate in Physician Day on the Hill on Wednesday, March 4, 2020 at the Capitol in Des Moines. We will be meeting with our state legislators to discuss tort reform. Our legislators rely on our professional expertise to vote of issues that affect patient care and the practice of medicine. Let's make our voices heard! The day will begin at 11:00 AM and conclude by approximately 2:30 PM. We would like to have as many physicians as possible representing Iowa ACEP and invite you to participate in this exciting event. Please email me no later than February 15, 2020. We appreciate your participation!
Ultrasound Image Contest
Have you captured any fascinating images of an enlarged right ventricle with strain in the setting of a PE? Have you seen any loculated effusions in your emergency departments? We will be hosting an ultrasound image contest to highlight some of the best images captured in our Iowa emergency departments. Please send still images of video clips of some of your best ultrasound findings with a case summary. Be sure to exclude any identifying patient information. The top three images will be profiled in our next newsletter and the winner will receive a special prize. Happy scanning!
Please submit your images by clicking here.
Iowa Photography Contest
Iowa showcases some of the most beautiful landscape and wildlife. We would love to see what is going on in your neck of the woods. If you have a picture you would like to share, please email me. The top three images will be profiled in our next newsletter and the winner will receive a special prize.
IMS Committee on Medical Services - Update
Stacey M. Marlow, MD, JD, FACEP
President - Elect
It is important to be "at the table" and have a presence in our state and national advocacy groups.  The Iowa Medical Society represents us, as Emergency Physicians, in addition to all other primary and specialized care physicians across the state. I currently represent the Iowa Chapter of the American College of Emergency Physicians on the IMS Medical Services Committee. The following is a summary from our most recent meeting, and action items for us all.  
The Medical-Legal environment in Iowa is worsening.  We had a presentation from Iowa Med Insurance Group regarding malpractice claims and rates across Iowa and the entire Midwest.  Compared to our surrounding states, Iowa is the only state without a hard cap on non-economic damages. This has led to more plaintiff's attorneys in our state.  In the past few years, 5 out of the 10 largest verdicts in the Midwest against physicians/health systems were in Iowa.  Iowa had the largest payout of all Midwest claims in 2018, with a single payout of $29.5M, yes MILLION, for the plaintiff (DeJongh vs Sioux Center Community Health Center 2018). Over the last decade, payouts have doubled and now average over $400,000.  
In 2018, Iowa had 89 payouts to plaintiffs. Compare that to 3 in North Dakota, or 13 in South Dakota. 38 in Wisconsin. 50 in Nebraska. 52 in Minnesota. We are the leading state in our surrounding area for plaintiff claims, and plaintiff wins. And they are winning big. Of course, Illinois is in another league, and we won't discuss their terrible malpractice environment here. 
The Iowa Legislature addressed malpractice in 2017 with SF465. This expanded Candor protections (initially from 2013), increased expert witness standards (must be actively practicing in the same specialty), and allowed for certificate of merits. Our reported non-economic damage cap has not been enforced as a "hard cap" and needs more legislative protection.  
We need better protection so we can recruit and keep Iowa physicians. We, as many of you know, are 51st in the country for EM physicians per capita. We are nearly as low in Neurology, OB, Psychiatry, and Family Medicine. Iowa has recently begun a program for rural physician loan repayment, allowing up to $50,000/year for 5 years to practice in a rural location (specific demographics required). This program; however, has not been fully funded by the legislature.  
What can you do? Get INVOLVED. Be present. Be seen. Be heard. The next Physician Day on the Hill is March 4, 2020 in Des Moines. Please mark your calendars. Take the day off work. Be present on the Hill. Brush off that white coat and maybe iron it too. Also, consider a donation to the Iowa Medical Political Action Committee. Money also talks. Last go-round the trial attorneys outspent us 6:1, hence the lack of more stringent med-mal protection. We need our voices heard physically and financially. 
Read more here.
When Global Health becomes Local, it's probably going to the ED
Brooke A. Dugdale, MD
Iowa Chapter Resident Representative (UICCM)
A 'public health emergency of international concern' was recently declared by the World Health Organization regarding the outbreak of Ebola in the Democratic Republic of the Congo (DRC). With reason, experts are worried - this outbreak, the second largest in history, includes 2,512 cases and 1,676 deaths to date, comparable only with the epidemic in West Africa that peaked in 2014 claiming more than 11,000 lives altogether.
During that outbreak, Ebola made landfall in the United States too. There were four cases in total, two infected returnees to the US from Liberia and two cases of viral transmission from patient to nurses. I was a medical student in Minneapolis when the University of Minnesota declared itself a receiving center for positive cases. We have a large Liberian population with many returning from visits to West Africa and frequent travel between the two continents. This was the era of home quarantines and the health department monitoring temperatures twice daily via smartphones. One of our EM simulation/procedure nights included an exercise in donning and doffing for Ebola. It involved layers and layers of PPE and stepping over various colored lines of 'safety' as one advances to face the patient.
It's a bit cliché to state that we in the ED are at the front lines of medicine, but in this case it certainly holds true. When global health becomes local, it will most likely present to the ED. It behooves us to be ready. With one year already as transplants to Iowa City, we've settled in and made this corner of Iowa our home, as have many others. In fact, it turns out that my new community hosts those from near and far. My trusty Cyracom interpreting phone has helped me greet those that hail from half a world away and aided my patient care in at least a dozen languages. It tends to request Lingala or French interpreters rather frequently as I've been introduced to the sizable immigrant community from the DRC. Caring for one such patient over a month-long inpatient rotation allowed me a firsthand connection to and a deeper understanding of this people group.
The outbreak in central Africa continues to advance. Efforts at controlling it are interrupted by violence affecting the area, and a health system limited by resources and access. It is likely that we who serve others from the ED will need to remain cognizant of global health ailments and outbreaks. I'll close with a quote particularly relevant to our position in caring for others with experiences outside of Iowa. It encapsulates for me the unique way that we enter the lives of our patients in the most crucial of moments, with intensity and benefaction. 
"I have always felt that the action most worth watching is not at the center of things but where edges meet. I like shorelines, weather fronts, international borders. There are interesting frictions and incongruities in these places, and often, if you start at the point of tangency, you can see both sides better than if you were in the middle of either one." (Fadiman)
Ebola Facts
Named after the Ebola river in the DRC where it was first diagnosed in 1976
Spread through direct contact with an infected person's bodily fluids including blood, feces or vomit
133,000 people have received the experimental vaccine and 585 infected patients have recovered during this outbreak
Signs/symptoms may include: fever, headache, muscle pain, weakness, fatigue, diarrhea, vomiting, abdominal pain and late stage bleeding/bruising/hemorrhage
Treatment is supportive
References
Howard, J. & McKenzie, D. (2019, July 18). Ebola outbreak in Congo is a public health emergency of international concern, WHO says. Retrieved from https://www.cnn.com/2019/07/17/health/ebola-outbreak-who-emergency-africa-bn/index.html.
Fadiman, A. (1997). The spirit catches you and you fall down: A Hmong child, her American doctors, and the collision of two cultures. New York: Farrar, Straus, and Giroux.
Luke K. Espelund, MD, FACEP
Iowa Chapter Treasurer
On October 1st, Iowa Chapter members Dr. Carreon, Dr. Espelund and Dr. Benzoni attended a round table discussion with congresswoman Cindy Axne. The round table was organized by Better Care America which is funded by America's Health Insurance Plans (AHIP), a health insurance advocacy (lobbying) group. Rep Axne had insisted that all shareholders, including EPs, be invited to the discussion. Rep Axne started by sharing her goals and vision to drive down healthcare prices while ensuring Iowans have access to affordable healthcare. Rep Axne, AHIP and ACEP share the common goal of taking patients out of the reimbursement battle by putting an end to balance billing. AHIP is a strong proponent of the benchmark approach which is likely to result in significantly lower in-network payments to physicians over time. Iowa ACEP shared our organization's views that this would limit access to care for Iowans by causing many rural EDs to close and making it more difficult to attract and retain EPs and other specialists. We proposed an Independent Dispute Resolution (IDR) process which ensures a fair and reasonable negotiating balance between plans and providers instead of giving insurers unilateral control of the market. Rep Axne seemed very receptive to our suggestion and dialogue is ongoing.
Left to Right: Dr. Espelund, Dr. Carreon and Dr. Benzoni.
Recently, a Chapter Exes Leadership Summit was held at the national office. Many chapter executives from small and large chapters attended. This summit was a great opportunity for the staff at the national office to see the different roles of a chapter executive. In addition, during this summit many chapter executives, like me, realized that we have many common goals for the chapters we support, can lean on each other to collaborate on chapter events and copy existing ideas rather than try to invent the wheel. I for one felt like I took away many helpful tips of which I think can be implemented in the chapter. I look forward to sharing those tips with you in the coming months!
Take Action to Prevent Reimbursement Cut
Your Medicare reimbursements will be cut unless Congress acts before the end of the year. Help us urge Congress to take action to improve MACRA and to stop the upcoming cuts to ensure Medicare patients continue to have access to high quality emergency care. Click here to learn more and send a message to Congress today.
CMS Releases Final 2020 Medicare Physician Fee Schedule
Recently, CMS released its final 2020 Medicare Physician Fee Schedule (PFS) rule that includes changes that will affect Medicare physician payments and MIPS starting Jan. 1. The Regs & Eggs blog breaks down the final rule, emphasizing policies that apply to EM.
Do You Give-A-Shift?
The number one issue facing emergency medicine in Congress today is surprise medical billing. ACEP is working hard to make sure that your voice is heard in this debate and that Congress finds the right solution that takes patients out of the middle and levels the playing field between physicians and insurers. In this critical time in emergency medicine, political action is more important than ever. You can make a difference on this issue by joining the fight with NEMPAC. Help ACEP fix surprise billing the right way by supporting NEMPAC today.
New Member Benefit for Physician Wellness & Assistance
The ACEP Wellness & Assistance Program was rolled out during ACEP19. It offers ACEP members exclusive access to 3 FREE confidential counseling or wellness sessions. Support is available 24/7, and sessions can be face-to-face, over the phone, or via text and online messaging. Includes 30-minute consultations for individual legal/financial matters. Learn more.
ACEP Introduces Citizen First Responder Program
ACEP's new first responder training program, Until Help Arrives, was officially unveiled during ACEP19 in Denver with a series of events to highlight how emergency physicians can positively impact their communities by conducting training sessions to teach the public basic life-saving skills. Read more.
New Resources to Help Small Groups
ACEP has developed new resources specifically to benefit small groups. A new Small Group Advisory Group is a team of seasoned small group members who have volunteered to support the small group practice model by sharing their expertise with other small group members who are looking for guidance or wanting to tap into the experience of others as they face various challenges unique to small groups. If your small group is dealing with an issue that you'd like to ask the advisory group about, just send us an email at smallgroups@acep.org. ACEP has also developed an online community for small group members to share ideas and discuss issues. To joint that group and see the other small group resources available, go to www.acep.org/smallgroups
ACEP and ENA Team Up to Tackle Violence in the ED
ACEP and ENA have joined forces to combat violence in the emergency department through a new campaign entitled "No Silence on ED Violence."  The campaign is aimed at raising public awareness of the frequency and severity of assaults against emergency physicians and nurses, and to advocate for action by stakeholders and policymakers to meaningfully address this crisis. Learn more about the campaign and help us demonstrate how widespread this problem is by sharing your story at www.stopEDviolence.org. 
Nominate an Outstanding Medical Student
The ACEP/EMRA National Outstanding Medical Student Award recognizes 4th-year EM-bound medical students who excel in professionalism, leadership, service, research and academic excellence. Nominate a deserving student by Jan. 1.
New online course on opioid use disorder is approved by ABEM for "Part IV"—and it's free
You already know that opioid-related deaths have risen to epidemic proportions. And that your emergency department is the only point of access many at-risk patients have to lifesaving interventions. A new ACEP course—free, thanks to a SAMHSA grant—can teach you how to provide better care, make an immediate impact, save lives, and satisfy your ABEM PI requirement. Learn more about the ABEM-approved pathway and the optional education module now. Approved for AMA PRA Category 1 CreditsTM
ACEP seeks task force members for a new Point of Care App: emPOC 
Now is your chance to get involved!  
Working with no network? Are you offline? This FREE, native app with helpful bedside tools can be accessed even with the absence of an internet connection. emPOC is available exclusively to ACEP Members as a benefit to membership. All tools can be accessed on our website. If you are interested in helping steer the direction of emPOC and giving expert advice on how ACEP's new and exciting app can be an even greater asset to our membership, please email Riane Gay at rgay@acep.org to receive more information on how you can get involved.
EMF Announces 2020/2021 Grant Opportunities
The Emergency Medicine Foundation (EMF) has announced its 2020/2021 research grant opportunities. Review the request for proposals and apply for funding by the February 7, 2020 deadline. Four new directed research grants are available on Nasal High Flow Therapy for Respiratory Compromised Patients in the ED, Reducing Burnout through ED Design, Better Prescribing Better Treatment Program, and Diagnostics Research, in addition to EMF partnered grants. 
Psych Coalition to Host Behavioral Emergencies Workshops
The Coalition on Psychiatric Emergencies is hosting an interactive pre-conference workshop Dec. 11 in Scottsdale, AZ in advance of the National Update on Behavioral Emergencies. The early bird rate ($179) expires Dec. 1.
Geriatric Emergency Department Accreditation: Delivering Geriatric Care Standardization
Older adults account for 46 percent of all emergency department visits resulting in hospitalization. Approximately one out of every 10 hospital admissions are potentially avoidable, and the majority (60 percent) of those admissions are for patients 65 and older. Read More about GEDA in the latest SAEM Pulse issue.  
Iowa Chapter
c/o National ACEP
4950 West Royal Lane
Irving, Texas 75063-2524
© 2021 Iowa Chapter ACEP. All rights reserved.